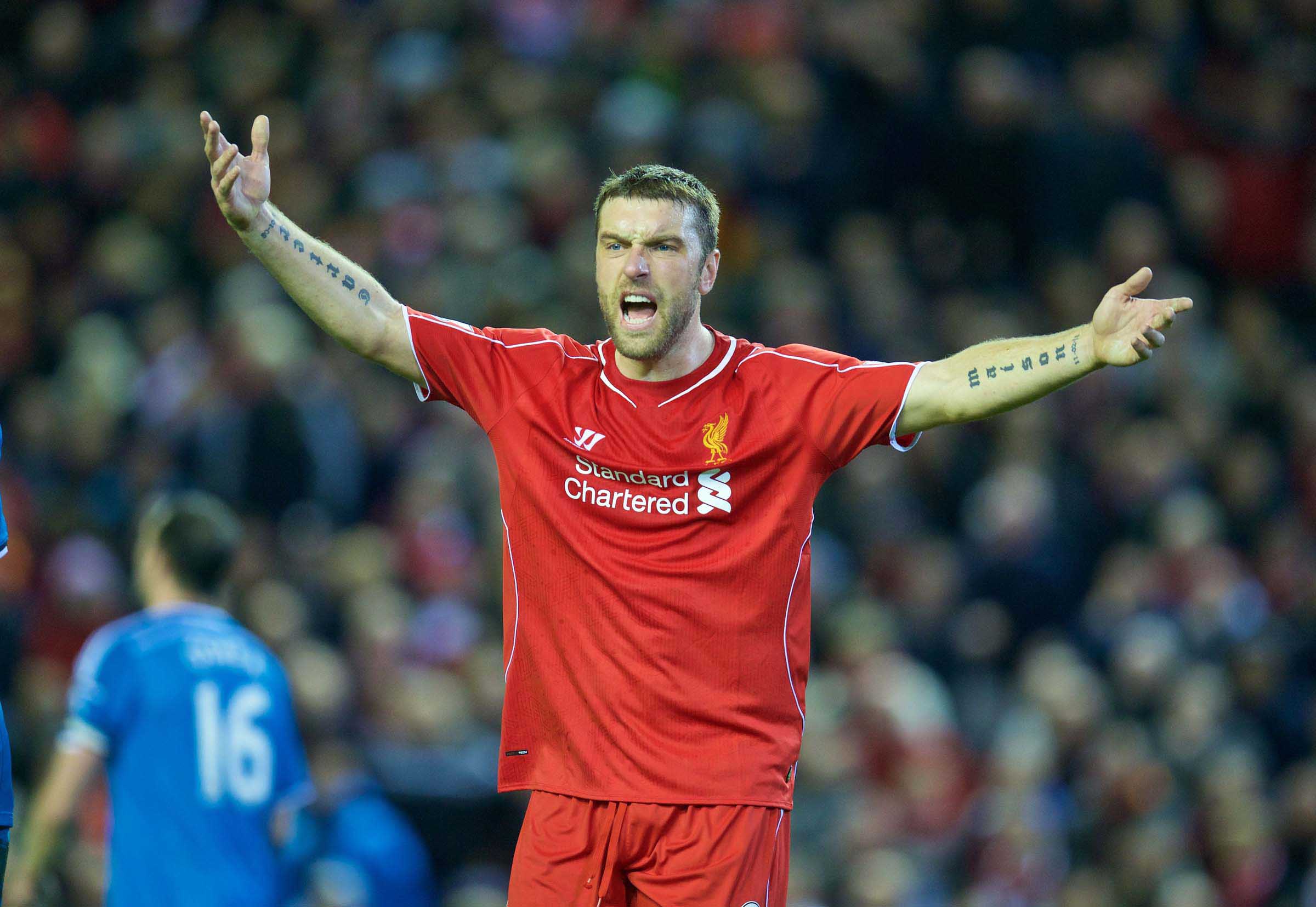 ON June 2 2014, Rickie Lambert lived every Liverpool fan's dream. He appeared close to excitement, potentially leading to spontaneous combustion, while signing a contract to play for the Reds.
Exactly eight months later, Lambert received word from the club that they were willing to let him go to Aston Villa. It is likely that this wasn't the scenario he'd dreamed of while wearing Kenny Dalglish pyjamas as a lad (or a fully grown adult, er, ahem).
Upon signing last summer, the 32-year old told the official Liverpool FC website:
"I can't believe it. I've loved this club all my life. I left here 17 years ago and I haven't stopped loving it since… I have always dreamt of playing for Liverpool, but I did kind of think the chance of playing for them had gone. I didn't think the chance would come… I know it's what I do on the pitch and the minutes I play… I know that's what matters, and that's what I'll be focused on… I know how big Liverpool are – and it means everything to me – but I know what is important."
Lambert said "I know" rather a lot in that interview. I'm not sure he knew quite as much as he let on.
He didn't (necessarily) know that Luis Suarez was leaving. He didn't know that Daniel Sturridge would be injured for five months. He didn't know that Mario Balotelli would be coming in. He didn't know that he would be required to play up front on his own as a result of all this. And, most importantly, he clearly didn't know just how difficult it would be for him to perform for Liverpool.
It is fair to say that Lambert has not been what you would call an unmitigated success since his £4million move from Southampton. It was never the expectation that he would come in and replace the goals of Suarez, nor was it really likely that he'd even match the goalscoring return he boasted at St Mary's, but if you spoke to anyone at the time they would always say, at the very least, "He'll be a useful option."
Lambert was apparently the missing 'plan B' that had cost Liverpool the title last season, the definition of the term seemingly being 'a big lad who you can hit long balls at'. Many people suggested that had Brendan Rodgers had someone of his ilk available to him last season as opposed to Iago 'he of the shabby corner' Aspas, then the Reds would have found a way through Chelsea's two buses at Anfield. Lambert's performances since his move strongly suggest that this assumption was fairly wide of the mark.
I was excited when Liverpool signed Lambert. Not because I thought he'd be the title-winning difference or that he was likely to score a hat-trick of overhead kicks against Real Madrid in the Champions League, but probably for the same reasons most other fans were, and not just Liverpool fans, but football fans in general.
Here was a guy who had paid his dues, been a youth team player at the club, been released at a young age and had his dreams dashed, worked in a factory, then played non-league, played League Two, League One, Championship, promoted to the Premier League, succeeded in the top division with the club he came up with, earned international recognition, scored for his country at Wembley, and now was going to turn out for his beloved Liverpool. The excitement came from the sheer joy you would feel for him every time he put the ball in the back of the net. This guy had worked his absolute knackers off to get back to this point, but unfortunately it's all been a bit of a damp squib.
It wasn't just the romance. I rated Lambert, and had done since I'd seen him banging them in for Bristol Rovers many years ago. Obviously it was at a much lower level, but there was something about the regularity and variation with which he blammed the goals in that caught my attention. It wasn't surprising to see him get a big move to Southampton, nor was it a shock to see him carry straight on with being a prolific goalscorer. He fast became a hero on the south coast, again scoring all kinds of goals on a near weekly basis, playing a big part in getting them back to the top league.
If I'm honest, it was a surprise to see how seamlessly he took to the Premier League given he'd never played at the top level before, but he and most of his Saints teammates refused to be intimidated by the better opposition and the worldwide exposure. It seemed just as easy for him to smash a goal past an international keeper as it had been a part-time keeper. International football didn't even faze him. Come on as a sub and blam a header in straight away. Intimidated? Pah! It's easy this footy lark.
With all that in mind, it has been quite a surprise at how very intimidated he has looked at Liverpool.
15 – Rickie Lambert was one of only 15 players in the top five European leagues in 2013-14 to both score & assist 10+ goals. Influence.

— OptaJoe (@OptaJoe) May 29, 2014
Being given the number nine shirt was an incredible honour, and one that I'm sure Lambert was delighted to receive, but as soon as I saw that I feared for him. It is up there with the number seven in terms of heavy shirts, and the last thing he needed was even more scrutiny on him as he tried to settle into a squad that needed him to fire from the off.
It was a minor thing, or should have been, but in the pre-season friendly against AC Milan in the States, while playing against his future teammate Mr Balotelli, Lambert stepped up to take a penalty. It was saved. Lambert scored 34 out of 34 penalties at Southampton, where a spot kick was as good as a goal, but here in pre-season, a no pressure game, he had missed. It should have been minor, especially as Liverpool won the game anyway, but I had a horrible feeling at the time that this was a bad omen, or at least, Lambert might convince himself it was.
It hasn't been made easy under the circumstances. No Sturridge to play with, surrounded by teammates significantly younger and significantly faster than he, while standing up top on his own. This wasn't how he'd played at Southampton, where he'd almost always had a partner to play off, sometimes two, and he'd been at his best when working in and around the penalty area with them.
At the start of this campaign, Liverpool were a bit nowhere. A team that liked to play the ball on the ground, while inexplicably putting regular crosses in to unaware attackers who still thought the floor was where to find the ball. When Lambert played, he looked lost, but he wasn't the only one.
Balotelli was getting games ahead of him as he was the bigger name with more invested in him. Lambert had to make the most of cameo appearances and cup starts — which he didn't. A particularly poor performance against Middlesbrough in the Capital One Cup started to worry some people, but this was fairly put down to a lack of match fitness. Once Balotelli had tested Rodgers' patience with his regular ineffectiveness, Lambert was given his run.
He started to show signs of a good player, scoring a lovely goal at Crystal Palace after linking up with old pal Adam Lallana then grabbing another in the Champions League at Ludogorets. Lambert was starting to get involved. His late header against Stoke hit the crossbar, from which Glen Johnson scored the winner, and then he put in a good solid performance in the win at Leicester. However, poor showings in consecutive home games against Sunderland and Basel raised the question marks again, and Lambert was soon back out of the team, ousted by Raheem Sterling, a midfielder.
As well as Sterling has done, it can't be seen as anything other than a damning indictment of Lambert, Balotelli and Borini that they have all sat on the sidelines while the Reds have played without a natural striker on the pitch, and even more so that form has improved dramatically as a result.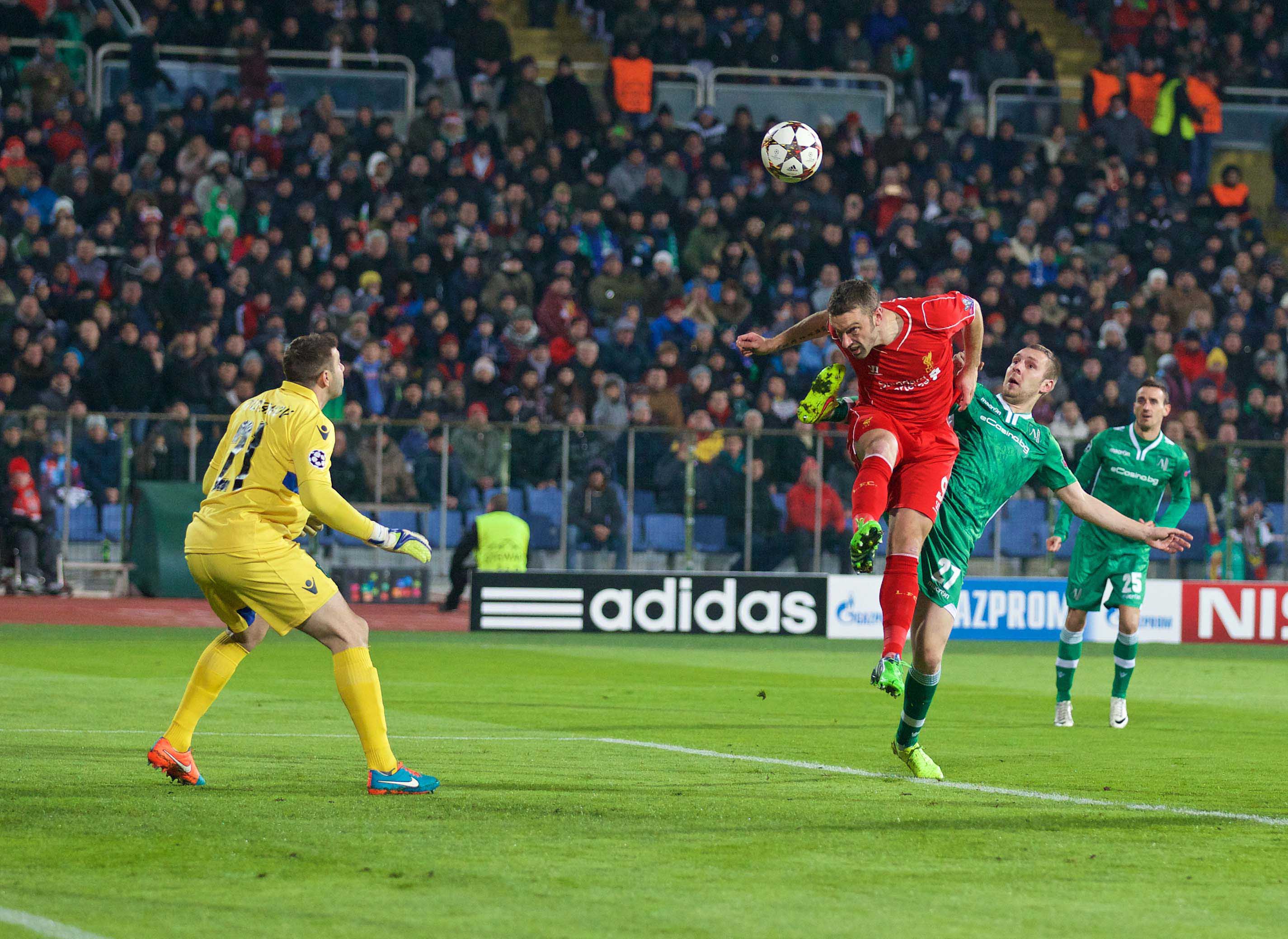 The biggest head scratcher in all of this though is that Lambert was a success at Southampton, right up until he left. They were hardly a long ball side, and last season the Saints were compared to Liverpool on a weekly basis for their high-tempo pressing and pass and move game. Lambert was a big part of that, and adjusted his game to suit Mauricio Pochettino's plan, but, for whatever reason, he just can't seem to crack it at Anfield.
There have been inevitable comparisons to Robbie Keane, whose move to Liverpool in 2008 was also seen as a romantic story given his apparent childhood affection for the club (along with several others it turns out). The Irishman also had his moments — the brace against West Brom, a Champions League strike at Atletico Madrid, a cracker against Arsenal — but was largely a failure in an otherwise very good season for the club. People said he couldn't take the pressure of playing for the team he loved. That, to me, is exactly the problem Lambert is experiencing.
People will no doubt point to the likes of Gerrard and Carragher (in spite of previous blue tendencies) as proof that you can play well for the club you love, but the main difference there is that they came through the club, rather than coming into it at a much later age. When you're young you don't know that you're supposed to be anxious about everything and worried about letting people down. Lambert will be 33 later this month. Coming into such an emotional cauldron so late in his career must be like trying to pull a Playboy model just after you've had to sell your Ferrari. It's your big chance, but your best days have been and gone.
With four months left until the end of the season, Lambert has backed himself to prove to us, to the football world, and to himself that this hasn't just been an "Oh isn't it nice for him" story. His winner at Villa the other week told you everything. What was a tremendous goal, especially in the context of the game, led to the greatest celebration in years. Pure unbridled joy from him, and all of his teammates. I like to think that not only were they all ecstatic at sewing up what had been rather a tricky away game, but that Lambert had been the one to do it.
Scoring for Liverpool must be one thing, but seeing your teammates and fans that happy for you must make the experience even more exhilarating. That's why Lambert has stayed, he wants more of that, we want more of that, he wants an Anfield goal, we want an Anfield goal, he wants a Kop winner, we want a Kop winner, against United, or anyone, and I expect it to look a little something like this:
I can only imagine how Lambert felt when he got that phone call/email/fax/tweet from the club informing him of Villa's bid and of their willingness to let him leave. Keane was given the opportunity to leave halfway through the season and he admitted that he was beaten. Lambert, probably after stepping back into his King Kenny jammies, said no to Villa, no to regular games and no to quitting on his dream. He knows.
There are perfectly valid criticisms about his play. He's slow, his touch isn't always the best, he can't make runs in behind defences, but this is a man who scored 28 goals and claimed 14 assists in two Premier League years at Southampton, and with this one act of defiance in turning down a move away, maybe, just maybe, this could be the catalyst for him to, at the very least, go out with a bit of a bang.
He is a local lad after all, and there's a derby on Saturday.
[rpfc_recent_posts_from_category meta="true"]
Pics: David Rawcliffe-Propaganda
Like The Anfield Wrap on Facebook