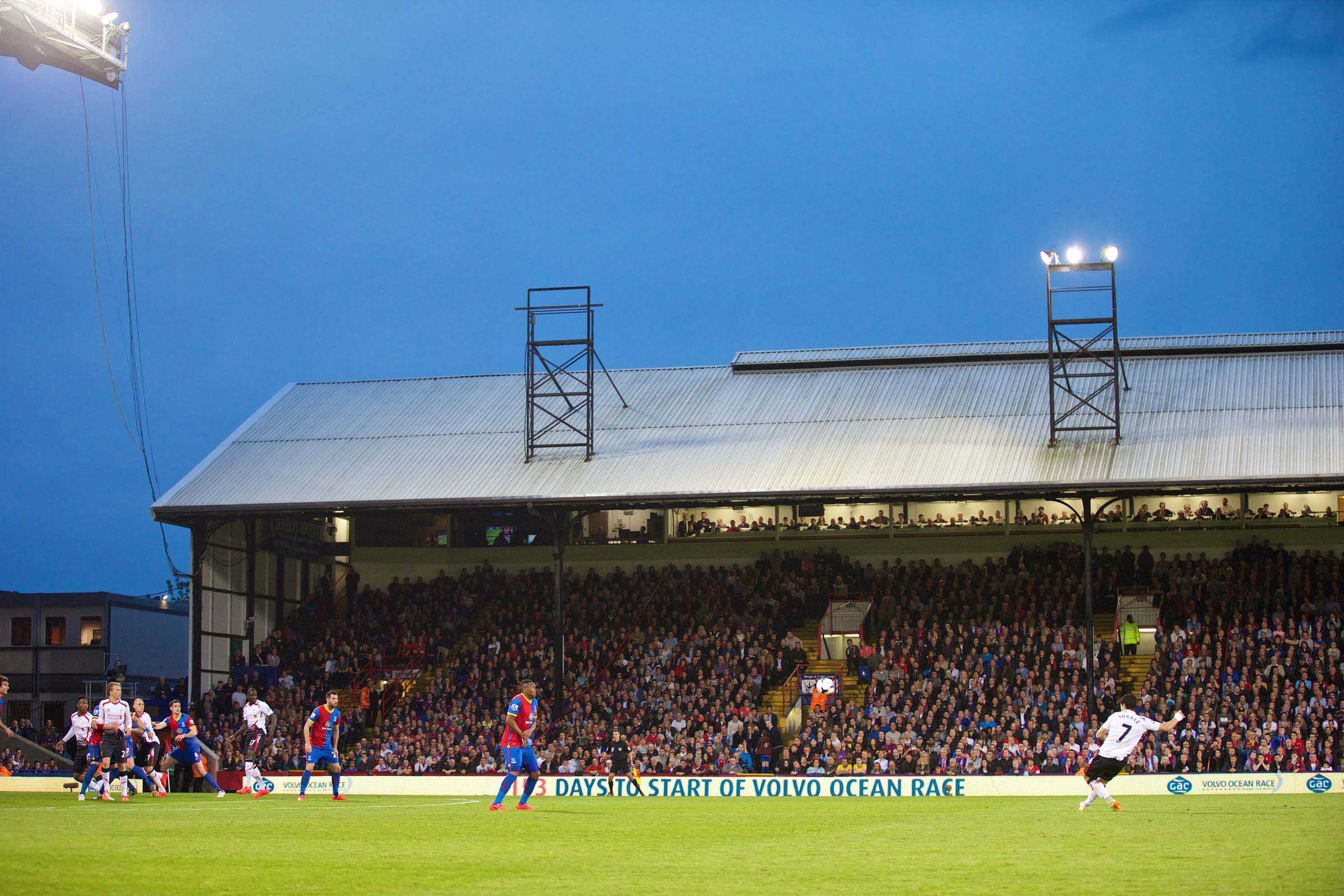 I WAS OK about this whole Crystal Palace thing until flicking through Twitter this morning. Then I started to get uncomfortable and began shifting uneasily in my seat.
Namely this:
No offence to Rory (it's a good piece to be fair! – Ed), but fuck quite literally off with the tales of wacky daring do and gangs of craziness. If it's not Wimbledon and the 'boys of 88' it's Bolton Wanderers and the reminiscences of rough looking overweight ex-players that wouldn't look out of place ordering a bacon and egg on white from a butty van in a layby on the A50 somewhere near Uttoxeter while on route to a HGV drop off of a consignment of cat food.
Drawing Crystal Palace in the fifth round of the FA Cup has opened us up to yet another set of average ex-players that just happened to enjoy the day of their footballing lives at our expense. It's all beginning to grate a bit now.
I quite like the Charles Bronson air of this season's FA Cup so far. It's all been a little bit 'Death Wish' up to now. Wronged us in a previous era? Well who's laughing now? Putting in an unconvincing performance away to AFC Wimbledon in the 3rd round? That certainly showed them for 1988. Labouring to an injury-time winner in a replay away to Bolton in the 4th round? Take that for 1993. Bring on Palace then, as we're sure to sneak through thanks to an unjust penalty and the harsh sending off of both their centre-backs in retribution for 1990.
I've taken a glance at the teams who are still left in this season's FA Cup and we could feasibly go all the way through the competition by exorcising the demons of past FA Cup angst. Brushing aside West Brom in the quarter finals and Leicester City in the semi finals would suit my dad no end. He was one of those 1960s lads who were part of a group of mates that went to Anfield one Saturday and Goodison the next, despite being a confirmed Red. He was actually at Goodison the day my mum was screaming the walls of the Liverpool maternity hospital down while bringing my sister into the world.
My dad has never forgiven Leicester for beating us in the 1963 semi final — a game we apparently dominated. It was the first time he'd ever departed the north-west to watch a Liverpool match. He also has a bone to pick with West Brom for a quarter final second replay defeat that was played out at Maine Road in 1968. Second Division Birmingham City was the prize waiting in the semi final and Wembley was there for the taking. Everton reached the final that year and the first all Merseyside FA Cup final could have come 18 years earlier than it eventually did — and a full six years before the metropolitan borough of Merseyside even existed.
Of course we can always beat Man United in the final? The last act in a Bronson-fuelled rampage of FA Cup flavoured vengeance.
All that said, I'm not into this whole 'we owe them one' vibe about Palace. I'm not even certain which game some people want retribution for. If it's the 3-3 from last season then you need to have a word with yourself and let it go. Had we hung on for the three points that night we'd have still missed out on the title. If it was the loss at Selhurst Park earlier in the season, then that shouldn't affront you as we were deservedly beaten that day and it marked the point where we hit the bottom of the barrel and started to bob back towards the surface. If anything Palace did us a favour, as we've lost just once in the league in the near three months since they beat us that day back in November.
There is no need to get irate about a football club that has beaten us just twice when points have been on the table since the dawning of the Premier League. If we sat down and thought about it for long enough we'd see that under these rules of the curmudgeons we would actually 'owe one' to a pretty big list. We'd be in danger of becoming the angry little fella in the pub that wants to pick an argument with anyone and everyone. We're far too hip for that kind of crap.
Yes, I get pissed off with the regurgitation of how we were conquered by the David to our once proud Goliath, but it's also a backhanded compliment. That 1990 semi final is the latest in a line of similar batterings we've taken in a retrospective footballing pillow fight.
It was a pretty hideous performance on a day the cracks in our defence came seeping through the wallpaper we'd plastered over them. We actually played well in the first half of that game and Ian Rush had put us one up before going off injured around the half-hour mark.
We only had Steve Saunton and Barry Venison on the bench, so John Barnes had to push up front and we ended up with six defenders on the pitch. Gary Gillespie, who'd comfortably dealt with the aerial threat during the first half, didn't return for the second half and things went nuts from the restart.
First Mark Bright and then Gary O'Reilly scored for Palace, but then we seemed to break their resistance with two goals in three minutes with less than 10 minutes left on the clock. Steve McMahon caught the equaliser perfectly, and then Barnes put us 3-2 up from the penalty spot.
Game over, except it wasn't as Palace came back at us when Andy Gray made it 3-3 with seconds remaining. After that it was an insult that someone as shite as Alan Pardew stamped his name all over the game by plundering the winner. He'll now be the opposing manager for Brendan Rodgers to face tomorrow. Go figure.
The least they could have done was gone on and beaten Man United in the final, but they even disappointed us with that. It should have been a Liverpool vs Oldham Athletic cup final that day.
Anyway, stop letting Crystal Palace get under your skin and remember the pastings we've given them on the occasional times they've appeared in the top division over the last three decades or so.
I was there the night we put nine past them, in a game in which we didn't really break sweat. Even a Graeme Souness managed Liverpool put five past them one year, while a Roy Evans lead Liverpool scored six at Selhurst Park in the mid-1990s.
Palace aren't a hoodoo side a bogey team or anything else — they just caught us with a part self-inflicted lucky punch in a game we played almost a quarter of a century ago.
Read: Crystal Bawl – Why tracking down the 9-0 video was something to shout about
[rpfc_recent_posts_from_category meta="true"]
Pics: David Rawcliffe-Propaganda
Like The Anfield Wrap on Facebook