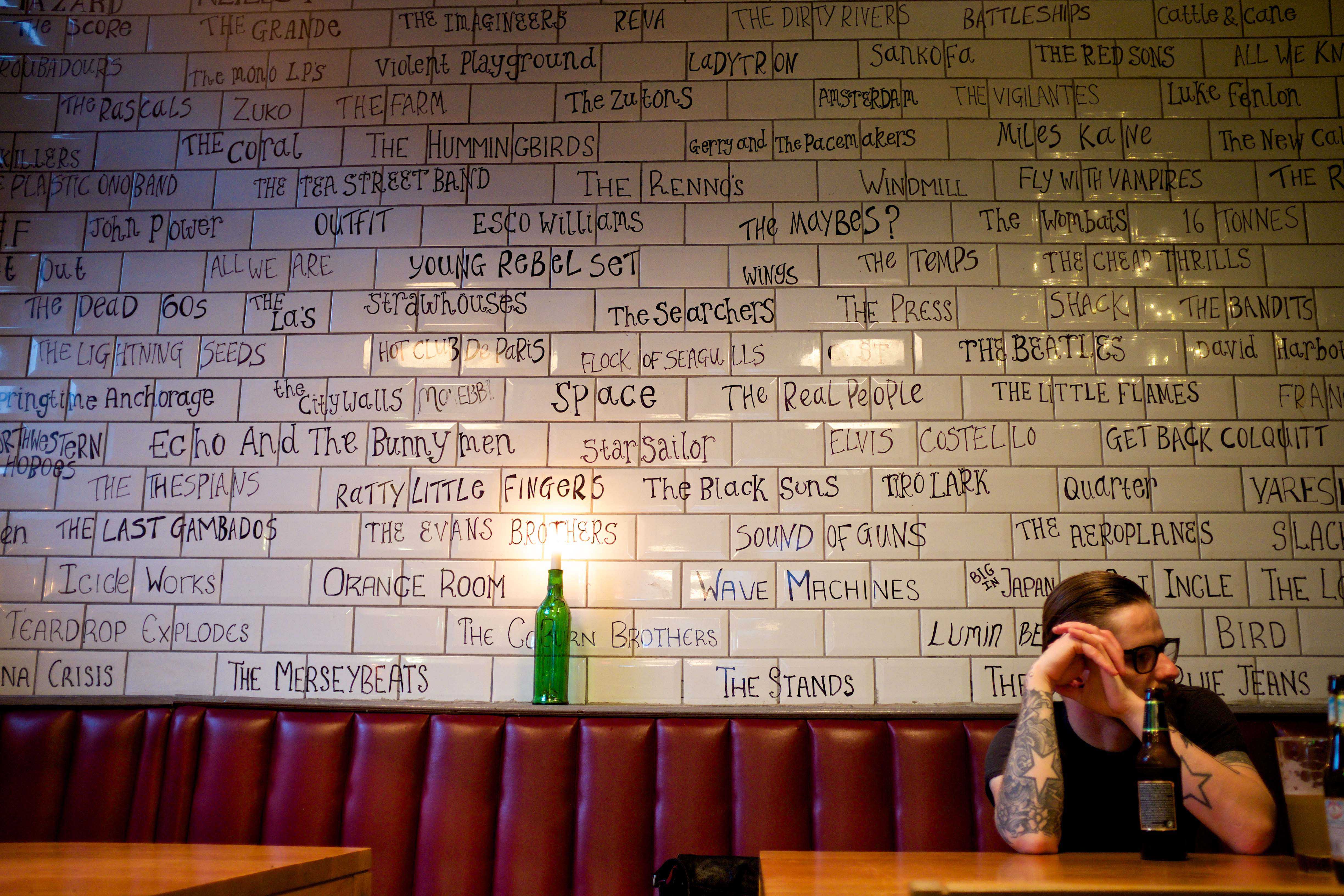 WE'RE going to try and regularly write about stuff to do around the game. And what better place to start than the boozers? Loads you may know. Some you might not. But here are the thoughts of some of the TAW crew on the best alehouses to wet your whistle before and after the match.
We've even given you directions, twitter accounts, everything.
So without further ado…..
JOHN GIBBONS
The Twelfth Man: Walton Breck Road, Anfield
I thought long and hard about this one. Mostly because it's busy enough as it is. But the pub locally known 'affectionately' as The Solly is where I have celebrated many big wins, and where I'll celebrate many more. Upstairs is where I see the lads who I hug, the lads who I high five, and the lads I nod to even though we've been doing that for years now and should have probably progressed to 'hello'.
The first half an hour is a nightmare to be honest. You can't get to the bar, the toilets are rammed, and people want to talk about the actual football. "Yeah we won, but Lucas is still shite" (You know who you are). But once people start drifting away we get our table, and some other footie comes on the telly and we can get on with the serious business of drinking our weight in Peroni and lying to ourselves about what time we are going to go home ("Not having a late one, got loads on tomorrow").
If that isn't enough to sell it, Mike Nevin drinks there. Yeah that's right, ladies. Come in and walk around him
Pogue Mahones, Seel Street, city centre
After The Solly, we head to town. My pubs of choice at this point are the ones who shake their heads at us and leave us alone. And Pogues have had a solid "Look I know they're dickheads, but they buy half our Guinness" policy for about 10 years now. Good on them.
Aside from that the barmaids are great, the managers are sound and you get far more attractive girls in there than you really should. Another plus is that the toilet signs are written in Irish. So if you have an 'emergency' and some lad is taking ages in the cubicle you can pop into the ladies and then blag you didn't know on the way out.
They have a band on a Sunday night, too. Which is the best night in town by far anyway. But that's for another day.
PHIL BLUNDELL
Thomas Rigby's, Dale Street, city centre
While it might well be an Everton pub, it's still one of the best pubs in town. If you need to eat then you'll struggle to get better pub food in Liverpool (try the Scouse), they show horse racing – something that works for me – and they serve a ridiculous selection of beer. Particularly Fruh Kolsch.
While this might well be a post-game boozer, I've had some utterly disastrous pre-games in there. I used a spare off a mate for the Atlético Madrid semi final in 2010; I went to the seat with him and gave him the fancard back. About five minutes before kick off I went to use the facilities and then managed to get lost on the Kop with no recollection of where I was sitting. I think the game went to extra time but I would have to check. All Rigby's fault.
There's also a courtyard, which counts as a beer garden so it's on to a definite winner there. It's also handily located near Liverpool's number 1 karaoke hotspot.
Bier, Newington (off Bold Street), city centre
I assure you that I'm not on commission here (although I do accept charitable donations in liquid form) but this has to be on the list. No Carling, no Fosters, and no Carlsberg, which is always something I will reward extra points for.
They'll throw the footie on, they'll sort you out with pie and mash, the music is spot on, and City at home last season saw one of the most fun gatherings of Reds all season. I was supposed to go home and watch the Masters at half seven and ended up on the last train. If you know me you'll know that that must mean it was good.
The Dispensary, Renshaw Street, city centre
It used to be our go-to pub when we jumped in a cab back to town after the game (before the above opened). It serves Cains and if you stay there too long it's got two massive features going for it: it's near about 300 Indian restaurants which are all pretty good if you need food, and it's near the bombed out church which means you're near where every single person who goes out in Liverpool on a regular basis books a taxi home for. I have heard a scurrilous rumour about things having gone down the pan, but I haven't checked on that for myself. Check it out and get back to me.
GARETH ROBERTS
The Twelfth Man: Walton Breck Road, Anfield
Swerving Anfield boozers to get on it in town is a good idea in theory. In practice – when it's freezing, pissing down or you can't get a cab (a lot) – you need a plan B. Your L4 pub needs to tick just two boxes: 1. Near. 2. Sell Guinness.
The aforementioned Solly is my first port in a storm. Gibbo's covered it, but I'd add that it's two boozers in one – with very different types of fan supping in each section. Upstairs is a swarm of North Face and Adidas worn by (predominantly Scouse) hardcore match-goers. You may also be fronted by the odd snarly brandy-drinker, who will delight in telling you that you "talk shite" on the radio while reminiscing on those fun times when he threatened to spark you on a mini-bus (that probably only happens to me, to be fair).
If you're rocking a jester hat, a Liverpool FC ski-suit and a pair of Donnay, it's probably not the place for you (try The Albert, or The Park). Downstairs is more welcoming as no-one's arsed with the peacocking or laying their Scouse medals on the table. You probably still wouldn't get away with the ski-suit, though.
The King Harry, Blessington Road, Anfield
This was always a short stretch of the legs from The Kop down Dog Shit Alley (Back Rockfield Road) but you'll need the compass now that they've started building the new Main Stand.
I've heard it's been taken over and had a bit of dough spent on it since I last went in, so it may not be quite so 'earthy' as it once was. But it's near and does Guinness.
The Grapes, Roscoe Street, city centre
Once the crowds have died down, jump a cab and direct the inevitable misery-arse Evertonian driver to The Grapes (make dead sure it's the one on Roscoe Street, not – I repeat not, the one on Mathew Street). Why? Boss ale. And as the trip to the bog involves a cozy squeeze past the people at the bar, you'll invariably get nattering to some randoms, who – in my experience at least – tend to be sound.
If it's a Sunday game and you've stretched your session out long enough, there's a bit of live jazz on about nine-ish as well. Nice…..
ROB GUTMANN
The Yuet Ben, Upper Duke Street, city centre
I could write a novel on which ones I wouldn't touch after the game. The common denominator would be that they had football fans in them. I'm all about getting served and going the bog while retaining my dignity at all times. I quite like a bit of a sit down, too. Just because I'm giddy and we've won I'm not letting standards drop.
Actually, the result is the key factor in my choice of venue. If the result has been horrible I need to get distracted and quickly. If that's the case the breadth and complexity of a Chinese menu usually does the trick. I also need to treat myself by way of compo if we've taken a beating. A Chinese remains a treat. To this end, I'm going to be nominating The Yuet Ben on the corner of Berry Street. Compact, bijoux and has been impeccably run with both charm and style by owner and host Terry Lim for decades.
My good pal Danny Hunt tells a lovely post derby story about getting to the Yuet Ben (after a Liverpool win) only to find Mikel Arteta (who'd played that day for Everton) already ensconced and well past the crispy duck stage – I'm not going to try and do this anecdote justice here – suffice to say a group of Evertonians came into the restaurant shortly after Dan's arrival, spied Arteta, by then on to the cheese board course (or equivalent) and berated him along the lines of 'no surprise to see YOU got here so fucking quick' as the hapless Mikel had been sent off in that day's derby and had therefore been able to leave the ground early and get stuck into his hot and sour soup before the final whistle had sounded.
Tribeca, Berry Street, and Motel, Fleet Street, both city centre
If we win I tend to end up in either Tribeca or my own gaff, Motel. I'm not shamelessly promoting with the latter choice, it's just more an indictment of my own sloth. I get served there. Funnily enough.
I like to celebrate contemplatively and deconstruct if we win, rather than have a sing song, so I'm happiest with a small group of mates around and seamless access to both bar and khazi.
In conclusion kids – swerve Anfield pubs (sorry Anfield publicans) and go to town and the Berry Street/Seel Street axis. Just far enough away from the dickheads while still feeling like you're getting that quintessential Liverpool city centre experience. And stay safe.
NEIL ATKINSON
Sound Food and Drink, Duke Street, city centre
Sound is my local. And Sound is consistently sound. If it has A Boss Night on then all the better. The genius of those nights is second to none and all involved should give themselves a pat on the back. The best place in Liverpool to be surrounded by people who love Jordan Henderson.
Ye Hole in Ye Wall, Hackins Hey, city centre
Great ale, mad as a box of frogs, the possibility of food never quite realised, places to stand, places to sit, loads of golden browns. Ye Hole In Ye Wall bills itself as Liverpool's oldest pub and might well be. It isn't somewhere I drink enough normally but is somewhere, when reflecting, I drink disproportionately often on match day. It is a winter pub and one to be cherished.
And? And, well, I do crawls. Or crawls are done around me. Loads of mad crawls. Steve Graves is a nightmare for them. Plans them, themes them. Builds a day around them. I love them and moan about them in equal measure. Simultaneously. Get yourself a taxi to the Caledonian, drop down to the Belvedere, get yourself to Ye Cracke. Robbo's mentioned The Grapes. Bang. Top or tail that with a Liverpool win and you'll struggle to do better.
Do better? OK. Start bottom end and rock towards the Ship And Mitre. Don't have the Jaipur. Leftfield? Start London Road. Or start at the Bears Paw. (Please start at the Bears Paw. They'll be so pleased to see you and are lovely people). Start at the Cambridge. End there.
The Roscoe Head links you in any direction but it is tiny. OK. One more. One more I don't go to enough. We don't go to enough. But we should. One more…
What a boozer this is. Any trip to Liverpool should include it. Loads of places to sit, endlessly wooden, the manager looks like Dirk. I might try to make this massive this year. You should go. I should go. Let's go. Let's all go.
Photographs courtesy of David Rawcliffe/Propaganda Photo