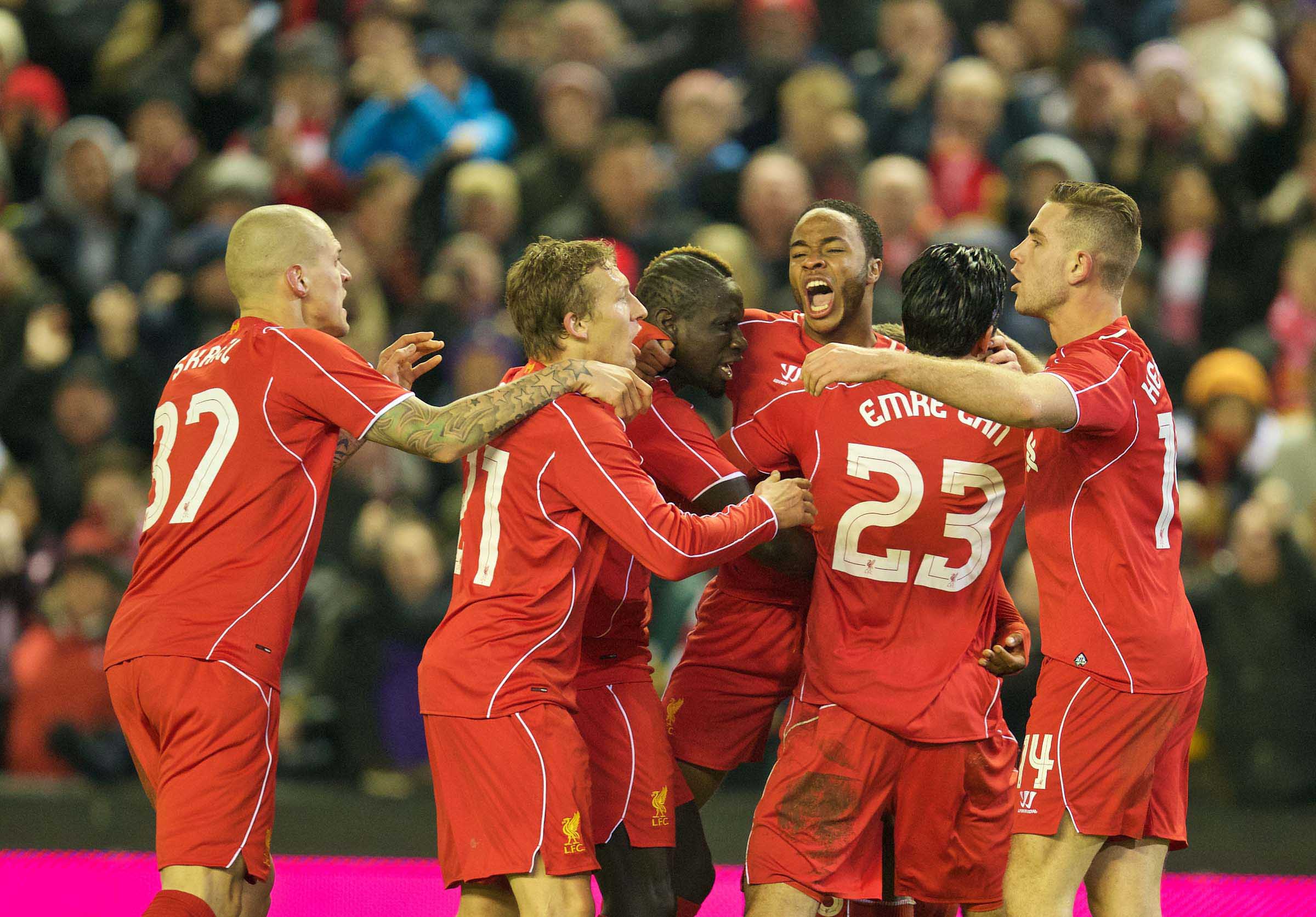 THE League Cup doesn't matter? Someone forgot to tell Liverpool.  When I heard the team read out on Radio City as I drove towards the ground it prompted a scowl, a nod and a clench of the fist.  Not just because Liverpool were taking this seriously, but because Liverpool were doing it their way; backing themselves, sticking up an early middle finger to these so called 'rivals'.
Any manager always has the option to stop, stifle and stymie. Any manager can get wrapped up in worrying about the opposition too much – he's scored this many, he can do that. He's capable of this. Only if you let them. Only if you let them. Should Liverpool go more defensive? Four at the back? Should Lazar Markovic be given defensive duties against one of the best players in Europe in Eden Hazard? It was a viable option to change. To tinker. To play safe. And it was an option Brendan Rodgers would be passing on tonight, thank you very much. Yes, even against the league leaders. Even against a team 17 points ahead of us in the league with only two discretions in the lost column. The top scorers in the top flight.
And good. Good because what I want from Liverpool at home in a major match like this is a show of balls. Balls win games. Sometimes balls aren't enough. But if you slap them on the table and show you mean business no-one can say you didn't try. And no-one can say Liverpool didn't try. They did more than try. They dominated.
Let's rewind a bit. Remember not so long ago, when Liverpool were setting up to avoid defeat? To stay solid? To be boring? Remember when Rodgers was pacing his kitchen in the early hours and berating journalists for not being positive enough in match reports?
Then it seemed like there was no way back. A malaise had enveloped Anfield. Heads had gone down or gone completely. Spirits were low. Players played it safe and so did the manager.
Now think about tonight. It might stick in the craw, but Chelsea are a good side. A very good side. And think what you like about the egomaniac who makes journalists go weak at the knees and Scousers clench a fist, but Jose Mourinho knows how to win and knows how to set up a team.
We saw that tonight. Liverpool started on the front foot in a manner befitting of the ballsy formation but Chelsea's disciplined shape and commitment to break up and battle was worthy of grudging admiration.
They simultaneously gambled little while gambling enough and while Philippe Coutinho almost threaded Raheem Sterling and Steven Gerrard nearly added a 35-yarder to his goals gallery it wasn't much to show for all the huff and puff of the opening 17 or so.
Chelsea had conceded both territory and possession early but with Mourinho masterminding it there was the lingering doubt it was a shuffle of the chess pieces as much as a Liverpool onslaught.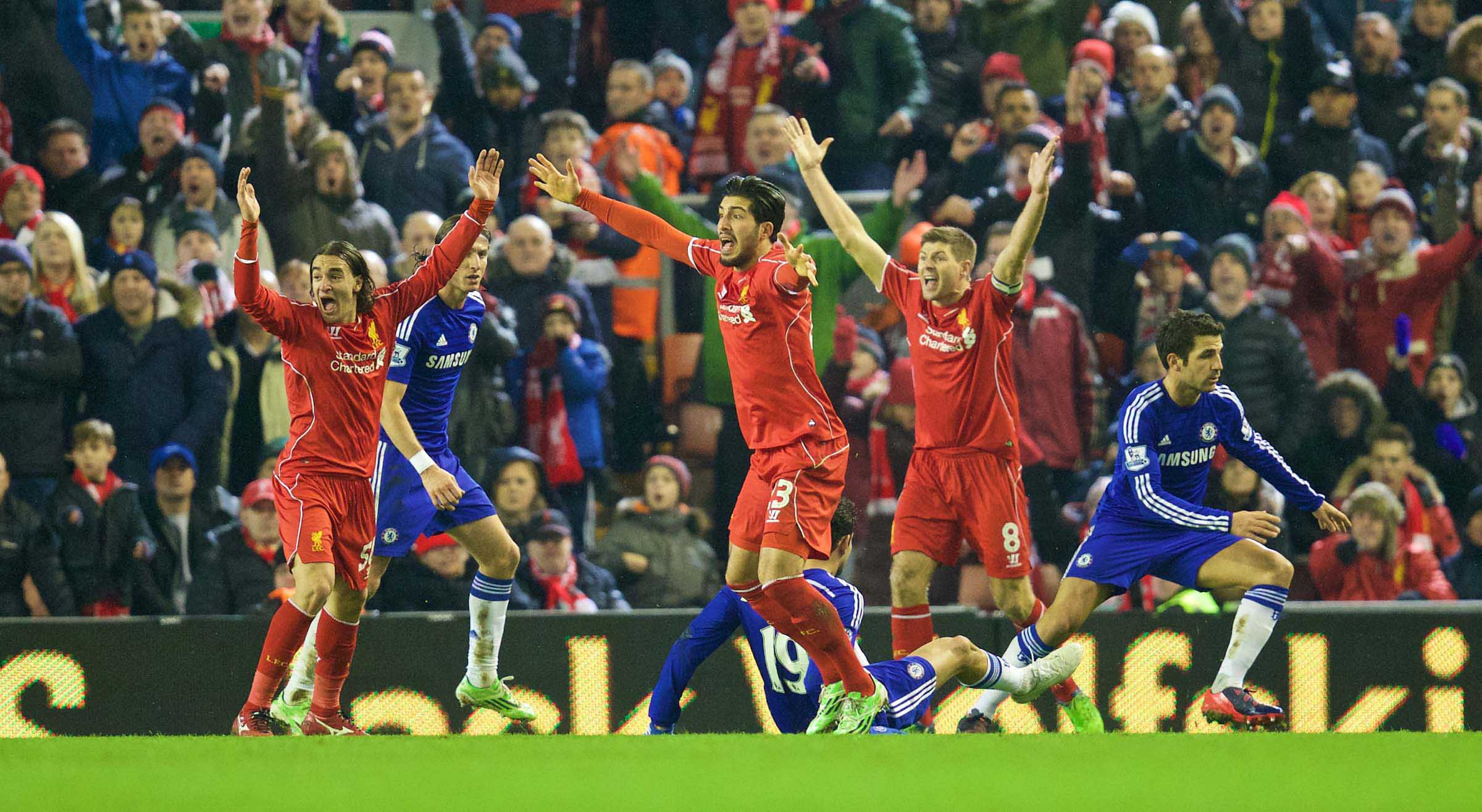 And when you've got players like Hazard and Diego Costa to lead the charge the other way, a goal is never far away. So it proved. Chelsea were clearly, and predictably, targeting Markovic and Can – and it was down their flank that the move built which ulitimately led to the penalty – Chelsea's only shot of the first half.
Not too many fingers should be pointed at Can. He's young, he's finding his feet and he's not the first to find himself fooled by a Hazard fleet of foot.
So back to the balls. The desire. The fight. Against Real Madrid, Liverpool lay down, rolled out the red carpet and applauded the Ronaldo show; hardly laying a glove on the Spanish giants once they had taken the lead at Anfield. They should have all got a selfie and an autograph and had done to be brutally honest.
You can talk money, spending, transfers, managers and systems all day – and plenty do – but spirit, commitment and fight are commodities that can't always be bought or coached. And there was little evidence of that on or off the pitch that night in October.
So here we were again. Roughly the same point in the game. 1-0 down to a good side packed with stars in an important game at a packed Anfield. What this time? Mute acceptance, or biting belligerence?
Thankfully this time it was more of the latter. And alongside being the form team in the league – and boasting a squad increasingly packed with options rather than duds – this is a group that's found its fists and discovered how to throw a punch or two.
Sterling kept chipping away. Coutinho running and running, twisting and turning; desperate to find a crack in a seemingly impenetrable line – the Chelsea back four drilled to within an inch of their lives, marshalled by Matic and Mikel and aided and abetted by Hazard and Costa who often dropped to do some dirty work.
We did the dirty work too. Can recovered and made some crucial tackles  – and some promising drives forward. Moreno saved everyone's bacon with that last ditch block. Everyone fought, ran and generally looked like they meant it. Sorry about you if you're desperate for Rodgers to get the boot, but it doesn't look like his players feel the same way.
The question then was how could Liverpool get through – the effort and endeavour was there for all to see but we'd been here before as the Tourettes-like chants of the Chelsea fans reminded us. Again. Again. And again. Last season we knocked on the door and left the back gate open. If you didn't think the same could happen again here you're lying.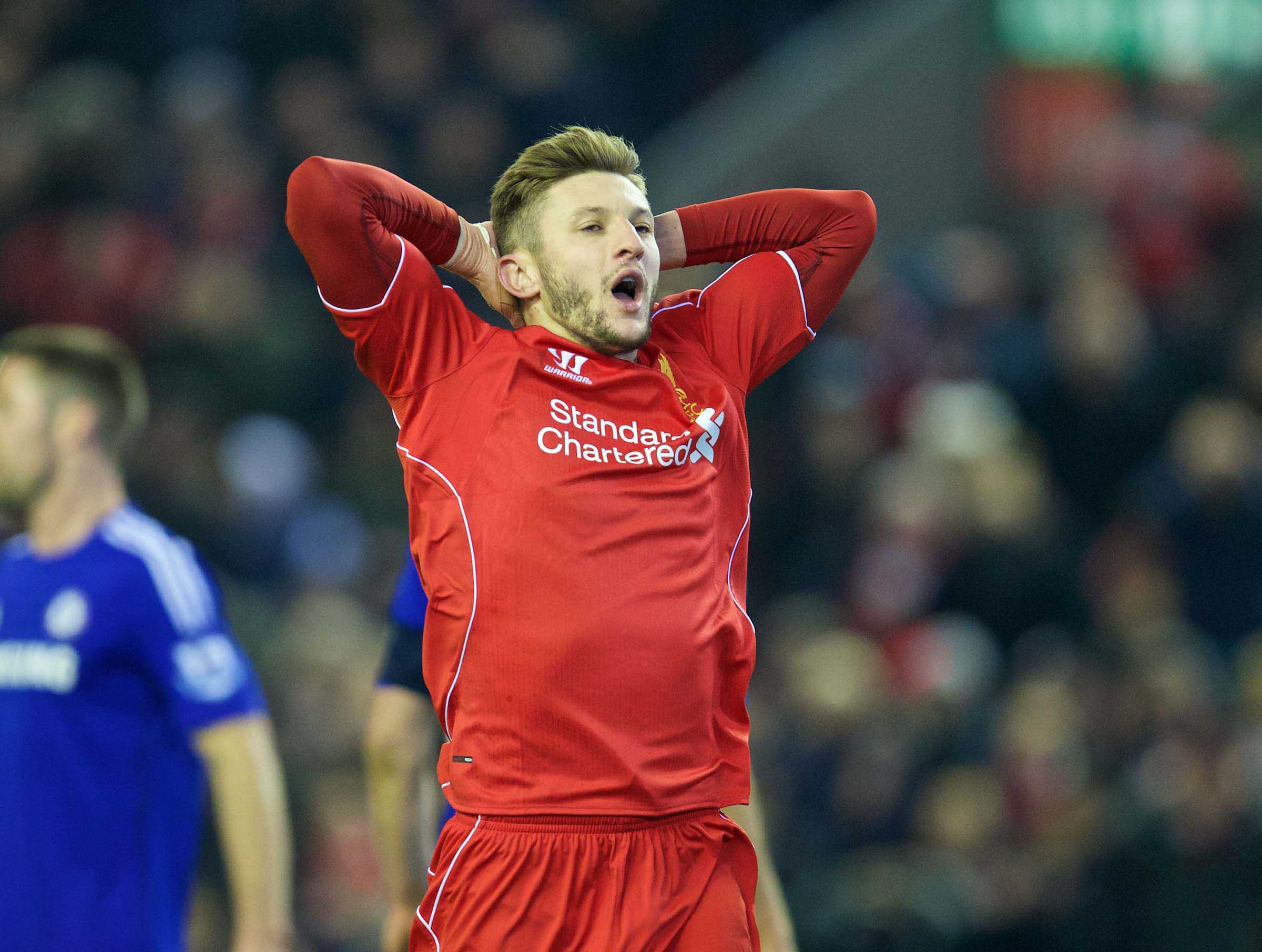 That second half though. What a second half. Supporting a footie team isn't a linear journey – there are ups and downs. Peaks and troughs. Times when you doubt you care as much as you once did. Then you get second halves like that.
I started the night with a sore throat. I've made it a lot worse, and not just screaming at some inexplicable decisions from Martin Atkinson. A simple collision is a yellow for Lucas? Costa's handball? The ridiculous John Terry wrestling incident on Sterling? Thibaut Courtois handling outside the box? All sound, apparently. All sound.
Our conversation at half time on the Kop had centred around how Liverpool were going to get through the barrier of blue. Would Brendan have the chess board out? Change tactics? Alter the system? It seemed like the board was binned. Let's just have balls. Big massive balls.
Liverpool kept going. Kept knocking. And this time the gate was locked. Liverpool deserved more than the one goal that eventually arrived. Look at them all at the end. There was nothing left in the tank – it was all poured out on the pitch, every last bit. The way it should be. Chelsea were knackered, too. We made them work. Left them clinging on. Big time. Last ditch tackles, blocks, saves, the post. They got lucky and we got ballsy. And it was fantastic to watch.
Not so long back – Old Trafford, Manchester – Sterling's cutting edge was questioned. A burst through the Chelsea defence and a left foot finish later that question was as relevant as songs about Demba Ba. Some goal. How do you get through the barrier? You burn right through the middle with that pace and that control then you apply that finish. See you, lads.
Make no mistake, Chelsea won't be looking forward to facing Sterling on Tuesday. And what has he got to be scared of? Run at them. Run through them. What have Liverpool got to be scared of? Look how good we are.
Gerrard should have scored when he hit the post, Lallana's belter brought out a brilliant save from Courtois; Coutinho, Henderson, Sterling….we could and should have won it.
London's calling and we want the League Cup. We're taking it seriously. And we've found our balls. Get Gerrard to Wembley said the bedsheet banner. You know what, we're going to give it a good go.
[yop_poll id="22″]
[rpfc_recent_posts_from_category meta="true"]