AND suddenly Liverpool look rampant. Ish. For five minutes.
But it is enough. Play well for five minutes a half against a ton of these sides, you win. This is especially true if you have an actual centre forward.
An actual centre forward. Walk around him.
In fact don't. We'll come back to that. Instead look at a Liverpool side that know they've been in a fight because that's what West Ham do, they fight and fight. That is what they do. It is what Allardyce does.
It is interesting this. Allardyce gets his teams always fighting which is something football supporters always want. But you speak to West Ham supporters and you feel like they want to see their side playing. Allardyce might have them over performing, he might be for some sides a good manager, but he could well be the most mismatched managerial appointment since Hodgson at Anfield. He doesn't feel very West Ham at all.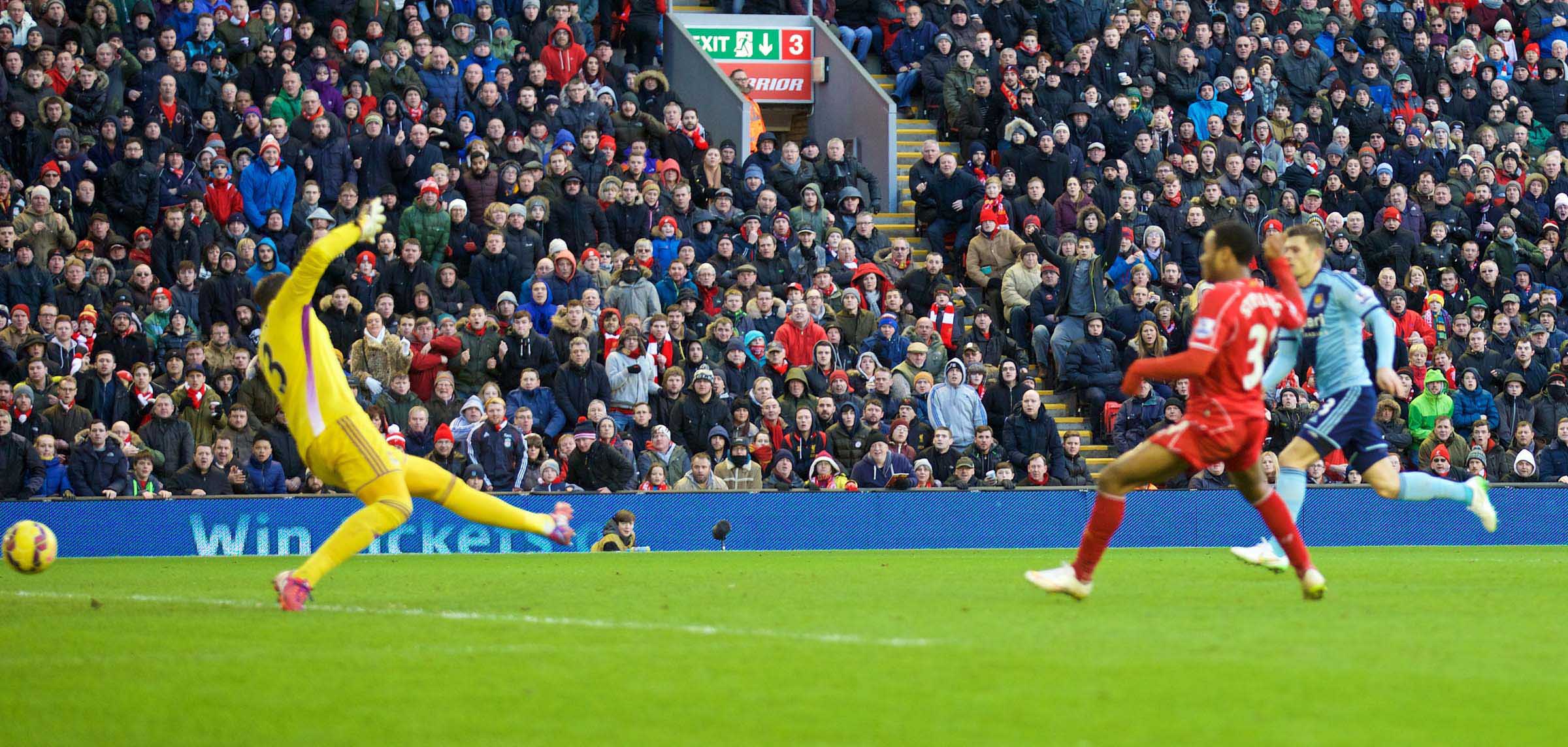 The fight was the first thing to do and Liverpool saw it through though they looked short of sharpness. The back three put up with an early assault but found themselves in good stead. They pushed out and started the play along with leading the press. The midfield two in front were good without being great, something which bodes very well.
First half Liverpool turned the screw in an old fashioned way. They should have gone in ahead, Lallana, Coutinho and Markovic all spurning good chances but unlike Tuesday it felt the goal was coming. Liverpool were in the ascendancy and were wearing a hard working West Ham United down, pulling them from side to side. Keep the ball the shout. Great to hear.
When it did come its creation was scruffy. Scruffy a good thing. Too little of what Liverpool have done this season has been scruffy, other than losing. Instead here the ball is mostly bundled through. The finish from Sterling is terrific, proper side netting stuff.
And then Daniel Sturridge comes on. The welcome spectacular. The chant perfect. The move flowing. The final ball sublime. The finish thrilling. The prose purple because for too long, for too often this season it has had to be eye gougingly brown. The dance. Oh the dance. The dance. DO THE ARMS.
Joy unconfined.
A proper centre forward. Now you can walk around him.
Daniel Sturridge's PL record at #LFC:
33 goals and 10 assists in 47 appearances.
Minutes per goal or assist: 85.
Worth a goal every game.

— Andrew Beasley (@BassTunedToRed) February 1, 2015
And then Liverpool were rampant. Should have been three or four, everything felt possible. But bigger than that in the end, after the fighting, the high balls, the elbows, the foreheads, the battery we got, the clean sheet. Liverpool stood up and were counted.
Remember that. Really. We've called them and seen then wobbly so many times this season however today they were stern. So let's remember this. More than anything this though:
Sturridge!
[yop_poll id="-2″]
[rpfc_recent_posts_from_category meta="true"]
Pics: David Rawcliffe-Propaganda
Like The Anfield Wrap on Facebook