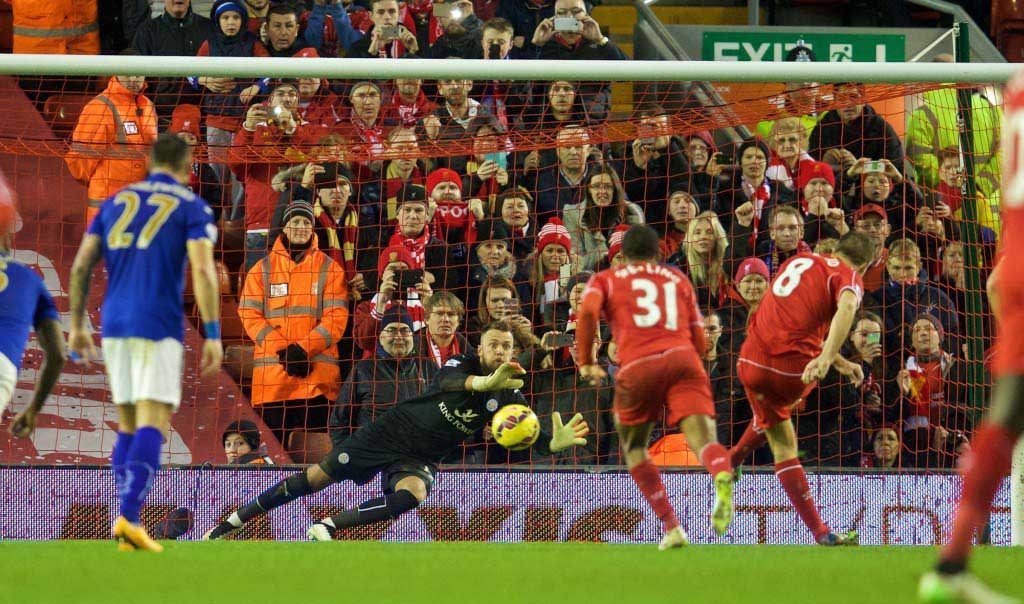 THE New Year's Day game is the end of a gauntlet. A gauntlet for everyone. Players, coaches and supporters. Christ the supporters. What a testing Christmas period it has been. Boxing Day away, an enormous Monday against Swansea and now this. There are other tests. Christmas Eve, Christmas Day and New Year's Eve. Our pre-match boozer choice of Pogues had four girls in who hadn't gone home. They looked immaculate and sang a medley of hits while United toiled against the weather in the most Stoke of all Stoke conditions. New Year's Day. The end of a gauntlet every time.
Got to be honest, I rotated myself out last night. Full of cold. Needed to focus on this challenge.
First half Leicester hit the post early. They had a big flurry then we got a penalty and Gerrard scored. I have no idea if it was or not. I was 100 yards away. There looked like there was a plan to get Henderson in but it couldn't come to fruition. Leicester might have been man marking Lallana. They might have been doing it badly. Some lads ran around more wearing red and blue. Sakho's distribution was mostly good.
The gauntlet. Liverpool should have ended the game as a contest to make it 2-0 with another penalty. Gerrard stepped up again. So certain these days. Nothing fluent but the gauntlet finds itself run before the half-time whistle. I spend half time contemplating the league table and pondering what Leicester do now. Push out and you could get battered, sit in and take the defeat? They have the win they need from the period. It should be over as a contest. Liverpool haven't played well but this is game three.
Complacency.
Other despatches from the first half? Leicester sing the majority of their songs in Cockney too. Crackers this. Everyone sounds like Danny Baker. They had one good one on the blue side and white side which sounded like a Leicester accent. Bar that? God in heaven.
George played Uptown Funk at half time. Immediately making him the game's best performer.
Leicester had a flurry after the break, more of one than I expected, Henderson played a divine ball to Sterling, Lallana got a knock and Fab Borini got 35 minutes to impress. Still 2-0.
Liverpool just needed to play well for five minutes you felt but instead Sakho gave it away cheaply and Liverpool never really recovered — Nugent arrowed in a blinder and suddenly all the work was undone. The gauntlet unrun. Liverpool looked rocked. Then Leicester drilled in a second and we had a horror show on our hands.
It was a horror show. Liverpool's second-half performance was a disgrace. The complete lack of game management and absence of presence. A disgrace.
I rarely adhere to white line theory. The idea that the manager sends them out over the white line and there isn't much he can do. But Liverpool's 11 on the pitch really were the architects of their own downfall. They showed, against Arsenal, against Swansea, they could manage a game. It is a side full of senior pros. Here though they failed miserably for the second half. As complacent as I was, no doubt. Is the Borini change right? Not in hindsight, not at the time either. One more man in midfield to calm it wouldn't have killed anyone either. And then Borini blocked three chances and missed his own. Beyond that? Fouled people. Fundamentally everything comes down to the manager, everything is his responsibility. That's the job. But these are senior professionals given a two-goal start at home and 45 minutes to see it out against bottom of the league.
Grumble over a team selection all you like, having got to the 2-0 without playing well these professionals, these internationals, should have been seeing it out with the ball at their feet. They should take the game away from Leicester, not collapse into chaos.
Liverpool have their chances to make it 3-2. Leicester have their pressure. Liverpool don't wilt; they do everything but wilt but they don't compound their collapse. Grasp at that straw.
It needs pointing out that it looked a game too far for Lucas. Gerrard's last 10 minutes are dreadful and the 80 that precede it aren't good. Moreno's all over the place. Toure looked knackered. Only Coutinho looked bright. Leicester scrapped their guts out. Organised and hardworking. But not actually good, though not actually abject. Unlike Liverpool.
There have been mad results all the way through this Christmas period. That is the gauntlet. That is what it does. But that doesn't make the unacceptable acceptable.
This 45 minutes was unacceptable. A terrible second-half performance. A terrible league, looking at the results, looking at the table. Nothing is fucked, still. Somehow.
More than Liverpool deserve.