IT'S an hour until Liverpool play Chelsea in the League Cup semi-final first leg at Anfield. The team-sheets have just been plastered all over Twitter, writes SAM WILLIAMS.
Teamsheets are boring. In this age of social media and 24-hour rolling news, they generally serve only to tell us what we already know: "Sturridge still not fit?"
"Nah mate, didn't you see his Instagram last night? He put a picture up of himself in the gym. Said he'll be back next week."
But this team-sheet is different. This team-sheet might tell us how Brendan Rodgers plans to tackle one of the biggest challenges of his career.
---
STEVEN Gerrard is a paradox. I'd wager that managing him has always been a challenge. On the one hand, you've got a wonderfully talented and committed footballer. A leader of men. A player who — in his prime — could make it feel like anything, absolutely anything, was possible on a football pitch. Managing that Steven Gerrard would be easy.
But on the other hand, you've got a complex, introspective human being who is seemingly in need of constant reassurance about his own professional importance. Remember that bit in his book when he said that all he wanted from Rafa Benitez was a "well done"? Managing that Steven Gerrard would not be easy.
He needs attention. At times — certainly in his younger days — he has needed indulgence. "Yes, Steven, you really are that good. You're my best player, you'll play 90 minutes every game. Don't worry about anything, just go and play."
That's all he's ever wanted to hear, and Brendan Rodgers obliged. Mindful maybe of his own shortcomings in terms of reputation and stature in the game, Rodgers did everything in his power to keep Gerrard — a man who possesses those traits by the bucket load — happy from his first day in the job. That's not a dig at the boss, by the way. It's a clever piece of management.
For a 40-something ex-Watford, Reading and Swansea manager with no playing career to speak of arriving at one of the biggest clubs in the world, things are bound to be much easier when the legendary captain is onside. That relationship continues to this day.
Forget talk of game time being "managed". Game time might have been managed next season, and game time might still be managed this season. But it hasn't been yet. Not big game time, anyway.
Since the beginning of October — the month when Rodgers and Gerrard apparently first broached the subject of the captain's future — Liverpool have played 23 times, and Gerrard started 19 of those games.
Rodgers decided that Swansea (twice), Stoke and Sunderland — all at home — were fixtures when his skipper was not needed from the start. Fairly standard practice at any big club, especially when the skipper in question is approaching 35 years old.
But Real Madrid at home? Chelsea? Manchester United? Arsenal? Basel home and away? Gerrard played 90 minutes in all of those games. His importance to Rodgers has not diminished. Yes, he was left out at the Bernabeu. But so was Raheem Sterling. And Jordan Henderson. And Phil Coutinho.
He was rested, not dropped. Rested because the manager wanted him fresh for a game he considered more winnable — and, in the context of Liverpool's season, important — four days later. Gerrard's omission in Madrid actually proved how crucial Rodgers still considers him to be — not the opposite, as was reported.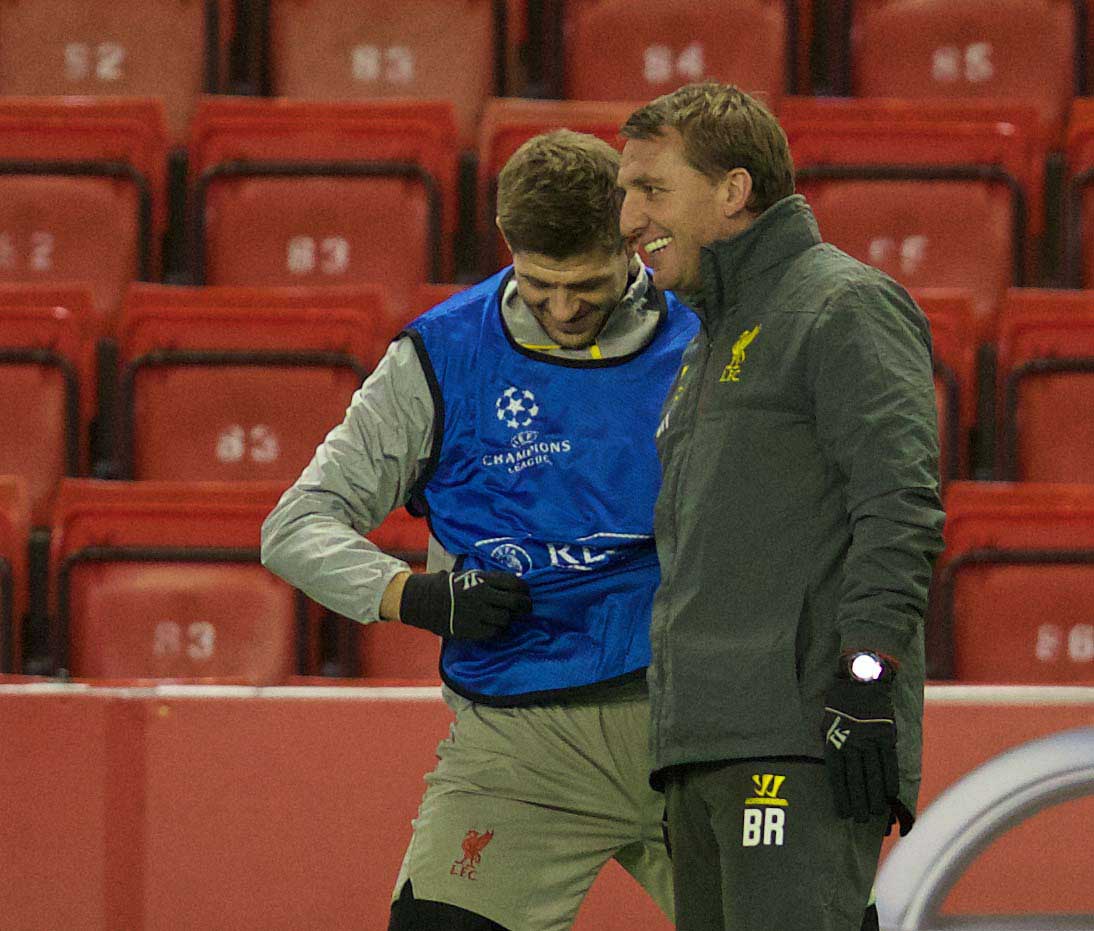 When it comes to the games that matter, the games that really matter, Steven Gerrard starts. Simple as that. But in five months' time, Gerrard won't be Rodgers' player, Rodgers' captain, any more. He's a sitting duck captain. A magnificent, era-defining captain who will still be talked about in a hundred years, but a sitting duck nonetheless. So what does Rodgers do with Gerrard now?
Does he become just another member of the squad? Something he has never been, with Liverpool or England, and never will be again once he's in America? How would he react to that? What does Rodgers do with Gerrard when Chelsea come to Anfield? That's Liverpool's next big game. Does the manager start his skipper, his top scorer this season, the man he says is the best footballer he's ever worked with?
Or does he decide that Henderson's development as Gerrard's heir could benefit immeasurably from leading Liverpool out in a semi-final?Questions. Loads and loads of questions. Questions that only one man can decide the answers to.
Seven days after that Chelsea game, Liverpool go to Stamford Bridge for the second leg. Eleven days later, Liverpool go to Goodison Park. Steven Gerrard's 33rd, and probably last, Merseyside derby. Twelve days after that, it's Besiktas in the Europa League. Possibly Steven Gerrard's last European game at Anfield. The League Cup final could follow on March 1. Maybe Steven Gerrard's last final in a Liverpool shirt. Then Manchester United come to Anfield. Probably Steven Gerrard's last game against our friends from down the M62.
One of the very first questions Brendan Rodgers will face before and after those games — those season-defining games — will be about Steven Gerrard. "Will he start, Brendan? Surely you can't leave him out for his last derby/European game/final/game against United?"
"He was great today, wasn't he Brendan? Performances like that must make you wish he was staying?"
Rodgers will get some respite when Gerrard plays poorly or when Liverpool win without him, because those scenarios don't fit the media narrative of how much Liverpool will miss him. But the captain is now the story when he plays, and the story when he doesn't. A manager as media-savvy as Rodgers knows this, and he's probably already settled on a few stock replies he can wheel out when required. But there's no getting away from the fact that the Gerrard situation is a distraction. It's a huge, unwanted distraction.
Liverpool could still win three trophies this season. Three trophies still up for grabs in this stuttering, underwhelming — and at times downright depressing — season, which has made 2013-14 feel like some sort of otherworldly experience that never really happened. Liverpool don't need distractions when there's still so much that can be achieved between now and the summer.
Jordan Henderson, an unassuming young man getting his head around the fact that he's about to become captain of one of the biggest clubs in the world, doesn't need distractions. Raheem Sterling, a kid maturing into one of Europe's finest footballers before our very eyes, doesn't need distractions.
Brendan Rodgers doesn't need distractions, either. But he's got one. And how he manages it could define Liverpool's season. It could even define his reign as Liverpool manager.
Over to you, Brendan.
Pics: David Rawcliffe-Propaganda