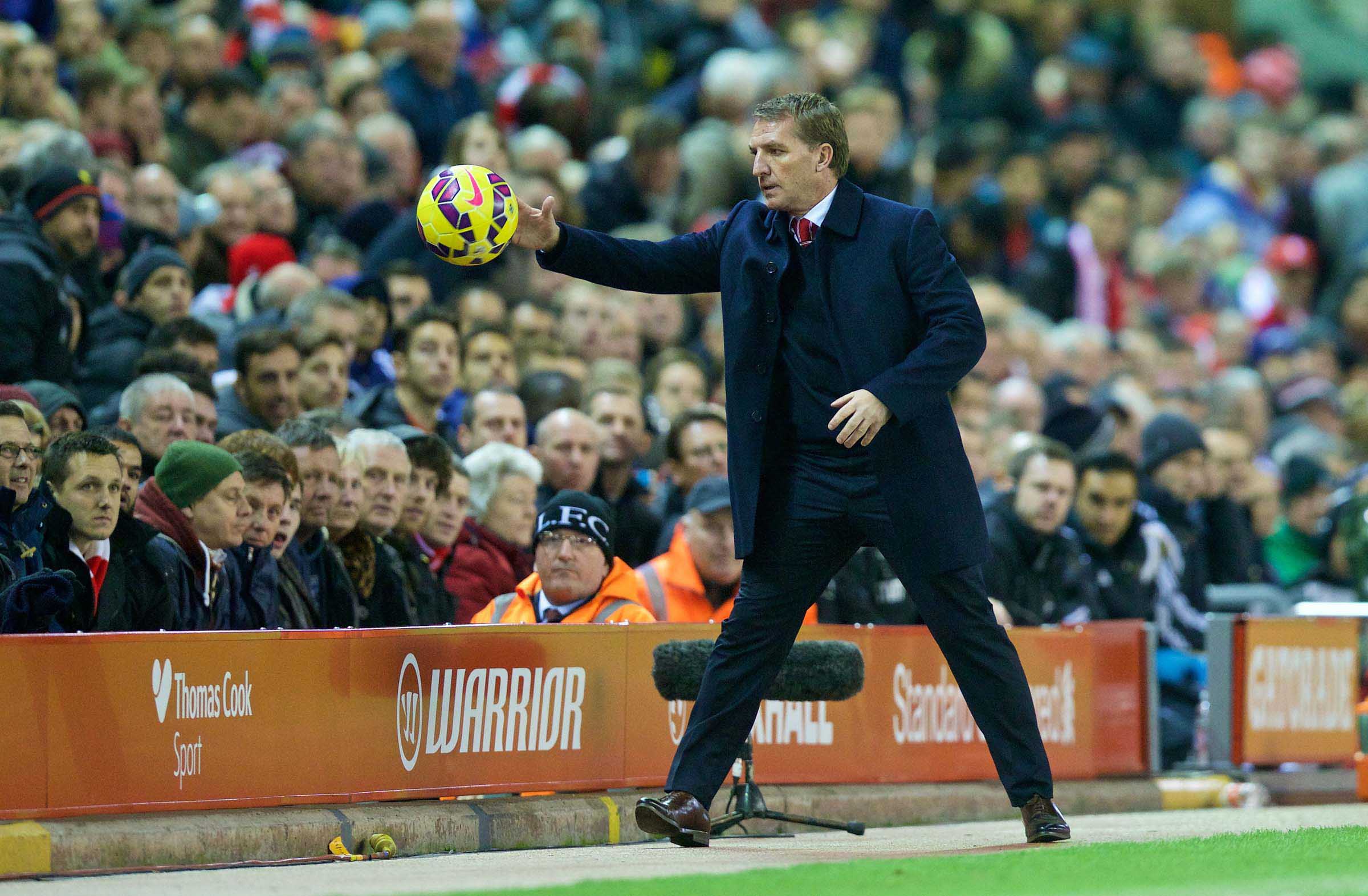 WITH February looming, Liverpool sit in eighth place in the Premier League table. They are out of the Champions League, face a tricky fourth round replay at Bolton in the FA Cup next week and were eliminated by Jose Mourinho's latest band of not so merry men in the League Cup. It's fair to point out that, back in August, this current situation would have been largely viewed as somewhat of a disaster. So why don't I feel completely dejected right now?
That's not to say I'm happy, or even close to satisfied, with Liverpool's current standing. But I'm far more optimistic than I was even six weeks ago. Is that due to a lowering of expectations? Possibly, but it's also based upon facts and evidence that clearly show Liverpool are improving.
Yes, goals are still far too tough to come by, personnel issues remain and I'm often finding myself at odds with some of the manager's more public proclamations. But maybe I'm able to put these things to one side somewhat at this point because what we're seeing on the pitch from this team is largely encouraging at present.
It took far too long to happen, but Brendan Rodgers has created/stumbled upon – delete as applicable – a set up that fits the majority of his players well. It's a system that poses genuine tactical problems for opponents and gets Liverpool on the front foot — even against talented sides like Arsenal and Chelsea.
Mourinho's team will win the league and Arsenal are likely to take their annual third or fourth place come May. But when they both visited Anfield they were overrun and thoroughly outplayed. That neither side tasted defeat on Merseyside basically came down to the fact that Daniel Sturridge has not been put back together again and Liverpool have too few alternative sources of goals within their ranks to call upon. While that's a big problem in itself, it would be remiss of anyone to ignore that most of what Liverpool are doing these days is actually very good. Vibrant, attacking football is back on the menu once more even if a cutting edge is still absent.
The thought of going to Stamford Bridge with just three defenders and trying to outplay the best team in country four months ago would have been fanciful. If the second leg of the League Cup semi final had taken place in October rather than on Tuesday night then it's a safe bet that Rodgers would have stuck Mario Balotelli or Rickie Lambert up front on their own and asked his side to be good at the thing they are least adept at — defending en masse. Liverpool would have tried to be compact and nullify a team that is rarely nullified and probably failed miserably in doing so.
Instead, this week the Reds played their game, not Chelsea's. The ultimate outcome wasn't desirable and during the latter period of the match Chelsea bossed it. But so what? Playing on the front foot opened doors in the first hour of that game at Stamford Bridge, just as it did at Anfield the week prior. Alberto Moreno and Philippe Coutinho should both have scored long before Chelsea even managed to register their second shot on target of the entire tie (on 60 minutes). Focussing on our own strengths rather than worrying about those of Chelsea provided numerous opportunities for the Reds to progress over the two legs.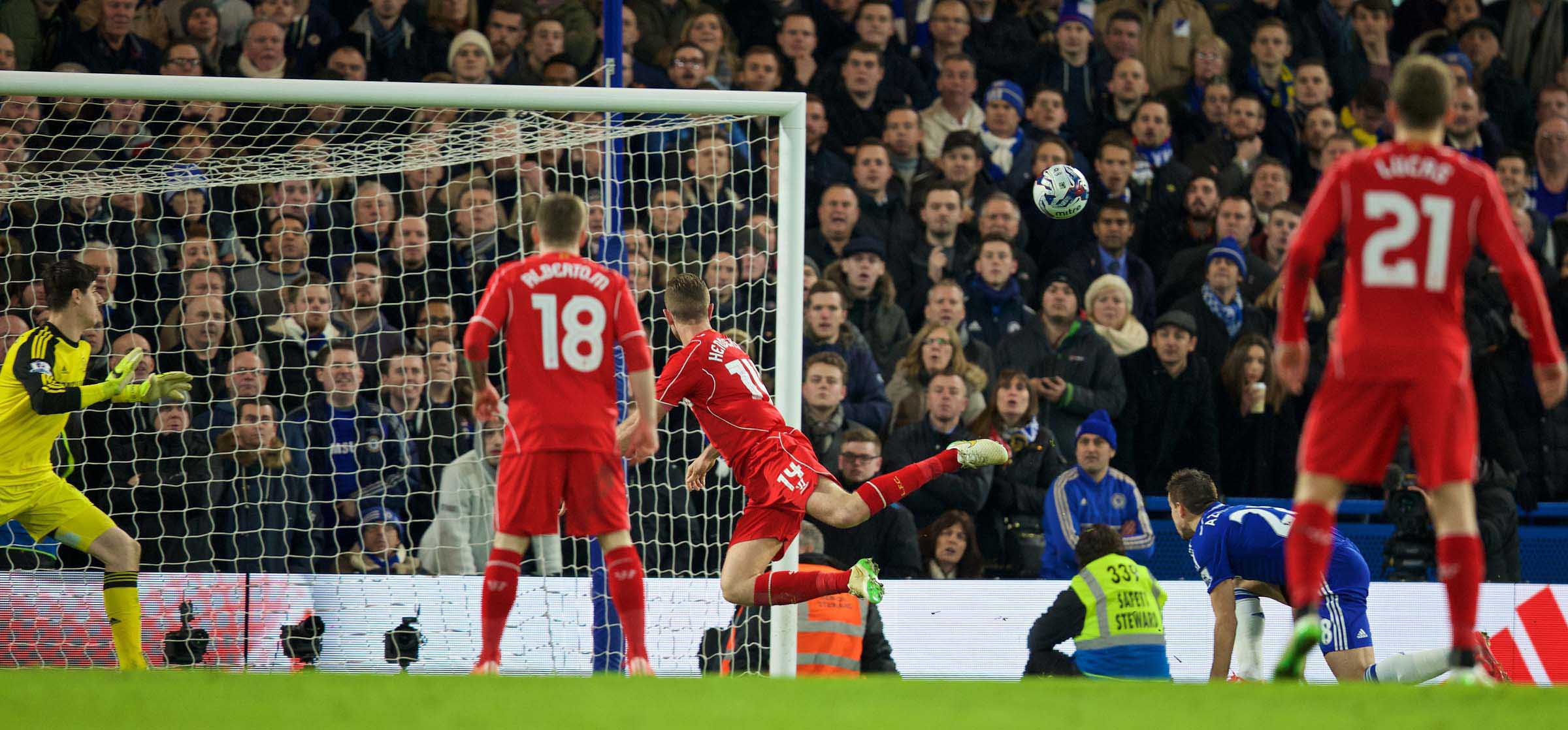 Of course, the fact that Liverpool ultimately went out of the League Cup is not to be celebrated. Neither was a home draw with Arsenal or a 3-0 defeat at Old Trafford. The absence of a victory from the four recent matches against those particular sides despite a bucket load of possession and a glut of clear goalscoring opportunities is a damning indictment. Liverpool aren't where they need to be in any sense right now. They are, however, a damn sight closer than they were a few months ago.
It barely needs saying that a goalscorer is required urgently. Money doesn't seem likely to be spent this January, so sadly we have little choice but to place a hefty weight on Daniel Sturridge's shoulders and trust to hope. Fingers crossed too, that Mamadou Sakho's latest injury isn't serious. He's been a key factor in the defensive improvement of the side and the prospect of Dejan Lovren or Glen Johnson taking his place long term as the left centre back in this current system is as terrifying as it is depressing.
Despite the optimistic overtones of this piece, I must stress that a huge cloud looms overhead. Liverpool's first choice 11 looks good right now, but take Sakho out and assume for a moment that Sturridge doesn't hit the ground running and it seems probable that this improvement will ultimately prove to be too little, far too late — especially when it comes to the race for fourth place.
Games are coming thick and fast over the next month and players like Coutinho, Lucas, Emre Can, Sakho and Sterling, who have been key in the recent resurgence, can't realistically be expected to maintain their current levels without needing the occasional break. The likes of Lovren, Johnson, Allen, Borini and Lallana will have to play their parts from here on in and they don't fill me with any confidence that they could step in without facilitating a drop off in the team's overall level of performance.
And that's the main problem the club faces right now. A drop off simply can't be afforded. No more ground can be lost to the teams around us if we are to have any chance of qualifying for the Champions League again. Liverpool are already walking a tightrope in January and we're nowhere near the end of the campaign.
Just over half the season has elapsed and we are still in a hole and playing catch up because of the oft repeated missteps from August through November. To finish in the top four and/or claim a trophy in order to salvage this season remains a tall order, even if the side's current form is encouraging. When a team has lost just twice in 17 games, lies top of the league's form table and yet still finds itself in eighth place and out of two cup competitions that is a cause for major concern.
Liverpool are indisputably getting better and it's much easier to look on the bright side now than it was in October. It's just a shame that it took so long for things to improve and that the damage done in the early months of the season has left us with so far still to travel on the road to recovery.
Pics: David Rawcliffe/Propaganda