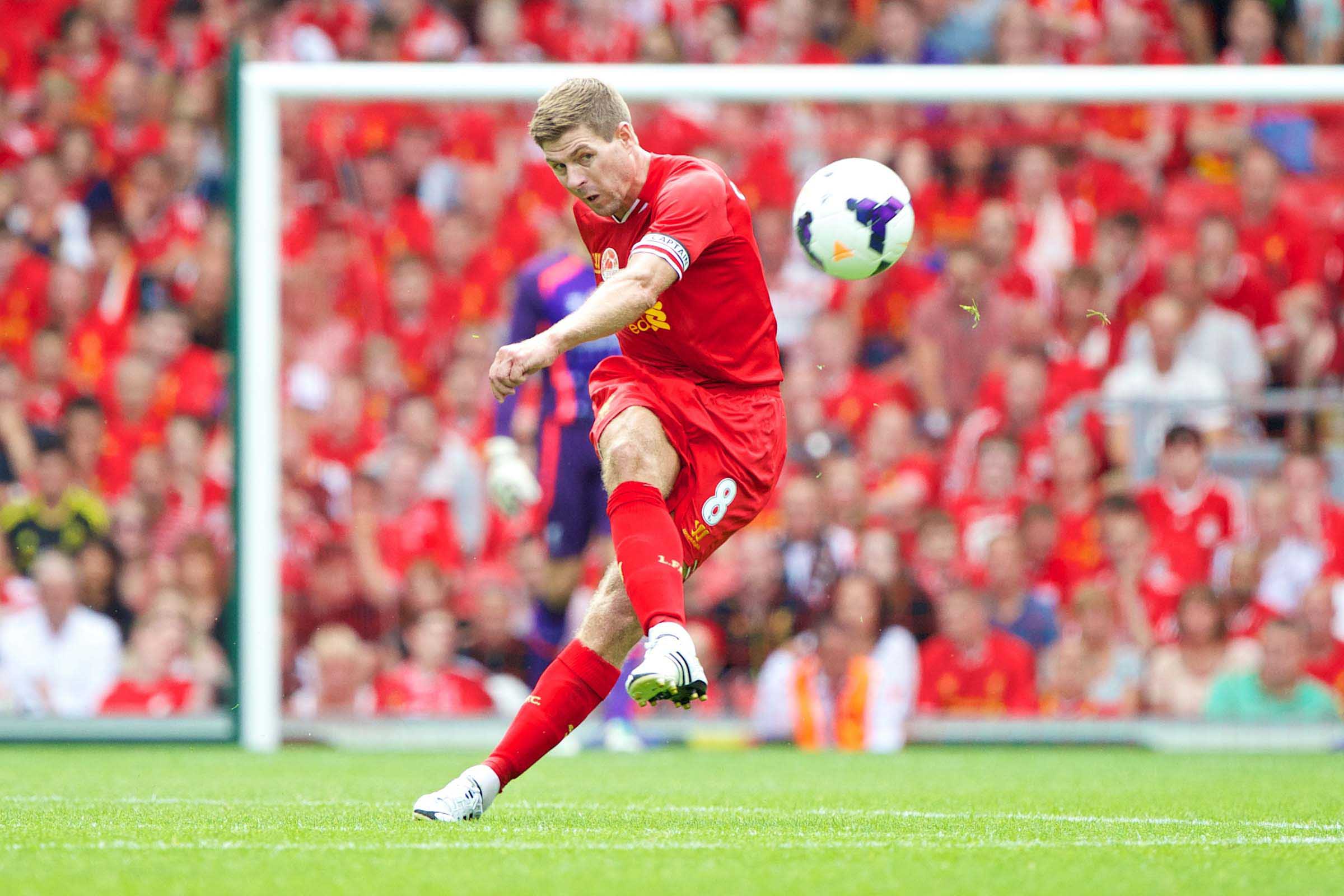 SO now we know. Steven Gerrard will leave Liverpool at the end of the season bringing an end to one of the club's longest and deepest love affairs, writes STEVE MACLEAN.
His departure will leave a gaping hole in the team and will throw the club into crisis. Or will it?
The statistics put together by Andrew Beasley below seem to support the long held suspicions of rival fans who have mockingly nicknamed the Liverpool captain 'Stevie Me', that while Gerrard is a brilliant individual performer, he hasn't been a great team player. Other than Rafa Benitez, who played Gerrard in a wide or advanced role to negate doubts over his tactical aptitude, every Liverpool manager Gerrard has played under has got better results without him in the side.
While stats can obfuscate as much as they reveal — and this data only implies a correlation, not a causation — over such a long period of time the trend cannot be ignored: Liverpool have done better without Gerrard in the side.
Even Gerrard's greatest critics would argue that for the majority of his career he has performed at a very high, if not world-class, level. So this anomaly raises questions not about what Gerrard does, but what he doesn't do that others might in his absence.
In football as in life it is far easier to point to events that do come about than it is to imagine paths untrodden that might have yielded different, perhaps better, outcomes. Fans will often point to a player's easily identifiable goals and assists, judging a goalscorer to have played well when, their goal aside, their overall performance has been otherwise poor.
Over the last couple of seasons any criticism of Gerrard has been met with a barrage of "what about his assists and penalties?", but there have been a number of occasions when Gerrard has been key in Liverpool equalising or getting a winner having earlier contributed to the side being in a position where his subsequent positive intervention was needed.
Do Liverpool come back from 3-0 down to Milan to win the Champions League without Gerrard? No chance. A Gerrard-less Liverpool, without his earlier heroics against Olympiakos, probably doesn't even make it to the final. Yet, perhaps a team with less blood and thunder and more tactical discipline doesn't find itself in positions where three goals are needed in the first place.
It's easy to say that against Leicester and Wimbledon Liverpool would have lost were it not for Gerrard's four goals, but perhaps a side with somebody more defensively sturdy in his place would have kept two clean sheets? Many fans insist that Gerrard had a stellar season last year, while others suspect that the same team with a genuine defensive midfielder in his place might have gone one step further and won the league.
These alternate realities will always be mere suppositions, and perhaps without Gerrard's leadership qualities — both much heralded and doubted depending on who you listen to — the team wouldn't have played with the exuberant confidence and swagger that took them so close last season. But if Gerrard's influence is so important, why have the results been so consistently better without him in the team?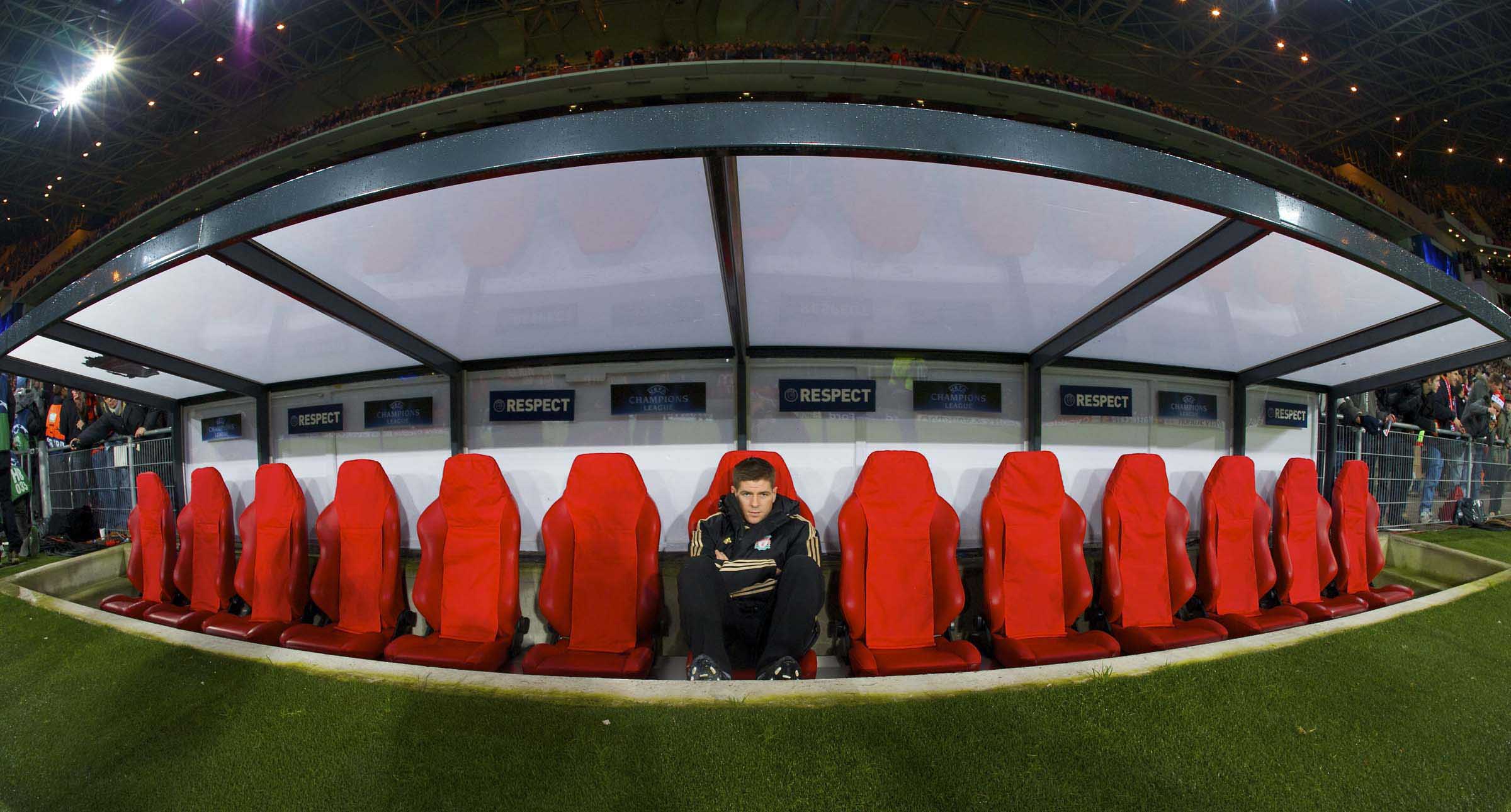 As much as young players like Henderson are quick to highlight the importance of Gerrard's stewardship, many of them have played better in his absence. Liverpool's best two performances over the past two seasons have come at Spurs away and, this season, in the 4-1 mauling of Swansea — both without Gerrard.
It could be argued that in the past Gerrard was misused to the team's detriment, with only Benitez getting the most out of him in a way that complemented the team as a whole. The Gerrard of today, however, is not the swashbuckling phenomenon of the past, so even if Brendan Rodgers were to utilise him in a more advanced role — as he has on occasions — Gerrard's lack of mobility and stamina would mean he couldn't contribute to the high-pressing system in the same way that Sterling, Coutinho, Henderson and even Lallana can.
It's for this reason that Rodgers has generally deployed the captain in a deeper role, starting attacks and reading the game from behind. But when played there the defensive ill discipline that Benitez identified has contributed to the team's soft centre. If Gerrard was a luxury player before, the later, more static, Gerrard is at times a liability in a team characterised by mobility and intensity when at its best.
Of course, a manager should be able to get the best out of players, finding ways to use them which maximise their strengths and negate their weaknesses, and many fans have long argued that Gerrard should be used more sparingly, coming on as a sub so that he can concentrate all of his energy into shorter periods of time. When Rodgers finally (and much too late for some) put this to Gerrard, however, we now know that the captain had no interest in a more bit-part role.
For Rodgers this has been a conundrum: play Gerrard and, for all he offers, something will be lost, or leave him out and perturb both the player and large sections of the fanbase. He's been damned if he does and damned if he doesn't; Gerrard's departure will remove this Catch-22.
No player is bigger than the club; not even Steven Gerrard. The good news is that we aren't losing the player that dragged us by the scruff of the neck to a Champions League final before inspiring an incredible comeback to lift the trophy. We lost that player a half decade ago.
Instead we lose a player pushing 35 who will go down as one of the greats at the very top of a long list of legendary players, having played in inferior teams to the ones most of them were lucky to be part of.
And herein lies the key for Liverpool moving forward. You cannot 'replace' Steven Gerrard, whether that be the Gerrard of today or yesteryear. What you can do is find the right components to build a side that functions well as a whole and is better than the sum of its parts.
The future might not be as spectacular or as emotional without Steven Gerrard. Just as he decided to stay because winning the league elsewhere would not have meant so much, Liverpool winning the league without a Scouser that loves the club lifting the trophy won't be quite the same as it would have been if Gerrard had done so. Yet these too are imagined realities.
Brendan Rodgers and his team must walk on without their inspirational skipper, but also free from the shadow his presence casts over them. He will be missed, no doubt, but Gerrard's departure could well liberate this young, hungry and talented squad.
Pics: David Rawcliffe-Propaganda.