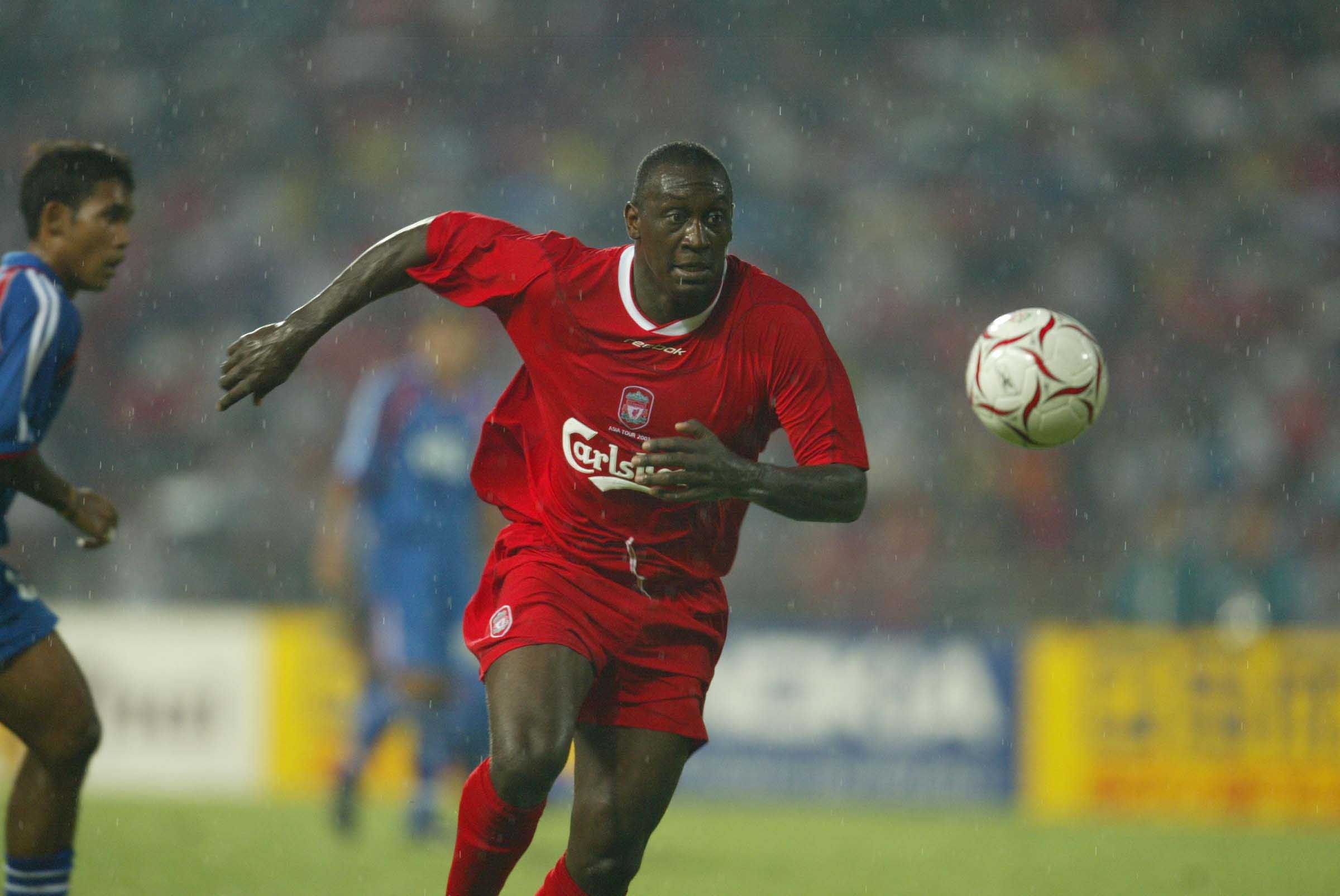 "IF Heskey can play for England so can I."
That's how it all seemed to start, the tiresome 'banter' about Emile Heskey that seems to have dogged him for years and seeps into every conversation about the man that won 62 caps for his country and played over 500 games in the Premier League.
All by some kind of fluke if some people are to be believed.
Earlier this week, discussing Heskey's return to Anfield today, I said to a colleague he was a good player, particularly in the 00-01 season. The screwed up face of incredulity that formed his response said it all. He was waiting for the punchline. There wasn't one. Heskey was far from perfect of course, and as Gerard Houllier once, perhaps a tad too honestly, said he was a "rough diamond with many errors in his game".
But the diamond shone plenty of times for Liverpool and that shouldn't be allowed to sink in a sea of shit jokes and video compilations. Heskey lacked a bit of belief, a bit of composure at times. But then he would probably say being shunted out to the wing on occasion hardly helped matters on that score. He had a mistake in him – he wasn't deadly in front of goal – but the same can be said for hundreds of players, and the good times shouldn't be allowed to be airbrushed by a gang of England following banter merchants.
Someone has even gone to the trouble of making a video entitled: Emile Heskey – Worst Football Player Ever. He wasn't – and I imagine still isn't – the worst football player ever. And no you couldn't play for England. He could, though.
So why am I arsed? Because Heskey played a key role in one of my most enjoyable seasons following the Reds: the 2000-01 season. In that campaign, like you need reminding, Liverpool lifted the League Cup, The FA Cup and the Uefa Cup. And finished third in the league.
And the £11million man — a club record when he joined from Leicester aged 22 in March 2000 — played a key part in all that, scoring 22 goals in 56 matches and forming a deadly partnership with Michael Owen, who bagged 24. While Owen was all pace and dead-eye finishing, Heskey was all about power, strength, instinctive finishes and aerial ability. He scored a spectacular goal or two as well. The lad could hit the ball.
Owen, remember, won European Player of the Year after that. And that was in no small part due to Heskey's contribution to the front pairing.
In terms of goals, Heskey was just under a one in four man for the Reds, scoring 60 in 223 appearances and after winning the 2001 Treble and the League Cup in 2003, he left the club for Birmingham in May 2004 having won 52 per cent of the games he played in for Liverpool.
Interviewed by The Echo this week, he said: "Everyone could achieve more with a bit more self-belief, can't they? I'm happy with what I achieved.
"I think you've got to look at it and up to now I've got four League Cups, FA Cup, UEFA Cup, Super Cup, Charity Shield, I played in two World Cups, two Euros – I'm happy! That's not bad."
He's got a point. Thanks for the memories, Emile.
Pic: David Rawcliffe-Propaganda
[rpfc_recent_posts_from_category meta="true"]