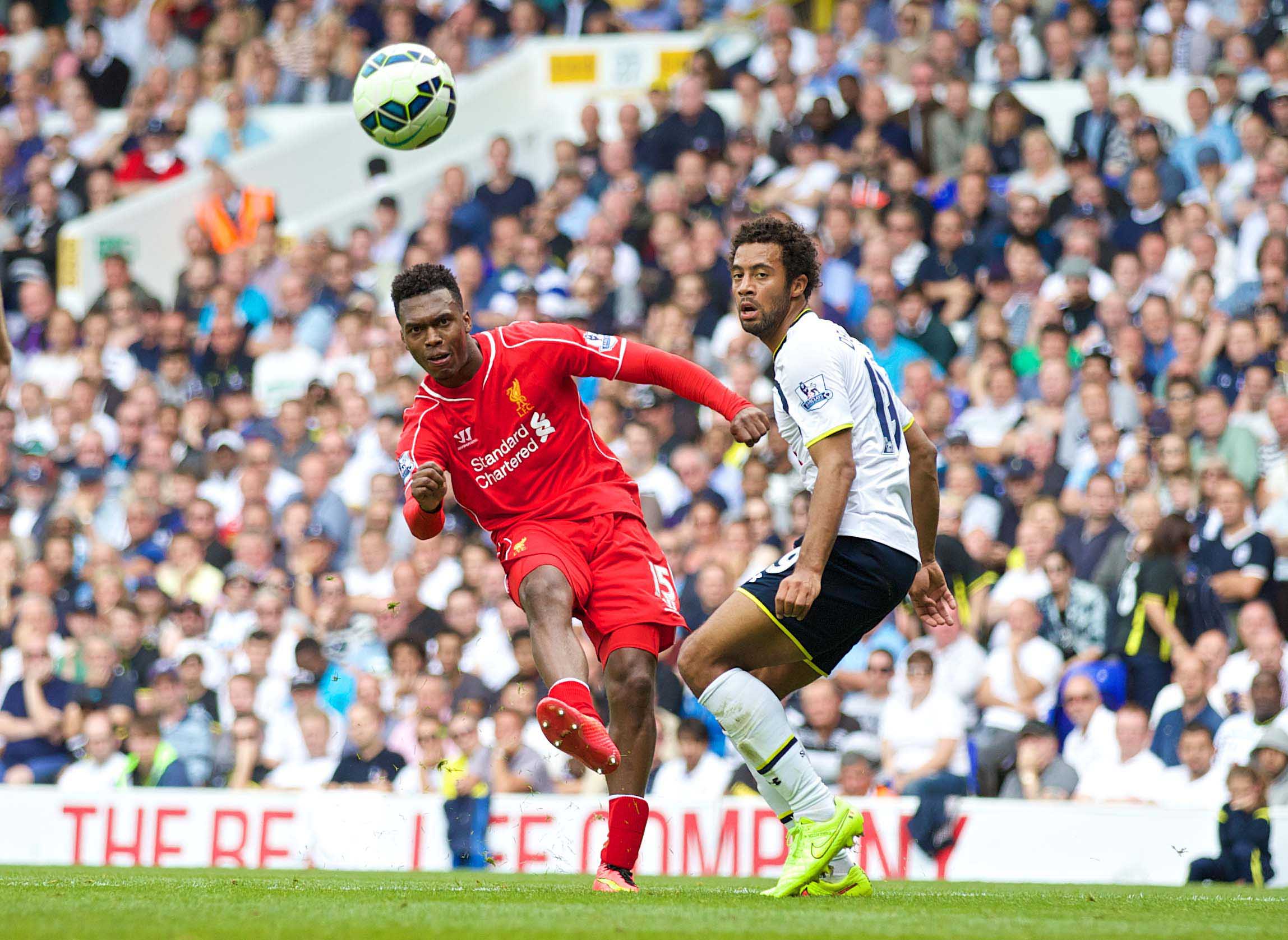 I'VE no desire to tempt fate or anything but, unless he sprains a wrist rehearsing his goal celebration or arm-wrestling Jose Enrique, we will soon welcome Daniel Sturridge back into the Liverpool first team. God, it's been a long time. 
As eagerly-awaited returns go, it takes some beating. And it's not like there's been a dearth of competition on that front recently, either. I mean, in the last few months alone we've seen Kate Bush bring her floaty splendour to the stage for the first time in 35 years, watched Fernando Torres trigger mass selective amnesia in Atletico Madrid fans looking to rekindle old flames, and shed tears of horrible joy to celebrate the resurrection of 'Twin Peaks'. Might just be me, that last one, to be fair.
Still, the re-instatement of Sturridge to a Liverpool frontline that has misfired on too many occasions can't happen a moment too soon.
He has been sorely missed. In his absence, we went from being a team that can score more than 100 goals in a season, a team that routinely kills games off within the first 20 minutes by way of a smothering, high-tempo attacking approach, to a team that barely registered a decent shot on goal, match after match. It was a remarkable, troubling transformation.
Only in the last month or so has there been any kind of improvement. This has co-incided with Brendan Rodgers restructuring the shape of the team and, for the most part, abandoning the notion of a fixed target man as the arrowhead around whom the attacking play can coalesce.  The options available have so far lacked either mobility or quality, or both, neutering the creative hub that performed with such freedom in the spring. Instead, he has reverted to a system that allows the most dynamic players (Sterling, Coutinho, Lallana, Markovic) the opportunity to express themselves.
Slowly, surely, and in full acknowledgement of the continuing vulnerability at the back, we've got better. We've started to make things happen again. Add Daniel Sturridge to the mix and there's room for cautious optimism.
The absence of Sturridge couldn't really have come at a worse time. It's clear that the club as a whole (and that includes, unequivocally, the supporters) was scarred by the psychological fall-out from last season's devastating climax. At the same time, it had to come to terms with the loss of its pivotal performer, its focal point, its totem. And it had to do all this while bedding in a horde of new signings and simultaneously attempting to reproduce the results of the previous campaign. Some kind of fall-off was always on the cards.
But this was undoubtedly exacerbated by Daniel Sturridge's frustrating propensity to pick up semi-serious injuries. He was the main reason we felt assured we could cope with the trauma of Suarez leaving. His goalscoring record (21 in 29 league games last season) led us to believe that any transitional period would be manageable. Taking both Suarez and Sturridge out of the team is like remaking Taxi Driver without Scorsese and De Niro. You lose your inspiration and your vision.
https://www.youtube.com/watch?v=xT-rbSg3VLM
As a result, the things that made us such an irresistible prospect last time round, to the extent that any existing structural weaknesses were generally masked, have remained stubbornly absent for long periods. For the first few months of the season we were, essentially, a team without an attacking threat. In that context, Sturridge's return instantly improves us, if only because it ensures we finally have a striker on the pitch who possesses some basic understanding of what being a striker entails and the ability to put that knowledge, that undefinable game intelligence, into practice. Harsh? Maybe. Hear me out.
We've missed someone with that natural striker's instinct, someone who can sniff out a goal from nothing simply by knowing where to stand or anticipating where the ball is likely to end up. We've missed someone with the awareness to make runs beyond the defensive line and to know when to pull wide, stretching the opposition defence. We've missed having someone that defenders need to be worried about. That's a big thing. It's a thing we haven't had since Sturridge got injured. Not till Raheem Sterling was moved higher up the pitch, at any rate.
If I was a Madrid or Chelsea, or even a Newcastle or Hull, defender seeing the Liverpool teamsheet prior to taking the field, I'd have been made up. Because it was hard to see anything there that was going to hurt me. There was Mario Balotelli. On his own. A man with the conviction, awareness and anticipation of a sideboard. A man who couldn't be less of a fit for the system Liverpool refined last year if he sported a comedy pony-tail and spoke with a broad Geordie twang.
We've also had Rickie Lambert. Who, with the best will in the world, has failed to show he can get anywhere near the level we expect a Liverpool striker to reach. And whose painful lack of pace and mobility undermines any claim he may have to a place in the team.
And we've had Fabio Borini. Whose much-vaunted movement fails to compensate for the fact that he's just not that great with a football at his feet.
The three of them, combined, have conjured up one league goal. Now, I'm as sceptical of statistical over-analysis as the next ageing Luddite, but that's pretty damning.
In contrast, Sturridge complements our main creative outlets. He links well with Sterling's short, sharp passing game. He provides the runs that Coutinho thrives on. He'll allow us to get the ball forward quicker. He brings us some of the unpredictability we have been crying out for, the foundation of last season's success.
With Sturridge back, we know exactly what we're getting and we know that it makes us a more effective unit. Hurrah for that!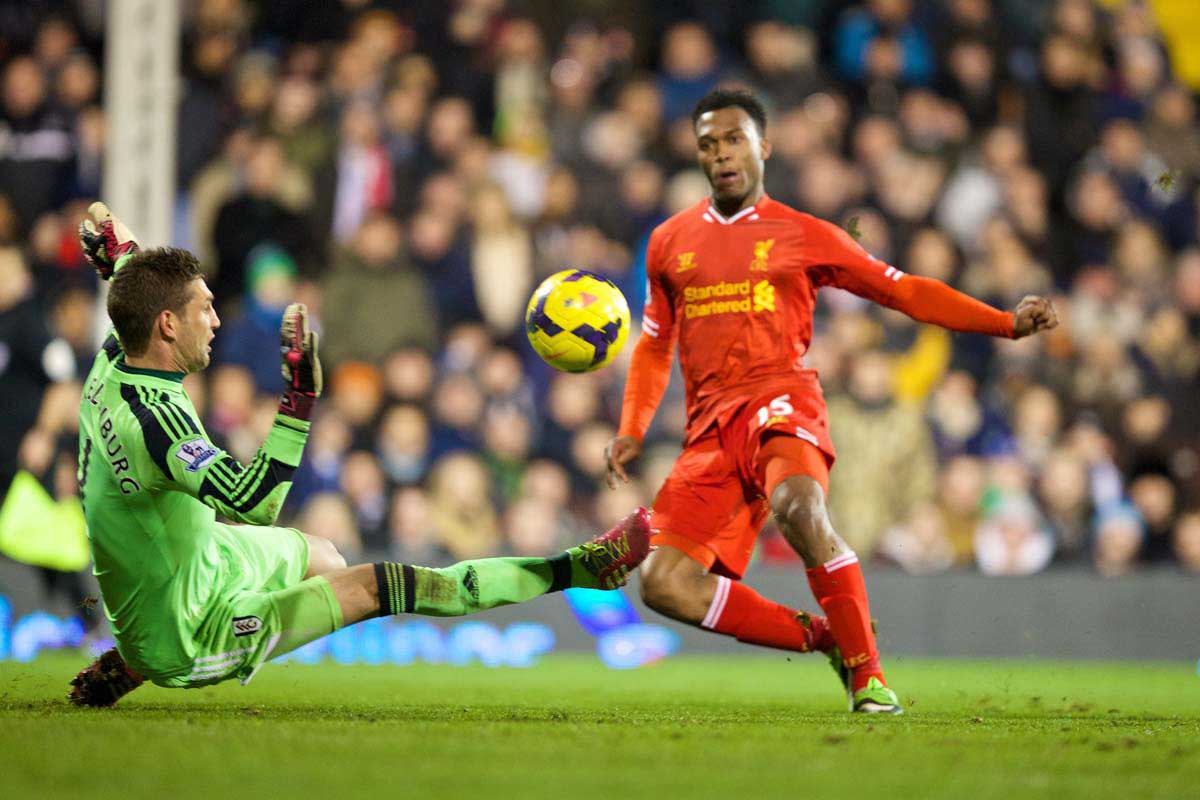 Obvious though it may be, however, Daniel Sturridge does not solve all the team's problems. Not on his own. Not unless he's going to play in goal, and in the centre of the defence, and in the heart of the midfield, and give the half-time team-talk, and nip into the Kop to bang a few heads together and, when he's done all that, score the goals we're crying out for.
As we're all aware, a number of significant issues have impacted on our performance level since the season began.  A lack of trust at the back, amplified by a goalkeeper with all the assertiveness of Bagpuss; a failure to adequately address the question of how to optimise Gerrard's contribution; an on-going proclivity for carelessness and individual errors; the virtual abandonment of any kind of pressing game; a marked decline in creativity and attacking verve. Confidence.
Recent performances have seen us improve in each area, to varying degrees. The different strands of a football team are interlinked. When one section performs better, there's a fair chance of a knock-on effect throughout the side. While it'd be foolish to ignore the ongoing deficiencies, and unwise to pin our hopes on Sturridge to cure all ills, his return should help to galvanise both the team and the supporters as we look to climb the table.
It's highly unlikely that we'll immediately revert to the illogical, free-scoring, 'Tricky Reds' of last season, mind. Football seldom abides by such neat narratives. The need for patience, frustrating as it inevitably may be, is vital.
The most important thing is simply to get into the habit of winning games. Win one, then win another, then win again. Having Sturridge in the team undoubtedly gives you a better chance of doing just that. Once the momentum starts to build, and the confidence increases, we might see this Liverpool team play the way we want it to. And then there's a good chance that Sturridge and Sterling and Coutinho and Lallana will flourish.
Just don't expect too much too soon.  And cross your fingers, toes and any other organ with the requisite bendiness, that Daniel Sturridge can avoid injury for the remainder of the season. Because the alternative will see more heads explode than a season finale of 'The Walking Dead.'
Now, does anyone know where Flanno's got to?
Pics: David Rawcliffe/Propaganda