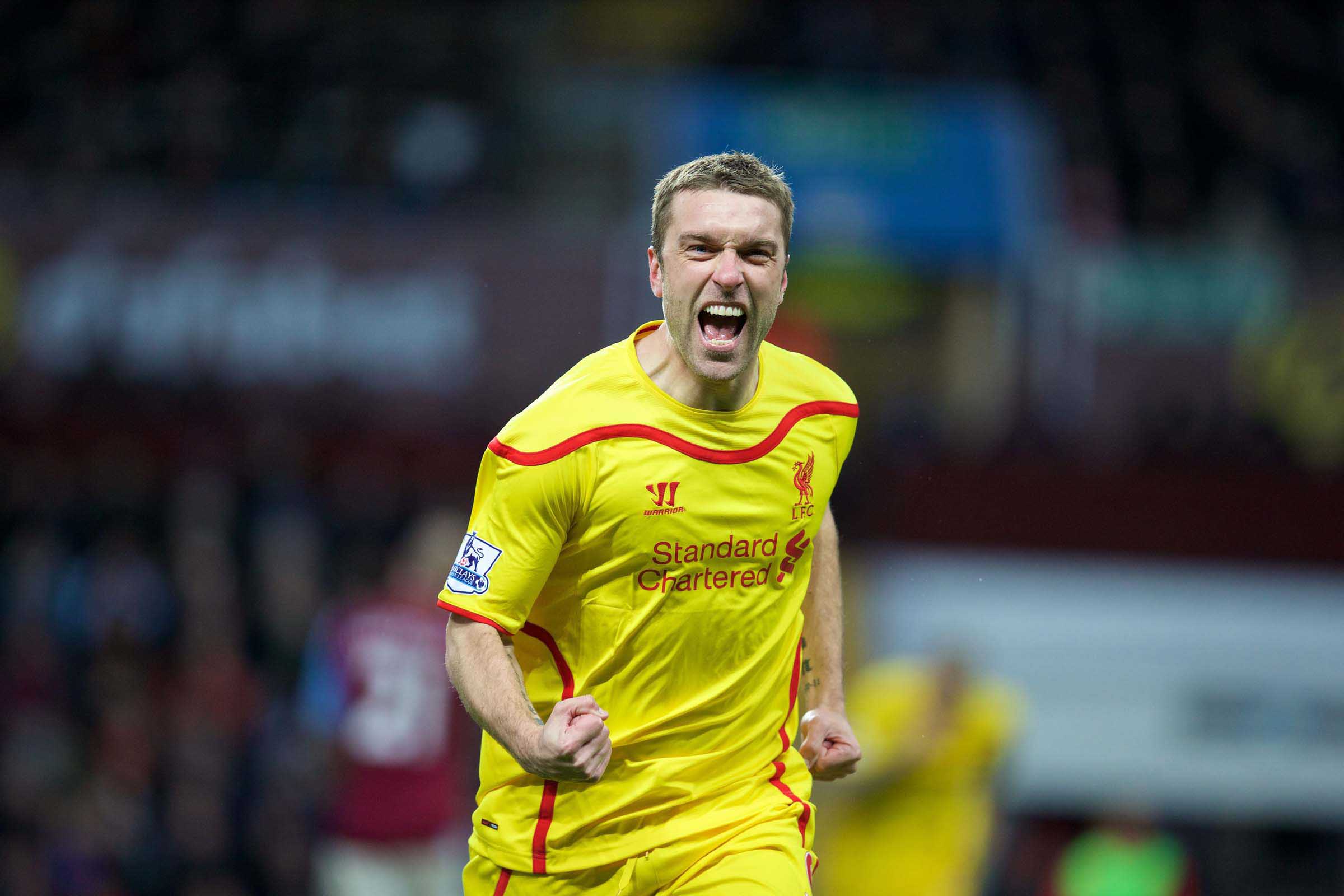 Well I'm not really worried about this
But can some one please answer me this
Apart from on commentary
Where else on earth
Can you hear the word 'aplomb' being used? 
– Half Man Half Biscuit, Keeping Two Chevrons Apart.
TWO strikers spearheaded Liverpool's attack against Aston Villa. And they each hit the back of the net with some aplomb.
It was, broadly speaking, the sum total of their aplomb on the afternoon. Yet it was enough. Goals pay the rent, as David Coleman once said. Like so many footballing cliches, it is a truism because it is true. If your number nine hits the back of the net then you have to forgive practically everything else. The hardest thing to do in football is to get your name on the scoresheet. This probably shouldn't be true – goals are massive things. Huge things, defined by white with only one bloke in the way, and yes, he can use his hands, but come on. If it were a pass you'd love a target area this big. But it is the hardest thing to do. Slot it. That's why they cost the most money, it's why they should be where the majority of any limited budget goes.
However, unlike Keegan, so far this season Liverpool's strikers haven't done their share. One's been injured. Good excuse. Another one has been playing for Lille. Good excuse. The other three haven't really got an excuse, though all three, if they were here would say to me: "I do need more opportunities to actually play, you know". When they've had those opportunities Balotelli has missed chances and is seemingly too often of the opinion it is cheating to run closer to the goal, either with or without the ball, wanting to give the bloke who can use his hands 25 yards to think about things in. Borini and Lambert haven't, on the whole, got themselves enough good chances.
Both Borini and Lambert though, want to be Liverpool players. More than anything in the world, they want to play for Liverpool. Borini's Echo interview is one of the greatest footballer interviews I have ever read. Fabio Borini is happy being a Liverpool player and he is not getting forced out anywhere. He's a man hanging onto a ledge for dear life, smiling as he dangles. Liverpool need to accept this, for better or for worse.
Against Villa there was an ugliness to Borini's play. His movement was good, willingness great but goal aside there was absolutely no grace; a clumsy lad trying his best and getting clumsier. It's easy to see things he does in isolation and conclude he's a million miles away from his level. However, he was effective. He plays it round the corner for Moreno's offside goal (which Moreno could have left for another yellow shirt), he's part of the chaos around Sterling getting clean through. He airkicks Skrtel's header and would have been in for the rebound had it come that way. None of this is pretty football. It isn't poetry in motion. But it is useful to have with a huge number of games on the horizon. And he really does finish with aplomb.
Rickie Lambert held the ball up well and his first touch for the goal is sumptuous. Him leading the charge into the Liverpool supporters, almost as impressive. It's important to remember that that goal and its impact upon the game could well be the greatest moment of Lambert's professional life. Acknowledging that isn't accepting mediocrity, it's simply ensuring a fair amount of what football is – emotive, passionate, escapist – gets to be writ large against the ongoing battle which mean you grow annoyed by the other results this weekend. Rickie Lambert, me, you, the millions of Liverpool supporters the world over will always have Villa Park. We also perhaps have the promise of future Villa Parks. Lambert is an option for 20 minutes in any ground in the country – he ought to have scored at Manchester City earlier in the season. It is, also, useful to have.
Liverpool's scorers against Aston Villa will finish the season as Liverpool players and it looks increasingly unlikely they will be added to. They will offer us everything they can. They will, at times, not be good enough. But what they have shown against Aston Villa, against Sunderland (and in a way more than Raheem Sterling has, because Raheem Sterling is just so very good) is what difference centre forwards who should start every week for top six sides could make to this Liverpool side and shape. This Liverpool side looks like it can constantly create chances in all shapes and sizes. Give them very good players to play with, very good players with pace and three quarters of this league won't be able to live with them. Lambert and Borini show the way for Liverpool's summer. Everything behind them isn't perfect, far from it, but nor is it in need of complete renovation. Regardless of what happens between now and May Liverpool look like a side with a springboard into next season, something which looked a million miles away in November and December.
Short term though the reality is – and I suspect most of you agree with me – I hope none of Borini, Balotelli or Lambert start against Chelsea. That isn't a healthy place to be in and those responsible for it coming to pass need to find a mirror to take a good long look at themselves in. In some way, shape or form when you write down Liverpool's squad two of those lads are numbers two and three in terms of your centre forward options and the number one gets himself injured a bit. However if any of them do I won't feel like tearing my hair out. These are all decent players. They all make a ton of sense as your number four. They make sense against Bolton Wanderers. They made sense against Aston Villa. They can be proud of their weekend's work, they are number nines and they did what they have to do. You just have to look at the scoresheet.
Pics: David Rawcliffe-Propaganda