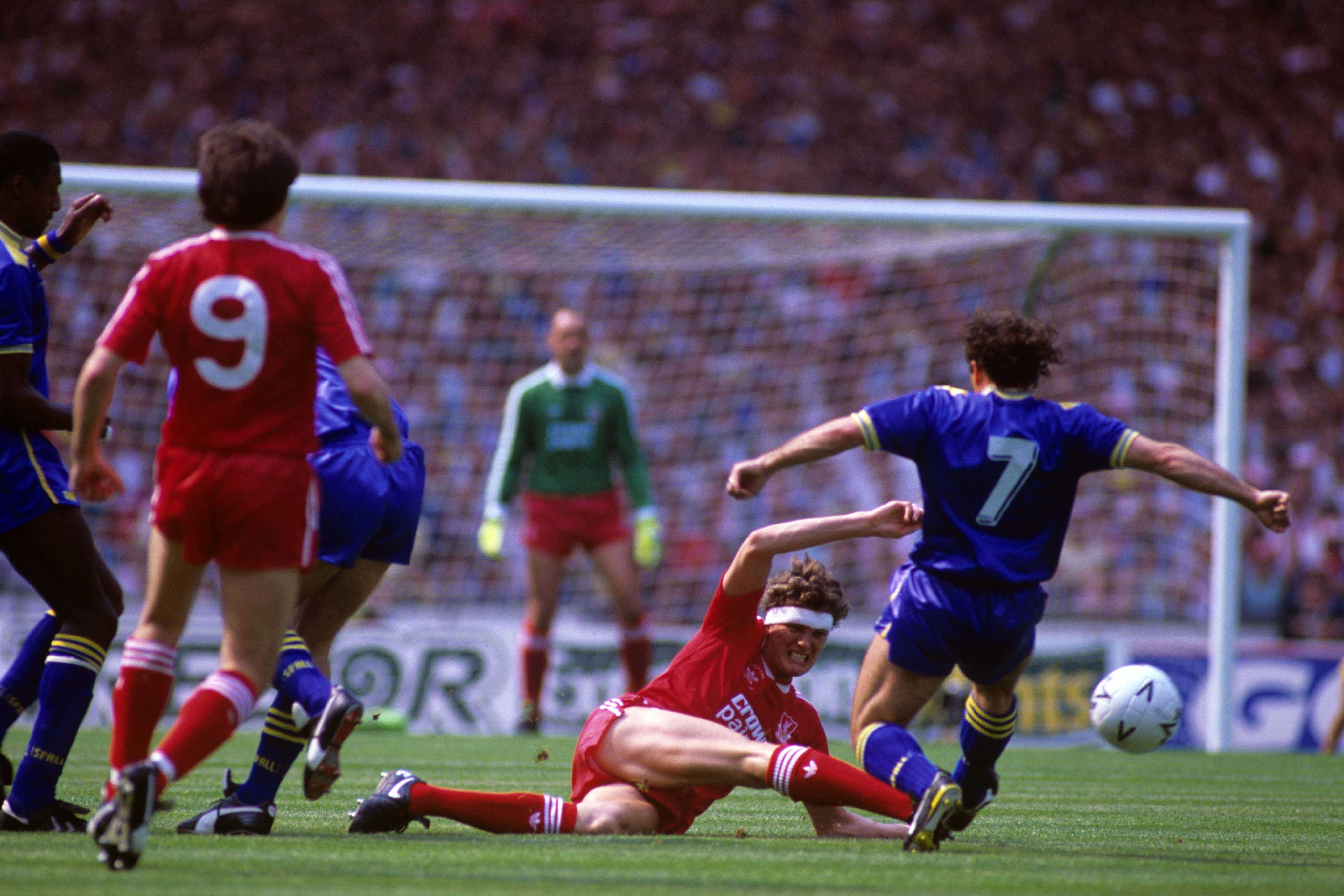 I KNOW that, technically, it's a different club. I know that, technically, the Wimbledon of Fashanu and Jones, of prototype geezerdom and unbridled thuggery, came to a messy end in 2004 when it relocated to the exotic climes of Milton Keynes and became known as MK Dons. I know that the team we'll face tomorrow night are called AFC Wimbledon and, technically, have only existed for 12 years.
I know all this. Yet still I felt a chill run down my spine when the draw for the third round of the FA Cup, performed at the home of football, 'The Deep' in Hull, paired Liverpool with the plucky League Two minnows (as contractual obligations insist we refer to them).
Brings back a lot of bad memories, you see. Memories I had long since buried. Memories that serve no other purpose than to remind us that football teams are never invincible, and that on occasion, giant-killers, far from being selfless romantic heroes, are some of the most obnoxious buggers around.
We all know about the Liverpool of 1987-88. Of Barnes and Beardsley, Houghton and Aldridge, Hansen and McMahon. A team widely viewed as one of the finest exponents of attacking football since the war. And it's all true. It was an absolute pleasure to watch them lay waste to the rest of the division, scoring picture-book goals by the bucketful, carving out moments of rare beauty through one-touch passing, untethered movement and moments of individual genius.
We would turn up at Anfield expecting the opposition, whoever they might be, to be dismantled and demolished. We were seldom disappointed.
And so, when it transpired that we would face Wimbledon in the 1988 FA Cup Final, little Wimbledon, ale-house Wimbledon, a team that housed players called Eric and Clive and could probably fit all its fans in the back of a Vauxhall Nova, thoughts instinctively turned to rewriting the record books. The general consensus was that we'd score five. Some saw that as an overly-cautious prediction.
There had never been a hotter favourite in FA Cup history. That alone should have set the alarm bells ringing.
If there was one thing that Wimbledon team relished, it was being seen as no-hopers. For all their unsophisticated brutality and their eschewing of tactical subtleties, they had managed to engender an unbreakable sense of unity, fostered by the kind of 'No-one likes us, we don't care' attitude beloved of dickless Neanderthals everywhere. It's widely forgotten that they finished the season in seventh place, above the likes of Chelsea, Tottenham and Newcastle. They were never going to just lie down and let us draw fancy footballing patterns all over the Wembley turf. It was never going to be pretty.
At this point, in the name of full disclosure, I need to make a declaration of personal interest. I have a family connection to one of the Wimbledon players who wrecked the dreams of football purists across the land that sweltering May afternoon. To be slightly more specific, I have a family connection to the most infamous Wimbledon player of all, a man notorious for executing the most widely-reported bollock squeeze in sporting history and for possessing the acting range of a broken fridge.
Vinnie Jones is my second cousin. There, I said it. His grandmother was my grandmother's sister; his dad and my dad were cousins.  Whereas most of the family remained in Liverpool, Vinnie's grandma married and moved down south some decades ago. Over the years, I've not trumpeted this familial link too loudly. Forget the red cards and the self-aggrandising hardman image and the boorish bullying and the glorification of macho bone-headedness. The lad's a Tory. I don't want that kind of shame brought to my door.
It didn't alter my view of Wimbledon or their approach, nor does it affect my reading of that terrible game. But it was a weird feeling, turning up to a Cup Final and seeing one of your relatives roundly abused by everyone around you. And it was even weirder to join in with that abuse.
If you believe Vinnie and fellow pantomime dame, John Fashanu, Wimbledon won the match in the tunnel before kick-off. They love to tell how they intimidated the cowering Liverpool players with their screams and war chants, gleefully describing the fear they have convinced themselves they saw in Liverpudlian faces. And it's certainly not for me to say that men like Alan Hansen, who had excelled in Europe's fiercest cauldrons for over 10 years, or Bruce Grobbelaar, who fought in an actual real-life war in his native Zimbabwe, *weren't* shaken to their very core by the sight of the Gladiators co-presenter yelling "Awooga!"  It must surely have been an infinitely distressing spectacle.
However, there is a valid argument that Liverpool lost the game before a ball was kicked, though not in the way the self-styled Crazy Gang imagined. For perhaps the first time I can remember, we were guilty of complacency. We were, if anything, overly relaxed. We had believed the pre-match publicity and felt we had only to turn up to receive our reward, to be crowned double winners again. You can see it in the players as they chat with the guest of honour, the preternaturally fragrant Princess Di. Laughing, flirtatious, eager to please. Hardly the gibbering wrecks Wimbledon's Poundshop Mitchell Brothers would have you believe.
From the first whistle, the intensity and fluidity we had shown all season were missing. We never got started. Beardsley and Houghton looked bright for a while but grew increasingly ineffective. Barnes, the man who had terrorised right backs with almost sadistic relish and was now the established focal point of our attacking threat, couldn't get into the game. Aldridge was anonymous.
McMahon attempted to impose himself but seemed at times to be side-tracked by the need to respond to Wimbledon's physical challenge.  Another piece of Vinnie Jones self-mythologising has it that McMahon was effectively neutered early on by a typically agricultural Jones tackle which, if his version is to believed, left the Liverpool player cowed and broken and paved the way for Wimbledon's victory. It's a seductive tale but, again, is essentially the work of an overactive imagination. McMahon was straight back to his feet with little fuss, and immediately looking to receive the ball. Jones emerged from the floor with a nasty looking cut under one eye. It may have taken the battle to the heart of Liverpool's midfield, but it was a battle McMahon was happy to meet. Liverpool had bigger problems to solve. It was their failure to do so that defined the game.
If credit is to be given to Wimbledon, and, grudgingly, I suppose it must, it should be linked to their admirable defensive organisation and inestimable team ethic. Flying in the face of their reputation, they were canny, too. Dennis Wise was employed just in front of Barnes and cut off his familiar supply lines. The back four acted as a blanket across the edge of the penalty area, repelling all incursions, with the space in front smothered by Jones and Sanchez. And, most crucially, they managed to expose Liverpool's perennial Achilles Heel — aerial vulnerability at set-pieces.
Of course, we were denied a perfectly good goal a minute before Sanchez glanced in the winner, with Beardsley chipping home only to find play had been stopped and a free-kick awarded in his favour for an earlier offence. And when we finally got a break, a fortuitous penalty given for as clean a tackle as Wimbledon have ever managed, Aldridge's nervous spot-kick was pushed aside by Beasant. Although half an hour remained, the writing was on the wall. We wouldn't have scored if we'd played all week.
Exactly seven days earlier, I had been at Hillsborough to see Liverpool destroy Sheffield Wednesday 5-1 — as perfect a display of free-flowing football as you could ever dream of. Fast-forward a week and we had a Liverpool short of ideas, frustrated, perpetually crashing on the rocks of a well-marshalled defence. In a spectacularly productive season, it was one game too many.
If you look closely enough, it's possible to trace the seeds of Liverpool's eventual fall from grace to that exasperating encounter at Wembley in 1988. In the course of 90 minutes our air of invincibility, painstakingly built up over the previous 25 years, was shredded. We could be got at.  There was a chink in the armour. Two years later, Crystal Palace smashed through it with a sledgehammer. And we've never recovered. Not really.
So, yeah, technically it isn't the same Wimbledon we'll be facing on Monday night. Technically, it's a different club. But Gobshite Fashanu and My Cousin Vinnie are going to be watching and they'll love it if we get beat. I reckon we owe them one.
Pics: PA Images