I'M getting bored of the recriminations.
It's easy to talk about whose fault this season is. It's easy to talk about fixing it with knee-jerk sackings and 'I never thought he was any good anyway' tirades. Easy to point out the positions that we need to fill to sort everything out. Much harder to put ourselves in Brendan's position and figure out how we're going to solve everything with what we have to hand at the moment and the probability of not being handed a bottomless pit of both transfer and wage budget come January 1.
So, whose fault is it then? Brendan's? Yeah, probably. Because he bought badly in the summer? No. I don't think so. I genuinely think that he bought very well in general, Mario apart obviously. Mario was a panic buy. Mario was a gamble. We know that, Brendan's told us that. Mario was a 'who's left after everybody we actually wanted turned us down?' buy. It's not Brendan's fault that Alexis Sanchez fancied Arsenal, fancied London more than he fancied the idea of a house in Crosby and shopping in Liverpool One. Not Brendan's fault that 'something' showed up in Loic Remy's medical that knocked the deal on the head when it appeared to be a formality. Not his fault that Diego Costa used us to up his contract at Atletico and then jumped to Chelski's roubles at the first opportunity.
Put any of those in the squad alongside a fit Sturridge or replacing an injured Sturridge and we're in a different 'moment' to the one we currently occupy. Basically we have the one vital thing that we're missing at the moment – an 'out' ball.
All this endless misery? It's caused by that simple lack of mobility at the sharp end of the pitch. And we can't blame Rickie Lambert for that; he wasn't bought to be that player, he was bought to be the fourth choice behind Sturridge and a Remy or Sanchez or Origi. He was a squad player, no more. We shouldn't have to be relying on him to the extent that we are. Lambert is quite definitely NOT that out ball. He's not mobile enough, he has no speed, he's actually, quite startlingly, deceptively slow.
This lack of an out ball has impacted the whole season. It's no coincidence that our only real threat this season was in the Spurs game, that Balotelli's only real indication of his ability came in the Spurs game. The one game where we actually had the speed of Sturridge coupled with another threatening presence for defenders to think about. Options. It's still all about options. Not wanting to hang a whole season on Daniel Sturridge's shoulders but all our options revolve around Sturridge being fit. No pressure, Dan.
So far, so obvious, then. We need Sturridge back. Or we need that conversation with Lille that starts "Errrr, we'd like Divock now please, how much do you want?" and then we can pin at least some of our hopes on a 19-year-old unknown quantity because, if we're honest, there's absolutely nobody else available that we'd want that's going to come to a team that's in the Europa League and struggling in their own league. We have what we have, time to deal with it, time to build with it.
And what we have is genuinely good enough.
So why doesn't Brendan trust what we have? Why does't he trust the lads he bought in the summer.
And we're back to the out ball. The new players were settling into a new team, a new country, a new lifestyle. The last thing they needed was a major disruption to that new team immediately. The loss of Sturridge was that major disruption. And yes you can argue that we should have also bought another striker just in case of the very obvious chance of injury to young Daniel but – again – who was there? Who was available that fancied us? And who was the big name that we wanted as a marquee signing? Big names aren't guarantees of success; look at Falcao's position on the United bench.
So we have no option up front and the new lads are struggling to create with this lack of options. They're struggling to show their true form, their true ability, they're just basically struggling. So we want the old guard back WE want the old guard. US. We demand it. Play Kolo, play Lucas, play Enrique. We demand changes after mistakes, after poor performances, forgetting that we demanded those players changed out after their mistakes, their poor performances. So Brendan makes the changes and we start asking why he won't play his signings, his expensive signings, why he won't give Lallana a chance, why he won't trust Sakho, why he won't put Borini on the bench when he's clearly the most mobile forward we have, kind of forgetting that we all wanted rid of Borini three months ago and that we've never been impressed by him.
Is Brendan struggling then? Too bloody right he is. Is he out of his depth? Possibly, at the moment. He's learning a skill that he's never had to learn before: successful squad rotation to compete at all levels. Is he the right man for the job? I reckon so but he needs to lose a bit of the bloody mindedness that's seeped into him in the way that it infected Houllier's and Rafa's last seasons before he makes this his last season.
Did he buy well? Well we all bemoaned the lack of options on the bench in the run up to the end of last season — all agreed with the idea that if you wanted to change the game and all that you could see warming up was Aspas, Moses, Alberto and Cissokho then you were on a hiding to nothing. I know, I know HE brought them all in but he got to shop bigger this summer and needed to improve the squad, not just buy two big money names to replace the one that we'd lost. Can we all agree that our bench is better than last season? Right, crack on then and don't start claiming that Aspas has suddenly become a solution because he scored a hat-trick in four minutes. Do you really think he'll ever do that again? Yeah? Honest? Think about that corner for a while.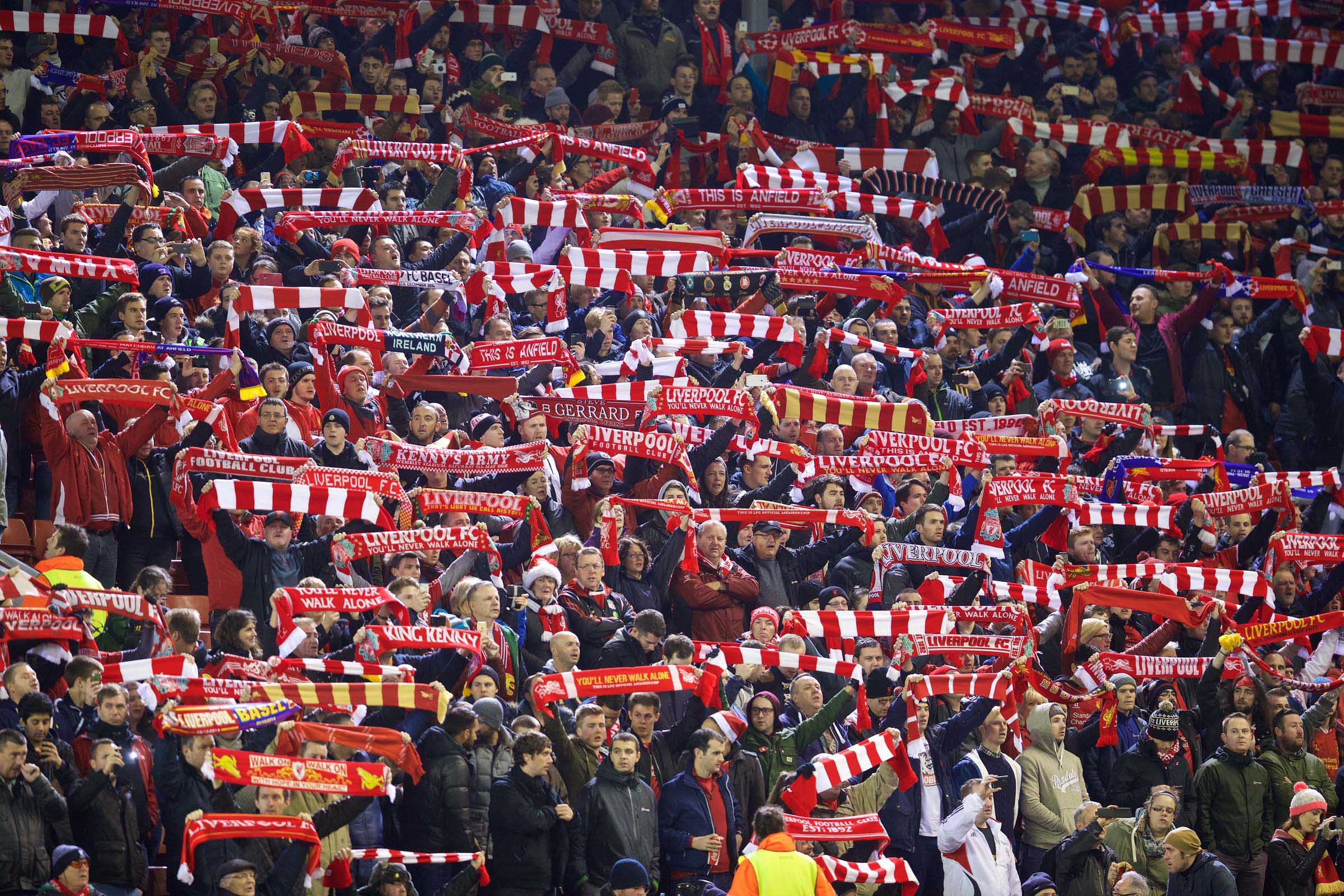 We're not going to overhaul the squad in January because:
1. Money.
2. Refer back to 1. It's not happening.
All that's left then is for Brendan to deal with the hand he's been dealt even if — especially if — he dealt it himself and in doing this he needs to look at one thing over all; the last 10 minutes of the Basel game.
Look, it didn't work, we didn't quite get there but how fucking great was that last 10 minutes? Most fun I've had all season. Give me that every week and I won't care about anything else. Ten lads absolutely determined to make something happen to the point of insanity? We've just described all the fun we had last year. Get them to show that level of cojones every week and we'll all start smiling again. The first half? Ignore that bit Brendan, we're all fed up of that first half, we've seen that first half every week this season, you can finish doing that now. Give us the second half. Give us the pace and the madness of the second half at the start of every game, give us the unpredictable, give us the mad. If we don't know what's happening then the opposition won't.
Who are you going to use then? Given that you're not going to conjure a genius out of the hat in January, who are you going to use?
Tell you in a second. First off. No more messing around at the back. Mignolet to Skrtel to Lovren to Skrtel to a half attentive Johnson to Skrtel to Mignolet causes opposition goals. It did it again last night. Move the ball upfield. Quickly. Put the lads in who will move the ball. You like technicians, stick them in the team.
Now, obviously Brendan neither wants nor needs me to tell him his team. So I'm going to. And then you're all going to queue up in those boxes below to tell me I'm an idiot. No need, I'm well aware of the fact thanks. But anyway:
Mignolet.
It's him or Jones so he's the lesser of two evils and he pulled off another vital save last night. He saves us more points than he costs us.
Johnson and Moreno. Yes, they're both a little erratic defensively but it doesn't matter, we're going to push them up and attack. We're going to score goals because scoring goals is fun and we haven't had much fun trying to be solid because we're just not very good at it.
Lovren and Sakho. I know. I can hear the groans already (and I haven't finished writing this yet, let alone hit publish) I have faith in both Lovren and Sakho; Lovren will be the player we thought he'd be and Sakho is gloriously mad and we like mad, remember.
A three in front of them. Henderson, Allen and Lallana. Henderson to run round and kill people, Allen to keep things ticking over (I like Joe, I like how he keeps things ticking over) and Lallana because he's one hell of a footballer. Between these three we're not losing the ball AND we're moving it forward. No, there's no defensive midfielder there but there wasn't one last season and we all liked that.
A three up top. Sterling and Markovic either side of a front man. Obviously Sturridge when fit but otherwise Mario (when fit) or Lambo (if necessary).
Come on. You must be okay with that? Pace on the wings, creativity in midfield, barely any defence to speak of? It's the 13/14 season all over again with the exception of that little genius we had.
And your bench? Gerrard, Can, Skrtel, Lambo or Balo, Coutinho, a goalie of some kind and one of the kids just for the hell of it. Or Kolo. Or Lucas. All that possible through getting one player fit again, with no signings and suddenly we have that out ball we need, suddenly we're not sitting deep and inviting pressure, suddenly we're all having fun again.
Easy this management lark, isn't it? A big house in Formby has my name on it.
Cheer up, we're going to be okay.