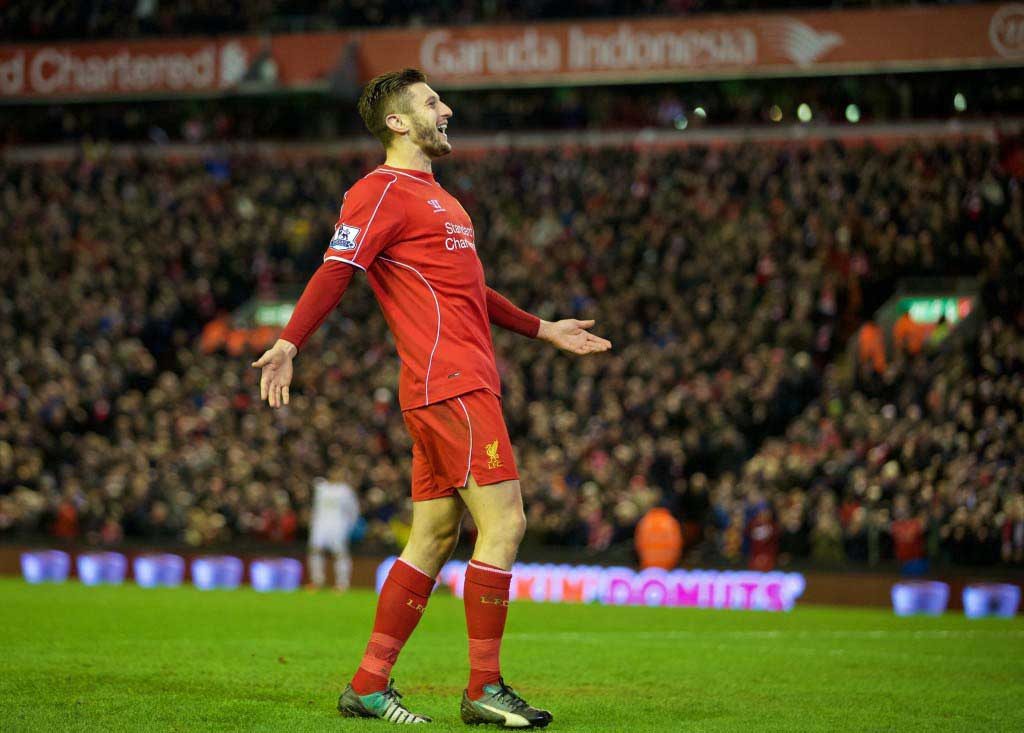 HALF time and it is probably Liverpool's best Anfield first half of the league campaign. Damning in one sense. Encouraging in another. There is tons of progress here since Sunderland. Tons of football. These footballers look like something approaching themselves.
The half began with an avalanche of chances. There are no whirling dervishes, not like last season, but instead Liverpool had probed their way to the twelve and a half minute mark (that marker point that echoes through the ages) and shown enough to deserve to have a one goal lead. Swansea were a concern before kick off. A good side with the sort of pace in wide areas that could find the gaps in this new set up of Liverpool's. They have a forward who is a "handful" and a midfield they love to play through. But for twenty minutes it isn't quite that they can't live with The Reds, but it is as close as we've seen to that.
After that point Swansea grew into it but the contest becoming more even just led to Liverpool having more space to break into. This side just wants to break. It has to break. It loves to break. There had been warnings but suddenly that break was there and suddenly Liverpool had their dancing shoes on, Fabianski beaten. Should he have done better? I haven't a clue. I was a billion miles away and was only sure that the red blur who buried was Moreno when George said it after a yonk.
The back five feel much more secure than a) the four ever did, b) the side with Lovren in. Sakho was excellent for the goal, but going into the break he looks such a stabilising influence on this whole side. Let's be clear – he'll make a mistake at some point in the next nine or so halves of football he plays, but you don't feel like the countdown has begun. Mignolet is, in reality, a welcome boost from Jones in that you don't think an attempt on target will equal a goal. Nonetheless Swansea find a small screw to turn before the break and Liverpool look rattled but then break again and the bright Coutinho sees his effort repelled.
That's half time and I don't see how The Reds don't win this. There's a lot on the line. A Monday night Christmas pint that's felt increasingly epic as Christmas itself has ebbed. That's what's on the line. That and three points already broadly deserved.
The second half begins and The Reds are slightly on the back foot but look potent on the break. Then Fabianski does his Mignolet tribute act off Lallana and the second goal that seals the game is there, however fortuitously.
And then. And then. Then The Reds ghost over the self-destruct button and gift something broadly through exuberance. The Swansea goal stems from Henderson trying far too much. Then there are a series of half mistakes and nodding off and the ball is in the Liverpool net. The Reds wobble.
And then they are magic. Absolutely magic. They are themselves, in excelsis deo. It's beautiful from Coutinho, the crowning glory on one of his finest Liverpool performances and then slick from Lallana. These Reds don't stop playing and just ease past Swansea. The fourth a glorious own goal from the man who always has a goal in him.
From there Liverpool play like a side looking for five more than minding four. Other than the rocky five the back three deserve credit. The wing backs deserve credit. The midfielders deserve credit. Lallana and Coutinho deserve carrying aloft. Sterling deserves credit. Swansea are good. Actually a good side, a side that could trouble Liverpool and Liverpool were far better than them.
They were The Reds.
I left on 91. Needed the loo. As I walked out someone behind me said "Quite good that." Then I met Donald whose first game it was. Made up. Couldn't get over Mignolet's kicking. But made up. I saw Steve Graves. His face. His lovely face. His maths. Tons of maths and joy.
The Reds. The Reds are mustard again, says Kris Walsh. He'll write more tomorrow. It'll be better than this. But for one night when we've all had a pint and we all plan to have more, mustard will do. Forget talk of corners turned. Forget the table, though positive goal difference is lovely. Forget it all. The Reds are mustard again and one night will do.
Enjoy. Have a great new year too. Thanks for hanging round these parts.
Love to all. The Reds are mustard again. One night will do