IF you'll allow me something of an indulgence, I'd like to talk to you about what's really important.
I didn't go to the Chelsea game. I haven't seen the game, neither live nor on Match of the Day. I haven't seen the goals, I haven't seen any match reports, haven't followed the obvious Twitter explosion (a nailed on penalty apparently?) and haven't read any of the undoubtedly fine analysis on this site.
I was supposed to be there. Main Stand, my Dad's season ticket. My brothers, Keith and Kevin, were supposed to be on The Kop. They weren't. We didn't sell our tickets on, didn't pass them to our mates; there were three empty seats at Anfield on Saturday.
We spent Saturday and Friday and most of Sunday in Fazakerley Hospital with our Dad and a great deal of extended family and on Sunday, as our Keith put it: "on a sunny Sunday Liverpool afternoon, at two minutes past two, our Father and best mate passed away."
Robert Salmon –– Bob, Bobby to his brothers, sisters and workmates –– Dad, was born in 1935. 20th of Feb 1935. 79 years old, going to the match since the 50s. A season-ticket holder for nearly 60 years. He'd seen it all. He'd seen some rubbish in the early days, the second division days, but he'd seen the glory. He saw Shankly build a team, he saw Shankly build HIS team, the team we were given, the team we follow. He saw the birth of all we hold dear, he saw the empire start. He named me for two of the foundation stones of the empire, he named his first son for the men who built the glory.
He holidayed in Butlins in Pwllheli in (1960 I think), impressed by the fact that Jimmy Melia and Bobby Campbell and Johnny Morrisey were holidaying there. The fact that he and his friends were also associating with a singer called Rory Storm was less notable. Rory's drummer was even less noted. Lad called Ringo.
He was there in '65 at Wembley when we brought home that first FA Cup; that holy cup, the one that started everything, the one we'd wanted for so long. He was there when the lads still went the match in suits and overcoats. When they went to the match in overcoats in May.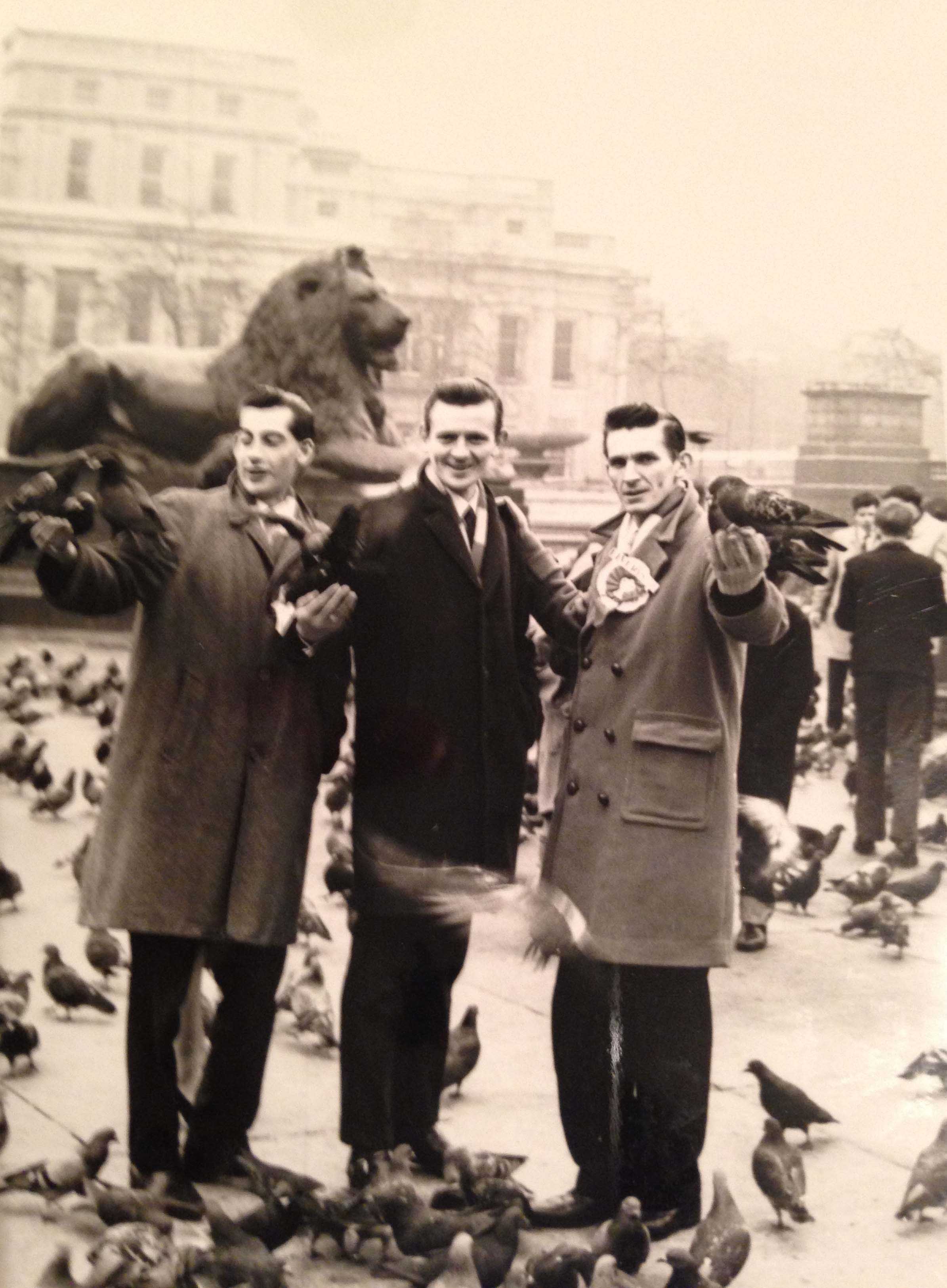 He was there at the semi final when there was a pitch invasion, when the last whistle brought a joyous pitch invasion with the knowledge that Wembley beckoned. All the time that our Father stood as a role model for us we knew that he'd kept the copy of the Echo that contained a photo that featured him as a member of the army that invaded the pitch. We loved him all the more for that. One of the many, many things that we loved him for.
He did the homes, he did the aways. With his mates, with our Uncles; Lenny, Dave, Jimmy. With his mates. He did the hard miles in the years before motorways. Sunderland in winter without motorways? He did 74 to watch us ram Supermac's words down his throat. He did the leagues, all those leagues, all those glorious leagues that we took as birthright, he saw them all. He saw such things, such wonders. He saw the glory which was Rome. He stayed sober for three days (he always claimed he did anyway) in order that he could see the city and enjoy the city. He ate nothing but ice cream for three days because he was a simple Liverpool lad; an Everton-born Liverpool lad who didn't trust that fancy foreign food. When he found a menu which contained the word 'spaghetti' (which one would imagine would be plentiful in that particular city) he ordered it and was amazed at 'this white stuff' that arrived having fully expected it to be of the tinned Heinz variety. That's what he told us, we believed him, you believe your Dad on these things.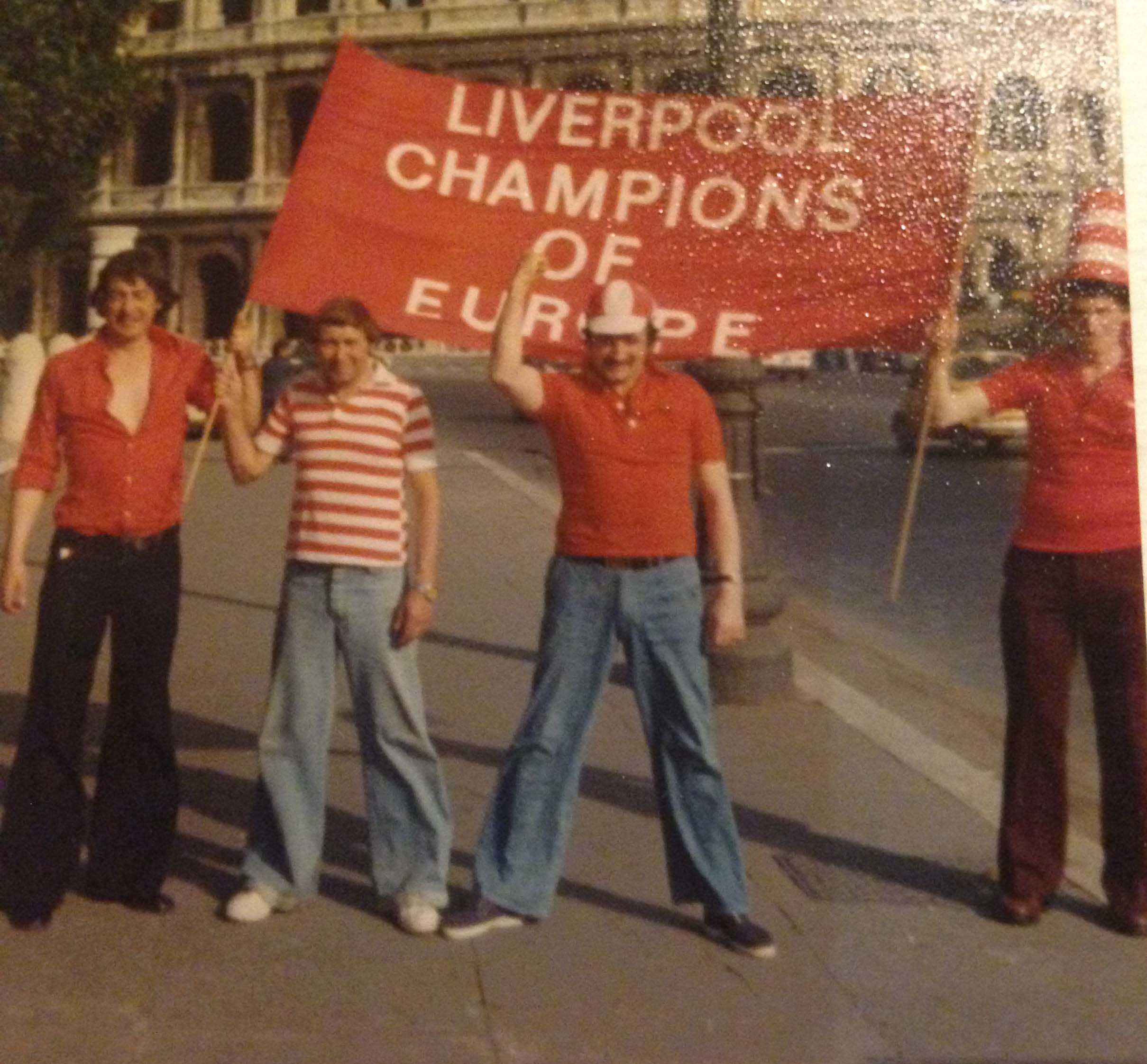 Bruges in 78 by boat. Back by boat. Nearly back to Bruges by boat. The 'no-drinking' concept firmly abandoned, he had decided to get back on the boat to (and I quote) 'thank the captain for a nice ride.'
He drank in the Park Hotel in Netherton after home games in the 70s and 80s. Drank with Roy Evans and Ronnie Moran and Ronnie Whelan and Ian Rush and that period of stardom and greatness (and if the dates are wrong or the players were others then it's because the legend has become bigger in my mind ––Evo's a definite though).
Paris. Three European Cups. He was at three European Cup wins. Not bad that, is it? Not many teams can do that can they? And he's one of so many that can claim that. His story, his footballing story, is the same as yours, or your Dad's or your Granddad's, it's what we all share, it's what unites every one of us. My Dad was one of us. Unique and wonderful and brilliant and one of us, one of this big thing that we all have in common. In love with the game, in love with the club.
He was at Hillsborough. He was in the stand and he watched as the stretchers came past, powerless to do anything and waiting to see if the next one had either Keith or Kevin on it. He was lucky. We were lucky. Our family came home but he knew how close it could have been, knew how lucky we were. He didn't talk about what he saw, we didn't discuss the details very often. One of the guys that went there on the coach that my Dad went on was one of the 96. The coach waited, had to leave without him, had to come back not knowing. We don't know who it was. When the phone call came through that evening that told him that it was the first time that I'd ever seen my Father cry.
And he brought us up on this club that he loved, this game that he loved. The three of us. Keith and Kevin before me. I came to the game relatively late on but I got there. Late 70s, through the 80s, educated the right way. The Paddock first. For us. Back when it was a big gap between the main stand and the pitch. Then the Kop. But he was the Main Stand. As long as I can remember, the Main Stand. Where the grown ups sit. I'm older now than he was then but the Main Stand is where the grown ups sit. I'm not a grown up, I never will be. At heart I don't think he was either. But he was Main Stand and we were Kop. And we'd go together and we'd split up when we got there and we'd agree one thing, always one thing (and this is where the tears start) "We'll meet you at the wall after the match".
The wall. Facing the corner where the The Kop and The Main Stand meet. That's where we'd meet them; my Dad, Lenny, my Granddad (his best mates, reunited with his best mates now), we'd meet them by the wall. Gone now. Gone for years, replaced by a fence but still it was "We'll meet you by the wall". The fence has gone now, it's just ground waiting for the expansion but we were "meeting by the wall" up until about a month ago when Dad became too weak to go anymore.
Walking had been an issue for a while but he'd done his damnedest to keep going. We hoped for more, hoped to get him to the game, hoped for the Madrid game, for possibly one last big European night, spoke to the club, asked if we could arrange to bring him in a wheelchair, get him to his seat, store the chair somewhere (they offered up a space under the Kop, they were as excellent as you'd want them to be) and get back to him at the end of the game.
But he was too tired and the weather was foul and it was cold. It didn't happen. Chelsea maybe? Maybe we could get him to the Chelsea game? He had oxygen at home, if we could get a portable version? If we could find a space where he could watch from the wheelchair?
We didn't get to ask the question. He was hospitalised a week before the Chelsea game and on the day before the match he started to go downhill.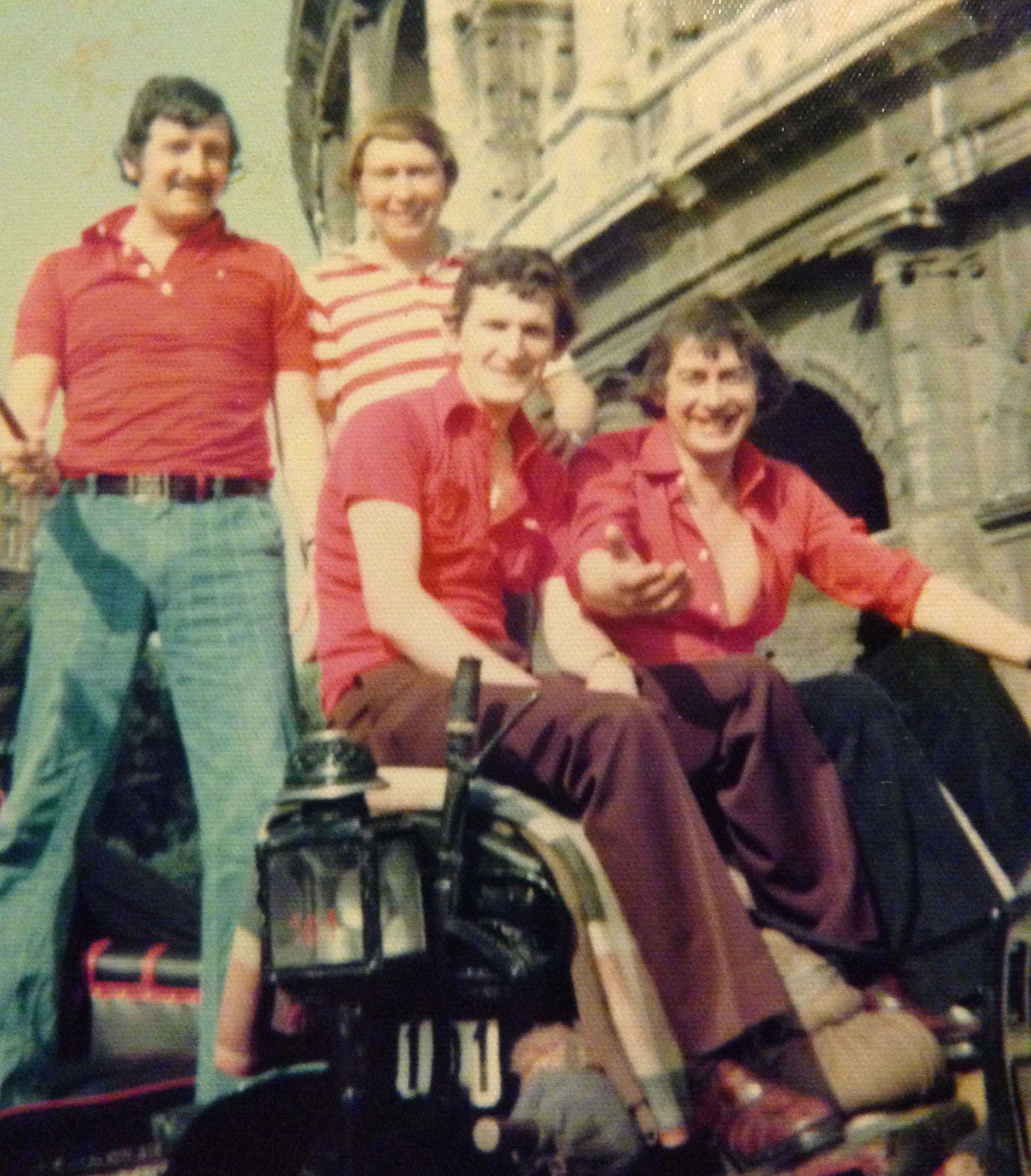 So we didn't go the game. We didn't see the coverage, we didn't watch Match of the Day. We possibly never will because, whatever happened in the game, it doesn't really matter.
I found out a few years ago that my Dad's ambition had been to be a sports journalist. I've somehow, luckily, in a pretty unlikely turn of events, managed to do some of what he wanted to do. I'm delighted by that fact. Delighted, proud and comforted. Something of him is here, always here, in my opinions, in the way I voice them, in the fact that I do it at all. In the fact that I go to the game.
My Dad's story is the same as yours, as your Dad's as your Granddad's as all of us. One of the many thousands of us whose name you never know but you might have passed by as you walk to your seat or in the street before the game. I'm lucky enough to be able to tell you it here because of everything he gave me. Because of the love and the passion and the allegiance and the faith in the team.
I hope I've done him some justice here, I've not even covered the things that made him truly special; they're unique and indescribable. His fight to stay with us over the last three days has been immense and inspirational. It allowed us all to say our goodbyes, to tell him how much he was loved. And God he was loved. By so many people. He was that most wonderful of things; a truly good man.
As we were with him we played him You'll Never Walk Alone. Twice on that last morning. A song to support him, to let him know that we were there, to let him know that he wasn't alone. He knew. He wasn't. He was never alone. The Palace game is going to be difficult, I may not be able to handle the minutes before kick off. It's always an emotional song, obviously it's always an emotional song, this time it's going to be a million times more powerful. This time it's for my Dad, for every time from now on, it's for my Dad.
We told him this. And we told him one other thing. One of the last things that we told him; to let him know that we know we'll see him again, to let him know that he'll see his friends again, those that went before him who he'd missed and whose lives had contained as much of the passion for this great thing that we all share as his had.
We told him this:
"We'll meet you by the wall after the match."
And we will.
Good night, Dad.
YNWA.