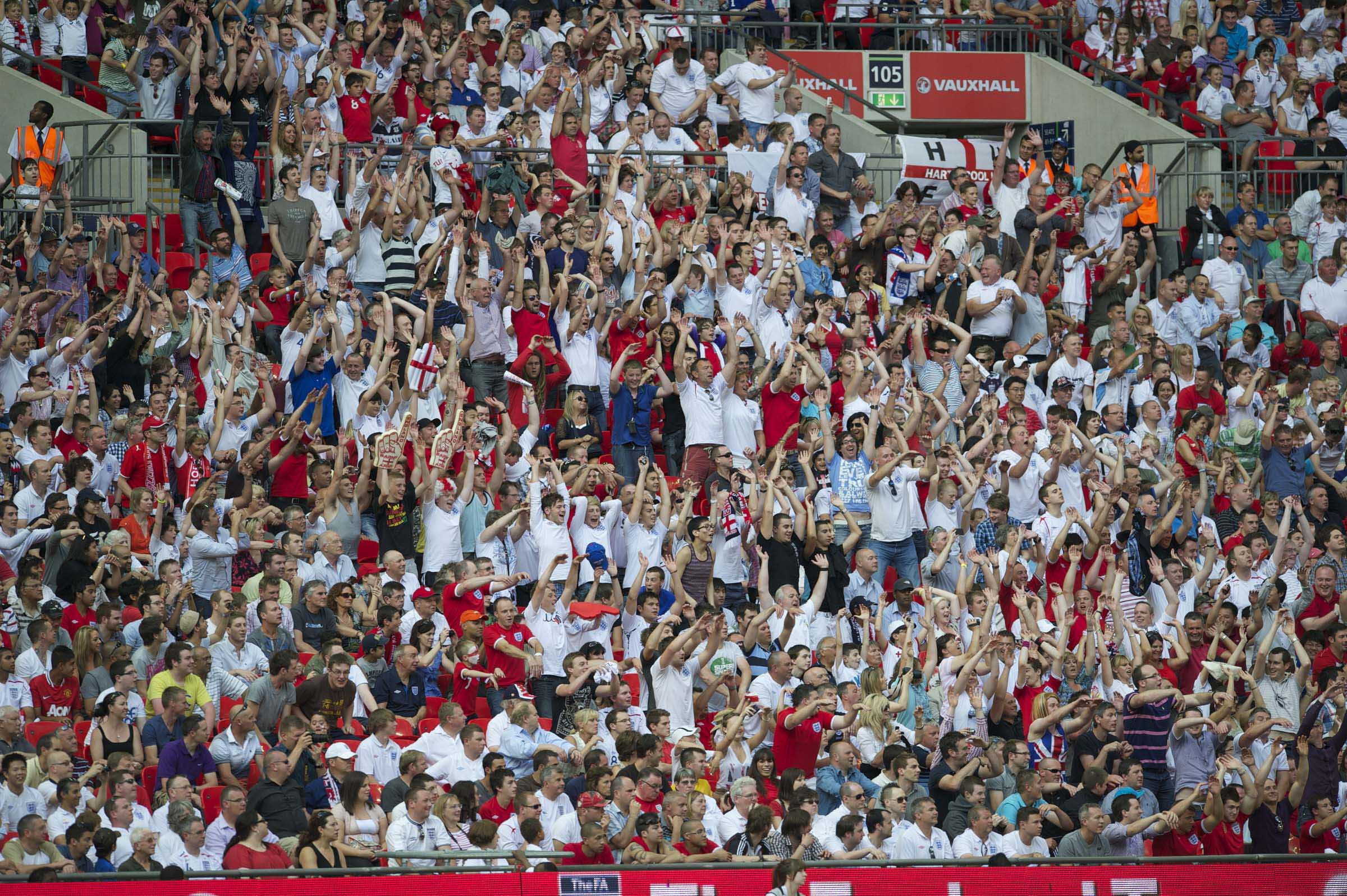 I WENT to the World Cup. I may have mentioned it. I had a wonderful time with lots of wonderful people, both people I went with and people we met on the way. But during the fun, laughs, drinks and hangovers I couldn't help but feel there was one part of the experience I was missing out on.
I saw the national pride being shown by all the other nations there – in particular the Columbians, Costa Ricans and, of course, the Brazilians – and couldn't help but feel it would be nice if we could all get behind our national team in that way. They all seemed to have so much fun doing it.
We were asked about England a lot by fans of other countries, and it always led to confusion when we said we weren't that bothered. It was a tricky one to explain. How much do you want to get into the impact of Thatcher's economic policies on Liverpool with a drunken Swedish fella who is just being polite? So normally we would just say we were there for the beer and we'd all laugh and get another drink.
But maybe the reason I found it hard to explain was, out there, the reasons didn't seem to matter as much. I understand completely the 'We're not English, we are Scouse' sentiments of the Kop after decades of the city being let down by successive governments and southern England obsessed politicians but it is interesting that this anger only manifests itself towards our national football team and not, for example, our cricketers or athletes.
Why are we unable to separate the two?
At the Olympic Stadium in 2012, athletics fans were able to cheer on the competitors before booing George Osborne presenting medals. A man or woman wearing national colours surely shouldn't automatically take on that country's faults and mistakes.
Of course with football there is the added element that Liverpool fans are also, quite rightly, angry with the English FA for their often understated role in the Hillsborough Disaster. But it feels like any protest towards the Football Association could be better directed than at a group of mainly working-class footballers, some of whom weren't even born at the time.
Anyway, it is not just Liverpool fans that seem completely disengaged with the national team. As a country we seem more and more willing to bash our 'overpaid, underachieving' footballers. This seems to transcend to the players themselves, who make noises about the pride of wearing the England shirt, but often don't seem to display this in their actions.
Harry Redknapp said that players at Tottenham wanted to avoid England call-ups, whilst Stuart Pearce has talked in the past about having issues with players showing apathy towards England Under 21s. Contrast that with the determination and pride shown by players of other countries at the World Cup (imagine Pirlo or Mascherano pulling out of an international friendly, for example) and it's not hard to see where other teams get their extra 10 per cent from.
Players – especially at this elite level – have their professional pride and inbuilt desire to win, of course, but is that enough to get you through when you are cramping up in the heat in Manaus?
Even before the World Cup there were lots of people ready to offer solutions of how to save the national team. Committees were set up and every sports journalist in the country had their own solutions. But something I rarely saw mentioned was that maybe not enough of the country are actually that bothered. It seems to me that until we solve that we are destined to fall behind even limited sides with a stronger team ethic. So here is how I would save the national team. We can worry about small things like 'more qualified coaches' later.
1. Swerve the manager
OK, let's get this one out of the way early. People have already argued far more eloquently than I could about the England manager's tactical failings – in fact it's been done in previous editions of the TAW magazine but I'm not too concerned with all that for now.
My new national team needs a charismatic leader to inspire players and fans alike. To make everyone believe that the 'Three Lions' are worth fighting for and to have pride in the shirt and the nation. It's not Roy flaming Hodgson is it? Gareth Southgate once famously said of Sven-Goran Eriksson: "We were expecting Winston Churchill and instead we got Iain Duncan Smith." Roy Hodgson is more Captain Mainwaring.
My new inspirational leader doesn't have to be English, but he certainly needs to be an Anglophile. I don't care where he is from as long as he's bang into real ale and walks in The Lakes. Brendan Rodgers would be perfect but England can't have him unless you think the job doesn't need to be full time, but that's an argument for another day. Maybe Mourinho can do it when Abramovich gets bored again. You can slag him off all you want, but if he laid on the charm offensive you'd wither like a flower in the Portuguese heat. And if the new fella could go a week without slaughtering one of his players, then even better.
2. Swerve the national anthem
Let's face it, the new national manager can be as inspirational as he likes, but once the players have taken to the field and been forced to stand through the dirge that is God Save the Queen they'll be ready to pack up and go home no matter what he's said.
After years of standing there looking uncomfortable, players are now asked to sing – as if making a bunch of lads who probably aren't arsed about the monarchy or religion sing about both is going to turn them into Terry Butcher.
But as the recent Commonwealth Games has proved anyway, IT'S NOT EVEN THE ENGLISH NATIONAL ANTHEM. They used to play Land of Hope and Glory at the Commonwealth games. Now it's Jerusalem. I'm fine with either to be honest. Or we could do what the Swiss did and have a competition to write a new one. We could even have a public vote, turn it into a TV show with Ant and Dec presenting if you have to. Just come up with something that doesn't sound like the bagpipes warming up. No wonder England always start games badly.
3. Swerve Wembley Stadium
Aside from the new Wembley Stadium being rubbish, it's completely unnecessary and counterproductive to have all England's games in one place. While many other large national teams play in different grounds across their country we stay in the capital. As if they haven't got enough.
It shouldn't be that hard to find a buyer for the ground, I've heard rich Russians are buying up the whole of London. Do a deal so the FA Cup final, League Cup final and play-offs stay at Wembley, and then take England on the road. This has happened before of course, when Wembley was being done up at the turn of the century.
England lost their first qualifying game of the 2002 World Cup, and last game at the old Wembley Stadium, against Germany and were booed off. Once away from Wembley the fans and players seemed much more relaxed and ended up topping their group. It was a time when it all seemed to matter more. When metatarsals were on the front page of newspapers and pubs were full at 7am to watch games on the other side of the world.
I think having a national team playing at places like Liverpool, Manchester and Newcastle and not just staying in the south had a huge impact on that. Plus the new England training centre is in the Midlands anyway.
4. Open training sessions
Not that England always need to train at the new fancy St George's Park National Football Centre. I am aware that by moving England games away from Wembley to smaller stadiums I am reducing the number of people who can actually watch England play, when I am supposed to be increasing the public's connection with the national team. So as part of the agreement of hosting an England game, a stadium would have to host an open training session the day before. It wouldn't have to be the whole session, just an hour or so where kids in cities up and down the country could watch the best players train. Throw some old balls and training tops into the crowd after. The day after they'd be screaming at the telly for England to win. Promise.
5. Be sounder
I am largely of the opinion that footballers are alright. Considering the pressure and scrutiny they are under from a young age, and all the attention the top ones get wherever they go, I would say that they are surprisingly well adjusted. But they could certainly do more to connect with the people they are playing for.
For example, I understand why a player might want to keep his first England shirt but not his15th one. I understand why he might want to swap his shirt when he's playing Brazil, but not Bosnia. Give it to a kid on the front row or a disabled fan and the people will appreciate it. Often players will say they have promised their shirt to people, but Luis Suarez made the Uruguay kit man make him five for their game against Holland as he knew his Ajax team-mates would want them even though he was suspended for the game. It's easily sorted if you want it to be.
That said, it was interesting that the Greek national team was so widely praised for turning down bonuses at the World Cup when England players have been giving away all of their match fees to charity since 2007 – raising more than £3.5m in the process. See I told you they were alright. Maybe they just need better PR.
Some of the above is of course slightly tongue in cheek, but it's also mostly achievable if the desire was there. But why, you may ask, should you care? If you support Liverpool, or any of the other big clubs, you might not give a toss how England get on, and are quite happy to keep it that way.
That is your right, but I would argue that a successful England team is good for the entire nation. Inspiring people, especially young people, to play sport is vitally important for the health and wellbeing of the country. And it makes everyone happy too, which isn't to be sniffed at either. Of course club football can do this but not in the same way. Ultimately, It would be nice if the whole country could have their own Istanbul, wouldn't it? Although I still hope it's a lad from Liverpool who scores.
But it's also a shame that 'nationalism' is seen as a dirty word in this country, and can't be reclaimed from the far right it is now associated with. England is a wonderful country, with much to be proud of. Sometimes it takes an outsider to make you realise how lucky you are to live somewhere. The American author Bill Bryson once wrote:
"The fact is that this is still the best place in the world for most things – to post a letter, go for a walk, watch television, buy a book, venture out for a drink, go to a museum, use the bank, get lost, seek help, or stand on a hillside and take in a view."
And he is largely right. But it also sometimes takes you travelling somewhere else to realise what you don't have. We aren't shy about draping ourselves in flags and shouting about how great where we come from in Liverpool is, so why can't it be widened to celebrate everything Bryson talks about and more. Why can't we have a football team that is ours, not theirs – one that reminds you of everything great about England.
I'd love to follow that team in Russia.