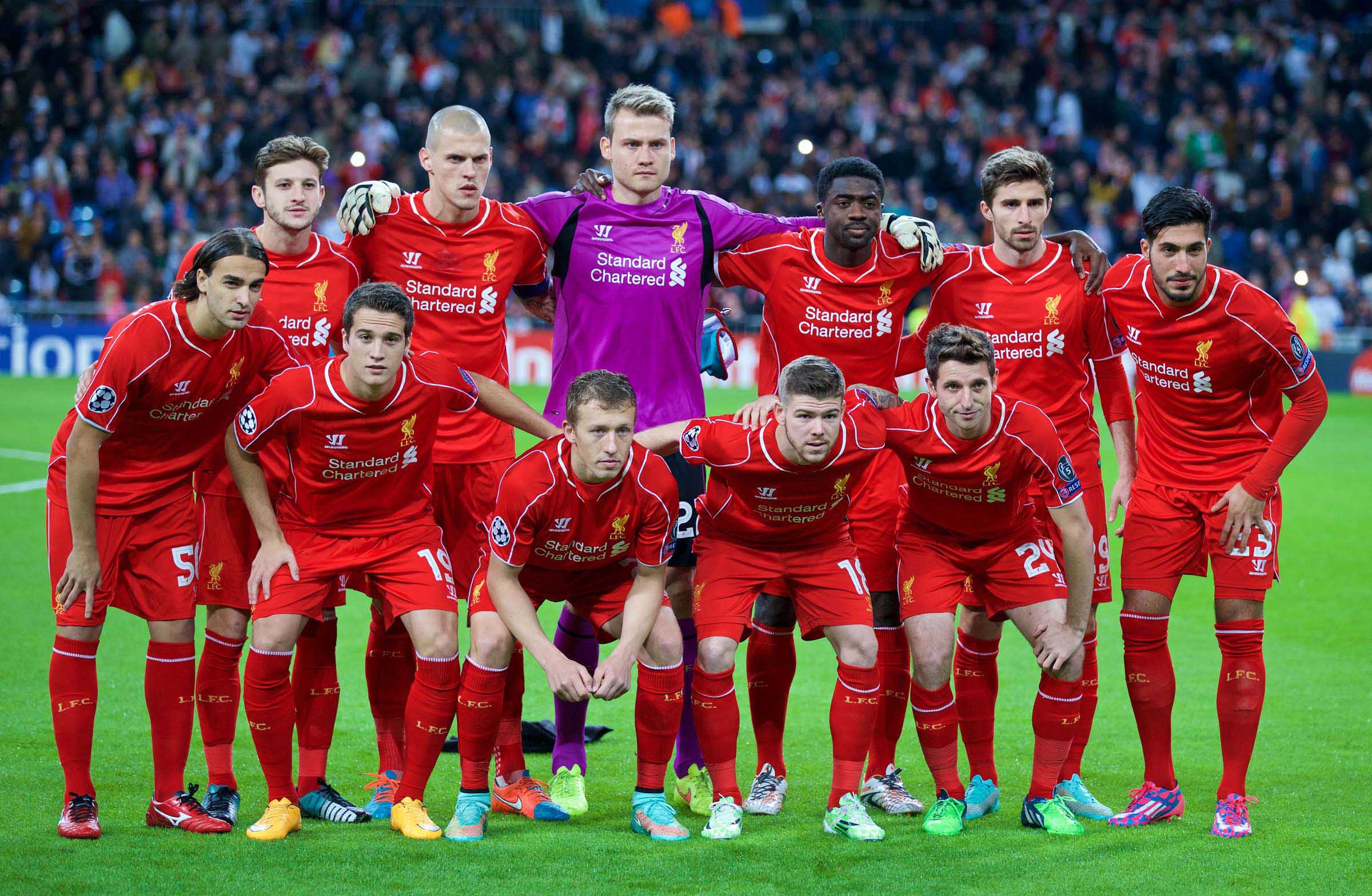 I START to write this under these two circumstances:
a) not knowing if Gibbo is writing one
b) in a taxi with Andy Heaton before the game
We've just come out of Mercado de San Miguel. Have you been? You certainly should if you are ever in Madrid. It's a massive marketplace, full of food and wine – loads of different types of food and wine. It's a terrific cornucopia. We were there for a yonk. Like six hours. In one place. We were eating all the wonderful food. Drinking all the wonderful wine. Talking all the wonderful shite. All of it. We'll do it anyway.
Martin Fitzgerald is here in Madrid. He notes that he's never seen collective organisation like it. You all manage each other constantly he says. You are all doing it. It must be exhausting, all the time, you are sorting each other out. Is it, he asks, a Liverpool thing? I sort of think it is. It's what happens. Lads looking after lads. A sentence here, a sentence there. Endless interchangeable instruction on x or y. All is cool. All is easy. Everyone knows where they are and where they stand.
Bar one thing. I have no idea where I am staying. I got back last night at six. I left at noon. Who knows where my flat is.
I'd like to tell you news of the team spread. Not to us it didn't. We drank daft pints, tons of wine, spoke to everybody in the world. A gang came the market. Kev Sampson is looking well, John Mackin's lad is looking better. Walking at 6 3. Broad. Handsome. Splendid fayre all round. The wine is terrific.
The ground is imposing. I've been here before to see Real dispose of Barca 2-0 the night Riise scored that free kick against United. But to come as the opposition, it's imposing; Robbo went and did the stadium tour. Said these are good you know. Said they are the business. Won loads. It is also far too security conscious. Ticket was checked three times before turnstile. Five checks. A body search. You know the drill and if you don't you should. To be a football supporter.
Liverpool's first half is decent. A little first gear from both sides. Liverpool's team selection is hither and thither. But those you'd call reserves played well from the fourth tier. Lucas, Toure, Can, Borini. It's hard to take it in. You are taking in the ground and the spectacle. It's a remarkable place and ground. Like reading a book next to the Grand Canyon says Fitzgerald next to me. Liverpool's shape looks good. Their goal looks quality. There are stints being put in all over the show. Liverpool's reserves are gutsy lads but Markovic remains a concern. He remains the most post- of Liverpool's post- lads. It is as though he won't let his legs go. Won't allow his play to go. He needs to relax. We bought him. We have paid that money. Be yourself, Lazar. It will be ok. Cut loose. These are your level.
They played Shiny Happy People at half time. Jesus. Thought it was Near Wild Heaven for a second. Imagine. Imagine that. They also played Money For Nothing by Dire Straits. It was brilliant through the massive sound system, utterly uplifting. They cut it off for Jump by Van Halen and the travelling Reds were all in.
First half Real Madrid were clearly the better side. Second Liverpool were marginally the better. Ramos's slip looked exactly that. They threatened because they have quality. But Liverpool looked like themselves. Bold in possession, constantly looking to play. Not enough cutting edge though, that needs to improve however willing Borini is. That's also a shape thing, not just personnel.
I've spoke to loads of Reds this week. Some are very concerned. Some are very patient. Some reckon Liverpool will come good this year, others worry understandably. This is a night where everyone can see what suits their point of view. It's not straightforward at the moment around these parts. Liverpool need to be better in general, in particular there's nothing wrong with result or performance tonight. Fundamentally I watch these Reds and think they are always one world star short. They need just one great player to make sense. Real Madrid had three and brought one more on from the bench. Any one of those players makes Liverpool look the business. Daniel Sturridge does that too but imagine one more on top. When you see Ancelotti's riches you find yourself jealous. That said the travelling Reds sang more about Garcia than anyone else. Mercurial can take world class's place. But then what happens next week?
We leave the place knowing Toure and Lucas can contribute to this season. That Allen can play at the highest level. That Liverpool have a strong squad, twenty lads who can go anywhere and not disgrace themselves. They've come here and done it, the best side in the world. But we also know that someone needs to set fire to the place. This is that time. Someone needs to set fire to the place. Knock round ours for the matches.