THIS needs a power crawl. It's a massive game for us and them and it needs a power crawl. Don't know who decided that. Me or Graves. One of us. It involves getting in, and being in, the city from 11. Being there and touring it. Hitting it. Being one with it. The city is always the thing and when it gets bigger let's see what we can do. Meet at 11. Do six. Get in for kick off.
Nailed it. Just. Involved the cheekiest Lemoncello you've ever seen.
The game is massive. A win opens doors. A defeat closes them. A draw does something to them. Takes the handle off maybe. Calls for them to be rehinged. I don't know. Some metaphor or another. See above, power crawl.
We got a defeat which sorts things out for Chelsea.
Liverpool start bright as a button. The sort of effervescence that has been missing. Given Chelsea's rockiness, it isn't quite waves of Liverpool pressure but it does erode itself into a goal, Liverpool keeping the ball along the back line, creating space and Can emerging into it, firing home, deflected.
After that Chelsea force their way into it. I have few ideas about the equaliser. It happened though. Liverpool looked decent until 30, Chelsea dominated after then.
Ivanovic could be the best player in the country, you know. He is perfect at what he does. Perfect. He is a joy to watch. Gary Cahill, too. Reminds you of Carragher 06 and there is little praise.
Liverpool found themselves in an especially tough game and found themselves wanting. Coutinho was effective and ineffective, capable of opening them and doing nothing. Mercurial for five, but what do you do for the five? Henderson was poor throughout. Hard working but poor.
It was a tough game for the captain. Repeatedly found wanting by their level and his, by our pressure and theirs. Holes of green popping up around the park in front of him. Too often in the first 45there is half a press, too often there isn't enough. Second Liverpool were second best until the goal and weren't first best enough there after.
Gerrard is officially a problem. There's no joy in this, but he is a problem. Everyone around me is talking about it, he just can't be Gerrard any more. He can't quite do it. He has patches, especially as the game wears on. But he is now definitely a man without a country. It kills.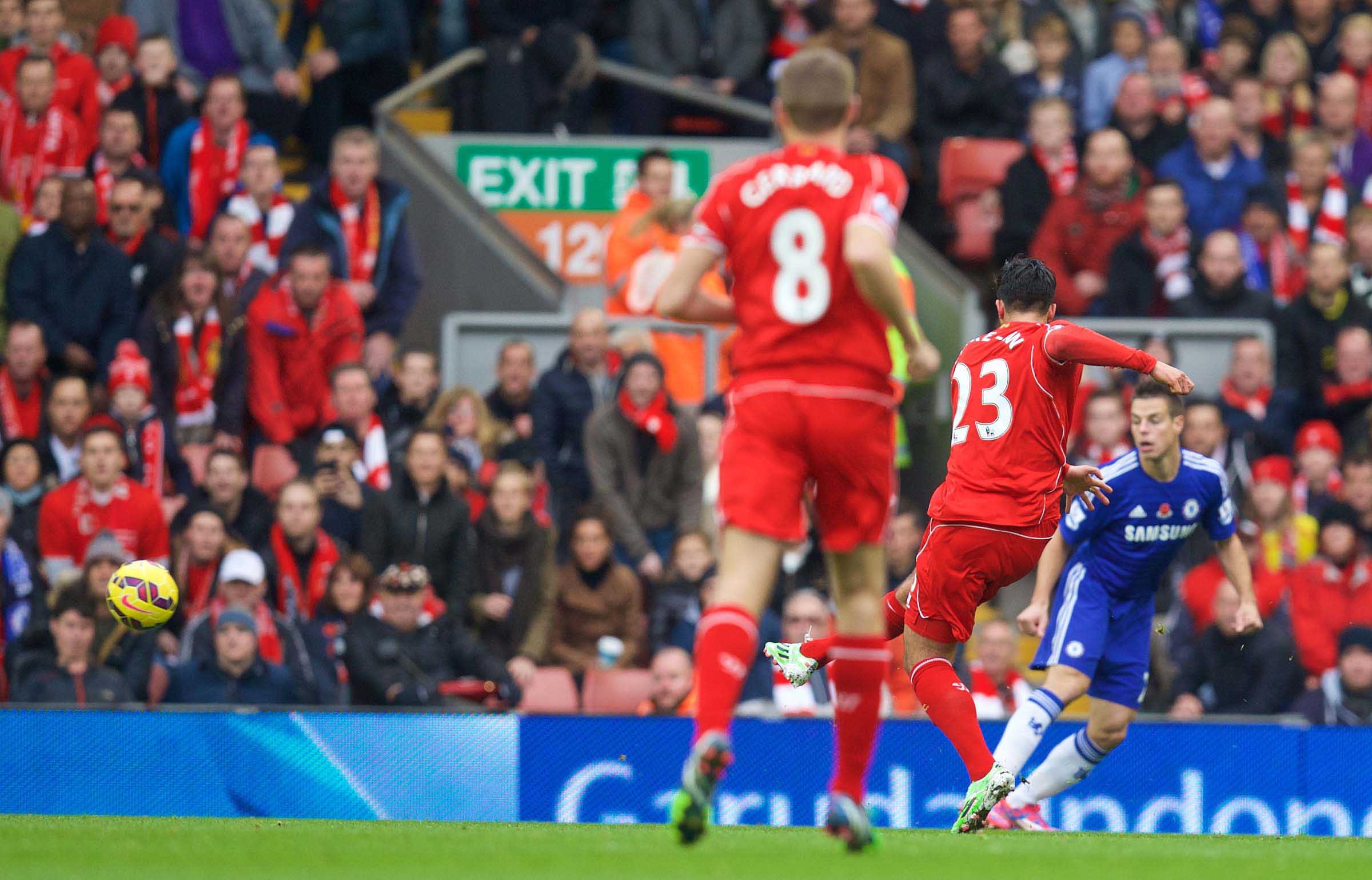 When Chelsea started singing "Sit down, shut up," lad behind me went "No Stephen Sondheim are they?" I mention this only because it made me laugh. They aren't, no. Basic as onions is what they are. Mangling the English language is what they are doing. They turn up, more contemptible than any who come through the gates, working their balls off to be contemptible. At least, not least, it comes easily to United. At least, not least, there's a ship canal and a billion years of history involved. At least, not least I, we, care about United, or can, for 90 minutes in the blood and in the bone. These characters playing a character leave me cold. They are stuck with the endless reality of being Chelsea, however much they gnarl their faces and furrow their brows and bite their fists. The football that matters happens in the north west boys. That's an historical reality you can't overcome. Soz.
There remains for The Reds a cutting edge question. These centre forwards Liverpool have aren't bad players through the telescope of history. Fifteen years ago Balotelli looks great. Twenty five years ago Borini dominates Serie A. Forty years ago Lambert runs this league. He plays all over the show. Now he's a lad without a position. Borini showed for all the world. God it is a shame.
The referee was terrible today. There is a tactical decision Chelsea make to get in the referee's red zone. All game. They make these situations occur. They push others towards red zones and red cards, don't be fooled, it is a decision they make. They know what they are doing and when the referee is weak they get away with it. Forearms in faces, diving saves from outfield players. These are Don Revie's Leeds. They played the weak referee like a fiddle. He should be ashamed.
That said, the workrate was the best I've seen from an opposition side. It was spectacular. They ran themselves into the ground. They ran themselves like footballers who know the title was there today. A decision was made by Chelsea before a ball was kicked this season. You win the league in the first 12 games and then coast.
Chelsea were impressive. But this thing nags. What nags is that they, he, Mourinho has the number nine of his dreams, his prototype nine. More mobile than Drogba, more dead eyed than Milito. He has the lot. He has everything working. However they aren't as good as they were 05/06. Or 09/10. Or as good as Real or Bayern. Nowhere near.
But Chelsea won the league today. They approached it like a league decided. It reminded me of New Year's Day 2005. They turned up to Anfield, turned up to the north west, and won by a single goal with a hotly disputed handball decision, with contentious refereeing. And after today's win they are where they are now, the north west in the bag. Visits to Manchesters City and United; to Liverpool and Everton, all done. Go hard, go early. Get it all done. Get it all nailed. Get it in the bag.
Liverpool and Brendan Rodgers have it all to do. All to nail. Nothing to say it won't be nailed, seasons come in patches. A third in, though and decisions need to be made. Big ones.
In the meantime, come to town. Let's have a chat.
[yop_poll id="20″]
[rpfc_recent_posts_from_category posts="7″ meta="true"]
Pics: David Rawcliffe-Propaganda