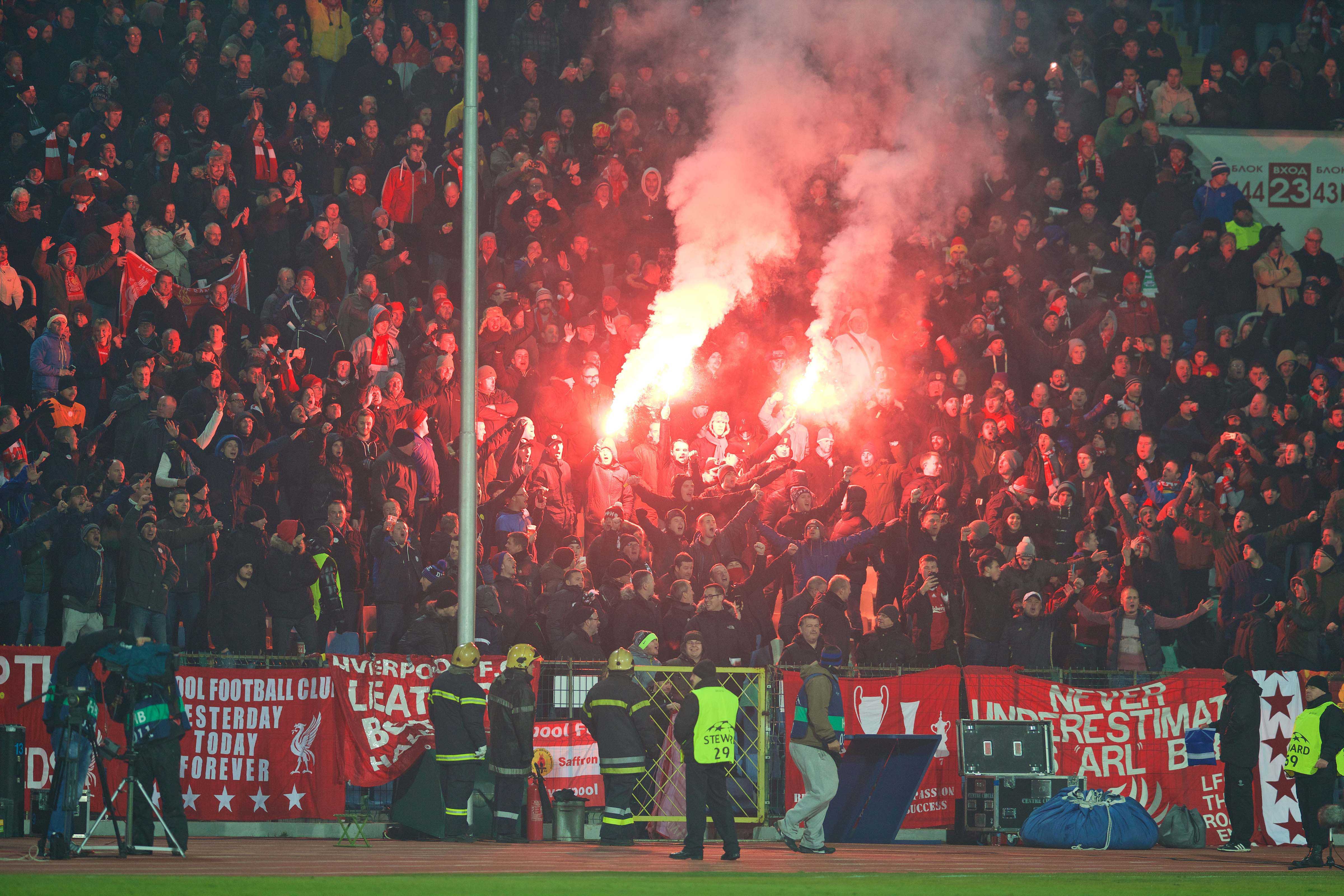 A cold, cold night. A proper cold. Crisp, not dank. Supplements your bones rather than making them ache. Christ, I love Eastern Europe at this time of year. We try to come here every year. Makes winter real in a way another downpour doesn't.
Sofia was plain odd on the day. There was no sense of any Ludogorets supporters, no sense of a game happening. We didn't see any all day in town.
However, on the approach to the ground what is also noticeable is the sale of Bulgarian flags. Not Ludogorets flags, but Bulgarian. They are playing in the national stadium. They are a national team in this setting.
Somehow we ended up in the corporate. We'd been looking for two together and these were the two we ended up with. Specifics redacted to protect the innocent. It was fascinating to be in the corporate because you can see our end as an outsider. Hear it as an outsider. It's a great blaze in a flat venue but the Bulgarians warmed to their task as the game wore on with an increasing racket.
The line up fascinating. Starts out as Gerrard off Lambert. Two holding, the fulls advanced.
Opening goal looks dreadful. Liverpool susceptible. The goalkeeper culpable. Surrounded by Ludogorets supporters overjoyed. Great in the corporate. Not neutral. But that's fine.
Brockle observes on five that Ludogorets are a small side. It's true, I didn't notice in the Anfield game but all over the pitch Liverpool are two or three inches taller than their opponents.
Liverpool turned the screw after conceding. It didn't need a whole lot of turning being fair, but Liverpool were bright and good to the edge of the box. A hopeful ball becomes more and Lambo has two in two. My celebration unconfined. Perhaps it should have been slightly confined. Let's make the corporate lively…
On 12 I turn to Brockle and say "Allen has started brightly." She says my running chatter is why she doesn't come the game with me and that I clap like a giant. My running chatter is nervous. Liverpool are in a game.
On 13 Gerrard plays a big one to Manquillo. He loses possession. From there until 20 the game belongs to the hosts. Liverpool seem happy to give up set pieces. Maybe, given the height advantage, they are less threatened. Maybe the converse with hopeful balls. They can make more of them. One of these things, it transpires, is wrong.
Henderson spends the half constantly looking to run beyond and it is great to see. It gives Liverpool a threat in the back of the Bulgarian minds. They can't push endlessly on Lambert and Gerrard in this shape which verges on a conventional 4-4-2. They have Henderson's movement and Sterling's pace to contend with.
Everyone has the pitch to contend with. It's interesting how many of the Ludogorets good touches which come on the half volley. Flicks and clips around the corner. They've played here before.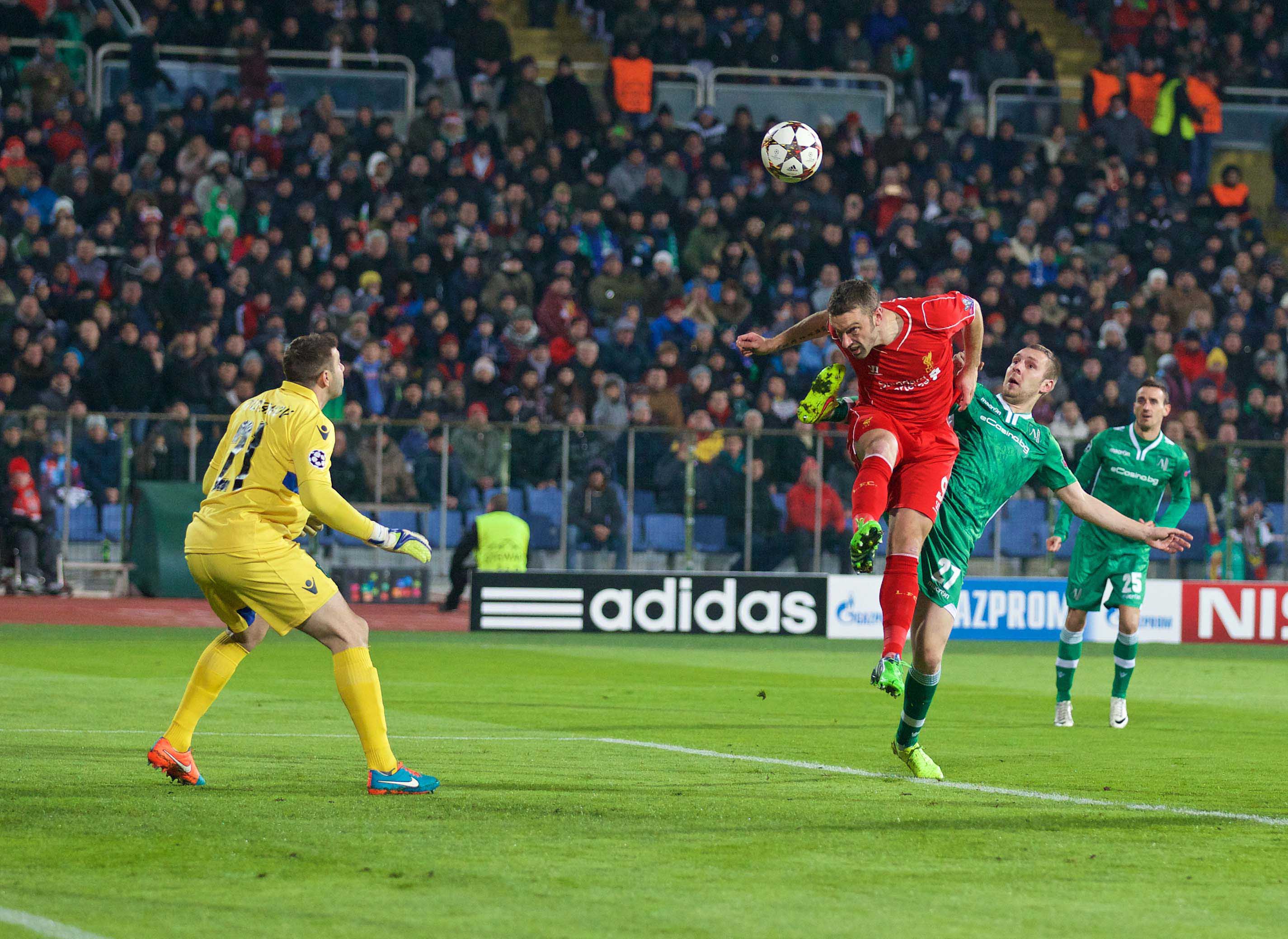 The second is terrific. It had its roots in what had gone before. Two or three times Liverpool had almost won the ball back high and been penalised or unlucky. Then they were neither and they exploded. Sterling terrific, Henderson certain. Two one and you could see what it meant. This Liverpool side was taking itself and its business more seriously than it has for a while. Half time and a job was half done.
Straight after half time you could see the pitch was becoming icy under the feet of the players. Cold. So very cold.
On 53 as no one came back from the corporate facilities Brockle asked me if everyone else had fucked it off. We were practically alone for the first 10 minutes of the second half and Liverpool looked increasingly in control. Sterling's lightly paddling stride had Ludogorets always on the back foot but forays forward from the home side combined with remarkable homer refereeing and Liverpool's inherent vulnerability meant you never felt entirely at ease. Henderson missed a sitter from six yards (Ed – albeit that the ref had blown a moment before) and that unease only mounts in those circumstances.
In the second half Sterling was often so advanced it was more of a 4-3-3 than the flatter four of the first half. He was very much tasked with pinning them back. As the half wore on the question became if Liverpool had done enough to try to put the game beyond the home side. The answer, for all their improvement in terms of workrate and character, has to be no.
Skrtel was undone too easily around 70, but Liverpool's break was terrific. It signalled the game was becoming stretched. There was further pressure from the home side but Liverpool again repelled them and the game seemed under their spell by about the 80th minute. Sterling then spurned another excellent chance and it reinvigorated the Bulgarians. It was his last impact, Moreno replaced him in a Houllier flourish which had Liverpool's left further solidified in theory. In theory. In practice it meant Liverpool had less threat to pin Ludogorets back.
Rodgers claimed after the game that Sterling had stomach pains.
Leiva and Allen had spent much of the game taking turns to step up and harry to good effect. Liverpool's whole spine made a great deal more sense than it has for a while. Yet they were to be undone at a set piece by the smaller team which they'd failed to learn from during the game. The consequences of that late equaliser were, given the result in Basel, negligible in real terms, but it was a shame not to see Liverpool battle their way to three points. However a Liverpool win would have been harsh on Ludogorets who have lit this group up in a way neither Liverpool nor Basel have managed. It would have felt massive for the Reds though.
Liverpool can come away from the game just, very much just, pleased with their day's work in the current context. That is, they fought for one another and didn't look short of answers to the most brutal questions. They looked short of inspiration and while Gerrard and Lambert worked hard, neither had the magic or acceleration to really terrify their direct opponents. Skrtel remained ropey but the back four felt better. The centre midfield two looked very much like something with both brains and a sense of responsibility, if also a way from perfect.
Liverpool's qualification is in their hands. Any win does the business. The football out the way Sofia can be enjoyed further. Wrap up warm obviously. But it has to be enjoyed with gusto. If Liverpool fail to use this performance in the proper cold as a vague blueprint for further improvement there might not be any of these occasions next season. The season that should have started against Palace might perhaps have started against Ludogorets. The proof of that particular pudding will be in the eating against Stoke. Last time Lucas Leiva and Kolo Toure deserved persevering with and it didn't happen.
It surely has to this time.
Pics: David Rawcliffe