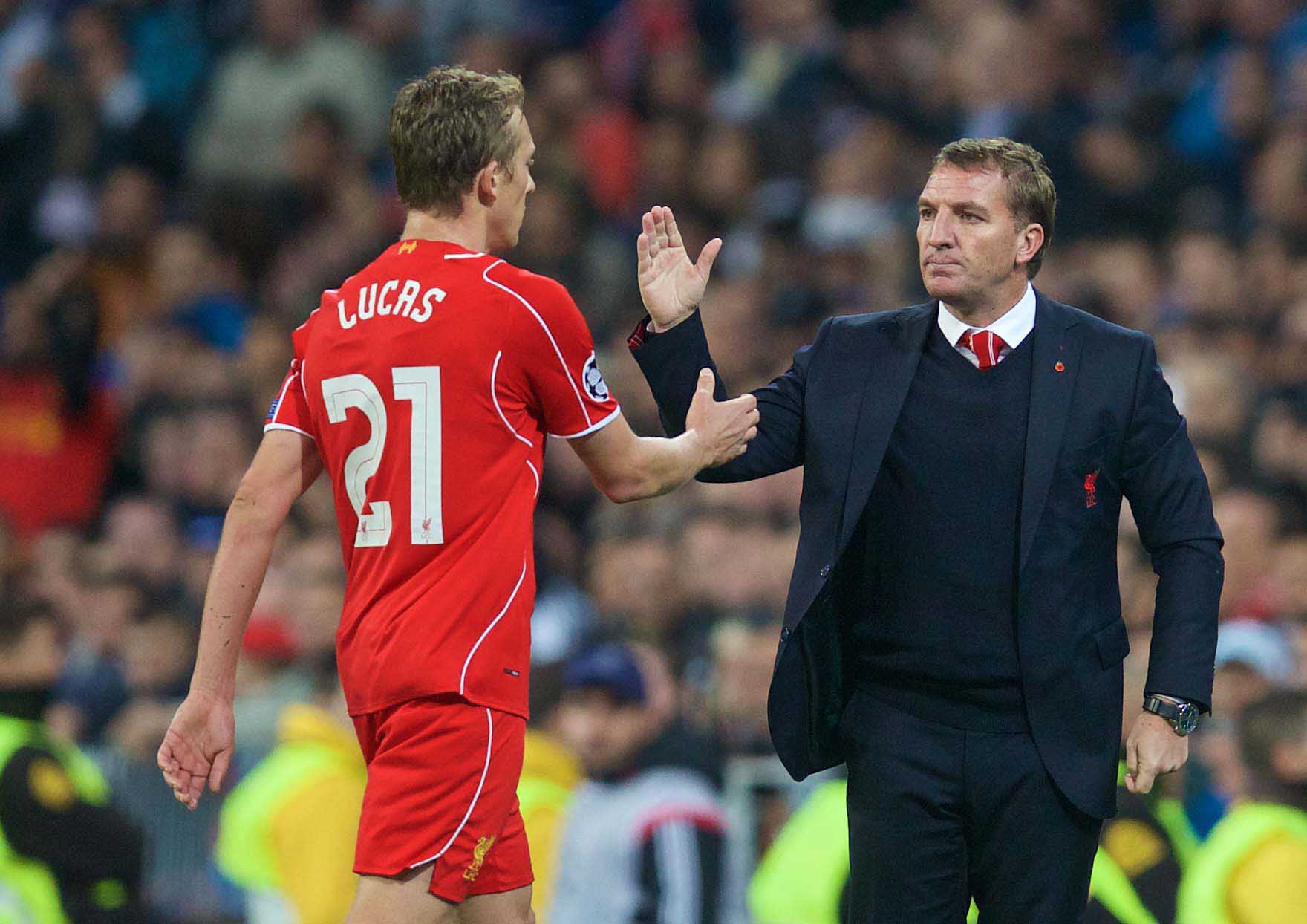 CONFUSION rules my mind when I think of my football team these days. This Liverpool team confuses me. Brendan Rodgers confuses me.
Question marks are everywhere and never more so than now in the aftermath of defeat to Real Madrid and prior to the impending visit of Chelsea. I have no idea of how I should even be feeling at the moment.
Should I be proud that an 'under strength' Liverpool XI were so resolute and committed away to a side clearly superior to them in the Spanish capital? Or should I be worried that we've essentially been reduced to playing a Hail Mary pass in the Bernabeu as early as November?
Should I be pleased that Kolo Toure was reintroduced on Tuesday and looked solid during 90 testing minutes against one of the most potent attacking outfits on the planet? Or do I instead lament the fact that Dejan Lovren — a player we signed for an eye watering £20m — currently looks less reliable than everyone's favourite internet meme from the Ivory Coast? I like Kolo, I just don't like the thought of having to trust in him very often.
Should I be encouraged that Javi Manquillo put in another accomplished defensive performance at right back on his to return to Madrid? Or do I worry that, come Saturday, the Spaniard's attacking limitations may leave Brendan Rodgers unable to resist yet another roll of the human dice that is Glen Johnson? Roll a six and you're rewarded with the composed, enterprising Glen from Cardiff away in March. One through five though and you get Glen from, well, take your pick from any number of stinkers over the past 18 months. Rodgers has rolled that particular dice many times and it's fair to say he's not landed on six very often lately.
Should I admire Fabio Borini's endless movement and insatiable levels of graft or remain frustrated by his ultimate lack of oomph when it really matters? Fabio has movement and graft in abundance but bloody hell how he could use some additional oomph.
Mario has oomph. Loads of it, in fact. But he lacks the movement and some would say the graft. Together I could see Mario and Fabio being something. Sadly, I suspect they will be separated again on Saturday for yet another 'one up top' job that I have come to despise of late. The disjointed 4-2-3-1 system the team has adopted recently may offer an obvious scapegoat for people in the form of an isolated and frustrated Balotelli, but it's providing precious little threat to our opponents. Of all the question marks against this team and it's manager right now it is the consistent use of a system that seems to suit none of the club's best players that is undoubtedly the most infuriating.
And so to Chelsea.
I hope Brendan surprises me this weekend and abandons the recent approach of Gerrard playing deep with a partner alongside him, two wide players and a lone(ly) striker. Whatever the reasons Rodgers has for playing in this manner, it's clear that it's not been working and I would very much like to see it binned.
Brendan used to be brilliant at rectifying his mistakes and solving problems. These days he appears to be making the same cock ups over and over while creating further dilemmas in the process. Perhaps having to juggle a larger squad deprived of its two greatest offensive weapons from last term has muddled his mind. Maybe he needs to go back to his roots. I'd certainly like to see him revisit a buzzword of his that he was previously rather fond of:  meritocracy.
The footballers who perform well deserve to play again and duly do so. Those out form don't, regardless of their status or price tag. Going back to that word and all that it implies at this stage would require balls. It could mean selecting a kid with fewer than 20 senior league games to his name over an experienced international full back to mark the magnificent Eden Hazard.
The real world implementation of that buzzword would also require the manager to accept his own mistakes and set about rectifying them rather than ploughing on regardless full of bloody mindedness and blind faith. It could mean laughing stock/cult hero (delete as applicable) Kolo Toure coming in for a prolonged run in the side at the expense of the woefully out of form 'defensive leader' that the manager (transfer committee/manager and/or transfer committee/scouts – Ed) recklessly splashed £20m on this summer.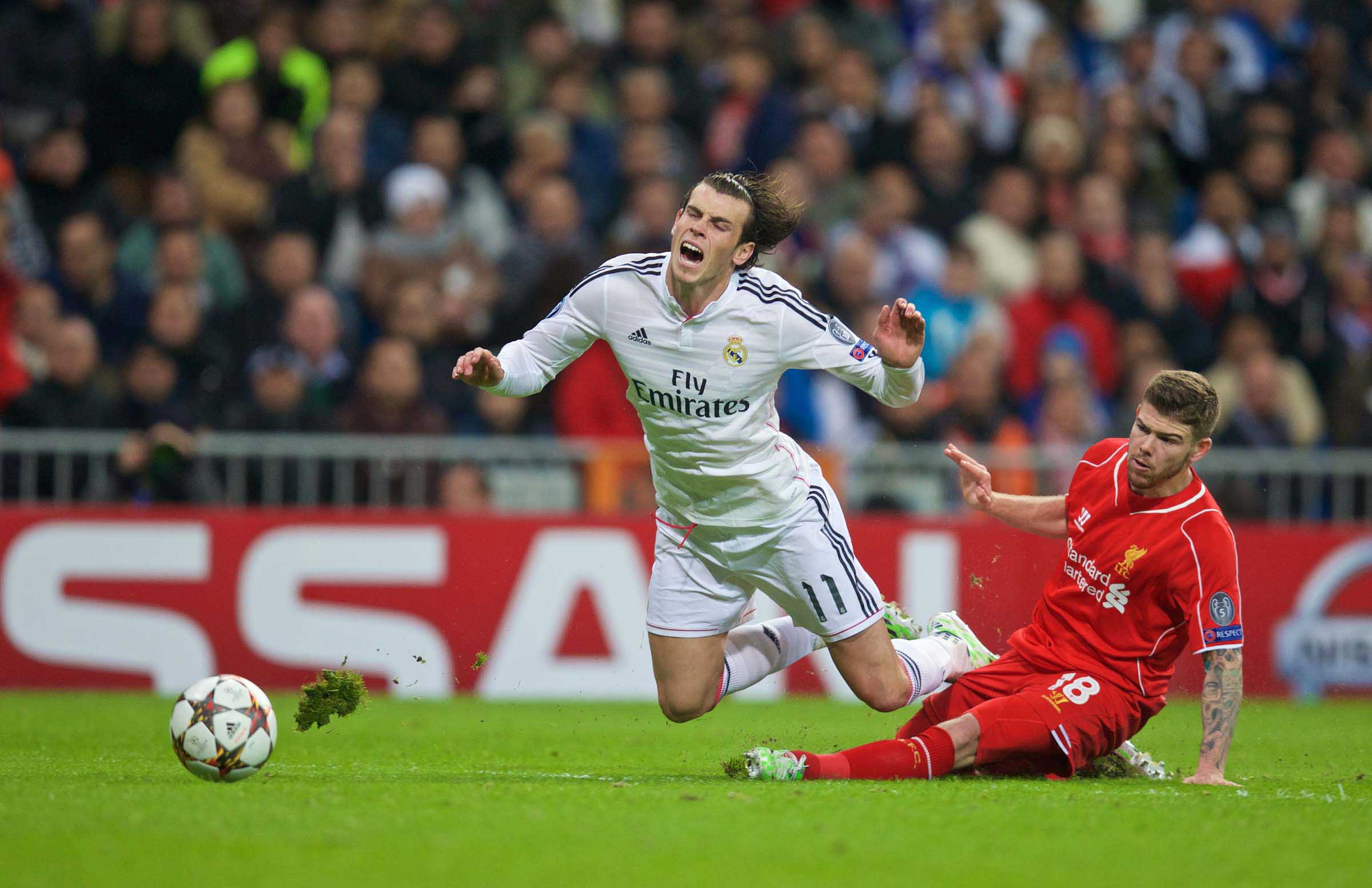 Based on the idea of a footballing meritocracy Fabio Borini should play against Chelsea too. I doubt he will but if he does then I hope it's not as a lone striker. The alternative may very well mean relinquishing midfield control against high-class opponents to facilitate a conventional strike partnership comprised of two Italian lads, neither of whom seems to have the manager's full trust — but why not try it?
It seems no more likely to fail than persisting with the unimpressive setup we've seen recently. Who knows, it might just help to get something out of Balotelli and it would certainly allow Raheem Sterling to play with more freedom in the centre of the pitch rather than being confined to the touchline playing as an default winger or an auxiliary wing back.
One positive from the defeat to Real was that, whether you agreed with his decisions or not, Rodgers clearly showed everyone that does indeed have the balls to make big decisions. His team selection left him wide open to a media lynching had Liverpool been humbled. In truth he's still received a lot of criticism for the starting 11. If he follows that with a defeat to Chelsea one can only imagine the hysteria that could ensue.
Yet, despite the obvious negative reaction and ramifications of his selection in Madrid, the manager stuck to his guns and rotated heavily. It didn't work as well as some are implying — we lost, that's never an indication of success. But the performance was of a high enough level to provide him with a shield to defend himself with.
It hasn't pacified everyone and losing to Chelsea will only compound the anger that many are feeling right now but at the very least Rodgers did it his way on Tuesday night. Rights or wrongs can be debated but this wasn't a half-baked plan and nor was it only partially executed. It was a clear and obvious ploy with genuine thought behind it. He went about his task with absolute conviction.
I want to see more of that.
More certainty. More clarity. For better or for worse. Losing football matches will always hurt no matter what the circumstances but as long as there is a clear plan on show then there is always hope of a brighter tomorrow. That's the reason that Man United fans are more upbeat with fewer points under Louis van Gaal than they were at the same stage under David Moyes last season. They feel like they're building toward something again rather than merely flinging muck forlornly at a wall and hoping for the best.
Giving Manquillo, Toure and Borini a run of games may not be what Rodgers envisaged in August fresh from throwing £100m around the transfer market but it would at least offer some stability at a time when it is badly needed. So would allowing Borini and Balotelli the opportunity to get a partnership going before Daniel Sturridge returns. Whether these potential changes would succeed or not is up for debate – what isn't right now? – but at least they would restore some order and return some semblance of identity to a team who appear to have lost theirs of late.
Whatever path the manager decides to go down from here we must hope that he embarks upon it devoid of the murky, muddled thinking that has surrounded his team selections too often this season. Liverpool need their identity back. Confusion currently reigns but confused teams can never reign. It's high time Liverpool stepped out of the gloom and got back to the business of being about something again.
Anfield on Saturday is as good a place to start as any.
Pics: David Rawcliffe