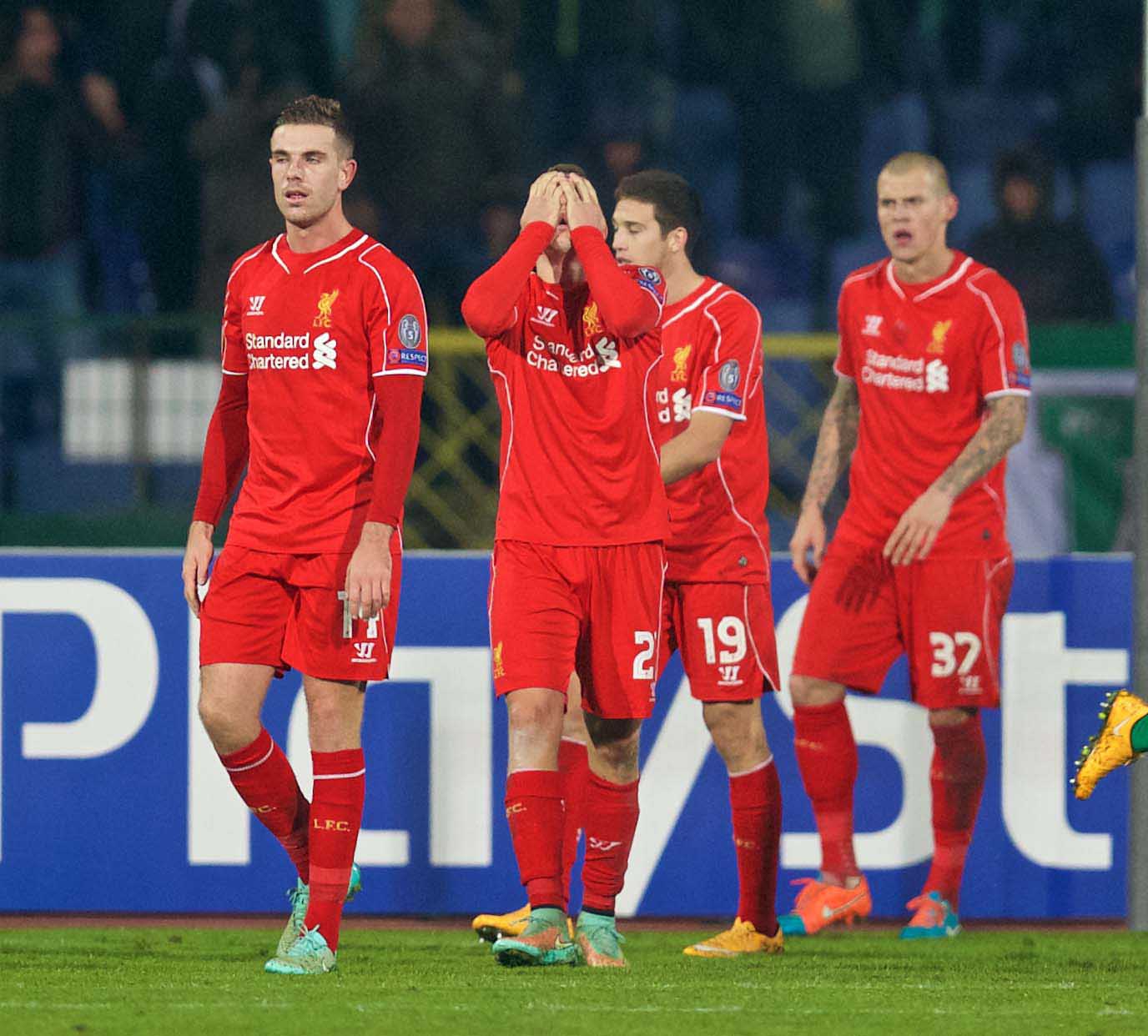 THE genie is out of the bottle now, and he won't be corked back in before the season's out, writes LIAM BLAKE.  Selhurst Park proved a watershed for a second successive season, if for very different reasons.  Even before the surrender in the rain the odd — and occasionally very odd — rumour was bubbling to the surface during the barren patch of the international break.  We all read them even if we don't believe them, but a few closet Beniteztas' pulses might have quickened when they read FSG may have learnt from the folly of their ways and decided to sound out Rafa on the prospect of a sequel.
Now the Klopp quotes are being dusted down and re-run as if fresh from the German's mouth. "I've always wanted to manage in England one day" plus another debacle for Rodgers = a story, 2+2=53, etc. He'd be an odd target in any case given his Dortmund side are, domestically at least, in the midst of a similar downward trajectory to Rodgers' Liverpool.
Nevertheless, the odds on him managing in England next season — or even sooner — have shortened, though it may be Wenger who's looking over his shoulder more nervously than Rodgers. But the Liverpool manager's comments in the wake of this latest Premier League defeat — the latest in a sequence, but the first to which no positive spin whatever could possibly stick — suggested he knew the question was now out there, and dropping the ball in Bulgaria ensured it's not going away.
It's almost offensively banal to question the manager of the year's position — inasmuch as it's possible to be offended by football fluff — or to suggest it's seriously under review by his employers. It most certainly isn't — FSG, for one thing, know they are themselves complicit to a degree, having established a Soviet-style committee for the overseeing of transfer activity. Rodgers holds the rubber stamp, although the far away look in his eye whenever Balotelli is under discussion suggests there might be another hand held firmly over his. Anyone old enough to remember a Paisley side languishing in 10th one December in the 80s might simply chuckle, though they'd surely acknowledge a vintage mid-winter charge to the summit is now as likely as Lovren scoring a hat trick of rabonas.
However, scoff as we may, this is the way of things. Rodgers is young — young enough to have his career cut down in its prime like so many before him — and his tacit acknowledgement of the change in the weather says he knows it.  However calm the club remain, the storm will rage without.  In football these days, the tail now wags the dog.
Whatever the failings of a collective approach to transfer policy, it will be one man alone who's vindicated or hung out to dry. It can be the only narrative — unless the board are palpably incompetent — and while FSG can just about claim to be still riding the learning curve, they are not that. But when Rodgers has rebuilt the squad in his own image to the tune of over half a dozen new signings in a summer, then those players too must fall under scrutiny.
Taken individually, none of those players can be dismissed as an outright failure and even those perilously close could each be deemed unfortunate in some respect or other. Manquillo shows promise; for a player of his age and in at the Premier League deep end he shows aggression, tenacity and enterprise. He's prone to error and sometimes bullied but it would be a remarkable 20-year-old import who could claim to be a fully-formed full back in the English top flight.
Markovic has shown on occasion, and in particular at the Bernabeu, the potential to be rapier-like in attack but, like Manquillo, needs nurture not pressure. And while Lallana's quality is beyond doubt, you suspect he needs a more settled situation in which to thrive. Can and Moreno will prosper, there is little doubt. Rodgers must hope they do so under his management. You wonder how Lambert has been training to have merited so few starts given the struggles of those ahead of him. He can lumber, but has now at least a brace of deftly taken goals to his name. Remarkably, that in itself is an achievement this season. Balotelli is the signing who spawned a thousand pieces but deserves in the end to be judged in the company of a strike partner at least. When that may happen is a concern in itself. Which leaves us with Lovren.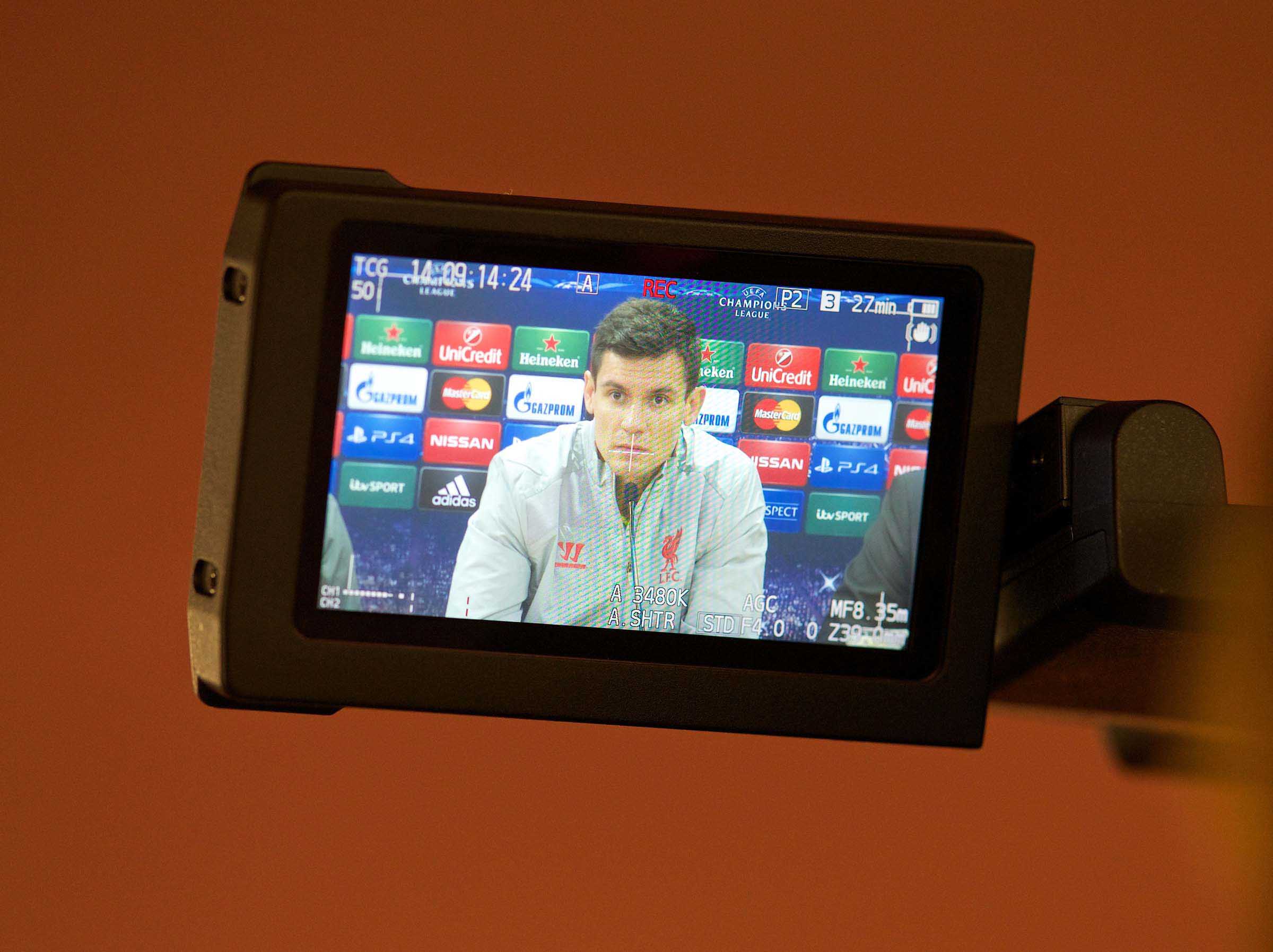 It Must Be Lovren seemed an auspicious moniker for my fantasy football team back in August, and even now you couldn't argue that Rodgers signed a bad player on the basis of his time with Southampton. But his deterioration has been painful to behold. There's been the occasional rumble that he has communication difficulties with his full backs. Perhaps 'come back' might be the first thing he wants to say to them, as their forward movement can expose the centre halves. Rodgers' preferred style of play may in itself lay him bare. 
I suspect that Lovren, like Balotelli in attack, is becoming the lightning rod for criticism of the defence. Now the scapegoat, he could hardly be blamed for failing to stand up to Costa, a man who has simply brooked no opposition from anyone in his path. The abject dereliction of duty in the face of set pieces has been a collective failure, a breakdown of the system, and Lovren cannot be held to account alone. If he was to be the glue, Rodgers' voice on the pitch, then Rodgers must look to himself. A considerable percentage of transfers will always fail, even Alex Ferguson's list of no-marks would run to a page, and if the signings Rodgers made in the summer aren't entirely without quality then, worryingly, questions must be asked of him.
The comparison to Spurs' mass influx and subsequent clusterbomb of problems in the void left by a world beater became a wretched cliche for a time. The problem with cliches, however, is that they tend to contain a germ of inconvenient truth. Like children in need of routine in which to thrive, new signings require stability in order to find their feet. It's been called 'transition' for a while now but that's fast becoming a euphemism for turbulence, and players of potential but little more are apt to lose their way in the woods when they should be bedding down.
A draw away from home in midweek was once the bread and butter of progress in Europe, a solid step along the way. But after Ludogrets the sense of an opportunity missed was cloying. While progress remains in our hands, a confident Basel side will share that thought and will come to Anfield knowing exactly what they have to do. Rodgers may claim we control our own destiny, but could say so with greater authority if his side could control a game. Fear was the killer, and a row of bottles kicked aloft in frustration by a young manager spoke volumes. The changes he eventually made were a product not of his caution but that of his players. Evidently there's a gulf between what he's asking for and what he's getting at the moment. The players appear to know it, but seem trapped within the pattern — a good start, a platform built and then eroded by an anxiety that's endemic and from which no player seems immune. Last season was the last word in proactivity, this year's model is cautious and reactionary, nursing a lead against a demonstrably weaker side by lying ever deeper and playing almost as if the pass back to keeper were still an option.
We, too, know what Rodgers wants; but it's his capacity to get it that's at issue. He's very much the modern manager, a visionary and technician unshakable in his belief that a mode of play rooted in Spain can flourish here. But it's a style of play that unravels without confidence and while the squad knuckles down Rodgers must find the old school motivator within him. I'm reminded of Peter Cook's legendary creation Alan Latchley, a fictional manager and composite of every cliche there was, and aired only once on Clive Anderson Talks Back. Everything Alan stood for in management could be distilled into one word — BELIEF.  There's no way of measuring it, you can't put a stat to it — in fact, you don't need to, because we have none — but the legend that was Latchley was right. And Rodgers must find a way to transmit it, fast.
After two weeks at the drawing board, no one could be blamed for scratching their heads after everything the grim weather brought in South London and Bulgaria, but it's the hot heads who set the temperature when the phones are ringing off the hook on the late night call-ins.  Well, them and a legendary goalkeeper who seems intent on forgetting that in today's game he'd never have got to be a legendary keeper.  There are, it seems, supporters — and I use the word in its loosest possible sense here — who perversely would rather see their side exit at the group stage than go through, presumably fearing further embarrassment. For these people there is only their own personal disappointment; there is nothing else and they cannot see beyond it.
Even those inclined to take a longer view still point to a lack of defensive cohesion that has been a hallmark of Rodgers' regime. Clean sheets have never been the norm, it cannot be the primary function of the attack to bail out their defence. From the outset, leadership has come and gone, leaving the impression of a side lacking in backbone. Rodgers might look here to Benitez, a man whose name he was understandably in a rush to forget as he took the reins. The Spaniard's side, driven in its prime incarnation by the storied 'best midfield in the world', was packed from back to front with fighters – men, to put it bluntly. Carragher, Hyypia, Gerrard, Mascherano, Alonso, Kuyt, Torres in his prime — all were physical and vocal, not players you would wish to face. Rodgers lost Carragher earlier than he would have wished, and he now has the unhappy distinction of being the Liverpool manager charged with getting the most out of what football is left in Gerrard. He had Suarez, a leader by example in one respect — though who could have followed? — and a liability otherwise, but a freak force of nature. Now there is a slightness to his elite squad of greenhorns that opponents can simply smell. 
While the callers panic, the great silent majority look on in bemusement but might reflect that all is not lost. The games are coming like a torrent now, and the season is threatening to run away like horses over the hill. Amid the tumult, it's the easiest thing to forget that things change. It seems pat, but they do, and often quickly. I never thought I'd suggest that anyone look to Alan Pardew and Newcastle, but it's proof that you can pull out of a tailspin. Any manager can resist change, fearful of the admission of error. Pardew has answered the question for now and his old friend Rodgers can, too. He can adapt, but he needs to listen.
Pics: David Rawcliffe