BEFORE the game the Supporters Committee held an open forum with Liverpool fans, as they always do before their meetings with the club, to make sure the things they are saying to club officials are as close to a reflection of the supporter base as possible.
In attendance were a group of young fans many will know as Spion Kop 1906. If you don't know the name, you will know their banners and witnessed the meetings of the team bus they organised and promoted towards the end of last season. Fans like these are used by the club to market the 'brand', and are asked to pay extortionate prices to support their team as a thank you. And all for what? So we can overspend on a load of footballers the manager doesn't want to play.
They've had enough. Enough of being used but not appreciated. Enough of being valued only by the pounds they are willing to pump into the club. So they announced at the Supporters Committee meeting that they wouldn't take any of their banners on The Kop anymore, until the football club were willing to speak to fans about the amount they were asking working class people to pay. This wasn't technically true, of course, because there was a solitary banner belonging to them on The Kop after all.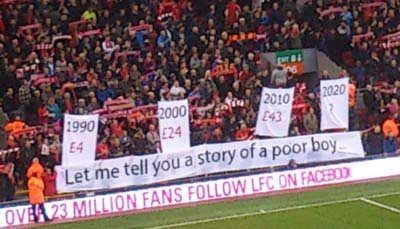 Ticket pricing isn't just an issue because it prices out a high number of people in the local area that the football club is supposed to represent. It also changes the behaviour of those who do attend. We turn up with resentment of how much we are being asked to pay, and this manifests itself into abuse of the footballers we blame. Most frequently they are told they don't care enough. Or that they aren't allowed to make mistakes. A cauldron of bitterness footballers are somehow expected to excel in.
Those whose stock position is anger at Liverpool Football Club players had a point first half, of course. The early exchanges took on a now familiar pattern of the team coming onto the pitch and looking like they were trying to work out what they were meant to be doing. It took 25 minutes for the first shot of note, and that was a free kick that Rickie Lambert skied into the Anny Road end from too far out in the first place. Those who seem to have decided everything was Steven Gerrard's fault must have been chocker with the whole thing.
It got slightly better as the half wore on, but only really because it couldn't have got much worse. But what was frustrating was the individually they were all doing alright. Lucas had a fine game, Allen grew into it, Henderson captained well and looked to get forward, Lambert, finishing aside, probably had his best 90 for the club so far and Coutinho and Sterling were frequently a whisker away from doing something great. Even Enrique put in a great cross. He did, I saw it. But as a collective we didn't seem to have a clue of what we were supposed to be about. It was all too easy for Stoke.Too slow. Too disjointed.
But second half something changed. Not an outbreak of fast flowing football, but a growing determination that Liverpool were somehow going to win the game. I think it's called character. The crowd joined in, rallying behind the lads who clearly gave a shit and appealing for decisions we all knew we didn't deserve. I think everyone just decided they were sick of not winning games of football. It was actually fun.
And then the winner. No-one gets told he doesn't give a shit more than Glen Johnson. No-one is more likely to be told he's shit before he's even had the nerve to do anything wrong. At one point he played a lovely reverse pass under pressure to Joe Allen, but half the crowd were too busy shouting at him for running towards his own goal to notice. When the ball drops off the cross bar he looks to be approximately 14th favourite for the ball, but he decides he's going to head it in anyway, no matter how many feet are flying towards his face. Maybe he does give a shit after all. They probably all do you know.
People might say the substitute after the goal invited pressure, but it was probably inevitable anyway. During the longest seven minutes since Chelsea 05 it seemed impossible they wouldn't score from a corner, but they didn't. Mignolet caught one. It was celebrated like a winner. It will hopefully do him good. It will hopefully do them all good. They weren't great, but they won.
When Liverpool win we all win. Have a brilliant Saturday night.