"HE'S one of the best full-backs in the world."
"We want to keep Glen here. There is no question about that, especially now he's in this form. He's 29 and we feel that he has still got good years ahead of him.
"No contracts will be looked at until the summer but his will be a priority for us, especially if he continues in the form that he's in.
"It's important for me with how we play that the full-backs can get up, join in and make runs in behind. We are seeing now the player we all know Liverpool had – which is one of the best full-backs in the world."
— March 24, 2014
Eight months is a long time in football. The above quotes come from Brendan Rodgers after a 6-3 win at Cardiff City, a result which encapsulated — perhaps more than any other — Liverpool's carefree attacking and laissez-faire defending last season. In any ordinary season and with any ordinary team, a 6-3 win away from home would stand out – this one didn't. Luis Suarez scored a hat-trick, though probably his least memorable in a red shirt, Daniel Sturridge did a great back-heeled assist that no-one remembers and Martin Skrtel scored his second double of the season.
Also in that 90 minutes came a quietly commanding and assured performance from Glen Johnson, which prompted Rodgers to speak so glowingly of the England full-back in the aftermath of the game. It was the type of display that typified Johnson's Rolls-Royce days at the club, early on in his first season at Anfield, and between 2011 and 2013, when his absence was often more noteworthy than his presence because of the quality it took away from the team's attacking play.
A marauding run on his debut at White Hart Lane that led to a penalty, a late winner at Stamford Bridge in 2011, and a couple of long-range efforts against West Ham stick in the memory particularly.
Yet those days are few and far between for Johnson now, with a contractual impasse still ongoing and Nathaniel Clyne's seamless transition into the England starting XI this week surely consigning the 30-year-old's international career to the waste bin.
The signature Johnson attacking forays that so defined his value to Liverpool are gradually disappearing, replaced instead by ineffectual cuts inside and shots against defenders' backsides. Johnson has, before our very eyes, become an old man in a young man's position; though it seems remiss to call a 30-year-old 'old', in footballing terms, and in that position, it is entirely truthful.
It's hard to pinpoint exactly when Johnson went from being an integral piece in the jigsaw to a spare part, but his age and form over the past 12 to 18 months are clear indicators that the consistency which once marked him out as a leading full-back can no longer be called upon. The demands that the position put upon your body are such that when you can no longer consistently sustain them, it shows more glaringly than in other areas of the pitch. The athleticism, the mobility and pace that defined Johnson has left him, the marauding runs forward replaced with hesitation and indecision on the ball; it was always the attacking side of his game marked him out, without that what does he have left?
Despite Rodgers' sugar-coated praise of Johnson's form in March, the need to bolster his options at right-back was obvious; Martin Kelly had become surplus to requirements and Jon Flanagan had excelled as an auxiliary left-back. This is where the manager's decision – or the transfer committee's, and quite frankly, who knows – to turn to a 20- year-old who had played only 16 professional matches before this season becomes ever more curious.
"Javier Manquillo is only 20 but after arriving here, he went straight into the team because he showed up so well in training and in the Borussia Dortmund game. He will feature heavily for us this season.
"It's never about the age for me, it's about the talent and the commitment to playing."
— September 11, 2014
The final line of the above Rodgers quotation is perhaps the most revealing, and explains why Liverpool have left themselves in the dangerous position with two players vying for one spot, at completely opposite ends of the spectrum.
To leave such a gulf in age and experience between his two right-backs — a decade's worth — is negligent from Rodgers, though he probably would not have expected Jon Flanagan to still be on the sidelines by the end of November. No one is questioning Manquillo's talent or his commitment, he's shown that in buckets, but he is incredibly raw, and the danger of overplaying him is a constant worry for Rodgers.
Handing Manquillo the right-back slot for the season, as many Liverpool fans would advocate, would cause more harm than good, and you only need to look back at a previous youngster who was given the keys at full-back to see the damage that can be done.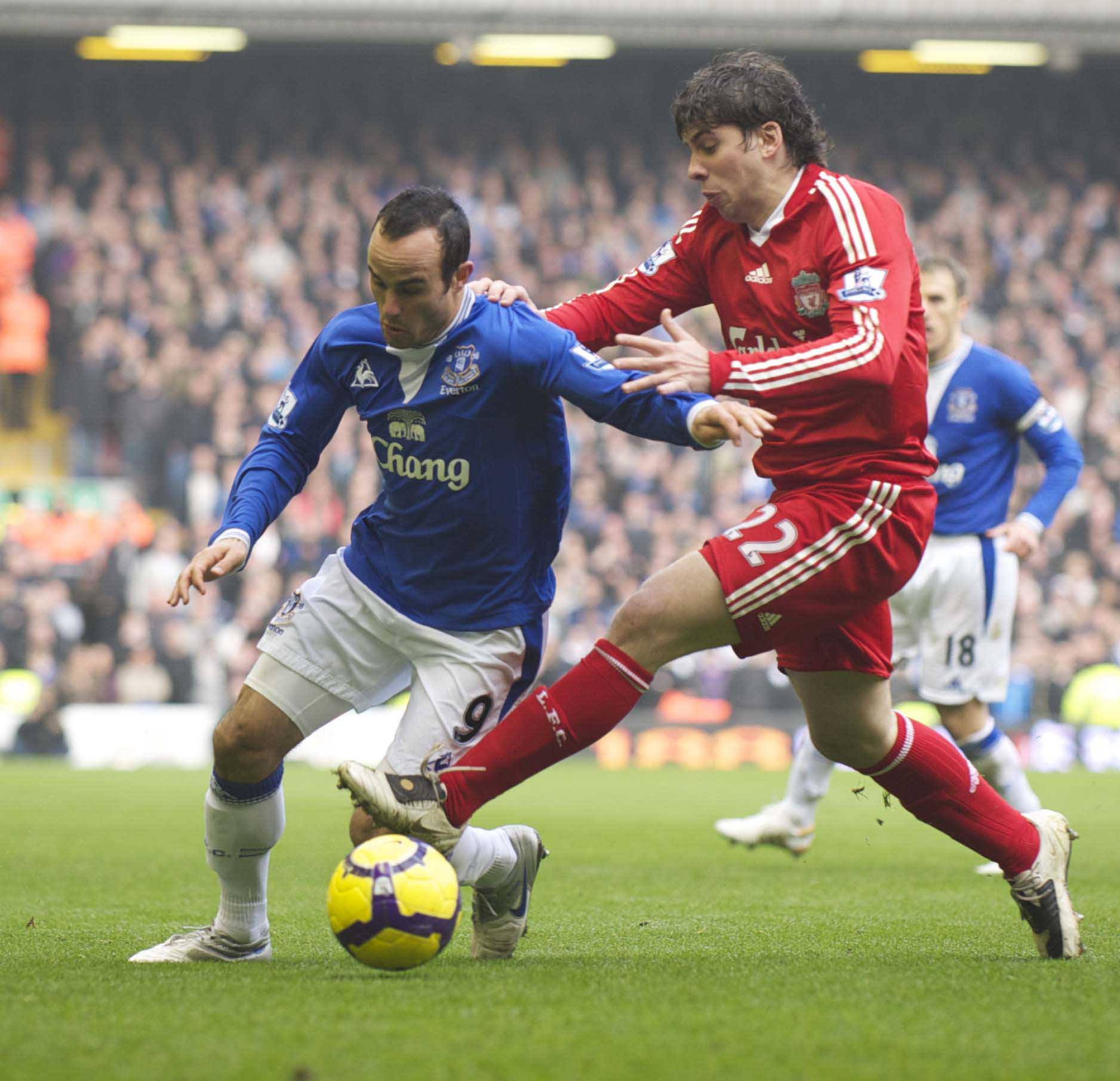 Come the beginning of the 2009-10 season 20-year-old Argentine Emiliano Insua was beginning his fourth year on Merseyside but had featured only 18 times for the first-team — just two more than Manquillo at the same age. Injuries had started to take their toll on first-choice left-back Fabio Aurelio, who turned 30 in September of that season. With Andrea Dossena yet to get to grips with English football the onus fell on Insua to fill Aurelio's sizeable boots.
He became a virtual ever-present, by virtue of being the only viable option. Instead of it being the season that built his Anfield career, his 44 appearances that year ended it. Insua did not become a bad prospect overnight, but he was overworked and overplayed to a frightening extent in a team that was falling apart around him. The promise drained out of him as every defeat further knocked back his progress, and ultimately cost him his future at the club.
Since that season he has struggled to establish himself anywhere after finally leaving Liverpool's books in 2011 via a loan spell with Galatasaray. He joined Atletico Madrid in 2013 from Sporting Clube de Portugal, but the 25 year-old is now on a season-long loan with Rayo Vallecano; after being given too much, too soon in that wretched 09-10 campaign, he has yet to recover.
The Aurelio-Insua axis that hamstrung Liverpool in 09-10 is eerily similar to Johnson-Manquillo in 14-15; the injury-plagued senior and his wet-behind-the-ears junior.
For Brendan Rodgers it is a suitable warning of the danger of blooding raw, young talent too quickly; no matter the talent, misjudging its use can have catastrophic consequences for the player's future. His promise that Manquillo "will feature heavily for us this season" has suddenly taken on more foreboding tones.