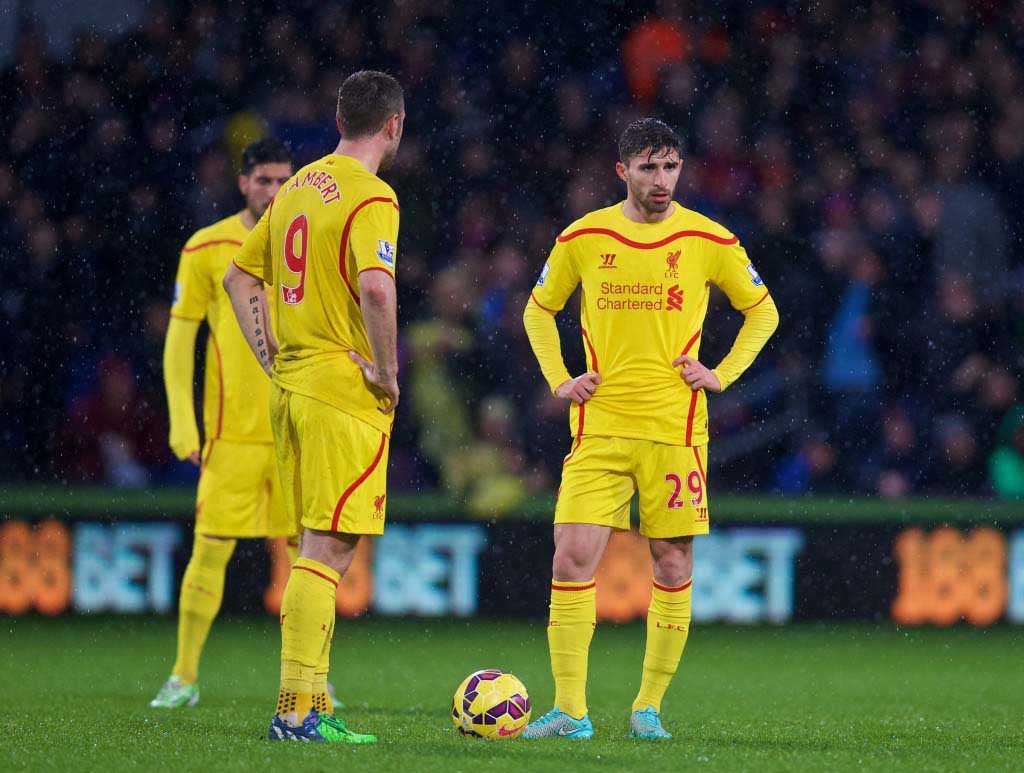 YOU can approach this a number of ways.
You can point out Liverpool did alright and were unfortunate, especially with the equaliser occurring while the solid Allen was off the pitch. You can observe the misses from Lambo along with the goal. Two chances, one excellent, one alright. You can see that the side had played well until they pushed on with the changes. You can see that. Like Newcastle. Only when it gets shifted up a gear do Liverpool have a problem.
But you can also see a side that can't create enough chances, that can't do the business in key moments, where Lovren turns a decent performance into a disaster. Where Skrtel confirms every move against him. Where you wonder what Gerrard can offer at the base in a defensive sense. Liverpool leave you in the balance at best. At best. At worst, in the gutter.
They did most of the basics right. They were even turning the screw before they found themselves two one down. It shows the value of the screw when you don't have the blade. Basically zero. For a man who used to worry about solidity and the pressure more than anything else, it's a hard wake up call. I used to obsess over the screw. How wrong I was. How wrong we were.
Liverpool's crisis – because they've made it a crisis – isn't at the back. It's in attack. The talk – and they've, we've, you've – been distracted by the talk, is that they need more clean sheets. They don't. They need more goals. They need to fill the box with bodies. They need it under control. They need to have phased, sensible attacking, not endless starting and stopping. They need to be lightning. They aren't even thunder.
Lallana played well until he didn't. Sterling couldn't get in it. Lambert had three chances and took one but couldn't keep forcing it. Liverpool the better side on sixty but don't look like scoring. That is the problem. The essential problem. Everything else is fuss and nonsense.
Fuss and nonsense: For the first and second Mignolet isn't great. He isn't full on Mingolet, but he isn't impeccable. Lovren and Johnson can't do much more on the first, Skrtel could be livelier. The second Lovren is all over the show, Gerrard isn't enough of a shield all game and isn't there in this moment, the goalkeeper could keep it out. Perhaps. The kick that proceeds it makes you ask – if you don't keep the improbable out then why put up with the question marks elsewhere. Perhaps unfair. Perhaps.
Beyond the fuss and nonsense is Coutinho bright or does he look so by default? Lallana a cameo, Sterling a shadow. Lambert scores early but doesn't offer enough afterward, Borini comes on and the football match is a surprise.
Palace aren't good. They are a distance from good. But they have pace, they have speed and speed kills. All game, speed kills. At the very least it panics. Liverpool's entire season is a depiction of the value of speed. Liverpool have no speed. Liverpool can't kill. They can't maim.
And they show the damage speed can do. I am not one to argue the value of defensive solidity anymore, but until he has a runner, Gerrard deepest has to stop. He is an archer without a target. Drop Lucas in and build from there. Work the bits and pieces better. This ain't no party, this ain't no disco, this ain't no fooling around.
Liverpool are now a team smothered by pressure. You want a solution? Look elsewhere. They have enough good players, still. Enough great players? None as it stands. None. What to do? John Gibbons would say build around character. Do that. Perhaps. I think find movement. Will they? Can they? A season is at stake.