BRENDAN RODGERS and some of his players should be buying Mario Balotelli a pint at some point this week. It's the least they could do for the deserved scrutiny he has unwittingly helped them to avoid.
Naively swapping shirts a few seconds too early has unsurprisingly directed the focus and ire of many supporters and the media (sadly this includes the local press as well as the nationals) on to the misfiring striker's 'offensive behaviour' while the real questions that should currently be being addressed are going largely unreported. Clicks are obviously easier to come by when headlines include the word 'Balotelli'.
The most worrying issue surrounding Liverpool right now isn't a shirt changing hands at an inappropriate moment. It isn't even the team's inability to find a way to coexist and flourish with Balotelli in it (though that is certainly a bone of contention worthy of addressing).
No, the underlying problem here is that this team is about as easy to break through as a pane of sugar glass and it has been for far too long. No defensive progress is being made and it's costing the reds week in and week out. Having to score a minimum of two or three goals per game to accumulate points is doable when you have Luis Suarez and Daniel Sturridge in your side as we saw last season.
Without them, though? Well, it gets a lot harder. Not every opponent is going to be as accommodating as QPR. Real Madrid certainly weren't.
Every single concern that supporters have harboured this season was cruelly laid bare on Wednesday. The goalkeeper. The centre halves. Glen Johnson. The lack of protection in midfield. Liverpool's performance was a lethal cocktail of problems that Real Madrid dismissively downed in one go before putting their feet up for 45 minutes of relaxation in preparation of far greater tests to come.
So where to start? The man between the posts seems as good a place as any. When keepers at Anfield lose their way history tells us that they rarely find it again. David James, Sander Westerveld, Jerzy Dudek and Pepe Reina all went through severe dips in form that they never recovered from. Simon Mignolet looks as though he's the latest Liverpool number one to suffer this fate.
For all his faults, last season the Belgian did win crucial points for his team. He was obviously flawed in many respects but by and large he was excelling in the areas that Liverpool most expected and required him to. As recently as the opening day of the current domestic campaign his stupendous save late on against Southampton secured his team two additional points. Since then it's been all downhill.
The indecision in his game is tangible. He's not staying on his line but he's not dominating his box either. Seeing him diving at the ball with his feet rather than his hands as if he were an outfield player asked to fill in between the sticks last night was as sad to see as it was alarming. No confidence resides within the man these days.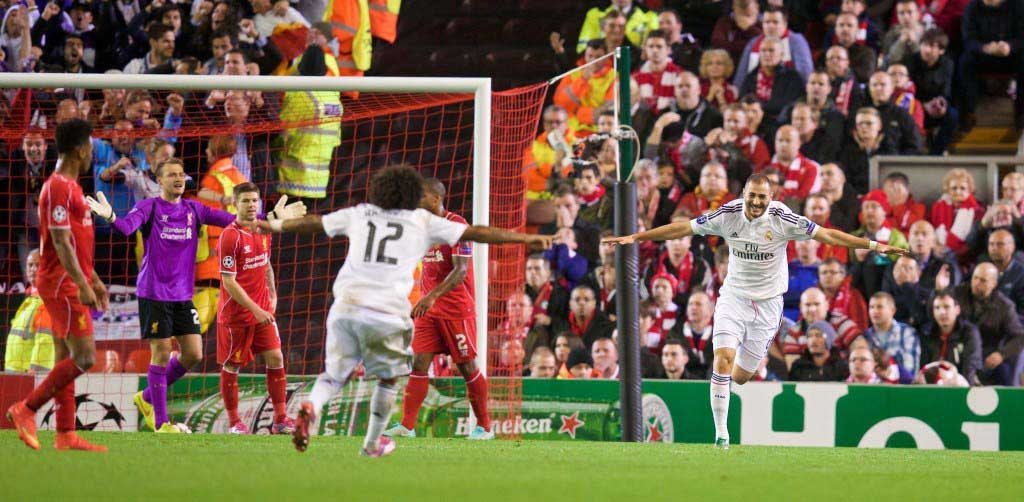 Brendan Rodgers recently asserted that Victor Valdes isn't coming to Anfield. We're getting to the point now where we have to hope that that is only the case because someone else has already been lined up.
The relationship between Mignolet and his back four is a toxic circle of never ending doubt and distrust. Defenders don't know if the Belgian is coming or staying. Mignolet doesn't look as if he knows himself. How could he? When his centre halves are defending the edge of their box and through balls are still finding their way to the feet of opposing strikers (as was the case with Cristiano Ronaldo's goal) it offers a reason at least for why the Belgian is so regularly caught in no man's land.
Twelve months ago the keeper was no more dominant than he is now but at least he was consistent in his play. His back four seemed to be confident that he would stay on his line for better or worse whereas these days the only certainty is uncertainty.
One clean sheet since March can't be all down to the goalkeeper, though. Real Madrid are undoubtedly a wonderful group of footballers, but at Anfield they scored two goals from build up play that Sunday League sides could have put together without too much fuss. Glen Johnson looking at Karim Benzema three times before ultimately neglecting to get tight to the striker was embarrassingly shoddy work, but sadly not untypical.
Yet another goal direct from yet another set piece minutes later was beyond frustrating. Giving young Alberto Moreno a pass for a moment, could anyone seriously point to any of Liverpool's starting defenders on Wednesday and claim with any certainty that they are good enough for a team with genuine aspirations of success?
As with Mignolet, Johnson and Martin Skrtel's deficiencies aren't news to anyone. If replacements who can improve upon the standards that they offer can't be found or aren't being sought then we have major problems. In the summer Liverpool elected to replace Mamadou Sakho rather than Skrtel. People can debate all they want about the rights and wrongs of that but what isn't up for debate at this juncture is whether they succeeded.
Dejan Lovren cost £20m. Amongst all the outrage and pontificating about shirts being swapped last night, this is a fact that too few are concentrating on. When you spend £20m on a centre back you have a right to expect top quality, yet the Croatian looks worse than any of our much maligned centre halves did during last season. If that was the best deal that the transfer committee and the manager could come up with after a summer of work in the market then one wonders exactly what they were playing at.
There are a number of people willing to write off a £16m striker in October after a poor start and I wonder how much longer our £20m centre back will be given before the same fate befalls him. His performances certainly haven't merited any more leniency than what is currently being offered to the likes of Balotelli.
As daunting and as likely as the prospect of an even more severe hiding in the Bernabeu currently is, what remains more concerning still is the fact that Hull City are likely to have red pulses racing every time they get in to Liverpool's half at the weekend, especially when they have dead ball situations to exploit. Set pieces haven't been this scary since Gary Pallister was nodding them in at every opportunity against Roy Evans' Liverpool nearly two decades ago.
Thankfully, plenty of the season still remains. The problems are obvious and now is the time to find solutions. Nothing is gone at this point. Progressing from the Champions League group remains a possibility and, Chelsea and City aside, no other teams look any less flawed than we do domestically. If Rodgers can somehow get his side's defensive act together then this campaign could still be one of promise and expectation rather than one defined by the present mood of fear and pessimism.