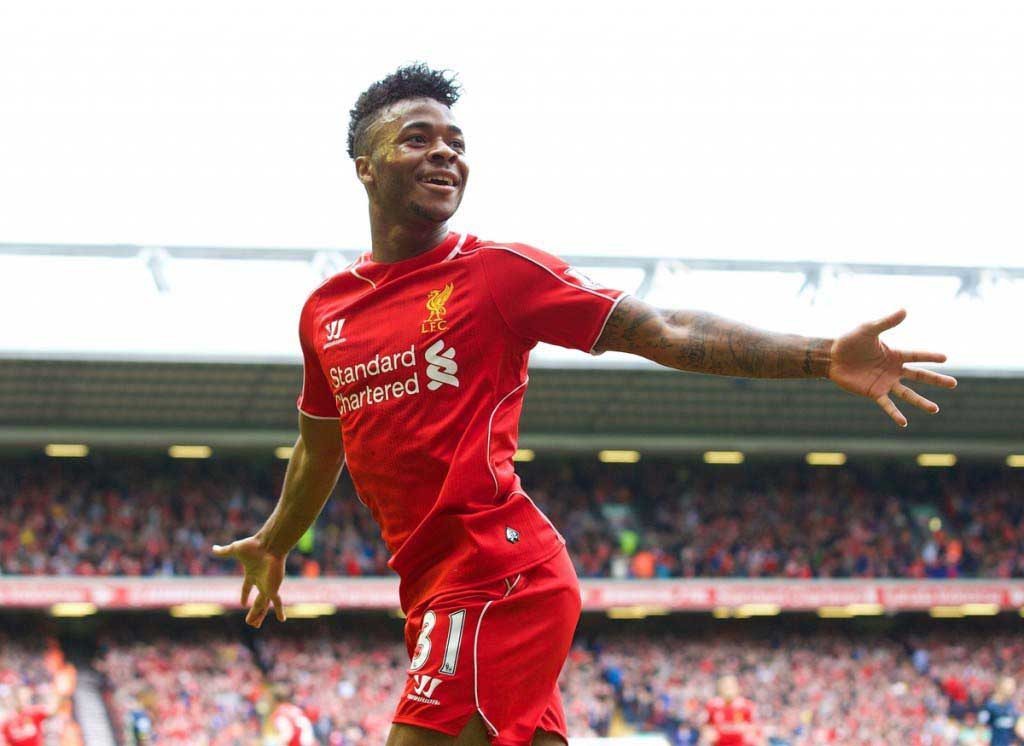 NO outfield player at Liverpool Football Club has played more minutes through the first eight weeks of the season than Raheem Sterling, writes REY MASHAYEKHI.
Not the inexhaustible Jordan Henderson, nor the preferred centre-back pairing of Dejan Lovren and Martin Skrtel. At the age of 19 – when most of us were sleeping in through class and making all sorts of mistakes we'd rather forget – he's become an indispensable asset to one of the biggest sporting institutions in the world.
He's become equally important to his national side, which, as its fans and advocates would have you believe, is the biggest and most special institution of all – a privilege fit for only the best of footballers, and one any footballer should privileged to serve. And serve it, Sterling has – only six months after many were writing the kid off for a loan spell in the Championship, he found himself on the plane to Brazil, where he'd be an ever-present during England's calamitous disaster of a World Cup campaign. There, he and 22 other players gave their all to a futile cause while their manager sat, and stared, and sat some more, and stared some more, and did this.
It's been a remarkable rise for Sterling, who was arguably the standout performer during Liverpool's remarkable 16-match unbeaten streak in the second half of last season. He was always earmarked for greatness as a kid in the Liverpool academy; the question was whether the club staff could coax that brilliance out of him, and how long it would take. Now, with the likes of Real Madrid and Paris Saint-Germain reportedly coveting the player, he's expected to sign a new contract that will make him a very, very rich man – one of the richest at Liverpool Football Club.
He's earned it. Factoring in time spent on the pitch for the England national team over the course of two international breaks , Sterling has played 1,105 minutes of football so far this season – more than all but two members of the England senior squad. He's been catapulted into a position of out-sized importance for his club, which is still acclimatising to the loss of perhaps the world's greatest footballer and the inclusion of a host of expensive, new faces. Brendan Rodgers took more than his share of guff for leaving Sterling out of the lineup against Aston Villa last month – as though Sterling would have done a job on Philippe Senderos on set pieces – while the England brain trust has continued to ride the Sterling hype-train for all it's worth.
They're a weird thing, cautionary tales. No matter how many stories we hear about promising young stars burning out too fast and too soon, we still expect the world of them. Sterling is no exception; it wasn't long ago that the pressures and privileges of his newly-found fame and fortune were being cited when considering his brush-in with the law. Both on and off the pitch, such pressures can be immense for an individual yet to depart his teenage years. Make no mistake, Sterling is a professional and should be treated as such. But no matter the value of his new contract, the circumstances of his situation should never be taken for granted.
And so now we have this latest furor – Alan Shearer mouthing off in the pages of Britain's most despicable media establishment, spinning the same old yarn evoking the same old outdated way of thinking when it comes to what we expect from our athletes. Our noise within our contemporary echo chamber has been deafening, with anyone within touching distance of a keyboard – so basically everyone – coming to some sort of judgment over whether Sterling has the right to ask the England gaffer for a rest. Never mind the minutes he's logged this campaign; never mind the shift he put in 72 hours earlier; never mind the fact that England's qualification for a 24-team Euro 2016 – much less getting the result in Estonia with a squad loaded with Premier League stars – should be a forgone conclusion.
If you ask me, there's an inescapable racial element to it all – an overwhelmingly white power structure, perpetuated by malevolent elements within mainstream British media, assuming judgement and authority over a young black male and his body. Such an element may function in mere undertones, perhaps, but one can't help but sense that it is indeed there. It's the same sort of undertone that can barely conceal its disdain for Daniel Sturridge's dance; which has sought to exploit every facet of Mario Balotelli's off-field behaviour since he first arrived in England.
Race politics aside, it also reeks of the sort of uninformed groupthink that endlessly permeates through football-related discussions on Twitter and the countless internet message board where fans spout their opinions. Make no mistake, people have every right to be as wrong about football as they want; the problem is when such inaccuracies are perpetuated so loudly that they become accepted as fact, and in turn pile unwarranted heaps of pressure on a player before he's even developed into the final article. It can lead to the sort of barracking that sees Lucas Leiva lambasted as a liability not fit to wear the Liverpool shirt; lo and behold, before suffering his traumatic knee injury in November 2011, he had effectively become Liverpool's most influential midfielder under Kenny Dalglish.
This is why the discussion that's erupted over Sterling in the past 24 to 48 hours is nothing short of dangerous – not only because it assumes authority over the player, his body and his career, but also that it manifests itself in ways that, nowadays, are incredibly visible to the party concerned and can, in turn, heap even more pressure upon his young legs and developing ego. Sterling's heard basically every word of this absurd discourse in the period it's arisen, and while it would have been great for him to have turned a deaf ear to it all, switched off his phone and gone on with developing into the best footballer he can possibly be, his Twitter timeline suggests otherwise. We all crave acceptance; professional footballers, much less teenagers, are no different.
There should be no place in Raheem Sterling's life for the vitriol-infused discourse we've seen this week, or the sort of ill-informed and outdated attitude that sees no wrong in demanding three games a week or 50 matches a year from a young man before he's reached his 20th birthday. I don't care how talented he is or how much money he earns; even Lionel Messi didn't have the full weight of both club and country heaped upon his shoulders at that age. As Neil Atkinson mentioned on the pod last week, we don't demand 10 months of non-stop brilliance a year from the world's greatest tennis players, such is the level of scrutiny footballers are in for these days.
This will all blow over, of course. Liverpool supporters, brilliant as they are, will support Sterling as fiercely as ever when he trots out under the Anfield lights next week (ready and rested, of course) to take on the champions of Europe. He has the guidance of one of the brightest, most progressive managers in the game – a football man through and through, one who's built an entire career on nurturing potential, one who's seen more than his share of players both make it to the pinnacle of the sport and break under the pressures of being a top-level footballer.
Make no mistake, Raheem Sterling is in good hands. But will that be enough?
Pics: David Rawcliffe-Propaganda