1976 was the epicentre of success for the 'The Real Thing'. Liverpool's very own soul, come brit funk, come disco, come R&B phenomenon that are credited by the founding father of 'Mojo' magazine, Paul Du Noyer, as the band that restored Liverpool's musical reputation in the 1970's.
"You to Me Are Everything" spent three weeks at number one in the UK during July 1976, basically coming from nowhere after the band had spent three years struggling to get a succession of singles off the ground, and previously never making it as far as even the lower reaches of the 'Top 40' before "You To Me Are Everything" went stratospheric for them. They'd never make it to the top of the charts ever again. "Can't Get By Without You" soon followed and it peaked at number five.
Those soul/funk ballads are all well and good, but 1978's indelible disco classic "Can You Feel the Force?" has always been where it's at for me when it comes to 'The Real Thing'.
On Wednesday night Liverpool Football Club felt the force.
A Flock Of Seagulls.
1982 was the epicentre of success for 'A Flock of Seagulls'. Liverpool's very own new-wave, come synthpop beat combo and purveyors of a sartorial style that even in the early 1980's looked a parody of its era.
"Wishing (If I Had a Photograph of You)" reached number ten in the UK Top 40. It was A Flock of Seagulls biggest domestic hit.
On Wednesday night Liverpool failed themselves in shot-snap, photograph images.
Real Madrid are a very good football team. Real Madrid are the reigning champions of Europe. Real Madrid deal in perpetual motion, they don't stop moving, they don't pause for breath, they are incessant in a way that makes even the smallest error or misjudgment a potentially fatal one.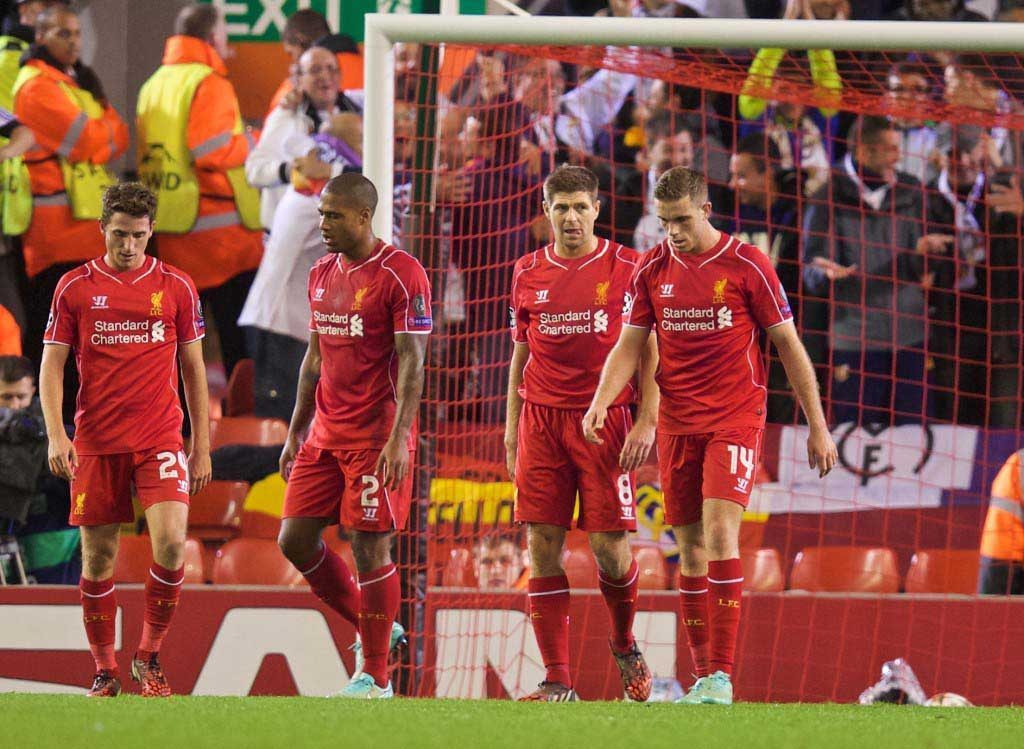 You can't blink when you stare them in the eyes and you can't be marginally careless. We weren't always as slip-shod as the third goal suggests we were. On occasions it was a simple pause we made at a crucial split-second, or a hesitation you just can't commit against them.
While Real Madrid continued to move, move and move once more, Liverpool tried to shadow and at times did shadow effectively, yet on occasions it was almost as if the white light of a flashbulb went 'POP' and the players in red became a still photograph, superimposed upon the backdrop of a Real Madrid side that continued to move, move and move once more. It was only a blink of an eye kind of thing, but it was there to see. It happened again and again and again.
We were arguably the alpha male for the first 23 minutes last night, a toothless alpha male, but the alpha male all the same. For the remaining 22 minutes of the first half we displayed our numerous deficiencies and had them capitalized upon. Philippe Coutinho still managed to thud the post from distance and prior to that Joe Allen had an effort that arced away from the very same post. Had we not gifted the third goal so horrendously and Coutinho's shot gone an inch or so to the right it could have made for an interesting second half. Neither of those scenarios unfolded however.
Nothing can be taken from the second half of this game in reality. We hustled a bit and tried to remain positive, and at times we bounced around in a manner that suggests we can shake off the leadenness that has weighed us down so far this season. Real Madrid dropped down a couple of gears during the second half, but threw out the occasional 'shape' on our Anfield dance-floor in a bid to widen the margin of score-line.
They took it easy on us in a bid to conserve energy for their upcoming La Liga spat with Barcelona on Saturday, yet continued to display a generally slower paced perpetual motion. We continued to pose for photographs from time to time.
There were sideshows aplenty. Cristiano Ronaldo as the pantomime villain is one of the greatest players I've seen strut his stuff beneath the floodlights on a European night in L4. I didn't see what he did in celebration of his goal that managed to upset some.
He's an extremely talented but narcissistic person, and was always going to respond in a manner that would annoy the crowd if he scored. I applauded him off the pitch because he's one of the, if not currently the best player in the world at this very moment.
It's ok to be a 'bigger person' and take the moral high ground in applauding a twat from the pitch that also happens to be rather brilliant with a ball at his feet. That was some finish for his goal.
Mario Balotelli was the other 'ball of wool' to bat around with while ignoring the core issues. Brendan Rodgers appears to be handling him very poorly. As people shake fists in the air at him swapping shirts while heading off the pitch at half time (something other players have done before to no rancor at all) the key problems are glossed over.
Balotelli doesn't sit comfortably within the template of Rodgers side, and he's somewhat 'laconic' much of the time. Either we play and persevere with him for longer in games so he assimilates sooner, or we take him out of the firing line and use him as a substitute in cameo appearances.
At the minute no one benefits in him playing for 45 to 60 minutes and then being withdrawn. Essentially it looks like Rodgers didn't want or ask for him. As things stand the Balotelli experiment will fail.
Hull City are next up for us tomorrow at Anfield. I quite liked it last season when their manager put his hood up when being serenaded with "Steve Bruce, he's gorra big fat head". Football can let you down, but music can be the great healer.