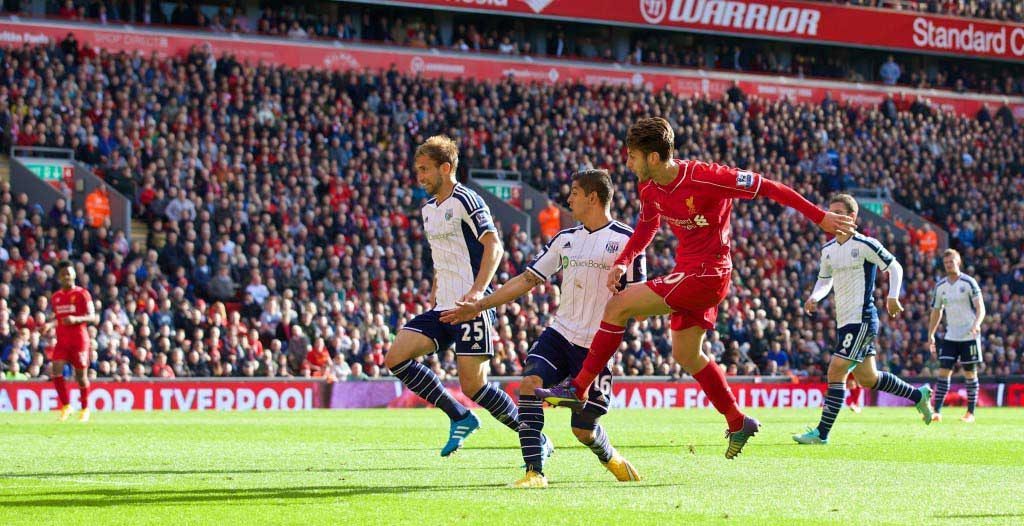 "PRESSURE is working down the pit. Pressure is having no work at all. Pressure is trying to escape relegation on 50 shillings a week. Pressure is not the European Cup or the Championship or the Cup Final. That's the reward."

I don't quote Shankly very often. I don't like it very much. This is for a few reasons. Firstly, the quotes too often feel the stuff of the after dinner speech and this diminishes the greatness of the man, something which Red Or Dead has vanquished forever. Secondly, the quotes are so often shorn of context, both their literal historical context of at the very least thirty years ago, the yearly, seasonal context and the circumstance in which Shankly actually says what is attributed to him.
The one that opens this review is the one I use most often, the one I like the most. It feels generally applicable. Applicable to football, to life, to moments. To difficult moments.
Rewards and hard work aren't mutually exclusive. Shankly demanded hard work of everyone, most of all himself. Footballers should work hard. Liverpool footballers should work hard. They should work well. They should enjoy their work and enjoy the reward of it. Taking your work seriously and enjoying it should never be mutually exclusive. Liverpool players should do a day. The people paying to watch them do and I'm sure if you go through the Shankly Talmud somewhere he'll be telling his players never to cheat them.
We haven't been cheated this season. Not by the collective, not by individuals. It's something that's been staggeringly rare since January 2013, when one considers how often it was the case from August 2009 until then. Liverpool's problems haven't been graft, they've been guile. Nous. In football, in all walks of life, you can always work a bit harder. But can you work smarter? More efficiently? More effectively? It's a much bigger challenge.
Liverpool started brightly but then became a side for whom everything was difficult. Everything seemed too hard. There was no shortage of application but nor did there appear to be any shortage of pressure. Rickie Lambert looked like a lad for whom his greatest dream had become an endless nightmare. When I was frustratedly mean, Brockle kept telling me how old he is. I kept telling her he is younger than me. I want to give Rickie a hug. Just relax mate, I'd say. Just care less, I'd say. Two old men, one crotchety with the other, locked in an embrace keeping out the ravages of time. Brydon and Coogan with Scouse accents.
First half, Manquillo continued pumping balls into the box. He's the Liverpool player you want the ball to be with if you are the opponent. He becomes the outball, an outball Gerrard is eager to play. Manquillo and Lambert were deservedly first subs.
The centre backs remain exposed but still didn't do themselves a load of favours – West Brom really should have taken the lead after Lovren lost his man. The penalty was outside the area. But it was also a bad tackle full of effort and desire and woefully short of nous.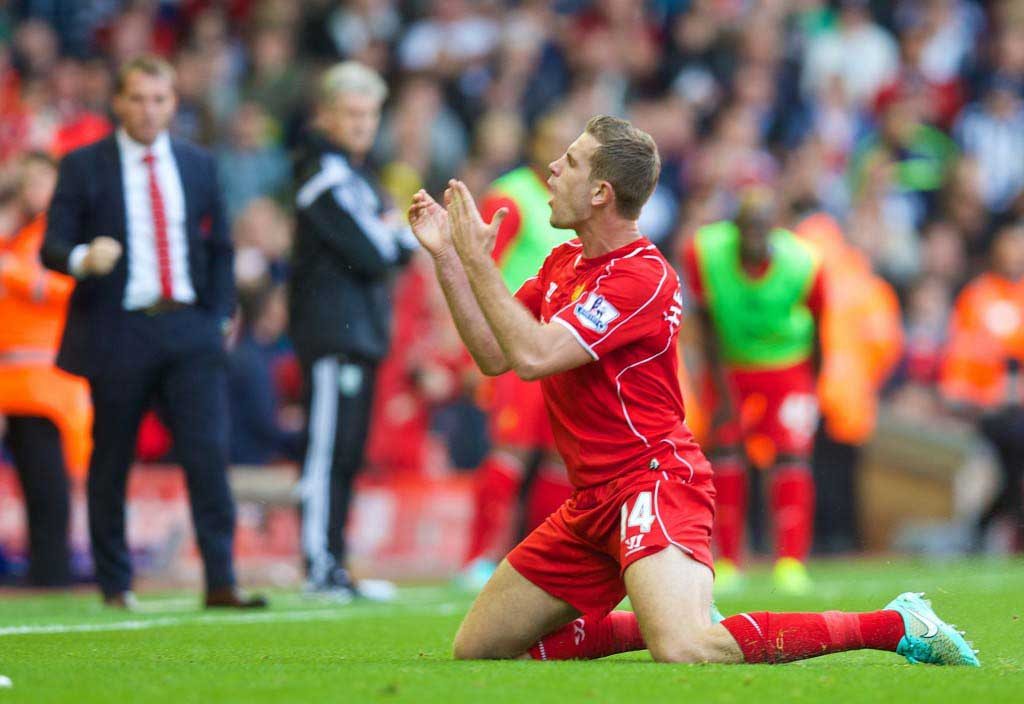 Henderson ahead of Coutinho was interesting and worked well. Those two and Lallana were Liverpool's brightest in a first half shrouded in darkness. Lallana deserves his goal for being the deftest, lightest Liverpool player since West Ham. His feet are lovely, surpassed only by Henderson's in the move that led to the opener. Henderson's finish for the second was calm and classy. A man of the match performance. One to walk around. Led by example and by loads of shouting. What a way to lead.
Sterling's assist for Henderson's winner was terrific but he looks like a man who could do with a rest, so much of what he is doing is nearly great but ultimately jaded. The second half miscontrol when through from Balotelli's excellent ball was very uncharacteristic while simultaneously being one of Balotelli's many good touches upon his arrival.
Gerrard enjoyed being liberated by Lucas, Rodgers getting closer to his ideal of rotating midfielders, despite the fact two of them lack pace. They all like to go and have a go when you let them though, Lucas shooting when he should look to find.
Regardless Liverpool head into the international break with three points, despite the nervy last ten minutes. We will be hoping for it to be better than the last one. The loss of Can, Allen and especially Sturridge – injured in the care of the eternally boxed off arsehole who really did cheat the Liverpool public, for whom reward is a big watch – did serious damage to the games between the two breaks. So, I'd argue, has Johnson's absence. This break helps get three of those four sharp and ready.
None of that is an excuse. Having a squad of internationals is a reward, not pressure. This needs to be remembered. Yes, the manager like all of us would like to have Suarez and perhaps the retention of Suarez should have been a reward. But he hasn't kicked it for Barcelona yet this season. However, the loss of Sturridge has hit this side harder. Wiped smiles from faces, taken the enjoyment away.
The much needed three points means everyone can have a breather and have a think about it. That includes supporters. All plots lead to death – if you say the worst will happen, well it probably will eventually. The worst happens to almost everyone eventually. The theory of gamblers' ruin applies here.
Because make no mistake, manager, skipper, supporters, it getting harder is part of the reward too. The trick is remembering that and remembering at every turn to enjoy it. This football team makes no sense if it isn't having a laugh. If it isn't playing football its way. One day it will become again the clinical, destructive silverware winning machine of yore. Graeme Souness, Liverpool's greatest captain since Shankly arrived to shake up this town, has been vocal this week. Graeme Souness captained a Liverpool team that could beat you any way it needed to beat you in 1984. That Liverpool side he captained was a Liverpool side that had won four European Cups in eight years, moreover a side conceived by Shankly and Paisley after Red Star Belgrade did the business in 1973. It could beat you anyway it needed to because it had spent 11 years learning how, passing the knowledge on.
For the players at Anfield to follow in those footsteps is a raison d'etre. To work hard, harder than anything. To work smart, smarter than anything. To work with a smile on the face. Smilier than anything. Pressure is not having work. Pressure is fighting relegation on 50 shillings a week. Each and every one of us needs to enjoy the work. Really, as Shankly would tell us, it is all there is.
[yop_poll id="16″]
[rpfc_recent_posts_from_category meta="true"]
Pics: David Rawcliffe/Propaganda-Photo