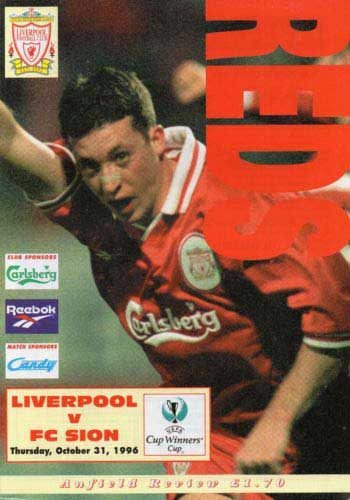 IN the pantheon of great Anfield nights an unconvincing victory over FC Sion of Switzerland in the second round of the now defunct Cup Winners' Cup hardly stands out. That said, 18 years ago today we were treated to a quite ridiculous game of football at our famous old ground. It was a game that really does deserve to be remembered and celebrated, if only for its sheer absurdity.
After a fairly straightforward 2-1 victory in the first leg away from home, few people envisaged Sion giving Liverpool too many problems in the return match on Merseyside. The pitfall with that line of thinking was that it neglected the fact that this particular Liverpool side were more than capable of providing problems for themselves.
It may not be as fondly or vividly remembered as those iconic 4-3 triumphs over Newcastle United during the same time period, but this match encapsulated everything about the Roy Evans era at Anfield. Spectacular one moment. Slapstick the next.
Punctuated by some utterly shambolic Liverpool defending – punished to the tune of three away goals by the visitors – there was plenty to savour about Liverpool as an attacking force.
You had an ageing John Barnes still able to show off his enduring class with a back-heeled goal. A swashbuckling Patrik Berger was full of marauding intent and netted at the Kop end. Steve McManaman typically got an assist and — less typically — got himself on the score sheet via a swing of his unfavoured left boot.
Of course, Liverpool wins from this era seldom occurred without goals from Robbie Fowler and the poacher supreme predictably got in on the act with two second-half strikes in as many minutes.
Stig Inge Bjornebye's 25 yard free kick needs to be seen to be believed (really, have a gander).
It's important to remember how fun watching this team could be. It's easy to dismiss Liverpool sides that played under Evans for their ultimate lack of trophies but reliving games like this should remind us all of just why Roy's teams were so beloved at the time.
The football being served up was often genuinely exhilarating and arguably the most progressive and attacking brand seen at Anfield in the last 25 years. Only Brendan Rodgers' team of 2013/14 comes close to matching their collective imagination and commitment to attractive, attacking play.
Sadly, as with Rodgers' side last season, Evans' Liverpool always came up short at the back. It cost them dearly on numerous occasions just as it did in this 1996/97 Cup Winners' Cup tournament after they had progressed beyond Sion.
Following on from this pulsating tie that somehow contrived to end 8-4 on aggregate (it was 6-3 on the night, by the way), Liverpool breezed past Norwegian outfit Brann Bergen in the quarters to set up a meeting with Paris Saint-Germain in the semi finals.
PSG would ultimately take the tie 3-2 on aggregate largely thanks to a shocking defensive performance from the Reds in the French capital which saw them go down 3-0. A spirited second leg at Anfield ended 2-0 to Liverpool but sadly it wasn't enough. Lamentably it was PSG, not Liverpool, who met Barcelona in the final of the competition.
A certain Brazilian named Ronaldo scored the winning goal against the French side as Liverpool fans were left to watch on and wonder what a showpiece final against the Catalans would have been like.
Still, we'll always have that night against FC Sion, right?