TWO thoughts are spinning around my head about Liverpool's slow start. One the more positive, the other my inbuilt negativity, born from years of watching Liverpool get so close, yet remain so far.
The positive looks to last season. We didn't start well. The football was stilted and far from the free-flowing stuff we grew used to as the season came to its climax. I think of how lucky we were to emerge from the Stoke game with three points; Simon Mignolet proving to be an obstacle that couldn't be passed – a far cry from his current woes.
I remember my immense frustration at our inability to beat 10 men up at St. James's Park – not dissimilar to our struggles against should-have-had-10-men Everton.
There were Tottenham comparisons in there, too. The 4-1 versus West Brom. The 4-0 over Fulham. But there was also the 0-1 loss at Anfield to Southampton. Instead, for this season, read Aston Villa.
I think back to the 3-1 loss at Hull. How it seemed it would always be one step forward then three steps back.
Then suddenly something clicked. Goals started flowing, matches were won with consummate ease. We seemed a genuine threat and, bar an assistant referee whose eyes were slower than Raheem Sterling, could easily have got something from the City game. Something that would later have proven to be title winning.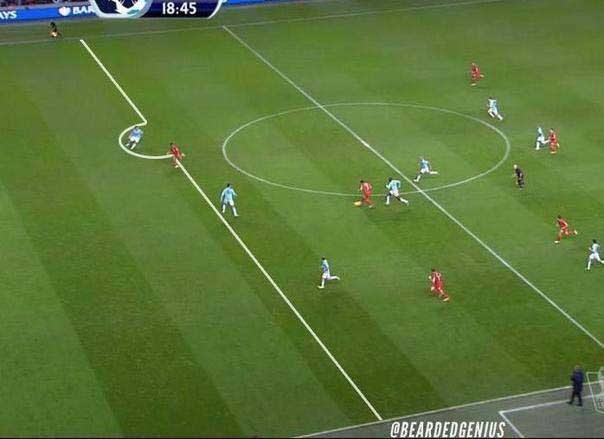 Similarly at Chelsea, it was a referee's refusal to send off Eto'o for a tackle deliberately intended to injure Jordan Henderson – to remove Liverpool's engine from the equation – that seemed to stop us from taking at least a point from Stamford Bridge.
I remember all of that and I relax a little. I breathe easier. Yet still something at the back of my head nags away and tells me it won't be the same this time. You see, I have a theory about why we're not clicking this term – and why we may not do so until it's too late. I think Brendan Rodgers wants us to be…normal. Less manic. Less crazy. Less Liverpool.
It strikes me that Rodgers has decided the way to deal with Liverpool's increased number of games is to get the players to be more sensible and not be quite so "in your face".
Rather than pressing, harrying, hunting in packs and closing the opposition down at every opportunity, the players seem to be trying to control the game more. They seem to want to have possession and not be too worried if they don't do anything with it.
At times last season both Gerrard and Suarez were guilty of trying too hard to force the issue. This season, no one seems to be doing it.
Maybe it will work. Maybe there'll be a Eureka moment, as in the aftermath of Hull, and the points will start racking up. It's possible the players are just taking their time to adjust to each other and to a new way of playing.
But the fear remains. The fear that the new way of playing isn't as good as the old way. That, even if it is to click, it still won't produce the results.
It's been noted on various media that LFC seem to have a pre-occupation with crossing this season. Andrew Beasley has stated that the crosses have increased from 17 per game last season to 21 per game this. It certainly FEELS like a lot more than that. If this is a deliberate ploy, it's almost certainly a foolish one. After all, David Moyes spent his entire, short-lived, career at Manchester United proving that crossing is a useless activity.
On top of that, Balotelli never seems to be in the box. Don't get me wrong, I've been impressed with the Italian's work-rate. Arriving with a reputation for being lazy, he seems to be all over the pitch whenever I watch the Reds play. Everywhere apart from in the opposition's penalty area.
An increase in crossing combined with a number 9 who doesn't seem to want to get on the end of those crosses doesn't strike me as being a good thing. I'm not a stats guy, so someone might prove me wrong, but my instinct is that this strategy won't work.
Mario Balotelli has had the most goal attempts of any player in the Premier League this season (23), 61% outside the box.He is yet to score.

— Simon Gleave (@SimonGleave) October 6, 2014
Meanwhile, on the rest of the pitch, the verve and energy that was Liverpool's hallmark last season has all but vanished. It would be easy to point to Suarez and say he provided it, but I don't think that's entirely fair. He never stopped running, true, but he didn't play in 11 positions.
It seems as though the foot has been taken off the gas. That a tactical decision has been made by the man in the dugout to ease up on the full-throttle attitude of last season in the hope that it will allow us to fire on all fronts.
A slightly nervy win over West Brom (which probably would have been a comfortable 2-0 win had the referee not decided to shift his perceptions of where exactly the penalty box starts) sends LFC into the international break with some breathing room. But a 3-0 win over Spurs before the last break was swiftly followed by disappointment upon the league's resumption.
Rodgers's decision to push Steven Gerrard further up the pitch for the last 20 minutes of the West Brom game reminded us not only that Gerrard's still a danger around the box, but also that the manager himself is still willing to try different things.
There's no question that Brendan Rodgers is the man to take Liverpool forward. It's easy to forget that the team struggled to find its feet at the start of last season, only to end it with the best form in the land. This is a young team, full of players with promise. If they are able to click to what their manager is asking of them, they could be a frightening prospect for years to come.
For now though, perhaps it's important that Rodgers remembers the team is at its best when it's living a life less ordinary.
[rpfc_recent_posts_from_category meta="true"]