THEY made us look ordinary.
Since the word "ordinary" has been in my footballing vocabulary it's been a pejorative. It's also today something which is done to you. It's something you don't want to be but Bramall Lane happens and a muscular performance happens and it squeezes you into its ordinariness. It makes you reach the size of those surroundings. It limits your ambition. "They made us look ordinary," you'd say. But lots of teams managed to look ordinary and win. We watched ordinary sides win. Ordinary and winning aren't mutually exclusive. They happen every week. Some teams choose ordinary football. Broadly speaking, ordinary football got Chelsea to third last season, though 12 points from Liverpool and Man City obviously helped. That aside? Mostly ordinary.
Hull City played very well and defended fiercely, but they didn't force ordinariness onto Liverpool today. Liverpool chose it. Liverpool's approach was an approach for the tiresomely greybearded and perpetuated a result for the exhausting knife-sharpeners. It was a textbook post-European performance. It was the tightening up. The tightening up. Liverpool were far more solid than against QPR. That wasn't happening to them. It was clear in both selection and approach for 60 minutes. They were taking no chances. They weren't losing any battles. They were cocking no snooks. They weren't gilding any lilies. Liverpool were far better in all departments than against QPR.
The result was worse than against QPR. Far worse.
The case for the defence, for being more solid, is always that it helps you get more wins. That's the theory. You get solid. You take fewer chances but you allow fewer chances. You plan for the worst and slowly, slowly, mind-numbingly slowly, you become better. Got to tighten up. Got to be more solid.
Liverpool were, bar a rocky patch just before half time, far more solid today than they have been. Both centre backs played well against a side that scored a brace against both City and Arsenal this season. Gerrard did well. Manquillo did well. Moreno did well. Can did well. Only Allen didn't perform. Balotelli had a decent game. Lambert did well when he came on. When he came on. Loads of lads. Six or seven out of ten. In a shape that was designed to get six or seven out of ten. Solid. Sensible. Solid and sensible things don't move very fast. They move quite slowly. Liverpool. Solid. Sensible. Slow. Like a driver with low insurance premiums. Doesn't get itself into much trouble. Doesn't let you down.
But Coutinho. Coutinho changed it. It took it away from its ordinariness and made it something more. He was the bench, the change. The thing good sides do after a European game to poorer sides that have come to keep it tight. He was the thing everyone else has and he was almost the best possible version of it. Effervescent. Taking two or three players out of the game routinely. He transcended the ordinary which may well have been the plan all along. We'll have another gear. We'll start the game in third gear. And we'll build. Like those football teams. You know the ones.
There will be voices raised here saying "And if Balotelli turns it in, last minute, it works." Or if Gerrard gets his toe to it first. Or if. Or if. Liverpool created lots of or ifs. But as sometimes happens, in ordinary football, you don't get the bounce, Hull City are plucky and good and concentrated and hold you out and you walk away ruing the enterprise. Unlucky Reds. In extraordinary football you are out of sight. But in ordinary football, the football so many call for, these things happen.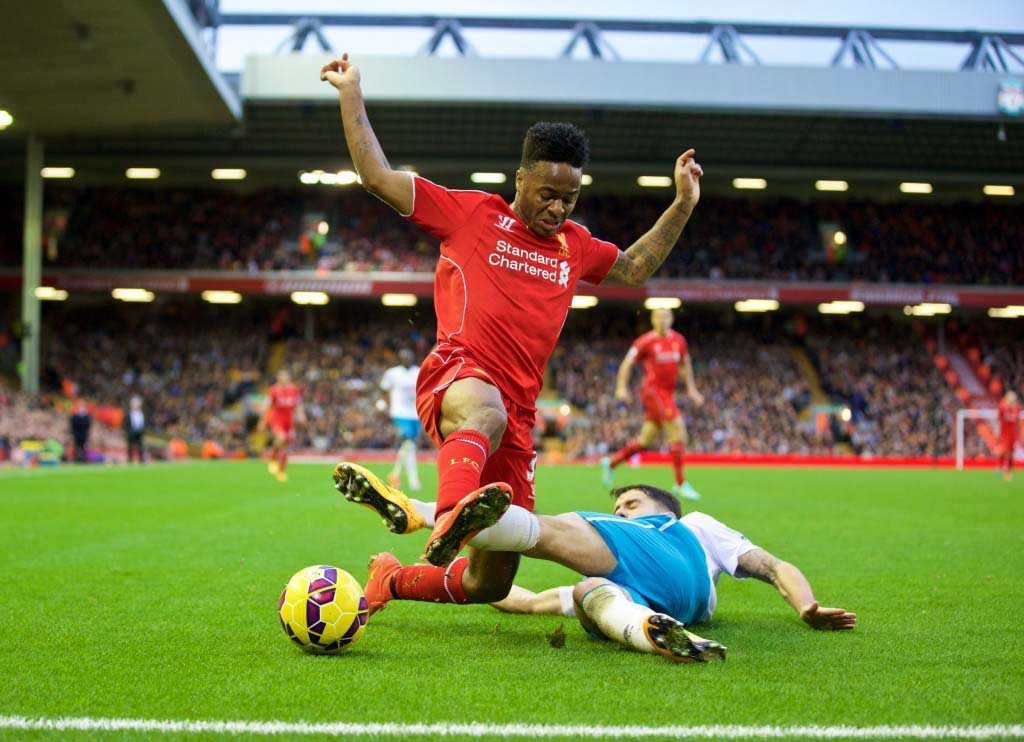 I'm a prick. It's important to remember this and feel free to address me as such in any exchange about this piece of writing. It's important to remember that last season I wrote about Liverpool turning the screw and having that in their locker. Because they did turn the screw. As ordinary as they were for an hour they were much the better side for the last half an hour. As bigger sides at home often are. Remember that I'm a prick throughout and we'll all get out of this alright.
Because this is what the doubt looks like. This is what your doubt looks like. This is what happens when managers are solving problems in their kitchens in 4am, though presumably Brendan isn't scrubbing his oven. He has one of those fancy bottles from Home and Bargain. It's important to make that point as well. One of those fancy bottles so it is easier. Less elbow grease.
The quasi-crisis breeds doubt. Doubt breeds ordinariness. And, here we are, for this Liverpool team's ordinariness will finally breed actual crisis. Liverpool finally did what the greybearded in the media and our midst wanted. They were like the others. Like all the others. You've seen them. But…
…there are other sides in this league far better at ordinary than Liverpool. They've been doing it for far longer. Ordinary is a blueprint for a road to nowhere. The cries for greater solidity will morph into some other form of frustration if said solidity occurs.
Ultimately this game reminds me of wins and draws under Benitez and Houllier. Games where we'd look ordinary after European efforts. Games where ordinariness had extraordinary horizons to look towards. Those Liverpool sides made sense as ordinary football teams. They often were and they'd not made scaling the heights their business. They were business-like. They were routine. They knew how to be routine. Routine was their routine. Then they'd gear up and become heroes. Great lads. So many great lads.
This is the most dispiriting performance, the most dispiriting approach from all of Rodgers' time at the helm, not any of the Villa games at home or Hull City away or Basel away. This. Not because Liverpool were that bad. They weren't. They were quite good. They showed they could be at least quite good. They probably deserved the three points on balance. Part of what frustrates so much is that they were quite good. It's because it feels as though this is a football club collectively backing itself and one another significantly less. I include you in this, reader. I include me. The prick I am. Collectively backing one another far less. Collectively giving in to external pressures which shouldn't matter a jot. Choosing the grey-bearded path. The path wherein you aren't heroes every week. The path which so many of these players, great lads, so many great lads, aren't suited for and aren't ready for. Rodgers has to be Rodgers. He doesn't need to be up at 4am worrying about his lads. Use the liquid. The oven will clean itself, Bren. Trust it. Trust them. Trust yourself. Tell solid it can fuck right off and when it has fucked off it can fuck off further. And tell those espousing it to fuck off while you are at it.
Against Real Madrid Liverpool were Liverpool. Against QPR Liverpool were Liverpool. And while on both occasions "the best football team in the land" line may have stuck in throats for different reasons, you could at least go tra-la-la-la-la.
There'll be none of that today. No tra-la-la-la-la. And if it leaves town for good then I don't know where it leaves us. Solid. Nice and solid. Third, fourth, fifth, sixth. One of those places. We will probably prove ourselves the best of the ordinary rest. Or we might have loads of 'or ifs'.
[yop_poll id="18″]
[rpfc_recent_posts_from_category category="1″ posts="7″ meta="true"]
Pics: David Rawcliffe-Propaganda Photo