AS we all know, Didier Deschamps was once firmly in the running to become Liverpool manager in the not-too-distant past. If the former World Cup-winning captain keeps an eye on the Reds these days, then I reckon he might be a little perplexed by one of Brendan Rodgers' defensive selections.
The reigning France manager appears to be a big fan of Mamadou Sakho, who regularly starts for, and has captained, the French national team under Deschamps' leadership. Highly regarded defenders like Eliaquim Mangala and Laurent Koscielny are overlooked in favour of the ex-PSG skipper currently plying his trade at Anfield. I purposely use the word 'currently' because it's becoming increasingly likely to me that Sakho's Liverpool career will be over before too long.
Walking out on your team prior to any game, as Sakho did before the Merseyside derby, is a stupid thing to do. The player was rightly criticised and punished for his actions. He was bang out of order to abandon Anfield when he wasn't selected for that match and while I can never condone or accept that kind of behaviour, I'm beginning to at least understand his misguided petulance more every time I watch Liverpool's comical attempts to defend this season. One player's performances in particular have left me empathising with Sakho's poor behaviour.
I wasn't a big advocate for signing Dejan Lovren in the summer. The eventual £20m price tag made what seemed to be a somewhat unnecessary transfer look downright foolish to me. I didn't understand why Liverpool were looking to sign a player at such a high price to replace the newest and arguably best centre half at the club. Sakho's ungainly style unquestionably divides opinion, but after his first season in English football his potential was evident even if his consistency wasn't. Quick, strong in the tackle and – crucially – rarely bullied, I considered him as a player who could really go up a level or two in the immediate future with some tweaks to his game. His front foot approach and ability to defend high up the pitch seemed to fit perfectly with Liverpool's playing style. He impressed in the World Cup this summer as well and it seemed obvious to me that there was a lot more to come from the player going forward. Brendan Rodgers clearly didn't share this optimistic line of thinking.
Whatever anyone falsely claims about all centre backs being able to play equally well on the left or the right hand side of defence, Dejan Lovren was signed to play instead of Sakho. His sole season at Southampton (presumably Liverpool signed him because of his performances during that campaign and nothing he'd done prior to it as the club could have purchased Lovren for a fraction of the cost from Lyon before he joined Saints) was played almost exclusively in the left centre half position. In other words, Sakho's position.
As I said, despite an up and down debut season at Anfield I looked upon Sakho as a player could easily go on to bigger and better things if he ironed out some of the kinks in his game. Then I'd look at Martin Skrtel. Everyone knows what Skrtel is. We've seen it for nearly seven years now so we're fully aware; He's a decent but flawed defender and is unlikely to become anything more than that at this stage of his career.
At the end of last season Skrtel was the centre back that I expected Rodgers to upgrade on during the summer transfer window. At the beginning of the last campaign the manager looked as though he'd lost faith in the Slovakian. Kolo Toure was starting games in his place before injuries allowed Skrtel back into the side. To his credit, Skrtel scored a few goals and had an okay season when he regained his place, but the same problems that existed in his game five or six years ago still endured. Easily bullied by big target men, rashness in the tackle, happier defending the edge of the box than pushing up, a walking penalty at set pieces – why wouldn't Rodgers have been looking to replace Skrtel rather than the younger albeit more raw Sakho? Whatever his reasons, the manager clearly identified the left of his central defence as the primary problem area at the back.
As things stand today Skrtel and Lovren are the partnership that will start games together for Liverpool when everyone is fit and available. We've seen that already this season and this represents a huge problem. It's early days of course, but Dejan Lovren doesn't look like a better option than the dwindling version of Daniel Agger who fell out of favour with Rodgers last season, let alone than Sakho.
Before I wrote this piece I looked back over the 14 goals Liverpool have conceded in the Champions League and Premier League to date. Eight of those goals contained a significant involvement or mistake from Lovren. From allowing forwards to easily run in behind him to score for Manchester City and Ludogorets to losing a physical battle with Philippe Senderos on the corner that led to Aston Villa's winner at the Kop end, Lovren has made costly error after costly error when you assess the goals this side have given away this season. Even in Liverpool's outstanding game of the campaign against Spurs, Lovren twice made critical mistakes that should have resulted in goals against his team. His blushes were spared on that day by a poor finish from Emmanuel Adebayor and a great Simon Mignolet save from Nacer Chadli.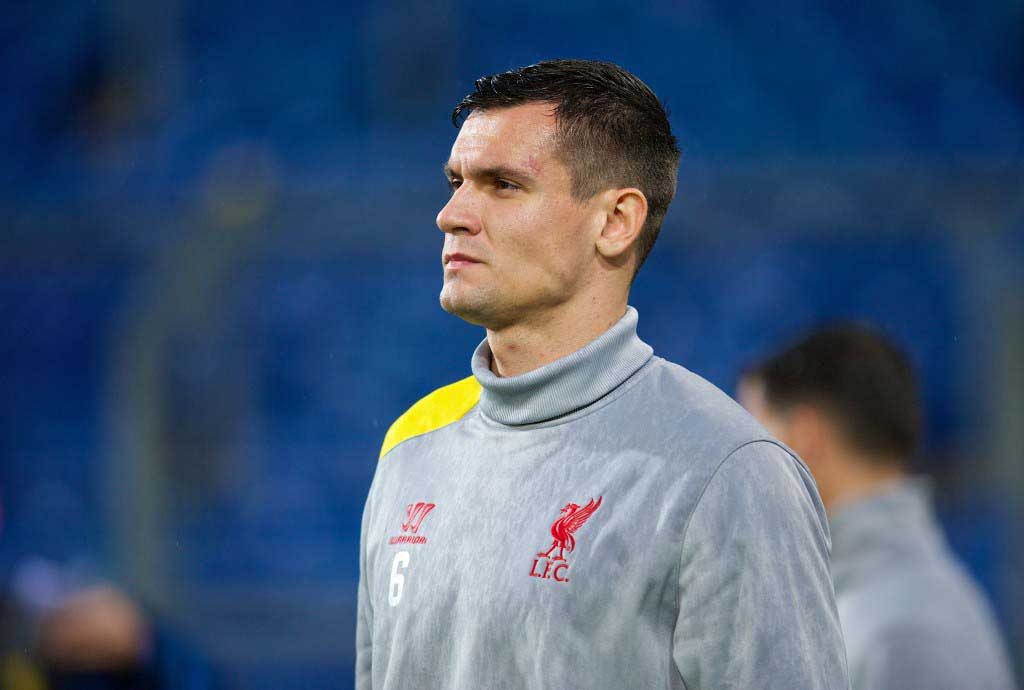 In a red shirt Lovren has been repeatedly rash. His passing hasn't been particularly impressive. He's painfully slow on the turn and has little speed in his legs – Roberto Soldado left him for dead in a foot race at White Hart Lane last season. His judgement isn't there either as shown by the penalty he conceded against West Brom and his missed headed interception that preceded QPR's opening goal at Loftus Road. So forgive my negativity when I pose this question, but what exactly does Dejan Lovren actually offer that Mamadou Sakho, Kolo Toure, Martin Skrtel or even Daniel Agger didn't last term?
When he joined the club we were repeatedly informed by Rodgers and others in the press that Lovren was an exemplary leader. Sorry, but shouting a bit and waving your arms doesn't constitute leading. Liverpool's defensive line looks even less organised now than it did last season and he's not advanced the team's cause in that respect in any discernible way. I also saw lots of people claiming he's a 'beast' which I understand is teenage speak for physically imposing.
Well, Bobby Zamora repeatedly bullied him at QPR as though he were a school boy on Sunday so I guess the 'beast' theory now lies in tatters in the bin. Plenty of excited Lovren advocates told me during the summer he was better on the ball than Sakho or Skrtel. I don't see this either. Often times he plays people into trouble in midfield and if you aren't having kittens whenever he and Simon Mignolet exchange passes then I'll need some of what you're having please.
Of course, while it would be ridiculous to lay the blame for Liverpool's defensive woes solely at the door of one player, I have to point out that the extravagantly priced defensive signing looks as odd to me now as it appeared back in August. Bar a decent début nothing has allayed the fears I had regarding Lovren's signing and his transfer fee.
To be fair, Lovren isn't exactly surrounded by team mates who inspire confidence or coherence. Whether it's having to play next to a perennially distracted Jose Enrique who is likely to be day dreaming about his next online FIFA tournament or having to protect a keeper who looks as confident as Jerzy Dudek did whenever Manchester United rolled into town during the mid 2000s, there are undoubtedly mitigating circumstances involved when it comes to Lovren's maladaptive start to Anfield life. The lack of a true defensive screen in front of him in midfield probably isn't helping either. Last season he had the imposing Victor Wanyama sat a few yards in advance of him while at Anfield he has far less protection. All that being said, I still need to see something soon. Anything that will help me understand why we paid top dollar for a player that the club wasn't interested in at a third of the price just twelve months prior to his eventual arrival in L4.
Rodgers talked Lovren up all summer long and has protected him even at the expense of others. The manager publicly placed the blame for Sergio Aguero's goal at the Etihad stadium on Alberto Moreno to avoid criticising his £20m signing. Apparently, Aguero walking on to the pitch, jogging behind Lovren and leaving him for dead wasn't as crucial to that goal being conceded as our Spanish full back not getting tight enough to Jesus Navas (on the halfway line of all places!). Shifting the blame on to Moreno that day when Lovren was clearly at fault set alarm bells ringing in my head.
It appears that Lovren is a player that Rodgers badly wanted and fought hard for this summer and as a result he will defend him to hilt. We've seen precious little in the way of criticism for the Croatian despite his numerous costly errors while others have been hung out to dry or dropped from the side entirely for less significant transgressions. It seems obvious to me that Lovren isn't going to be left out of the team any time soon despite his wretched form. Rodgers has invested a lot of money and a lot of hot air in his newest centre back and he's obviously one of the first names on the team sheet as things stand. Sakho fans like myself will just have to lump it.
Fair enough. Rodgers knows a lot more about football than I could ever hope to and he's earned a bucket load of credit during his time as manager. Hopefully the faith he has placed in the defender pays off in the long run and Lovren improves. He drastically needs to, because right now he is the anointed leader of a shambolic defence and that simply can't continue if Liverpool are serious about keeping their place in the top four this season.
If, as I expect, Lovren remains as the focal point of this team's back line then one would assume that Mamadou Sakho isn't going to get many games this season and will likely be off sooner or later. He's already been warned by Deschamps that he needs to play regularly for his club to keep his place in the French side. Considering the qualities both players have exhibited to date, discarding Sakho in favour of Lovren would represent somewhat of a blunder for me. Sakho can certainly be shaky now and then, but at least he's provided glimpses of the player that he can become and he doesn't cost his side a goal every other game. Despite his rough edges, I can fully appreciate why Didier Deschamps puts faith in him for his national team.
Now we need to see something to justify why Brendan Rodgers is placing the same kind of faith in Lovren because, at the moment, there is precious little to suggest that selecting the Croatian at the expense of Sakho when he returns from injury would be anything other than folly.
Just as I'm sure that Didier Deschamps is, I am perplexed by Brendan Rodgers' preference of Dejan Lovren over Mamadou Sakho. Be it through a change in personnel or Lovren simply discovering some form, things need to change  at the back for Liverpool and quickly.