FINISHING second last season meant Liverpool were back in the Champions League. We'd been out of it five years and now we were back. That great tournament that makes everything else seem a bit rubbish.
It doesn't really sink in then though. Especially when you've come so close to winning the league only to be so cruelly denied. The first time it sunk in was when the draw was made, and we all get to stare at our computer screens waiting for the four hours it takes to see what group you are in when you should be doing work.
The second time was seeing Anfield decked out in Champions League 'branding' hearing the music as the players came out. Seeing the players swapping club pennants that all end up somewhere in the Main Stand. The third time was this week.
It's ten minutes before the Merseyside Derby and instead of talking about Everton, Callum who sits by me is showing me his flag he's made for Basel. I wish I was going. Why aren't I going? After the game the pub is full of moans and groans and talks of spawny shots from alehouse defenders, but after a while a few of the lads are saying how it's only one day in work next week and then 'they're off'. I'd rather talk about last-minute Everton equalisers than that.
Then Tuesday, in work. Wading through documents full of jargon that are doing my head in. Trying to ignore the fact that my mates are flying out to watch the Reds in the Champions League and I'm not. Which isn't helped when they send you pictures like this.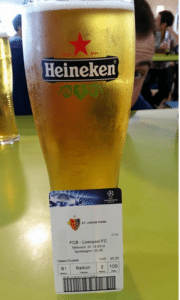 Bastards. By Wednesday its picture of flags in squares. Stories of police charges and acquired VIP passes. I'm happy for them now. This is great. It's why we wanted to be back in it. The Champions League. Even when it's rubbish, it's great.
And for ages tonight, it was rubbish. Passing going astray. Final ball lacking. Footballers who aren't aware we're playing the offside rule tonight. They look slack with the ball and nervy without it. Is it the (very vocal) crowd? The occasion? The energy of the opposition? The team look like they're lacking in quality but we know that's not true, Maybe it's the lack of experience at this level. Lack of confidence. Lack of lack of understanding with each other. Lack of steel.
But despite all of the above we created enough openings to score. Sterling is a concern in that he had the best positions but seemed to completely lose his head. Markovic is a concern in that he isn't in the game enough and looks short of what we'd hoped. Balotelli is a concern in that he looks the odd one out. The target man surrounded by lads looking for through balls. The defence is a concern because they still can't deal with a bloody corner.
I keep telling myself that everything will be fine when Sturridge is back. Lallana will love him. We already know Coutinho loves him. Pressure off Mario and Raheem too. But its looking negligent now that, knowing his injury record, we didn't get anyone in who can play in a similar way. No-one on the defender's shoulder looking to get in behind. With everything always ahead of their defenders it makes life much easier. Just stand tall and block.
But tonight a couple of thousand Reds are in Basel. They'll over pay for drink and sing about Kenny Dalglish. In a month or two, three times as many will go to Madrid. We're playing Real Madrid next! If you are worried about playing them you're doing it wrong. Playing Real Madrid is what we are in it for. Its what we moaned about not having for five years.
We end the night on three points. Same as Basel. Ahead of Ludogorets. Handily placed. And next we play Real Madrid. The Champions League. Even when it's rubbish, it's great.