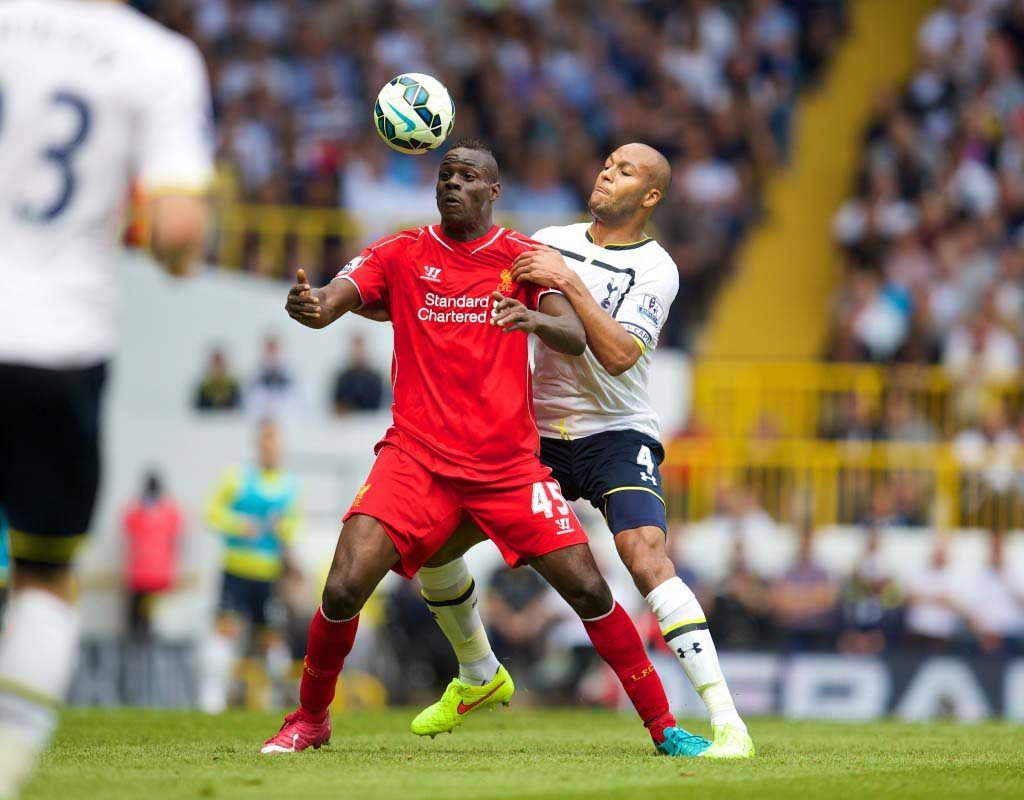 IT'S not the Mario Show we were promised before the sadly still unique demolition of Spurs, memories of which are quickly becoming as distant as the summer weather the match was played in, writes LIAM BLAKE. But for as long as he remains unfathomable the show goes on, albeit for all the wrong reasons. The soap is becoming a saga.
We can hardly feign surprise. It was a risk to sign him, went the conventional wisdom, as though Brendan Rodgers were taking a punt, flipping the coin and hoping for heads: Super Mario.
Tails, presumably, was the Mario that fades from view on a match day but flares up in training.  Sometimes in the manager's face.  Or sets flares off at home.  But it's never been 'either, or' with Balotelli, rather a bit of both with the two sides cancelling each other out.
So where was the risk? We knew exactly what we were getting. What we have is exactly the same player with exactly the same problems that Milan and Manchester City, and before them Inter all had. Same shit, different manager. Project Mario is in ever greater danger of becoming an act of charity, with AC Milan the prime beneficiaries.
Eight games in at the last chance saloon – again, the conventional wisdom – and you get the sense that some journalists have got their obituaries for his spell at Liverpool pre-written and ready to roll.  Yet there are some signs that reports of his demise might prove premature. Although he walked alone – and unfortunately in the wrong direction – after the Champions League tie in Basel, he was hardly on his own in putting on a performance as yellow-bellied as his away shirt.
He's returned to the Premier League in even better shape than when he left it and though he still fights shy of exploiting his muscularity to the full, and could hardly be described as dynamic thus far, he has still brought more to the table in each game than many are willing to give him credit for.
Circumstances dictate that I catch many games in highlight form now, and I'm often pleasantly surprised at just how much Balotelli has shown – particularly in the derby, which he might even have won for us, and in coming on to replace Rickie Lambert against West Brom, bucking the cliched narrative of the 'sulk', having clearly been 'rested' rather than 'dropped'.
But I'm still left with the suspicion that what he's shown in 90 minutes would probably just about fill a highlights tape, with the remainder of the game spent… well, you finish the sentence.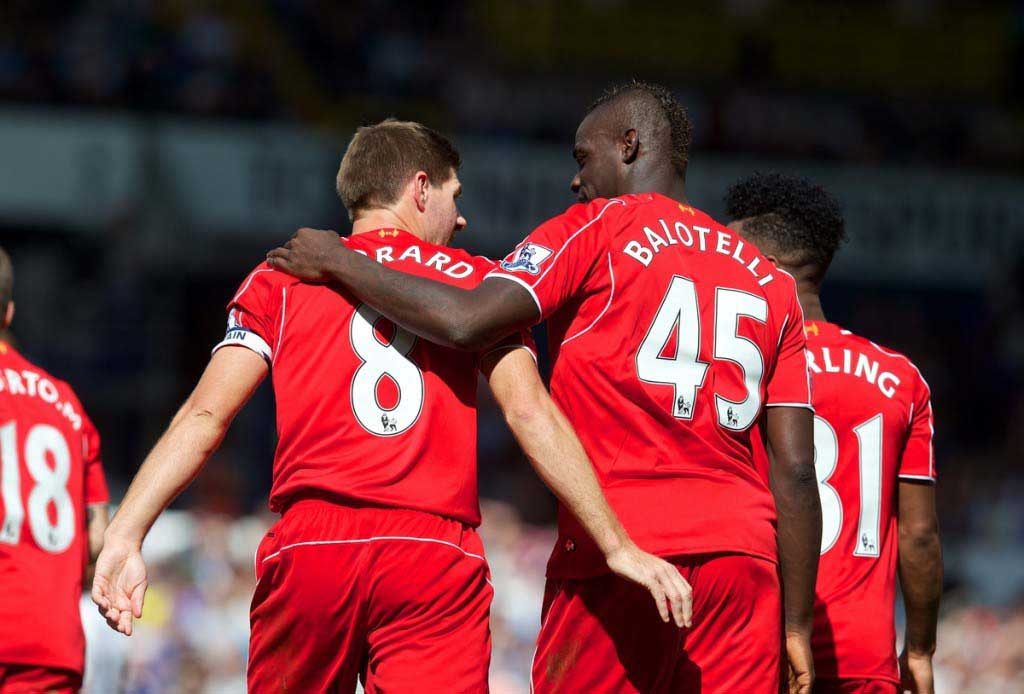 The problem is that the sum total of what he's offered so far fades into insignificance when you consider his stellar capabilities. You suspect he may take his gifts entirely for granted, much as we'd hardly give a second thought to riding a bike, and yet he seems as far from marshalling and maximising those talents as it's possible to be. And it's of no consolation that the fee was so easy on the eye. With Sturridge sidelined, and only the 'A' left in SAS, Balotelli needed to fill the void.  Instead, at times, he was the void.
It's dispiriting to hear his manager refer to him as being 'potentially' world class, and equally dispiriting to think such cajoling seems necessary. No-one should be praising Balotelli's work rate in a side whose style of play is contingent on it. He's consistently been on the receiving end of what might politely be called close attention, but we surely shouldn't be congratulating him for keeping his cool when that, too, is a minimum requirement. His time on the pitch isn't marked so much by negatives as the absence of positives.
We may see more of his prowess with free kicks but for now it's more likely we'll see his captain gently pushing him to one side before he gets the chance to address the dead ball. Success in that area takes application and discipline and though you can see Mario popping them in with minimum back lift during training, he might be better off learning from Gerrard for now. Those free kicks in training bear a nonchalance in the execution which suggests he may not even know how he does it, as if he somehow doesn't own his prodigious talent. As with his fearsome muscularity, he seems unable to fully inhabit himself as a player. It's as though he's reluctant to be what he can be.
Balotelli's been singled out for the burden of replacing the departed Suarez – unfairly so, given that almost an entire new roster arrived in the same window. He may initially have been a distraction from the gaping hole Suarez has left behind him, a hole into which the start of Liverpool's season has fallen, a welcome tonic and the finished article – discuss– at a point when the only arrivals were a succession of next-big-things and late bloomers. It's Sterling, Rodgers'own little Messi and the boy who can be what he wants to be, who'll assume the mantle of heir apparent.  Whether that proves a blessing or a curse, he'll at least have mobility to threaten across all areas that Balotelli lacks.
Rodgers' man-management skills are rightly lauded and perhaps he felt he needed a challenge – it is a year since he set Luis straight after all – but he's become strangely evasive already on the topic of Mario and you can only wonder what he felt he could bring to the table when Mancini and Mourinho before him, for all their love for the player, came rapidly to the end of their respective tethers.
Some openly wonder whether his faith in the Italian is misplaced, but he was surely too canny to make such an investment. It was a pragmatic signing, not a leap in the dark. The problem with Mario Balotelli is that even your pragmatism can be misplaced. Rodgers' investment will be time – time spent talking, time spent one on one. Given his focus on the group, it may be time he can ill afford. Mourinho famously spent 14 minutes at half-time in the corner of the Inter dressing room with Balotelli in classic arm-around-the-shoulder mode in an ill-fated attempt to avert a likely dismissal. His striker saw red two minutes into the second half and though he still tells the tale with an affectionate smile, it's a smile he can afford now the problem's off his hands.
If Rodgers was emboldened by his successful handling of Suarez as Arsenal hovered with ludicrous over optimism, then he's miscalculated just how different two problem players can be. To paraphrase Tolstoy, all happy footballers resemble one another, each problem footballer is a problem in his own way. Suarez had a problem with the world, but at least he took it out on the world. Balotelli meanwhile has a problem with himself, and unfortunately takes it out on himself – and the occasional manager in training, whoever that happens to be at the time – and consequently has a tendency to disappear. And in Rodgers tight-knit unit, one player going missing in action means disruption. Though so far this season Balotelli is far from alone in his disappearing act.
If there was a gamble, it was this – that Rodgers was perhaps banking on chemistry between a player in search of a home and an adoring Kop in search of a new hero, a spark to light the flame.  But sadly those without a home are not always looking for one and even if they think they are they often cannot settle, usually for complex reasons. For all the cute stuff he's posted on Instagram, walking in the opposite direction when travelling supporters deserve acknowledgement for the midweek hike to Switzerland does not bode well.
It would be a beautiful story – for football's lost soul to find and fulfill himself at Liverpool – and it couldn't happen to a nicer guy. I would be overjoyed to see it, but it's a narrative that's seduced us somewhat. It feels like a long time since Brendan was relaxed enough to crack a laugh for the cameras at White Hart Lane as Mario skied one from range with his side looking almost better than last year's vintage.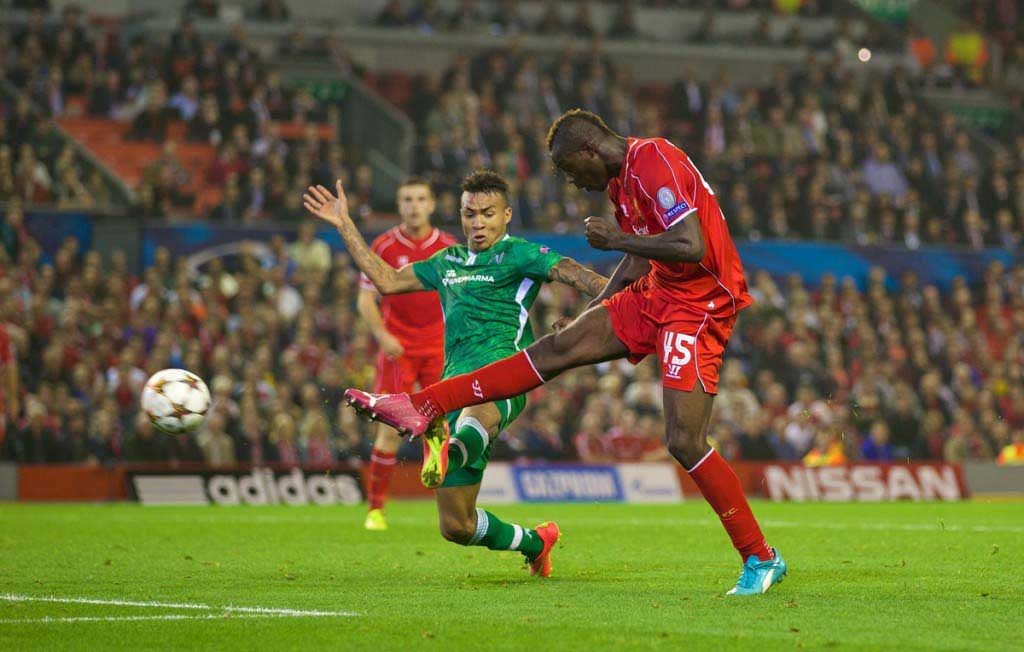 Benching Balotelli was common sense and a simple case of rotation – no story there – but Rodgers' recent admittance that his number 45 was the best he could do at the last minute may prove counterproductive in handling a player for whom maintaining self-esteem is clearly an ongoing struggle.
There's a parallel to be drawn with Emile Heskey. Stay with me.  Putting aside any comparison of their abilities as players for a moment, Heskey clearly suffered from a debilitating lack of confidence but was at times almost unplayable in an explosive first season before a manifest lack of belief undermined him – sadly almost to comic effect at times. Like Houllier before him, Rodgers may find his arm in permanent residence around Balotelli's shoulder before he finds there's a point at which he has to walk away.
Unwittingly perhaps, the manager has also delivered an indictment of a flawed transfer system – or at least a system to recruit for the post-Suarez era. How many times was it said that Liverpool had no plan B as they raced towards the line last term? It seems there may have been no plan for life after plan A, either. Yes, he was irreplaceable, unless Messi were to be prised from the club to whom he owes every inch he grew from the age of 14 and the life and career that growth gave him.  Rodgers will have to wait for his own Messi in Sterling. Options were needed in attack. Not options for the future – it may well be there's a few of those and certainly there's one in the form of Origi, whose absence is already bemoaned by Rodgers – but options for now.
The future arrived too fast for us, perhaps, but a killer in front of goal was required at least, especially in view of Sturridge's periodic layoffs. The one in our sights opted for a club up the way who couldn't offer Champions League football. You may have heard of them. And whilst we all know the truth of the situation, a tacit confession that our Mario is no Falcao may not be the cutest way to manage a player who, like it or not, needs closer management than many of his fellow squad members.
The imminent and welcome return of Sturridge may prove a hurdle in itself. It's widely assumed that Balotelli will partner him and, yes, let judgement not be passed at least until he's playing in that role. But Rodgers may have other ideas and will almost certainly need them. A new SAS featuring Sterling should yield some success.Alternatively time on the wing may beckon, but it will require mental flexibility from Mario.
It might at least ease the pressure on the currently injured Markovic as he adjusts to life in the Premier League. Then there's the most awkward option – dial M for Mario; time on the bench as an impact sub. Putting aside the obvious issue of the manager having to handle his esteem with one hand and his ego in the other, the phrase impact sub itself offers a challenge. Sustained impact is precisely what's been missing in Balotelli's game thus far and his cameo against West Brom, though defined by dilligence was hardly here comes the cavalry. If coaxing the best out of the player was already becoming a conundrum, then finding his new role will either solve it or simply create another one.
In the end it's a shame, not to mention manifestly unfair, to see him as a problem. I don't have the heart to. However great the frustration, with Mario Balotelli the undertow of sympathy tugs at you and you end up wishing for the fairy tale – for his fulfillment as a player and a guy, and for him to find his home with your club. Hat tricks at the Kop end and all that. His formative years were complex, and complexity in childhood will all too often result in uncertainty. He's been obliged to keep at least one foot in two worlds. No other prominent black Italian springs readily to mind, and having to live in and represent a country whose FA chief Carlo Tavecchio refers casually to the eating of bananas when discussing foreign players must surely add an uncomfortable dimension to any discomfort he feels. To be so catastrophically under appreciated by a nation he is clearly so proud to represent must hurt.
Whatever the roots of his troubles, it's clear that identity is the issue and furthermore that he himself needs to be a bigger part of any solution. All of which begs the question, where's Steve Peters in all of this?
If you read the gossip columns for clues, then Rodgers is clearly looking ahead already. And that's as it should be. The names that recur – and there can be a kind of critical mass to these things, if the same name keeps popping up there's usually something in it – suggest that in the absence of someone who can win a game on his own, then all Rodgers will want for Christmas is a hit man, someone he can bank on.
Expect the cavalry to arrive in January. We'll see how much of the season is left to save.
Pics: David Rawcliffe/Propaganda