GRAEME SOUNESS, Gary Neville, Jamie Carragher and that no mark troll Adrian Durham are just some of the public figures who have thrown their hats into the public ring this week. Plenty of others have already had their say. Criticism is rife and it's anything but unexpected. This is what Mario Balotelli brings with him.
When you 'put yourself out there' as Mario does (he gets weird haircuts and does daft stuff once in a while, dontchaknow), you're open to shots against you. With just one Liverpool goal to his name and plenty of detractors who have been waiting to jump on him from the moment he signed on at Anfield, Balotelli is under fire. But should he be?
'Work rate' and 'Attitude' are two phrases that are never far from anyone's lips when they are looking to chastise the Italian. Indeed, a national newspaper this week compiled a head to head comparison of Liverpool's forward and Arsenal's Danny Welbeck. Predictably, two of the categories used were centred around those exact attributes. Unsurprisingly, Balotelli did not come off favourably in either sub section.
The problem for Mario is that so many people have already made up their minds about him. They did so long ago. He's marmite. You have to be compelled to love him or hate him apparently. No nuance or objectivity is required, just sweeping generalisations and stereotyping. When Jose Mourinho criticizes a player many lemmings, particularly in England, immediately write said player off. Souness mentioned how the Portuguese manager disposed immediately of Mario on Sky prior to Liverpool's game with Basel. The ex Liverpool manager failed to mention that – apart from the fact that what he asserted was total bull shit – Mourinho used Balotelli regularly during the season his Inter Milan team won the treble. Mario played wide a lot that season, too. You know, as one of Mourinho's famed 'defensive forwards'. Fancy that, eh Graeme? It matters not to people like Souness though. Perception is everything when it comes to Mario.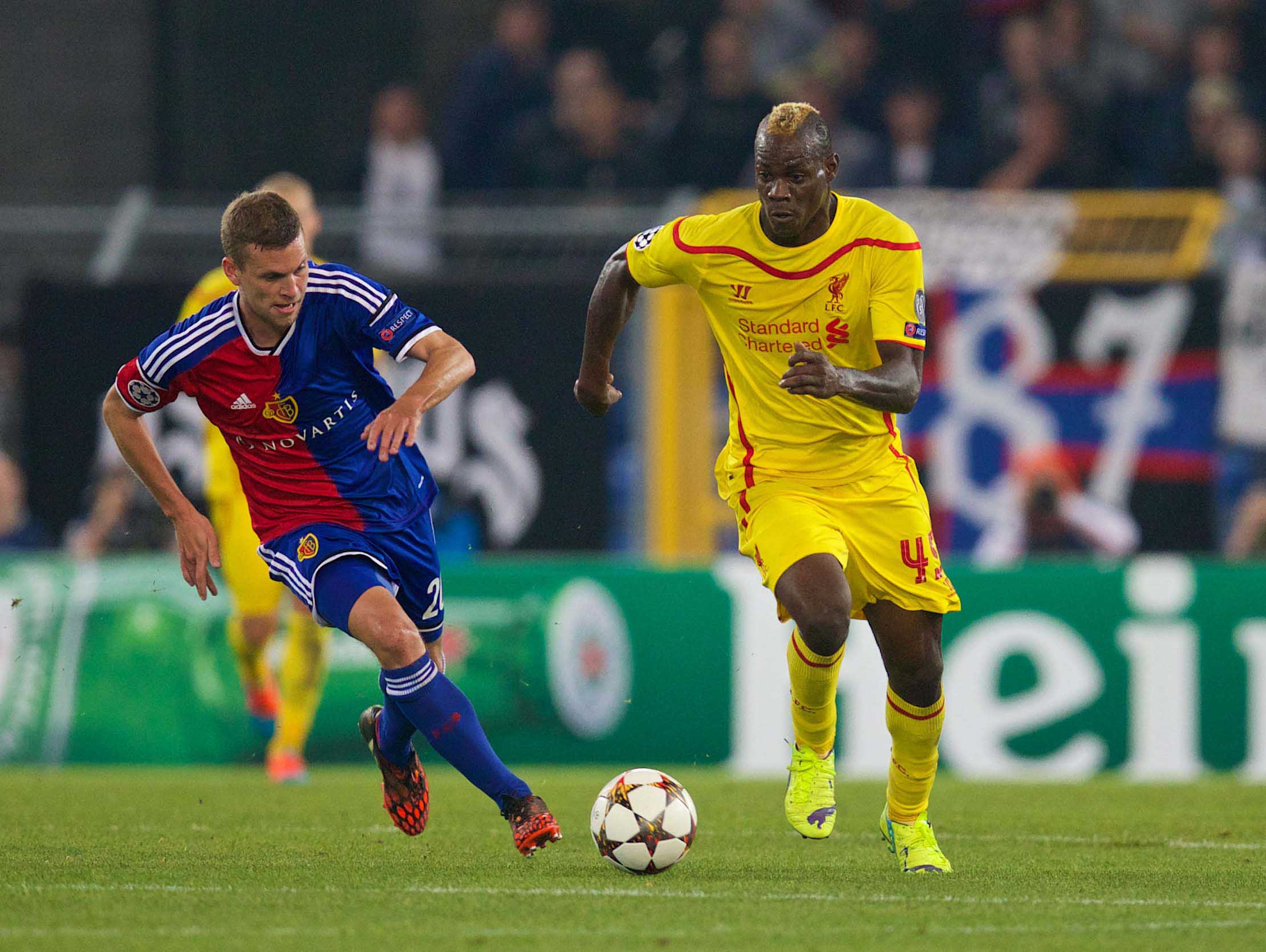 We know this, not because of the fact that his performances are being criticized, but because of the nature of the criticism. Ask any Liverpool fan what has frustrated them about their new striker so far and it will likely be one of two things. One, he's not scored enough goals. Two, his movement in the box needs to improve. The thing that has impressed the supporters of Balotelli's new club? They would most likely be his work rate and his attitude.
In almost every game Balotelli has featured in for the reds he has been targeted physically. Whether it was Eric Dier lunging in at him from behind with a brain dead 'welcome to the Premier League' challenge, Alan Hutton and Tony Hibbert 'leaving one on him' (following through with intent after winning the ball as it's also known) or Philippe Senderos blatantly booting him up in the air off the ball, Balotelli is coming in for some severe stick during matches. He has a temper and opponents are trying to stoke the fire within to get him sent off. It hasn't worked yet. Despite numerous occasions where he would have been justified in losing his rag and reacting to the provocation, the Italian has kept his head. He's usually muttered some words or limped away (something else Graeme Souness doesn't like about him, incidentally. Limping after being kicked? Not in my day etc etc) to get on with the game. Long may it continue.
Of course, no one out to slam Balotelli cares about such a thing. The way he deals with provocation will only matter when he loses his cool. It is easy to guess what the media's reaction would have been had the Italian lashed out at Stewart Downing in the hilariously idiotic manner that Wayne Rooney did last weekend. 'Liability' is a word that would probably have been written and uttered repeatedly. In truth, it's a word that is already out there when it comes to Mario.
Yes, minds are well and truly made up. Too few people who analyse the game of football are willing to scratch beneath the surface and actually break down what the Italian is or isn't doing at Anfield. It's apparently much easier to simply stick to the clichés about how he's a lazy madman who couldn't care less about his team. Neville Southall gave an unintentionally hysterical radio interview recently where he proclaimed that he had 'never seen the lad (Balotelli) have a good game, ever'. Remember he's talking about a player who led Italy to the Euro 2012 final, helped send England packing from the recent World Cup, scored the opening two goals in Manchester City's most famous 6-1 demolition of city rivals United at Old Trafford, scored 12 times in 13 Serie A matches to drag Milan into the Champions League and has a winners medal in that competition, Serie A and the Premier League at the age of 24. Neville mustn't watch much football. As for facts? Bah, who need them? He's got mad hair, has had the odd fight in training and wears colourful boots. He's 'hard to like' as Souness again said on Sky during his pre game hatchet job….sorry 'analysis'.
The predictable, ignorant barbs aimed at Balotelli were always likely to come. A striker that isn't scoring goals is never far from negative headlines, especially one with such a profile as high as his. Critiquing his performances is expected. There are aspects of his play that require work and it's completely justified to focus on those areas. But the amount of asinine 'he doesn't work as hard as Luis Suarez' style drivel that is saturating the media at large and social networking sites is enough to make your head spin.
Take his performance against Everton. He was given a standing ovation from the Anfield crowd when he was substituted. Safe to say they liked what the saw. He battled, tracked back, tackled, won fouls, held the ball up, brought others into play and was two inches away from finishing the game off when he hit the cross bar. If the ball hadn't clipped an unwitting Tim Howard on the shoulder he'd have been the derby day hero and probably the man of the match. As it was, the ball didn't nestle in the back of the net and people merely chalked it up as another goalless, bad performance from the polarising clown that is Mario Balotelli. Ex red Steve Nichol said on ESPN that Rickie Lambert would have done just as good a job in that match after the final whistle before going on to castigate the Italian's performance. The word 'ridiculous' doesn't do such analysis justice. If you know a word that does please feel free to let me know because I'm struggling to sum that little gem up.
I could go on to question exactly why it is that a player who has clearly put in a great amount of effort during his time in a red shirt is still widely perceived as lazy. I'll save that potentially  controversial topic for another day though. I'll just say that Andy Carroll barely put in 10% of the effort Balotelli has exhibited during his stint on Merseyside and yet the tall, aggressive, bull-dog spirited Geordie's work rate was and is seldom questioned. You can make your own minds up on why that may be. I can think of numerous reasons that I won't go into here.
Instead I'd rather focus ultimately on how Balotelli is performing for the reds and how the future looks for him. To me, as an individual the striker is playing well. He's winning plenty of battles, he's got obvious skill and great control and he's showing a real desire to work hard for his team mates. His performances against Everton and Spurs in particular point to better days ahead. His goal record from open play doesn't suggest he will ever become a man who can score 20 league goals in England unless Steven Gerrard relinquishes penalty duties, but then we all thought that about Luis Suarez after 18 months on these shores. For me, the keys to harnessing Balotelli's obvious qualities are Raheem Sterling and Daniel Sturridge.
With the Italian playing up front on his own Brendan Rodgers' side have looked somewhat toothless. There are too few darting runs behind and across opposing defences. People will say that this is Balotelli's job and he's not doing it, but it should be clear to those detractors that things like that aren't natural to the big forward. He's not Daniel Sturridge or Luis Suarez and he never will be.
He's far happier feeling a defender up against him, rolling his marker and popping it off or firing at goal. The lack of a striker like Sturridge and the repositioning of Sterling within the Liverpool team has hurt Balotelli's game. Opposing defences focus intently on him, safe in the knowledge that they have little else to worry about in central areas. He doesn't have a player to slip in when he gets the ball under control near the box. Too often, there is a lack of runners breaking their necks to get beyond the target man. Jordan Henderson is either sat way too deep or living in fear at having to track back should he not receive the ball after a forward run because he's the only one with legs in the centre of the park. Raheem Sterling is playing out wide hugging the touchline a lot of the time and Lazar Markovic is completely lacking in conviction and confidence. Only Adam Lallana has semi regularly linked up with Balotelli and he's hardly a player that looks to spring in behind defenders too often.
One assumes that with Sturridge in tandem and Sterling breaking from behind, as was the case at Spurs on Mario's début, space and the quality of opportunities for the Italian will be increased. When Sturridge has been reintegrated into the team and lined up regularly with Balotelli that will be the time to properly judge the striker. Right now he's merely an isolated forward lacking in service and support in an under-performing outfit. Most top strikers would be struggling to excel in such circumstances just as Balotelli undoubtedly is. As I've argued, there are many reasons for this.
Just don't tell me it's this way because he's lazy.