Last season, Liverpool's best title challenge in a generation helped fired-up fans find their voice at the match. And that's something to be celebrated, writes MARTIN FITZGERALD
"They want to see the team winning – let's not kid ourselves, we're a small country, we're up against it, but let's not just go along for the sing-song every now and again"
– Roy Keane, shortly after Ireland were eliminated from the 2012 European Championships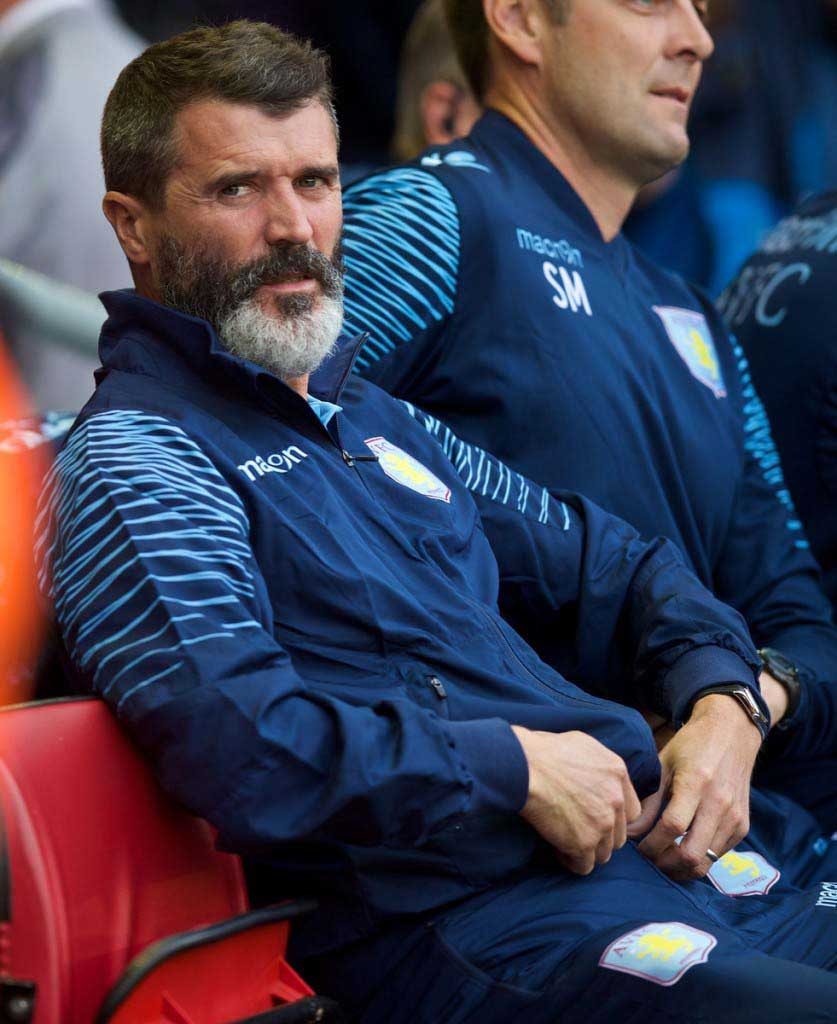 ROY Keane – get in the bin.
Seriously, do everyone a favour and just get in the bin. I bloody love a sing-song. No one puts Fitzgerald in the corner and tells him he can't sing. I should caveat this by saying I can't sing. I mean, I can sing in the sense that everyone can, but it doesn't sound good. It's not something other people will take pleasure in.
You realise this from an early age, probably a school assembly or the first time you sing along to a familiar tune on the radio. And you realise it instantly. It's either something you can do or something you can't. And if you can't there's nothing you can do about it. Forever destined to be a terrible singer. Bizarrely though, it's never put me off. That in itself is weird and deserves a little attention.
There are lots of things I'm bad at that I have no desire to ever do again. In fact, I actively avoid doing them. Take ice skating, for example. I tried that once and I was terrible at it. Basically, I sat on the ice for an hour while the competent kids at school skated around me. Never done it since, never wanted to do it since.
Art is another example. I'm terrible at art, probably one of the worst people in the whole world at art. I can't draw a man, a woman, a cat or a dog. They are the basics. If you can't draw them what chance have you got? I used to hate art at school. Never done it since, never wanted to do it since.
Singing is different though. My total incompetence at it hasn't deterred me. Why is that? Why do I want to keep on doing this thing I'm so terrible at?
Roy Keane would probably say I've got a questionable attitude. I would probably say it's just because I enjoy it, especially if I've had a few, especially with other people singing along with me. The sing-song.
So what options are open to a terrible singer that needs to sing? A choir? Not for me. Too scripted, too organised, and I think being a good singer is probably a prerequisite.
A church? While I'm totally behind their efforts to get people together on a Sunday morning for a sing-song it's not quite what I had in mind. To begin with, there's the whole religious aspect, which isn't really for me and, secondly, it's still too organised. As far as I'm aware, unless the Church of England has become more progressive without telling me, I don't think you can just turn up, half cut, and start singing The Lion Sleeps Tonight just because the mood takes you. I think that sort of thing is definitely frowned upon.
No, what I need, maybe even crave, is spontaneous communal singing. Had I been born 100 years ago, I wouldn't have a problem. I'd just go down the pub. The first half of the 20th century was awash with people singing in pubs. People made their own entertainment before the advent of home entertainment. Some pubs even had singing rooms where locals gathered round a piano, laced with drink and belted out popular songs of the day.
A singing room in a pub? What an idea that is. Wait until I see Rob Gutmann next. His bars in Liverpool will have singing rooms by the end of the year.
If you've ever seen Terence Davies's brilliant film Distant Voices Still Lives you'll have an idea of what I'm talking about. Set in Liverpool in the 1940s and 1950s, it's a moving, often tragic portrayal of working-class life and domestic violence. It's definitely not a first date movie. In among the tragedy though is joy. Scenes of joy when characters forget everything, or at least try to forget everything, and go down the pub for a sing-song. Naturally, they're my favourite scenes in the film.
Even as a child in the 70s, I have vague memories of being in a pub with my mum and dad and hearing them sing with their friends and neighbours when it got to THAT point in the evening. Never organised, never scripted, no one in charge – spontaneous communal singing.
People often mistakenly label this as an Irish tradition or an East End tradition but that underplays how prevalent it was, not just across the UK, but Europe, too. Germans, Scandinavians, Russians – drinkers and singers, the lot of them. But then the tradition died. What happened? WHO STOPPED ALL THE SINGING?
There were a couple of factors. The first half of the 20th century was a unique time when people had access to music, typically via a radio, but very few people could actually own it. This, in some way, explains the boom in communal singing. If you wanted to hear a song you had to sing it, it was simple as that. These were typically standards from music halls or the latest musical. Everyone was plugged into the same "scene" and everyone was "up to date". As a result, the most popular songs of the time tended to be the songs that were sung the most.
With the advent of affordable record players and tape cassettes this started to change. People could suddenly own their own music and listen to it whenever they wanted. As a result, the songs changed too. Songs were written to be listened to, rather than sung along to. From the 50s onwards, the most popular songs were defined by ownership, by a chart placing, i.e. the songs that people listened to the most.
Within time, whole new genres of music were created, people diversified and personalised their record collection and then carried the whole thing around in their back pocket with a pair of white headphones. We went from singers to listeners.
Secondly, pubs changed. Often a pub was there to benefit a local community or, more often than not, a local industry. These were often outside of the city centre, strategically placed to provide leisure time and ale to a local workplace. Customers were locals, you felt comfortable. You could relax and, when you did, you sometimes sang.
As a process of de-industrialisation took place though, factories, mills and mines were typically closed down. The pub serving it followed suit and before you know it everyone migrated to the city centre for their night out. Drive around any town or city in the UK and you see evidence of this all around you.
I live in Nottingham now and the suburbs that skirt the city centre are full of these reminders of another age. One pub in particular, The Star, is a three-storey building that inhabits an entire corner. A three-storey pub! Can you imagine it? It's absolutely huge. Opposite, just over the road, is an old mill which would have employed upwards of a thousand people. I can only imagine the nights out that happened in that pub when they all clocked off. I bet it was bouncing.
The pub is now boarded up and the mill has been turned into student accommodation.
Don't get me wrong. This isn't a nostalgia piece. I have no sentimental attachment to a working-class life of yesteryear. Marching down the pit with a songbook in my hand is not something I'd ever want to do. Marching off to war singing with my fellow soldiers is not something I'd ever want to do.
Things have moved on, largely for the better, but I still want a sing-song every now and again, especially when I've had a few, especially with other people singing along with me. So, unlike Keane, I'm grateful for the opportunity that football provides. Seriously, I can't think of any other place where communal singing is done on such a large scale.
Every weekend, all across Europe, hundreds of thousands of people get together to watch a match and then soundtrack it with a collection of songs. Never organised, never scripted, no one in charge – spontaneous communal singing.
What fascinates me is the type of songs. We may be in 2014 but, by and large, these songs date back to the early part of the 20th century. They're still the songs of music halls and musicals, sometimes sang in their original version or sometimes with their lyrics varied to champion a particular player or team.These are the songs that were meant to be sung and not listened to. These are the songs that are being kept alive and they're being kept alive by football.
Let's look at a couple. I'm Forever Blowing Bubbles debuted in a Broadway musical in 1918, became a hit and then found popularity in the music halls and theatres of England in the 1920s. It travelled because people enjoyed singing it. It was the only way they could own it.
Around the same time Pears Soap featured a painting of a curly-haired boy in their advertising. The painting was called Bubbles.
So when West Ham fielded a player called Billy J Murray, who bore a striking resemblance to the boy in the Bubbles painting the inevitable happened. A popular song, a popular advertising campaign and a footballer with curly hair; it all came together at that point. The West Ham fans sang I'm Forever Blowing Bubbles and they've been singing it ever since. They absolutely love singing it.
You'll Never Walk Alone first appeared in the musical Carousel in 1945 and, again, became a staple for contemporary singers. In the early 60s it was then covered by Gerry and the Pacemakers and went to number one. This coincided with a time when the top 10 was played before each game at Anfield. You've probably seen the famous footage of a sixties Kop singing along to She Loves You by The Beatles.
You'll Never Walk Alone was different though. Even after it starting sliding down the charts, even after it left the top 10, the fans continued to sing it. They've been singing it ever since. They absolutely love singing it.
Remember Carragher's last game? Remember that really slow version of YNWA that was sang at Anfield that day? It takes my breath away that sort of stuff. How does that happen? How do we all know we're doing the "slow version"? I've no idea, but we do. It's pure musical theatre.
I'm Forever Blowing Bubbles and You'll Never Walk Alone. Just two examples of these songs that football keeps alive.
When The Saints Go Marching In, We Shall Not Be Moved, You Are My Sunshine, My Old Man (Said Follow The Van), Winter Wonderland, Volare, Que Sera Sera – there are literally hundreds of others.
Despite the occasional song from the modern era (Just Can't Get Enough, Yellow Submarine and No Limits for example) it's still the case that these 100-year-old songs, these songs that needed to be sung, are what dominate today's football stadiums.
And last season, they dominated them more than ever before.
As well as 2013-14 being a great season on the pitch, it was also great season for the singers. After a quiet few seasons, Anfield found its voice again. And what a voice it was. We came to the ground early to sing, we met the coach to sing and we sang all the way through the game. We went away, too, and we took our songs to every ground. At Cardiff, we were singing about winning the league in Spring sunshine. When was the last time that happened? At Norwich we spent the entire second half singing a song about Fabio Borini because he had scored a penalty against Chelsea the previous day.
"Fabio's Fantastico. Fabio's Magnifico."
How does that happen? How do we all know we're singing that song today? I've no idea, but we do.
At Selhurst Park, we sang and we cried.
One night in the season will forever stay with me, a perfect crystallisation of my point. We had just beaten Man City 3-2 to go top of the league with four to play. Despite turning up early to sing and singing throughout the match our appetite hadn't been satisfied. We needed more singing.
Some demanded karaoke and headed straight to The Saddle in town. Some demanded a "Boss Night" and went straight to Sound in Duke Street. Some didn't want a long journey, such was their need to get on with it, and headed straight to The Solly.
It seemed like everyone stayed out. Stayed out to drink some more, stayed out to sing some more. Disparate groups found each other, close friends and strangers, and we headed down to Pogue Mahones in Seel Street.
What happened there was magical. A throwback to another time.
Neil Atkinson. I thought I knew Neil. And then I saw him lead an entire pub in song. John Gibbons. I thought I knew John. And then I saw him carrying half of the pub on his shoulders. Gareth Roberts. I thought I knew Gareth. And then I saw him break off from a conversation about work and sing to me. He sang to me and I sang back.
Loads of other people I didn't know, but we all knew the songs and the songs needed to be sung.
Triumphalism? Counting our chickens?
Roy Keane would probably agree.
"You've got four to play and you've won nothing yet. Finish your pints and go home."
But we've already established that Roy Keane can get in the bin.
That night in Pogue Mahones was special; it had to happen that night or it wouldn't have happened at all. That night I was a singer and I loved it. Only football gives me this opportunity.
Fellas hate musicals don't they? They always say: "It's so unrealistic, all these people suddenly bursting into song all over the place."
Honestly, you should have seen us that night. Pure musical theatre.
Martin's article first appeared in the free digital Anfield Wrap Magazine. #TAWMAG