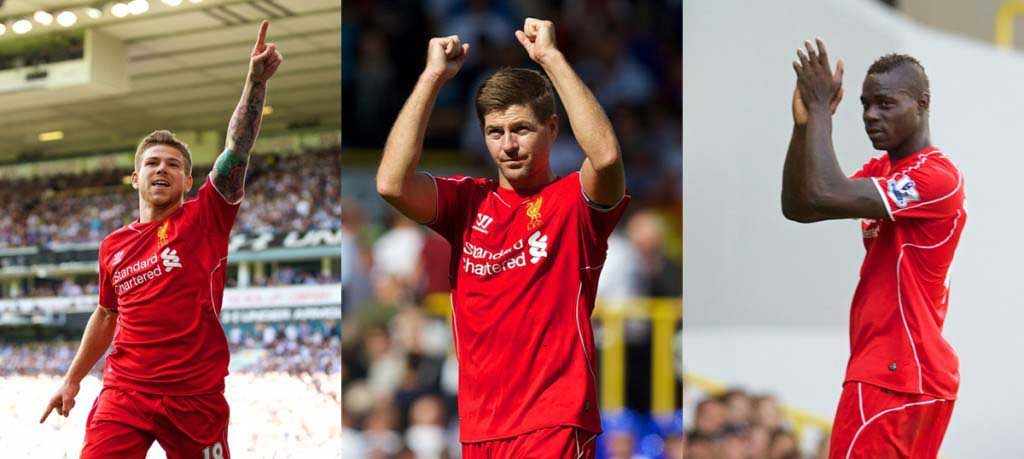 "Ambassador, with these Rocher you are really spoiling us!"
FERRERO Rocher football – this at times was Ferrero Rocher football. Brendan Rodgers is 'the ambassador' and when we play like we did a White Hart Lane then he is indeed "spoiling us".
Daniel Sturridge. Jordan Henderson. Raheem Sterling. GOAL. 1-0.
Luis Suarez is no longer responsible when we play football like this, but on the other hand he is still very much responsible when we play football like this. Sturridge, Henderson and Sterling are all players that grew in stature last season while dancing their football to a Uruguayan beat, absorbing the glow of the effervescent aura that Suarez pulsated to in the red of Liverpool. Yes, the rambunctious little fella has gone now; however rejoice that he remains an aesthetic gift that just keeps on giving. The body has gone but the Latin American spirit remains.
The lack of presence of Suarez at Anfield this season will be used as a negative countless times before league game 38 has been and gone, however the fact that he was here last season and the influence he had on so many of the players that remain at the club continues to pay rich dividends.
It's almost like Suarez's parting gift to the club was giving his team-mates a transfusion of his childlike love of having the ball at his feet. The ball is to be cherished, the ball is to be protected, the ball is to be loved, celebrated and made to sing and dance, it's never to be feared or released in haste. By all means move it on swiftly, but do it with conviction and do it with verve. We are Liverpool and we just aren't very British when it comes to kicking a ball around a green and rectangular patch of land.
Joe Allen won a penalty while attempting to reach the by-line. We've had some naturally cautious managers at Liverpool since we last won the title that wouldn't have allowed a midfielder with Allen's basic remit to enter the penalty area, let alone make a penetrative break for the by-line. It's a bit different under Rodgers.
Steven Gerrard from 12 yards. GOAL. 2-0.
Oh yes, and Mario Balotelli also made his debut. He had two point-blank headers, one well saved that would probably have gone in had he directed the ball downwards or to the left of Hugo Lloris, rather than straight at him, the other header skimming wide after ball and head didn't make a suitable connection.
There was also an effort from distance that drifted wide with Lloris stranded and a well-worked move from a corner when he dropped back from the chaotic pack only to spoon the ball high and wide. Summer rust is yet to be stripped away from Balotelli, but each of the four opportunities he had were generated from his own intelligence of movement to be in positions of danger and fortune at the right time. This is pleasing and on another day he will take those chances. His awareness of what goes on around him is massively under heralded. See, for example, when he set up Sturridge for an attempted curler with a deft back-heel to take two Tottenham players totally out of the equation.
Simon Mignolet continued his intriguing attempts to be more than just the stupendous shot-stopper he undeniably is. Coming for the balls that are played over the top of his defenders is never going to sit easily with him, but it's something that remains on his to-do list. It's very strange to watch – like someone at the beach running into the waves when the sea is cold and trying to look natural but just not quite pulling it off. There is  nothing wrong with his six-yard box reactions – as he again proved when saving well from Nacer Chadli as he charged through on goal with the scoreline at 1-0. It was a crucial save. I just question if Mignolet's concentration drifts as he is still repeatedly caught off guard when confronted with a ball aimed at the edge of his own area from distance. Emmanuel Adebayor almost benefitted from the combination of confusion between keeper and central defenders over who should be dealing with such a ball, Mignolet eventually positioned neither here or there when Adebayor attempted his lob.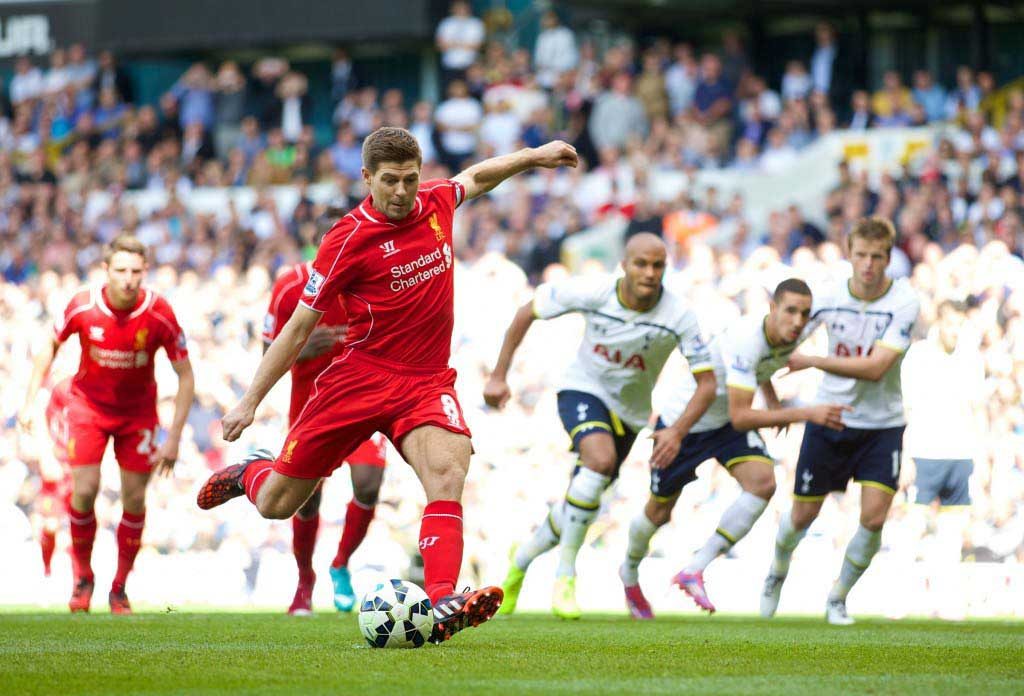 Alberto Moreno dispossess Andros Townsend 10 yards inside the Liverpool half, leaves Townsend for dust and sprints the ball unchallenged into the Spurs penalty area, shoots low to Lloris's left hand and it hits the inside of the post and bounces into the net. GOAL. 3-0.
Moreno's goal was satisfying – redemption for his complicity in conceding the first goal at Manchester City but also reward for some remarkable energy expelled during the course of his first two games in a Liverpool shirt. When Moreno carried the ball from inside his own half unchallenged before blasting it past Lloris, it wasn't for the lack of willing from Spurs players in chasing back when already two goals down that left Moreno with a free run at goal – the players in lily-white shirts simply couldn't keep up with him. Again Javier Manquillo did all the simple things right, and it's just the centre backs that need to find some cohesive mojo. We need to figure out the best combination and let an understanding grow. Stability is required in the area of the pitch where stability is needed the most. In the last two years the centre back roles have had a revolving door effect ongoing; it's time for the spinning to stop.
The sun can't help but shine on these types of days. Football moves thrown out on the footballing dance floor in a stylish manner, goals of beauty scored, togetherness and strength of spirit there for all to see. We even miss golden opportunities with a certain élan, Sterling with his excellent late run and meek effort at goal combination being nothing short of surreal. Double substitutions that see us throw on Lazar Markovic and Emre Can for Balotelli and Allen a million miles removed from a world of Iago Aspas and Victor Moses.
Some football clubs are heading into hibernation, but ours is full of virile possibilities. This is Ferrero Rocher football with an added element of a 'Lust For Life'.
Pics: David Rawcliffe
[yop_poll id="9″]