AT his pre-West Ham press conference, Brendan Rodgers suggested that he was rather irked by all the 'experts' voicing their opinions on the way his team plays. That is perfectly understandable. However, I am not an expert, so here's what I think.
It goes hand-in-hand with Liverpool these days. For all the wonderful football on show, the exciting attacking, the sumptuous and slick passing and moving akin to that of the great days of decades past, whenever you hear anyone talk about Liverpool, the subject of the 'dodgy defence' is rather high on the list of discussion.
This is not a new thing. In his first season at Anfield, Rodgers was, in his words, trying to build a plane while already in flight. There were bumps in the road, but that was to be expected. Then in his second season, records were broken. It was a magnificent campaign that very nearly ended in a completely unexpected title, but of course the main reason why it didn't was a defence that was still very leaky.
Now in the past week Liverpool have lost two out of three games and conceded five goals, and not even to particularly good teams. Jose Enrique tweeted photos of his teammates asleep on the train to London. Apparently none of them woke up in time for the West Ham game.
This team and its manager has a problem, but what specifically needs addressing? Rodgers has tried to solve it with new formations and purchases, but if anything the backline looks as vulnerable as ever. Here, I look at the various reasons why the Reds are finding clean sheets as elusive as a Fernando Torres wonder goal.
Warning: I am still smarting from Saturday, so if this seems a bit harsh, just know that any criticisms come from much more than just the West Ham game. Also, this is quite long. You might want to grab a beer.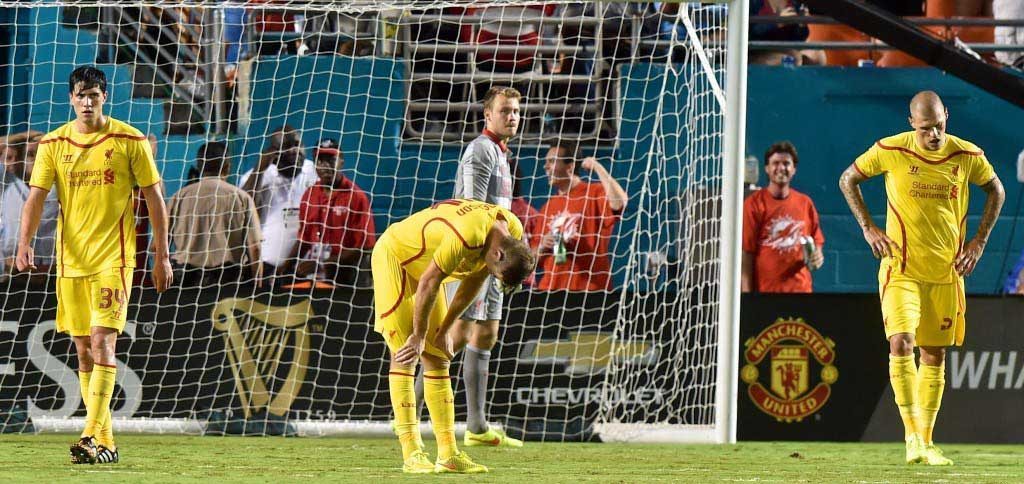 The individuals
A number of the mistakes that have led to goals have come from individual errors, and we are constantly questioning the merits of Martin Skrtel, Mamadou Sakho and now Dejan Lovren as individual players. Could it be that Liverpool simply don't have good enough defenders to have a solid unit?
Skrtel was Liverpool's best defender last season, there can't be too much debate about that. As well as putting in numerous last ditch tackles, he scored plenty at the other end too. However, his four own goals was way over what should be allowed for a centre back, and came as a result of his 'just get something in the way of the ball and the goal' mentality, akin to a more mobile Richard Dunne, who also topped scoring charts at the wrong end. There is a feeling that, however well he is playing, there is always a mistake in him, whether that's fair or not. Throughout his Liverpool career, Skrtel has generally had a good season followed by a bad one. When he's good, he's great, but consistency is vital when it comes to having a settled backline, and Skrtel just cannot promise that. Yes he was our best defender last season, but our defence was poor. Is 'best of a bad bunch' really good enough?
I am a Sakho fan. He's becoming a bit of a 'marmite' player, and though I am of the opinion that marmite tastes like a cat's arse, I do think Sakho will be a very good defender for years to come. Sadly, he is doing his best this season to try and make me look like a fool. The big Parisian is not shy of putting himself about, gets stuck in and in spite of what people say, is calm on the ball. His passing statistics are fantastic for a centre back who largely passes forward, yet we still hear cries of 'he looks uncomfortable on the ball'. The problem with Sakho is that his technique is not usual, so when he makes a mistake, people remember it. He looked a big talent at PSG, but he is yet another centre back who has come to Liverpool and not really improved. If anything, he has regressed. The fact that Didier Deschamps picks him ahead of the likes of Laurent Koscielny and Eliaquim Mangala suggests to me that he is a better player than many give him credit for, but he has to calm down and be that player for Liverpool week-in week-out. At the moment almost every mistake he makes looks to come from him trying to do too much, being overly keen to impress.
The solution, the missing piece, the 'communicator' arrived in the summer in the form of £20m Dejan Lovren. That'll sort this leaky defence… won't it? The big Croat arrived as part of the great Southampton spree and was supposed to be Jamie Carragher's year late replacement. The apparent problem with our defence was that it lacked a leader. Lovren lead the Southampton defence well last season, helping to get off to a ridiculously solid start at the back, conceding just three goals in their first nine games. He arrived at Anfield and immediately looked the biz, bossing the park on his home debut in the 4-0 friendly win over Dortmund, getting on the scoresheet in the process. However, like the other phenomenon that day Phil Coutinho, Lovren seems to have left his abilities locked in that friendly, because they haven't been on show since. Admittedly it has been difficult for him having to transition from the left side to the right after Skrtel's injury at Man City, but that doesn't excuse some of the basic errors that have been coming into his game more and more since his debut. It is still early days for Lovren, and it would be harsh to judge him until at least Christmas, but so far he, like Sakho, appears to be a worse player than he was before he came to Liverpool. That is a worry.
At full back we now have two very talented Spaniards who have made exciting starts to their Liverpool careers. However, they cannot be exempt of criticism. Javier Manquillo was brought off on Saturday when it was clear he wouldn't be able to control Enner Valencia, while Alberto Moreno followed up his '50-yards out of position' error against Ludogorets by allowing Diafra Sakho all the time in the world to chip Simon Mignolet for West Ham's second. Both are young and will hopefully learn from these experiences, and what Moreno in particular offers going forward means that they aren't really the problem for now, especially as their inexperience should mean that the centre backs are guiding them through games, communicating with them so they aren't off in no man's land, but that doesn't seem to be happening.
It is not too difficult to find fault in individuals for each goal we have conceded this season, but you could argue that would be true of any goal. A backline is a unit, and many people feel that a defence is only as strong as its…
Goalkeeper
Is Simon Mignolet a good goalkeeper? Yes he absolutely is. He is one of the best shot stoppers in the Premier League. There are very few keepers who could match the saves he has made in his year and a bit at Liverpool, especially 'that' one from Morgan Schneiderlin on the opening day of the season. However, to be a good enough goalkeeper to be number one in this Liverpool team, do you need more than that? Yes, you absolutely do.
Mignolet is fast becoming a master of the spectacular but victim of the utterly simple. The regularity with which he is beaten at his near post is alarming, as is the ease with which he is beaten in one-on-one situations, especially considering this was something he was actually hailed for during his time at Sunderland. His communication with his defence has also been regularly called into question. You can see this season that it's something he is working on, but whether this is helpful or literally just lip service is up for debate as it doesn't seem to be working one iota.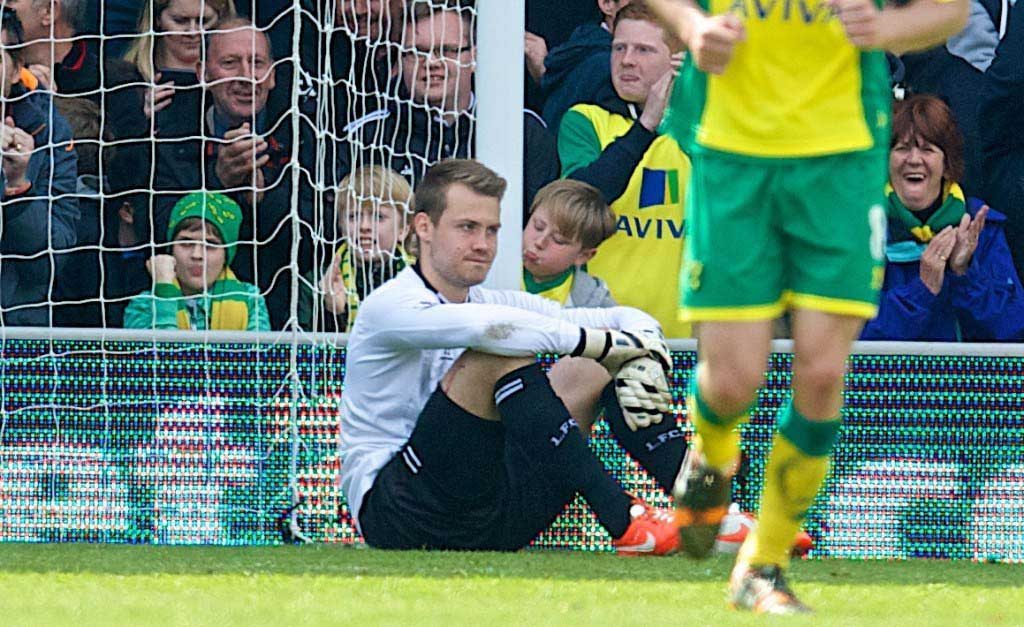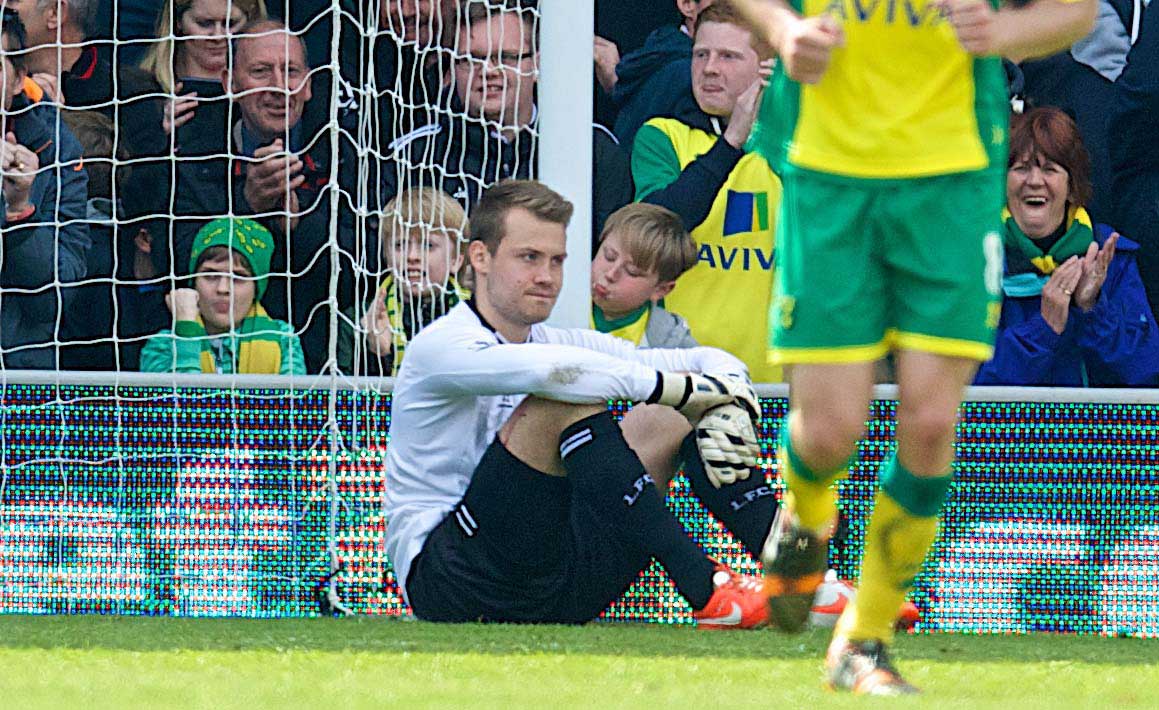 There is also a necessity to be good with your feet as a goalkeeper in a Brendan Rodgers team. This is the thing that makes Mignolet's purchase last summer all the more perplexing, as he has never been good with his feet. In fact it's something that even Sunderland fans criticised him for. There has clearly been an effort made to improve this side of his game, but it is not something you can teach overnight, or even in a year or two, anymore than you could coach a Conference midfielder to be a Premier League midfielder in the same time. I'm not going to get into a Pepe Reina debate as that time has gone, but he was a player whose ability with the ball at his feet got him out of numerous scrapes. Similar situations with the Belgian usually lead to conceding throw-ins not that far away from our goal or just simply conceding possession.
This may be why there are strong rumours that Victor Valdes could be brought in next month once he returns from injury. Given he has never played for a 'normal' team it would practically be guesswork as to how well he'd do here, but his strengths are Mignolet's weaknesses, so it'll be interesting to find out. It may turn out that the goalkeeper isn't the problem and that the blame lies more with…
The Midfield
Something I have long felt is an under-criticised reason as to why Liverpool concede so many soft goals is the protection, or lack thereof, the defence is given by the midfield.
Whatever our formation, one constant seems to be what I can only assume is a conscious decision to allow the opposition all the time and space they require if they break into our half. Last season we saw the plan executed perfectly whereby we would try to win the ball as high up the pitch as possible, and if that didn't work, we retreated and allowed them to come onto us, before hitting them on the break from deep once we had won possession back. The problem this season appears to be that instead of doing that, we just sit back and concede a shot on goal.
This was alarmingly visible against Ludogorets, who to be fair looked to be a tidy team, but we let them have so much space right up to the edge of our own penalty area that I thought I was watching a game of Subbuteo. Then against West Ham, every single time the ball came loose or was headed away from a set piece, you could bet every penny you had that a West Ham player would be first to it. There were no 50-50 balls in that game. If the ball wasn't within two feet of a Liverpool player, then it was West Ham's ball. The concept of the 'second ball' seems lost on this team lately.
There is no criticism to be made of Jordan Henderson, who has started the season magnificently. He presses, he harries and he does win the ball back with regularity, but he cannot do it all on his own, and he is having to. Lucas tried on Saturday, but this insistence of Rodgers to play him on the side of a diamond is simply baffling. He hasn't got the skill set or the discipline to play on one side of the pitch. You could see it the whole game. Lucas wanted to cover ground and kept coming over to the other side, leaving gaping holes in the midfield that West Ham, who aren't all that good at football, were able to exploit time and again. This brings me to Steven Gerrard, who should have been playing there.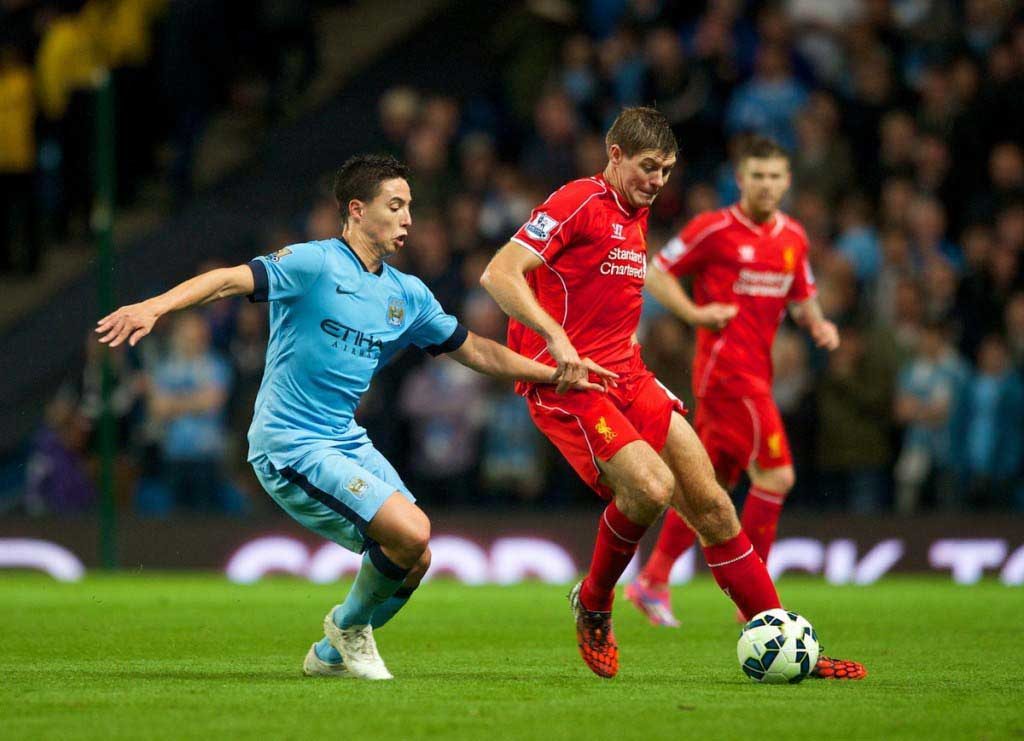 Here comes the controversy. Steven Gerrard can not play the holding midfield role. There I said it.
Gerrard has decided he wants to end his days at Liverpool by being Xabi Alonso. That is not a bad thing to want and he's very good at it, but Alonso very rarely plays the holding midfield role on his own, and when he does it is usually in a team that is significantly better than the opposition and therefore can get away with it. That is perhaps why it gave the false impression of working for us last season. Gerrard played some fantastic balls, he got some excellent assists, he scored some vital penalties, but I cannot think of a single game last season or this where we won 'because' he was playing as a lone holding midfielder.
Neil Atkinson wrote a terrific article the other day on why hoping that Rodgers buys a genuine holding midfielder is like hoping Wayne Rooney will bring out a classical jazz album, and I fear that this stubbornness could end up ultimately costing him and Liverpool. Look at every successful team in European football, and the ones at the World Cup. They all have at least one player in their midfield whose 'main' job is to win the ball back and protect the defence. Steven Gerrard does not do this. He shouldn't have to because that's not his what he's best at, but it becomes his job when he is played in that position.
It's harsh to just point to one moment, but watch Morgan Amalfitano's goal from the weekend again. Look at what Gerrard is doing, or rather isn't doing. That for me summed up exactly why he cannot be expected to play that position as the last line of protection between the midfield and defence.
Don't get me wrong, everything going forward about Rodgers' midfield is excellent, arguably barring the lack of goals coming from it, but in terms of what it does when we don't have the ball, great improvements need to be made.
Gerrard is still a very good player and there is absolutely a place for him in this team, but if he wants to play being Xabi Alonso, then he is going to have to have a Javier Mascherano next to him or else just accept the fact that we will continue to concede lots of goals. Unfortunately, like Neil, I don't see this happening any time soon. Perhaps Rodgers can work around it, but that would suggest that essentially the problem lies with…
The Coaching
Given that it doesn't seem to matter what personnel play at the back for Liverpool, the same basic errors creep in, there is a perfectly valid argument to be made that the work on the training field simply isn't up to scratch.
Again, going back to Saturday as an example of this, the way we shaped up for the set piece that led to West Ham's opener could not have been planned. Henderson was picking up James Tomkins, West Ham's biggest aerial threat. If that was the plan, then I have no idea what else they thought the conclusion would be.
It was also alarming to see Rodgers resort to the three man backline after we had already gone 2-0 down. Perhaps this was forced upon him as Manquillo was clearly struggling with Valencia and we didn't have another right back on the bench, but to change the entire shape of the team on this basis, and then see the farce that was the lack of communication between Lovren and Sakho, just raised the siren again that nowhere near enough is done to address our defence at Melwood.
There have been calls to bring Steve Clarke back in as a defensive coach. For one, I don't think he'd take the job, and two, I don't recall our defence being a bastion of invincibility during Clarke's time here anyway. I also don't agree with the idea of a specialist defensive coach. Someone like that would be solely concentrating on that area of the field with no consideration for the attacking side of our game. This works in the NFL as the 'offense' and 'defense' are two separate teams, but a football team is one big unit (or at least that's the theory). Perhaps someone to come in as an advisor would be the way to go, and many have called for this to be Alan Hansen following his retirement from TV work. While I would agree with that, it is not a route I see Rodgers wanting to go down.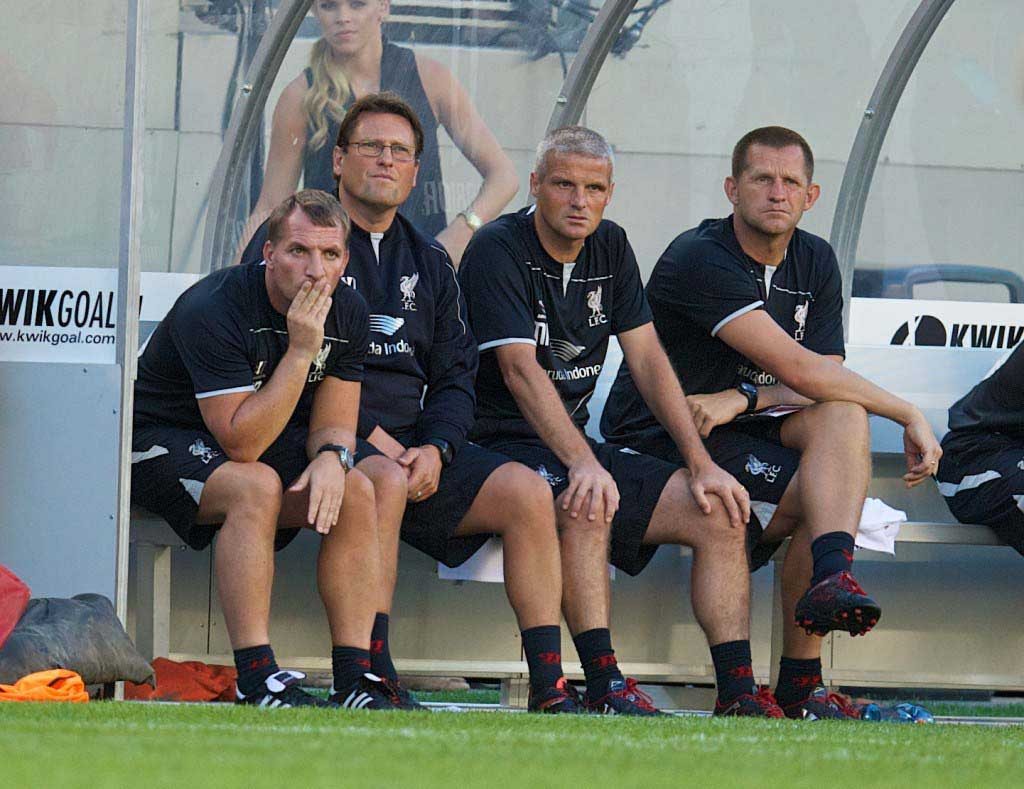 There are also questions being asked of John Achterberg, who was brought in as youth goalkeeping coach by Rafa Benitez and was promoted to the first team under that bloke that 'manages' England now. It may be a coincidence, but both Pepe Reina and Simon Mignolet have had big troubles as keepers since then. Rodgers knows his coaches better than we do, but on the surface there appears to be a big problem with how our men with gloves are being coached.
It might be harsh to suggest that Rodgers and his coaching staff aren't doing enough at Melwood. In fact it would be bordering on disrespectful to suggest it, especially when the one biggest reason attributed by pundits to why Liverpool concede so many is…
It's a result of the way the team plays
Under Brendan Rodgers Liverpool play a fast paced attacking game where they try to blow teams out of the water in the opening half hour. Given the speed and the numbers with which they break, it is inevitable that they are going to leave themselves vulnerable at the back. After all, this is what Barcelona have been doing for years and it works for them.
I don't buy it.
This is mostly disproved simply by looking at the sort of goals Liverpool concede. Hardly any of them are on the counter-attack following us committing men forward. A large number of them are from set-pieces that are merely defended badly, or as a result of sitting too deep and just getting pulled apart by the opposition's midfield and attack. Sure some goals can be attributed to going forward too much, but they are largely game sealers, such as Aguero's last month or Amalfitano's on Saturday.
Look at the 3-3 at Crystal Palace last season. That was all of our defensive issues summed up in ten horrible minutes, and not one of those goals was as a result of being too attacking. They all came from simply defending badly with no organisation and allowing Palace to look like Real Madrid.
Also, if this was the problem, then it would mean we have to stop playing the way we do, and nobody wants that.
Can it be fixed?
It can be fixed, but the fact that it hasn't been during Rodgers' time here so far, and if anything has gotten worse, suggests that either the manager doesn't know how to fix it, or that he's just not that bothered because he believes so much in the idea of outscoring opponents.
It may seem like a cop out, like sitting on the fence, like a very long article that promises to get to the heart of the matter and doesn't, but having looked at all the possible reasons why our defence is so shaky, I can only conclude that my answer is simply… all of the above, barring 'the way the team plays.'
You have to bear in mind that this defence is still very new. Playing with two new and young full backs who like to get forward, and a new fulcrum in the form of Lovren is going to take time to get used to. Like with the midfield and attack, we have lots of new players who need to gel. It looks bad at the moment, and frankly it is bad, but it is far from a lost cause. We are after all only six games into the season.
Brendan Rodgers has proven himself to be one of the best managers in Europe in the last 12 months, and he is still very much evolving and improving as a coach. He will know as well as we do that his defence is not performing to anywhere near the required standard, and he'll be hoping that the return of Daniel Sturridge will help to paper over those cracks for now with goals, as it did last season and against Spurs last month.
One thing is certain though, it needs to get better, and fast.