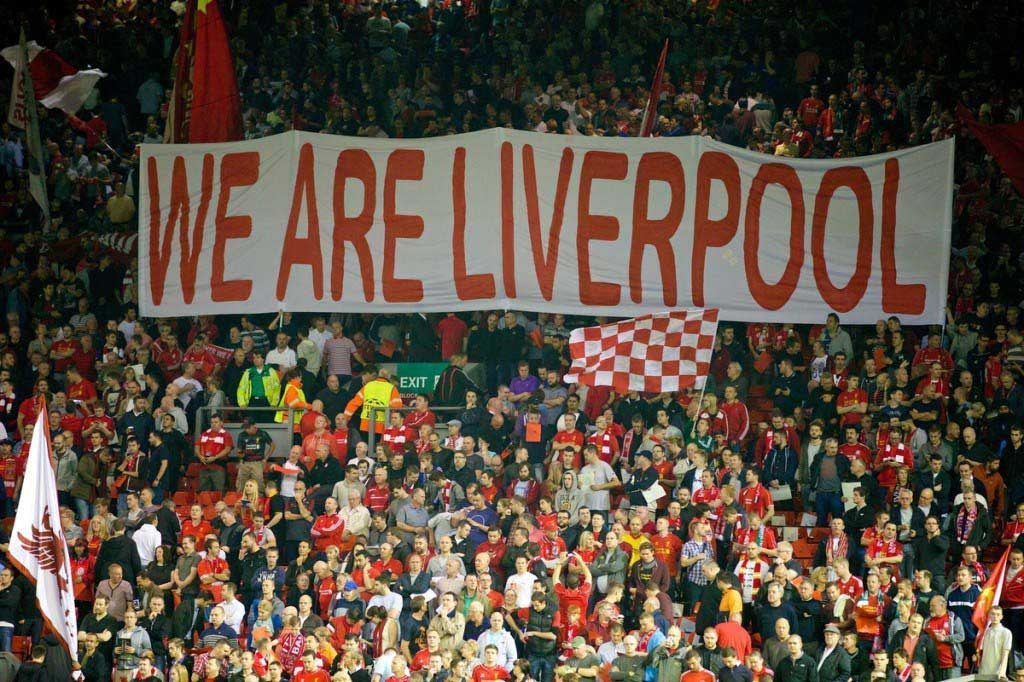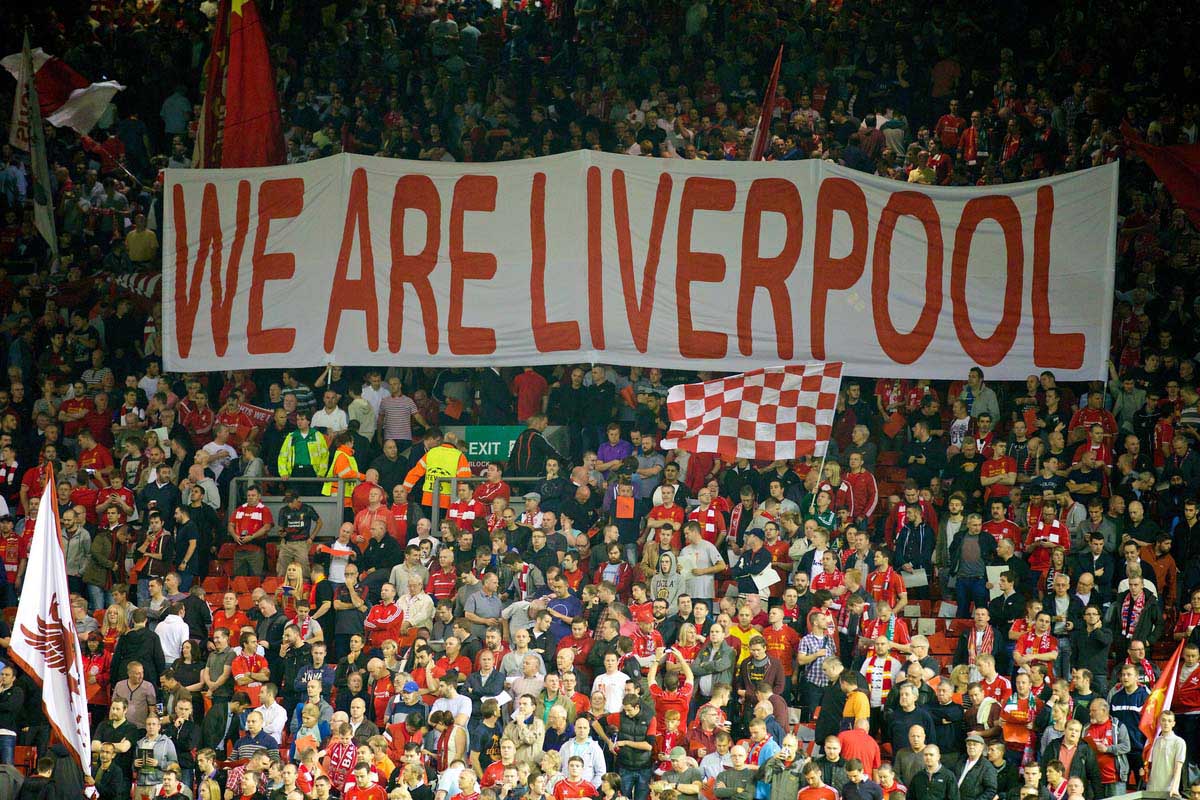 CHAMPIONS League nights are back. I'm later than I want to be, having stuff to do and then tickets to sort. But it works out well, getting up the stairs just as You'll Never Walk Alone is starting.
The Kop looks and sounds terrific. There is a We Are Liverpool banner the size of St George's Hall, seeming like its coming towards you the more you look at it. I don't know what it does to the opposition, but by God it frightens me. Actually, the opposition just seem to be enthralled by it all, enjoying the occasion in the way even a lower league team coming to Anfield in the cup will refuse to. The Bulgarians seem a great set of lads.
The referee, on the other hand, looks dreadful. Is that a black shirt, black socks and khaki shorts combo? My dad says he looks like a kid who has forgotten his PE shorts and been made to go out in his boxers, but all his mates are dressed the same so it can't be that. You leave a competition for a few years and this is what happens.
The match starts and I try to figure out what we are doing. It looks like a 1 and a 2 in midfield, with Lallana and Sterling wide of Balotelli. It seems to suit us better than the 4-2-3-1, with Henderson allowed to be more mobile, the wide men getting close to the forward and Coutinho seeing plenty of the ball. But it gets to 15 minutes and nothing much has happened. Then it gets to 30 and nothing much has happened. Then people start getting a bit edgy.
We're trying much harder to press than at the weekend, but we keep undoing good work with silly fouls, although the referee was as fiddly and annoying as you'd expect from a man dressed in such an appalling way. Suddenly there is a chance, through neat feet from Sterling and great running from Jordan. He can't get the shot away so squares to Lallana who gets it a bit stuck under his feet and then messes it up.
It's a funny performance from Lallana all in. He does some nice things but its all a bit 'and what?' He can't seem to figure out yet how the nice things he can do contributes to Liverpool winning football games, but he'll be alright.
When do we start worrying about Coutinho though? This was yet another position for the player who apparently hasn't been played in the right one yet, and not much better from him, giving the ball away too frequently and struggling to impose himself. He'll be alright too. Hopefully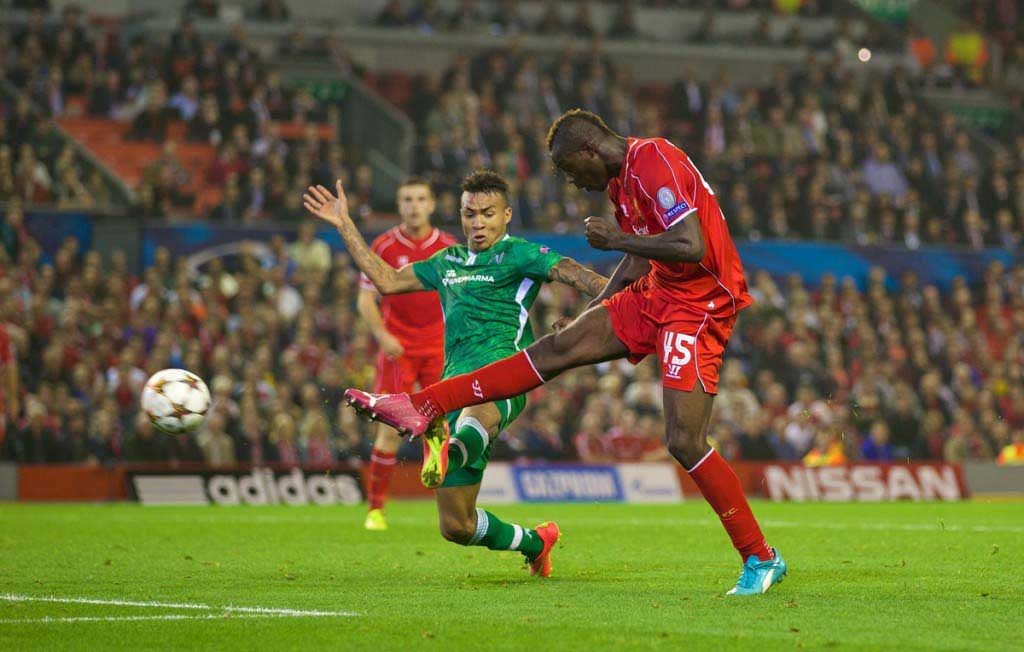 And then there is Mario. The man who can score a goal and still receive a shout of "now get him off" from behind me. His main problem seems to be that crowd and team mates can't figure out what he is yet. His persona and hype seems to have blinded everyone to the fact that he is essentially an old-fashioned target man. People want him running channels, when he just wants it into him. People expect him to turn and run, when mostly he just wants to pop it off. That is not to say he is always in the right position on the football field, quite often he is spectacularly in the wrong one, but that doesn't mean he necessarily needs to be running around a lot either. Just give it to him where he is. He takes wonderful care over the football, and will only ever be knocked over when he wants to be.
This type of striker brings questions about the balance of the squad, of course. Will the likes of Lallana and Coutinho ever gel with him, or do they crave movement to really shine? What of Sterling, who loves moving into space vacated by a forward, but now has one less likely to pull defenders about? For now we have what we have and we will have to make better use of it. Although, in terms of Sterling it was perhaps surprising that he and Lallana kept their positions for the entire first half, when switching them for periods may have allowed Sterling in particular to make greater use of his pace down the right flank.
A double sub allowed us to switch to the diamond so many crave, but it brought as many problems as solutions. Borini up top gave us a greater presence and threat, and it encouraged the full backs to push on even further, but we looked more vulnerable at the back too, perhaps due to Lucas's lack of mobility and Gerrard tiring meaning a lack of legs to cover. Both teams' best chances quickly followed the formation change, with Borini heading too close to the keeper, and Ludogorets hitting the post.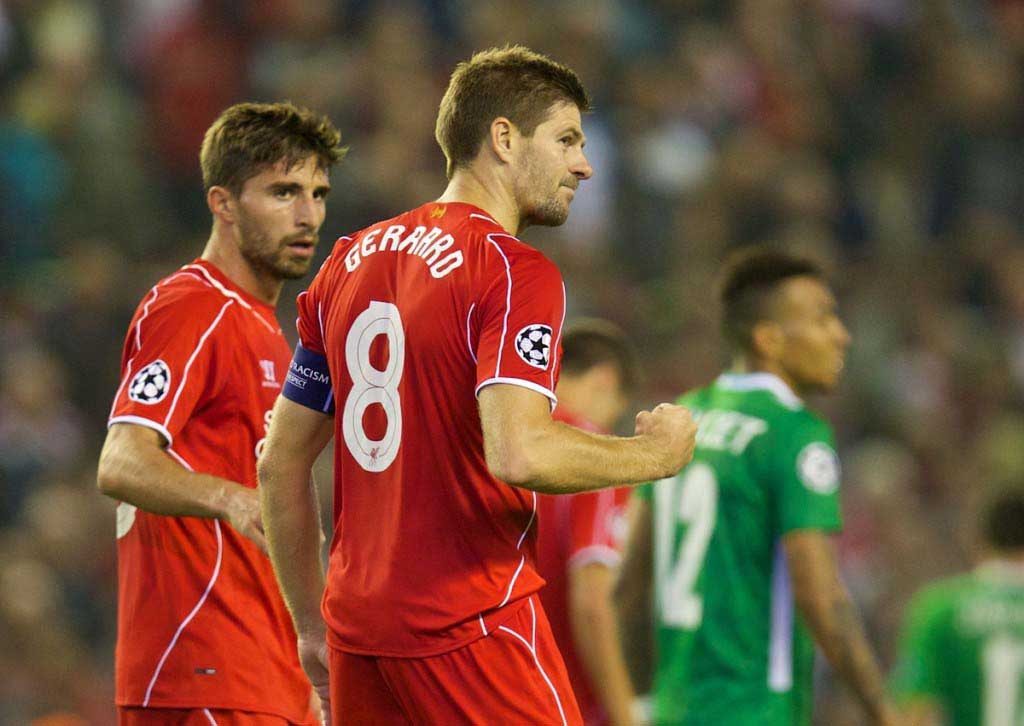 Did you think a goal was coming? I did you know, although I'm a terrible optimist. I didn't see three goals coming though, I'll admit that. Especially as, after Balotelli had finished so well, we then seemed to be doing a pretty good job of having nothing happen for the rest of the game.
That was until the 89th minute. Sterling perhaps naive in losing the ball when he can release. Moreno, who played well, certainly naive in getting so far ahead of the ball at that stage of that game. Gerrard possibly too in getting caught watching the attack and then out of position. They celebrate with a disabled fan. That was nice, wasn't it. Especially as at first I thought they were mocking one of ours…
That should really be that, no less than Ludogorets deserve. It is difficult to say at this stage, as other results can make you look stupid, but they looked nowhere near the group whipping boys they had been billed as, with plenty of neat play and determined defending. They deserved a draw, but didn't get one, a nervous goalkeeper getting a dreadful back pass and making a hash of it. Plenty more experienced have buckled so close to getting a result in front of the Kop. Gerrard does the rest. Then all the fans clap each other like we do in Europe. That's nice too.
So we start with a win. Tougher assignments to come, both in Europe and at home. We need to find a way of making it all work. Where good players look great and everyone seems on the same page. Hurry back Daniel. The music sounds better with you.
[yop_poll id="13″]
Pics: David Rawcliffe-Propaganda