THAT title was, quite frankly, a ludicrous thing to type after what should have been a straight forward game. But nothing is easy this season, nothing straight forward it seems. Even a home cup tie against a Championship team leaves you pulling your hair out and finishes so late I considered going straight to work after.
It had seemed like we might be in for a normal night at one point, I think. Jordan Rossiter scoring after a defensive mix up usually reserved for the home team at Anfield. If we can't cut them out, I'm at least glad they are spreading. Rossiter did finish it confidently though. In fact he did everything confidently, always wanting the ball and using it intelligently. When he tired Williams came on and did exactly the same with the added bonus of being dead big. Took his penalty beautifully too (after some wonderful encouragement from The Kop). Lucas did alright alongside them both as well, much happier in a deeper role. Maybe we might have some midfielders after all.
Behind them we didn't look terrific, but is it just me or do we seem a bit calmer when Toure is there? I know we were playing a Championship team, and he did loads of mad stuff, but everyone seems a bit more assured when he is about, despite him being the weakest of our four central defenders. Saying that we still concede from a free kick, Jose Enrique doing a great job of telling everyone else what to do before forgetting to mark his man. He was alright though Enrique, generally won his battles as always and part of a high proportion of the few good things we do with the ball too, including the second goal. He's a good fella to have around. Moreno may be clearly the better player but he could learn a thing or two from him still, including how to use the ball effectively in the final third.
Suso takes his goal well. In fact he did lots of things well. It was funny because his pro-activity  showed up the others playing in similar positions who were far more tentative. Lallana and Sterling (for 119 minutes at least) both had good games, showing nice touches and that they are generally good players. But too often they seemed to be waiting to see what was happening, looking around for too long and allowing the opposition to get set. Looking for others for inspiration instead of providing it themselves. Suso came on and decided to play however he wanted and that everyone else should try and join in. It went ok. Certainly better than for Markovic, who seems to lack a trick as well as a trigger.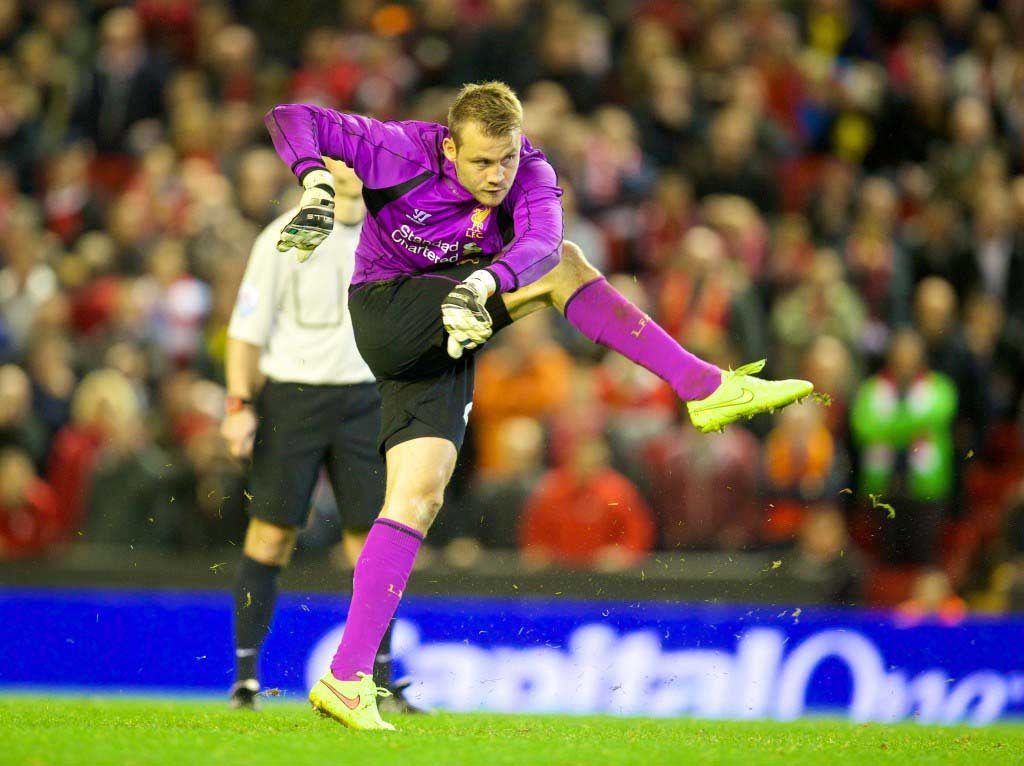 There is of course, a reason we are so tentative. A mixture of players not knowing each other terribly well and not being particularly suited to playing with each other, at least in the formation they have been set up in. I feel for Lambert really, isolated to a ridiculous degree, forced to run channels only to find himself unable to do anything when he receives it there. I feel for those attacking players behind him, turning and looking for a runner and only finding a fella who always wants it into feet. The outcome will probably be that Lambert features less and less, but the manager has paid money for him and so should really have a better idea of how he can utilise the skills he has without just sticking him up top on his own and hoping for the best.
You can tell it wasn't all Lambert's fault, as it wasn't much easier for Balotelli when he came on, having to come deep for the ball leaving space up front that no-one seemed to be instructed to fill. That said once Middlesbrough began to tire, Liverpool did begin to impose themselves, and had by far their best period of the game leading up to the Suso goal. After that they had a choice whether to press on for a third or see out the game. They chose the latter, possibly with an eye on Saturday. Seeing the game out is all well and good if you can do it. Liverpool couldn't, or maybe just can't. I said to my dad next to me it would take something daft for Middlesbrough to score and boy did we get it. Suddenly its full time and Boro players who were cramping up ten minutes ago look like they are ready for another 90 and our lads all look shell shocked. On top of this their end is bouncing and half the Main Stand have gone home. It doesn't look good.
The end is crucial here. I convince myself which ever end we kick will decide the tie. Luckily its The Kop end and so I assure myself we'll be fine. They miss first and everything is as it should be. All great pens from us until Sterling. I understand why he was put on the last one. A bad night for him in gifting them a goal at the death becomes a good one if he slots it. He doesn't of course, and so it becomes a rotten night. But he'll move on quickly. Bet he scores on Saturday. Then it goes on forever and ever and ever until one of their lads webs it into the stand out of sheer boredom and we've won. Muted celebrations as it should be. Some great penalties from unlikely lads though.
Middlesbrough deserve a lot of credit of course, their team for showing application and technique as well as spirit and their fans for turning up with a Justice banner, selling out their end despite it being miles to travel on a weeknight and being on the TV, and making a racket all evening. I'll let some strange behaviour pass, although having three Chelsea players on loan, a Chelsea away kit and singing songs about Chelsea goals against Liverpool does suggest something of an identity crises. The 'Sign On' stuff is shite though from a group of fans who a month ago rightly protested against the TV show Benefits Street being filmed in the town with a banner that read 'BEING POOR IS NOT ENTERTAINMENT'. They will probably use the dreaded 'B word' to describe the 'Sign On' chants. But making fun of poverty is either fair game or it isn't and the people of Middlesbrough need to decide whose side they are on. Warning though, on the other side are dreadful lads and they'll be laughing their heads off over two places in the North arguing over who this country have let down more.
Anyway, Liverpool need to get better and quick. More fluid, more solid and much more belief and character. Everton on Saturday. Any hopes Daniel?