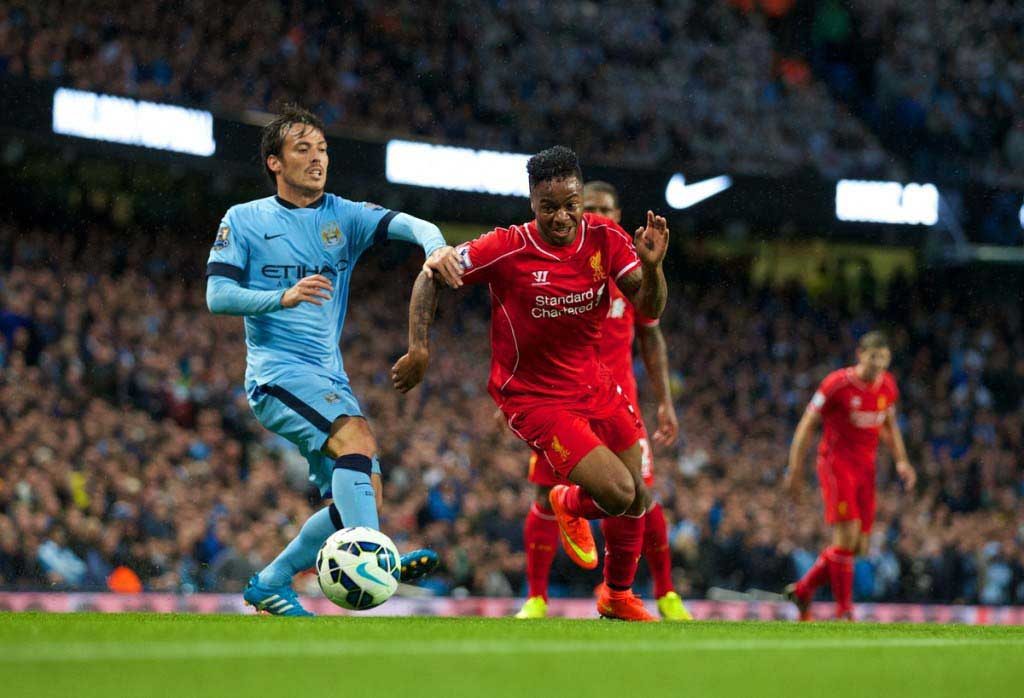 AFTER last season's jump from so far to so near, Liverpool are desperate to make a statement. The club wants to tell the football world that last season was no fluke; that the club is here to stay – feasting at the top table, back in the Champions League, challenging for trophies and competing for the signatures of the world's best players.
The work off the pitch this summer has made a statement, not least the £16million signing of Mario Balotelli. Bolt on the Italian striker's move to that of eight others at a total cost of £116m and it shouts of a club meaning business. We needed numbers and we've got them. We needed a striker and we've got him. The new number 45's switch from AC Milan has brought box office and X-factor before he's kicked a ball in anger wearing the red. But while the new pantomime villain prepares to take stage, the supporting cast is still at rehearsals. If off the pitch shouts ambition, on it whispers problems. Liverpool are struggling to find their voice.
In the two matches so far, the Liverpool that ran the best-paid sports team in the world so close for the title last season is yet to beat its chest. The new Liverpool is still finding its way. Players predicted to fill the void created by the departure of Luis Suarez are yet to truly step up to the plate. Of Phillippe Coutinho, Daniel Sturridge and Raheem Sterling, only the 19-year-old has truly picked up where he left off, and even then much less frequently than hoped for or expected.
The fluid football seen in the final warm-up game against Borussia Dortmund has been in short supply in the two Premier League games witnessed so far.
Add that to the problems at the back – a goalkeeper few trust, a new central defensive partnership finding its way and new full-backs to be integrated while an old one infuriates – and it's easy to understand the inevitable doom and gloom reaction to last night's defeat by so many.
All that said, it's worth remembering the start to last season. Then like now, it was far from flattering. A win over Stoke that relied on a penalty save from Simon Mignolet and a finish from a chance that was far from clear cut for Daniel Sturridge.
The game that followed at Aston Villa was a similar story – outstanding stops at one end, outstanding finish at the other. Liverpool won their first three games of 2013-14 by the same 1-0 scoreline. They followed that with a 2-2 draw at Swansea and defeat at home to Southampton. In fact, Liverpool were losing 3-1 away to Hull as late as December
In that context, an Anfield win over the Saints – albeit one that relied on a degree of luck – and defeat to the reigning Premier League champions on their own ground (as was the case last season) feels less crisis-like. There is time for Liverpool to find rhythm, for partnerships to develop, for understandings to improve and for players to bed in. But that's not to say Brendan Rodgers hasn't got some work to do. Options are great. But options can start to look overwhelming.
The defence as a unit has so far been unconvincing. Much of the analysis of the City game has involved finger pointing for individual mistakes – Alberto Moreno dallying when he should have cleared for the first, the Spaniard caught swapping positions with Coutinho on the second, the same player failing to close down Jesus Navas as he played in Sergio Aguero for the third.
But a second look at all of the goals shows it goes further than an error-strewn debut for the 22-year-old from Seville (for balance, he showed a lot of promise going forward and statistically he won all five of his tackles and completed 43/49 passes. He also did well to sweep up behind the caught out centre halves when Edin Dzeko threatened in the second half­).
Steven Gerrard showed after just nine minutes against City what he can still bring to the Liverpool team when a wonderful pass from his own half picked out Sterling but the teenager failed to get any real purchase on his shot on the turn.
But when a midfielder is playing in front of a defence, he also needs to defend. And Gerrard has looked off the pace in the two games so far in that respect. All too often he is seconds too late to block or tackle, or he is caught out positionally, as was the case on the first goal Stevan Jovetic scored when he failed to track David Silva's run.
Joe Allen and Jordan Henderson's contribution against City meant the collective pressing that had been missing against Southampton was better, but when the turn-taking to push falls to the captain it often looks laboured. Could the captain benefit from being on the bench? Does he need a breather? So far Rodgers doesn't seem to think so but it's notable that at the same stage last season we were having the same debate. Time catches up with everyone, including legends.
City's goals also highlighted communication issues – a problem Dejan Lovren was tipped to solve. If he's leading others aren't following. On the first goal, he is too close to Skrtel and too far from Moreno. On the third, he is caught out the wrong side of Aguero, who had only been on the pitch for 20 seconds, while Mignolet will not look at his positioning for that goal with any fondness when he watches the video back.
Liverpool conceded too many goals last season but it was offset by the madness of an incessant attacking force. The opposition was simply blown away. Now? Parachuting in new defenders has so far failed to solve the issues at the back, while going forward the Reds are suddenly looking hesitant and wasteful when it comes to the key pass or finish. The spectre of Suarez looms large all of a sudden, and not just on the lips of those that love to make trouble for Liverpool.
As so many have said, it's right that for 40 minutes, Liverpool played well last night. They dominated possession, they largely kept City at bay and they showed a lot of neat play around the middle of the pitch.
But a second look says much of it was slow and measured rather than the throat-cutting stuff of last season. Coutinho again flattered to deceive, while Sterling wasn't utilised well enough. As a result, in terms of clear-cut nailed on chances, there wasn't that much to shout about in the final third.
City targeted Liverpool's left side and were clinical, incisive and decisive when they had to be – the second goal – taking away how Liverpool could have defended it better – was brilliantly worked over 18 or so passes and culminated in a neat flick followed by a clever finish from Jovetic, a player Rafa Benitez pushed hard to sign during the dark days of Hicks and Gillett. To underline the point, City scored three goals from just four efforts on target.
Liverpool, by contrast, actually had more touches in the opposition area – 25 to 22 – and just one less pass than City in the attacking third (168). The Reds also attempted 19 take ons to City's eight. But another stat – crosses – underlines just how poor the final ball and decision making around the opposition box was from Liverpool – just five out of 26 crosses were successful on the night.
In the 40 minutes up to the opening goal, the sum total of Liverpool's attacking threat was Sterling's half chance from Gerrard's ball and Sturridge's opportunity when he skinned Vincent Kompany and shot at Joe Hart from a tight angle. That he then wasted the cross from the rebound was more typical of The Reds when faced by the whites of the England goalkeeper's eyes.
Those chances aside, Jordan Henderson wasted a cross when well placed after Sterling released him, Allen had a shot blocked by Kompany and Gerrard's shot from miles out was deflected for a corner.
That was during Liverpool's time on top with the scores at 0-0. But though the performance was widely perceived as dropping off a cliff in the second half, Liverpool had chances. A marginal (but correct if needless) offside decision denied Sturridge after he buried a delivery from Johnson. The striker also miscued a header from Moreno's cross and shot too close to Hart on his weaker foot from another tight angle after a nine-pass move that hinted at better days ahead.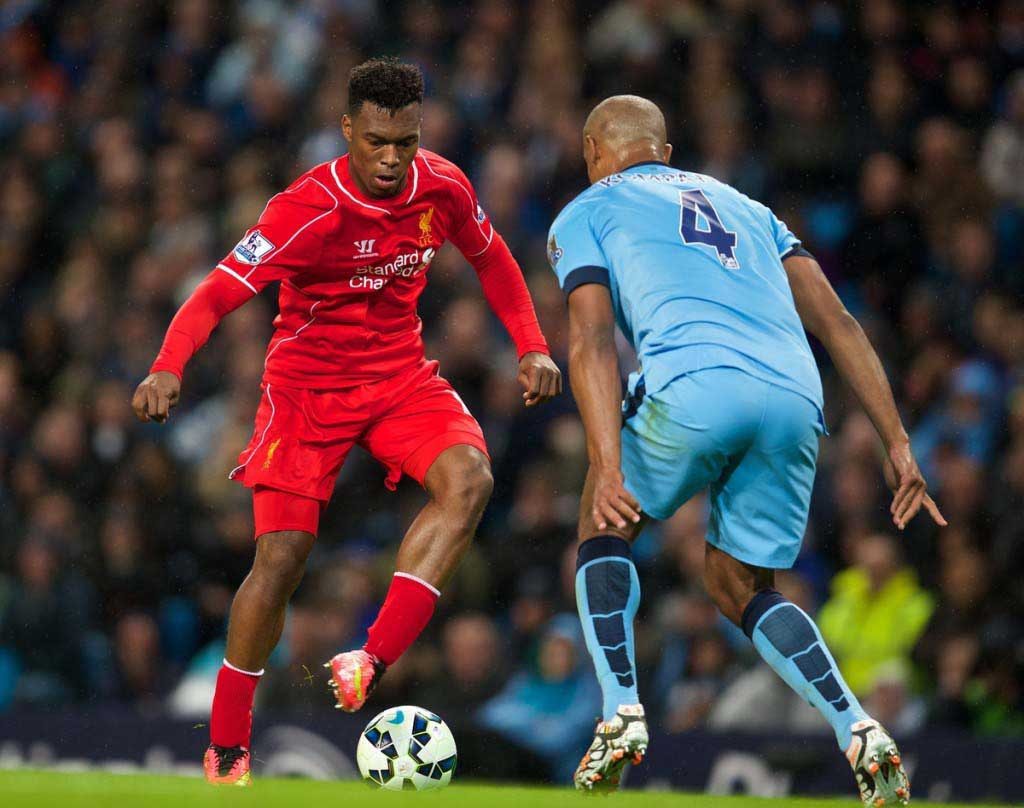 It was Sturridge's persistence – and shoulder barge on Martin Demichelis – allied to Rickie Lambert's head, that led to the late consolation Pablo Zabaleta own goal. And the Scouse striker – perhaps still starstruck by his surroundings – inexplicably decided to attempt to square it when he was released by a ricochet and should have shot. It was the overthinking that comes with a new job. Hopefully the natural football is to come.
The first away defeat of 2014 seemed to hint that yet again the hardest step to make is the final one. Fears that Liverpool may have to put a foot back to make the last jump forward will inevitably grow. There are plus points – Lazar Markovic's cameo, in particular his deliciously-weighted first-time ball to Moreno, suggests a player that will fit in and cause problems of the right kind. Moreno himself can point to the positives despite his involvement in the goals against and Sterling is increasingly displaying heightened vision with his passing that suggests he could be a fulcrum for Liverpool's attacking play for years to come. Allied to his strength – his tussle with Yaya Toure was a joy to watch – it's clear that we have a real talent on our hands. Now to make the most of it.
We also have Adam Lallana to come and The Reds can also take some solace from the fact that the hardest away of the season against a team that has won the league twice in three years is out of the way. It's worth remembering that despite being fined £49m for breaching FFP rules in the summer, City – as champions – still went out and brought in Willy Cabellero, Bacary Sanga, Frank Lampard, Fernando, Eliaquim Mangala and Bruno Zuculini.
Their bench yesterday was Caballero, Sagna, Kolarov, Milner, Fernandinho, Navas and Aguero, and after Liverpool had been undone by a fourth choice striker in the form of Stevan Jovetic, it was £38m striker Aguero who stepped off the bench to score with his first touch.
It was a powerful reminder of what Liverpool have to compete with at the top end of the Premier League. The Reds' last three away defeats in the league have been at Manchester City, Chelsea and Manchester City. Cracking that conundrum will take some doing.
Nevertheless, Manuel Pellegrini said afterwards Liverpool will be 'fighting for the title'. There are better days to come, Liverpool are three points up on last season's corresponding fixtures and we have the Champions League draw to look forward to this week. The current 'problems' rank way below finishing seventh, sixth, eighth or seventh, being managed by Roy Hodgson or staring at financial ruin. Context is required before heads are lost.
While Liverpool might now look to Spurs – scene of last season's perfect performance – with trepidation given their start, you can be sure that they are equally concerned about facing a Liverpool side buoyed by Balotelli.
Rodgers said yesterday he will bring 'trouble'. Maybe that's just what this Liverpool side needs.
Pics: David Rawcliffe
[rpfc_recent_posts_from_category category="1″ meta="true"]
[yop_poll id="8″]