WIND the clock back to September 2, 2013. Liverpool sits pretty at the top of the Premier League having comfortably beaten Manchester United at Anfield. The scoreline read 1-0 to the Reds, but the outcome was never in danger. It was a controlling performance on a comfortable afternoon topped off by a winning goal from Daniel Sturridge – his third points-clinching finish in a row.
The victory over David Moyes's side  – such a shame he had to go – was also the day that Liverpool celebrated Bill Shankly's birthday and, inevitably, some of the fantastic words of the great man were once again on Kopite tongues.
One phrase that leapt to mind was the oft quoted: "First is first and second is nowhere." Liverpool – minus the banned Luis Suarez – were top of the league then, but it was more grit and hard work than finesse and flair that had put them there and nobody – nobody – was tipping them to stay there or produce the champagne football that would follow.
Ok, maybe nobody is unfair. The people who throw money on for Liverpool to win the league EVERY season – they might have said it. But did they mean it really? It was surely more hope than expectation, a mindset or maybe a tradition; a routine that makes as much logical sense as lucky undies or not 'taping' the match because it's bad luck. The same people who said we'd win the league at the start of last season probably back a Liverpool 5-0 win every game and lumped on Rob Jones for first goalscorer every week (one for the kids, there).
The point is Liverpool made a huge unexpected jump last season. A leap in progress that nobody really saw coming. Don't forget that two years ago, Steven Gerrard – a man you can safely say wants a league title winners' medal as much as anyone – was accepting that he would see out his career without ever being part of a title challenge again. "We were eighth last year," he said then. "If this season goes well, we get a bit of luck, improve, we have an outside, no, a 50-50 chance of being in the top four. That's being realistic. It's achievable. But even if we do sneak into the top four I'll be 33 at the end of the season, so that's why it'll be a miracle if we win the title before I finish."
We were so close to that miracle. Yet, eight months on, the very same words of Shanks were being used by supporters of rival clubs to chastise Liverpool fans: "What happened to second is nowhere?" This from supporters of rival clubs that really had finished 'nowhere' in the grand scheme of things.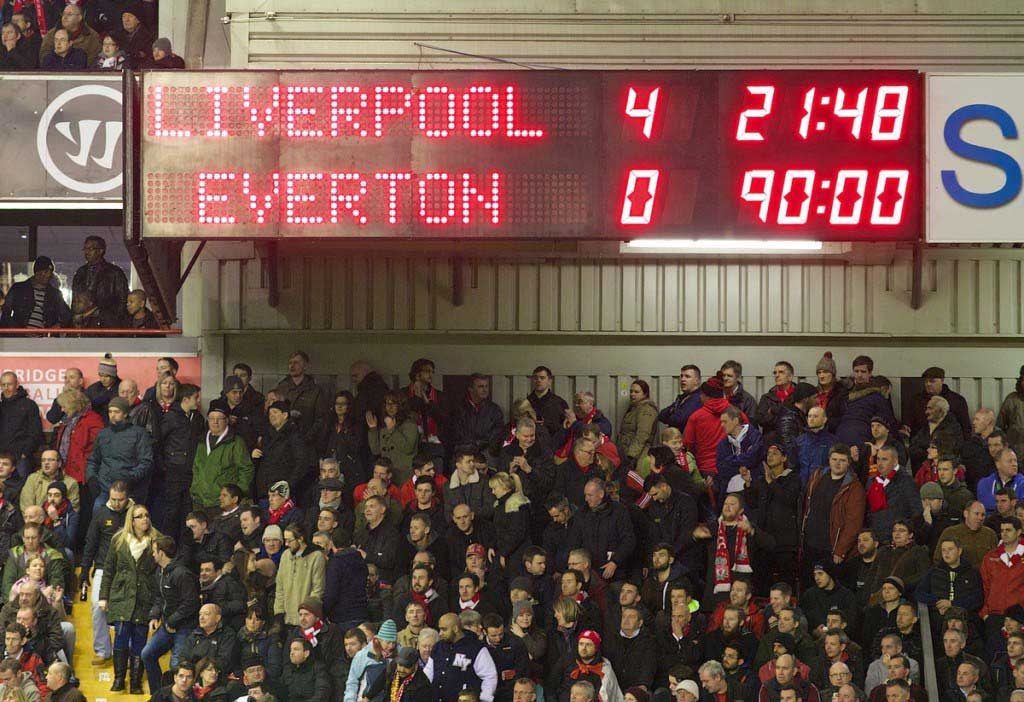 But one-upmanship aside, the truth is, in the modern game; a competition vastly different from that contested by sides led by the man from Glenbuck, second can't accurately be described as 'nowhere' – not when you're attempting to overthrow two of the richest clubs in word; clubs that can afford to stockpile talent on phone number wages; clubs that have consistently qualified for the Champions League and clubs that, for a lot of foreign players at least, carry an added geographical lure simply because of their location in that London.
It was heartbreaking to go so close to the title and not win it after 24 years of waiting; to score 101 goals; to rack up 84 points. But now that the dust has settled on that campaign – and a new season is upon us – it's easier and less painful now to recognise that doing just that WAS an achievement. It might not have brought home No.19 but it has put Liverpool back on the map for the right reasons for the first time in a long time. The title was the dream. The goal was the Champions League.
Going back to September 2013 again, and re-reading match reports at the time, it's clear that very few outside of the Anfield bubble expected Liverpool to be there or thereabouts in May, let alone take the race to become champions to the last game of the season. Take Phil McNulty, chief football writer for BBC Sport. He wrote after the Reds' victory over United: "Rodgers knows that if Liverpool finish fourth this season, and there will be many more battles to overcome, he can regard it as a triumph. Anything else is a bonus."
However much the emotional self wants to flail arms around and recall days of yore on reading that statement, he was right. Since Liverpool were last crowned Champions in 1990, the Reds have finished second just four times. In 90-91, Liverpool, rocked earlier in the season by the resignation of Kenny Dalglish, were still in with a chance of the title with two games to go but ultimately lost out by seven points to Arsenal, who had been docked two points for a mass brawl with Manchester United.
In 2002, 80 points wasn't enough to win it as Arsenal again prevailed by seven points, while in 2009 Liverpool topped the league in May and clocked up 86 points – enough to win it last season – but finished four points behind Manchester United. Howard Webb. That Macheda lad. Pair of bastards.
But back to the point. In the context of how good the opposition are – and the relative positions of the clubs financially –  last season was a good one. In the context of 24 years of attempts to win the league, last season was a good one. And in the context of league finishes since the last second-place finish in 09 – seventh, sixth, eighth, seventh – last season was a good one.
Brendan Rodgers exceeded all expectations – and did it while fielding a side that produced some of the most entertaining football Anfield has seen since the aesthetically delightful 1988 side. More, Rodgers did it with goals; an emphasis on attack. A high pressing, high energy game that, by in large, the Premier League had no answer for. That's been the case for a season and a half now. It's no fluke – it's the plan; it's what the players are working on at Melwood every day to achieve. Last season's 101 blitzed the goal tallies for those three close calls for number 19. 1991: 77 goals. 2002: 67 goals. 2009: 77 goals. Rodgers will be demanding the same again this season. And even without Suarez there's no reason to suggest that Liverpool's style of football won't continue to be a nightmare for the opposition.
McNulty went on in his United game report from last September: "For Liverpool, no-one should regard this as the moment when their title-winning intent was declared. This is completely unrealistic despite the wave of elation that swept around Anfield at the final whistle."
He couldn't have been more wrong, but hindsight gives us all 20-20 vision. Perhaps though, it should serve as a warning against some of the statements sweeping across cyberspace about Liverpool 'doing a Spurs' before a ball has been kicked and before the transfer window has closed.
This isn't a 'we go again' piece. But I must have missed the memo that says you throw the baby out with the lad who bites people. The amount of fans mourning the sale of Luis Suarez and predicting the impending doom of Liverpool Football Club is frankly staggering.
Yes, Luis Suarez was probably – ability wise – the best player to wear the red, and, on current form, ranks as the third best player in the world. But solely responsible for last season? He was the top scorer, he created many more, and he was often key to Liverpool's play. But it's doing Daniel Sturridge, Steven Gerrard, Raheem Sterling, Jordan Henderson, Martin Skrtel, Flanno and the rest a huge disservice to suggest he did it on his own. Brendan Rodgers also deserves credit. His coaching improved Suarez, the statistics and what we witnessed with our own eyes said so. How Rodgers set his team up got the best out of Suarez. So who's to say Sturridge will now not flourish in Suarez's absence? He clearly wanted to be the main man – now he is.
Who's to say that Sterling won't push on and continue to dazzle under Rodgers? He didn't look short of confidence at the World Cup and has continued to impress pre-season. Who's to say Coutinho won't play a more pivotal role, or that Markovic, Lallana (when he's back from injury), Can, Lambert and whoever else comes in won't hit the ground running and chip in towards matching Suarez's goal return?
Then there's the other side of the coin. Liverpool were all over the show defensively at times last season. Some of that was undoubtedly systematic – if you're so attacking then of course you will concede goals. But get in better defenders and perhaps some of those defeats become draws and draws become wins. Dejan Lovren is apparently a leader at the back, a defender who communicates and organises. Seeing is believing but if that's true it's something we've undoubtedly missed since Carragher retired.
There was a Keystone Kops quality to our defending at times last season that needed to be addressed whether Suarez stayed at Anfield or not. Oh, and while we're on that point – if you're a purveyor of the 'this is the end' viewpoint, you have remembered that even if the club hadn't pocketed the third highest transfer fee of all time, Suarez was missing the start of the season anyway, right?
And when he returned – probably in November – had he decided to have an in-match snack on an opponent for a FOURTH time, he was likely looking at a year-long (if not worse) ban. With Liverpool paying his wages. For all his brilliance with the ball, he was a walking time bomb. Liverpool have done well to bank what they have banked. Now they must make the most of that cash. There's still time to do just that.
Last season was a lesson. We've got a good manager. And a talented bunch of predominantly young players. They all buy into the plan and thrive off each other. The manager believes in his players and it looks like the same applies the other way around. There's a lot to be said for that and so often in the past the absence of that simple but crucial dynamic has undermined the Liverpool cause. How far can it take us? Well who knows? There are eight days to go and I for one am looking forward to finding out.
Now where are those lucky undies….