By Paul Cope
USUALLY I DON'T DO THIS.
But it's 2.40am on the Sunday before the season kicks off and I've just been out and frequented a couple of Rob Gutmann's new bars and, having considered all we've spoken about on my walk home through the city centre past the massive zip wire that seems to have been erected for no apparent reason (granted, I live and work in the city centre and very often big events pass me by without me noticing them, so the zip wire could well have been placed there for some profound reason I am unaware of), I've decided that this needs to be said.
It occurred to me tonight that we could very well be fucked. I'm an optimist by nature, but when asked by an Evertonian and City fan a week ago to predict the top 6 for the coming season, I realised that I could see us finishing 1st or 6th without any massive argument against either.
We're all worrying about the same things.
We need a striker.
Ricky is great, but he and we know that he's great if he's the back up to two top, top strikers like he thought he would be when he signed. None of us want the whole weight of LFC falling on his shoulders unnecessarily.
The squad is much better than it was, but injuries to Lallana (is that the right number of L's and N's?!), Markovic and Sturridge pre-season have done enough to place a few doubts in a few minds.
Chelsea and City look to be unbeatable with their ridiculous wealth and squads.
Arsenal weren't all that far behind last season and have strengthened with our most coveted attacking target.
United are much stronger with a positive Van Gaal than they were with a Hodgson protege Moyes.
Christ, even Everton have spent dough on a big signing (which is enough to unbalance the world in itself).
At about midnight I was starting to worry about the whole thing.
Then as the night wore on and we had conversations that I can't repeat here for fear of being sued by CR7, I started to remember the end of last season.
By the time I'd walked home (we're talking a 10 minute walk past the Lobster Pot and the Rose and Crown here, not the road to Damascus, but still…), I'd realised something important.
I'd spent half the night talking about how we need someone to replace the chaos that our Luis brought. Someone that strikes fear into the heart of every opponent because they just don't know what might happen next. Someone who costs so much to buy that it really stands us above all our competitors for that much coveted league title.
We concluded that that person just doesn't exist. Part of me thinks even Messi couldn't replace what we had with Luis – he wouldn't give us that chaos element that bamboozled so many of our foes last year.
We said what we need now is for all of the new boys, and some of the old, to collectively create the chaos. This team can't compete with Chelsea on pragmatism or City on depth, but it could, just maybe, create enough chaos amongst Sterling, Coutinho, Lallana, Henderson, Markovic and Allen, to constantly be attacking, just about to go past you, just about to go round you, just about to pass through you. Liverpool to never let an opposition player have a second's rest, harrying, pressing, striking fear into the heart of anyone who is given the responsibility of looking after the ball anywhere near any of our young, dynamic midfielders (and that's without mentioning the man mountain that is Emre Can). Our ball. Our game. We can do that. All that. But could it be enough?
And then it dawned on me.
The chaos wasn't Luis.
The chaos that we have that no-one else can buy is us.
I walked into the pub after the first game of last season and declared that we were going to win the league. We had just beaten Stoke 1-0 at home. Suarez didn't play, but our keeper made a double save from a last minute pen and we all went bananas.
Something changed that day.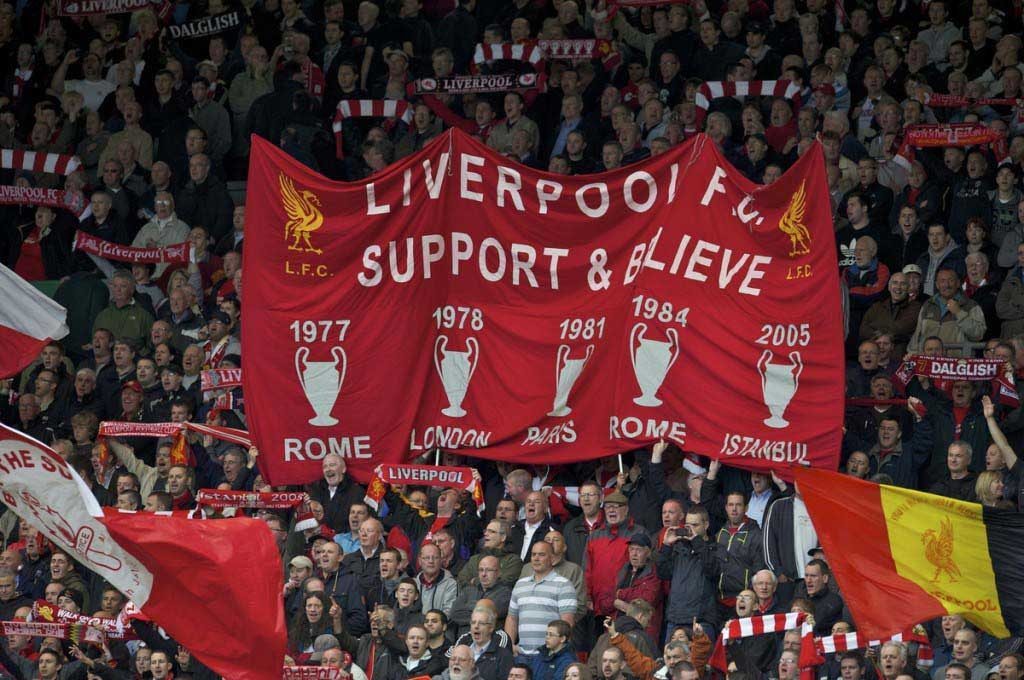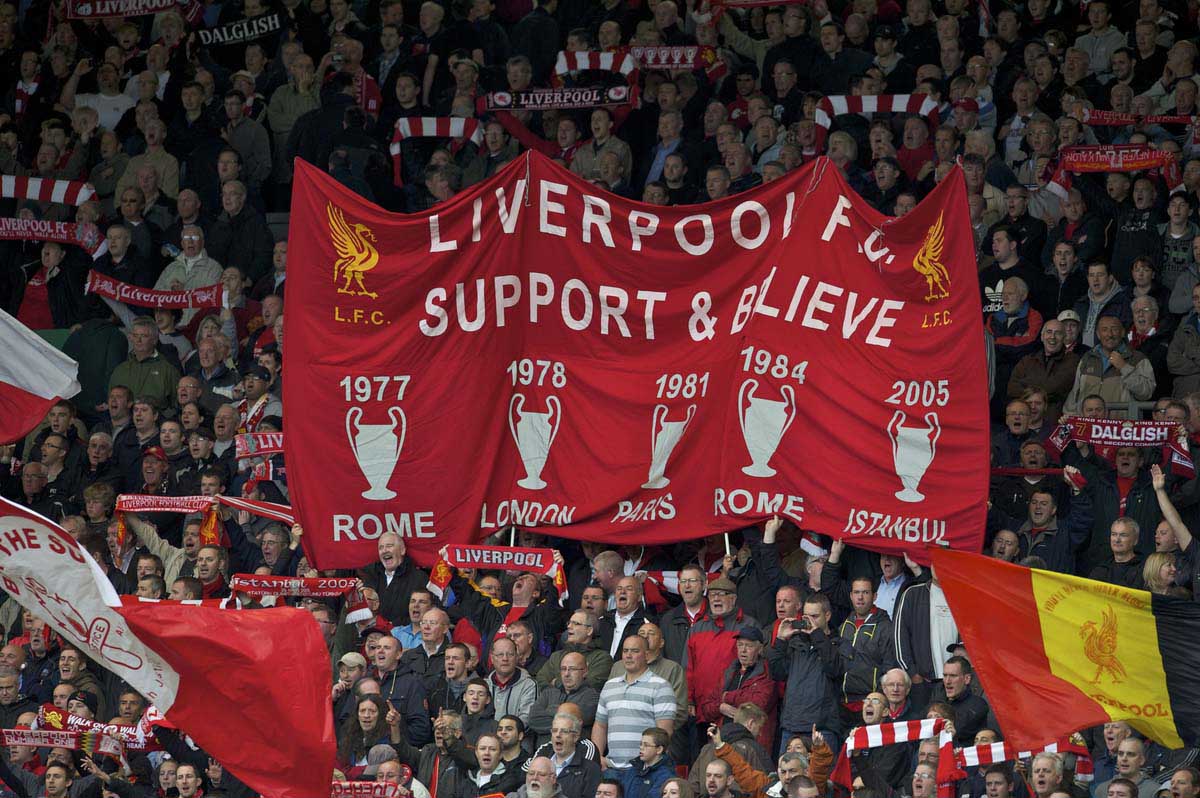 After years of laying dormant, something inside of all of us remembered that we are Liverpool Football Club, and we are meant to be at the top of the top table, leaving in our wake anyone who dared to question our superiority. Our ground doesn't have empty seats at the penultimate game of the season when we need to win to win the league, and we will never, ever, have to hand out plastic flags. For any reason, ever.
We inspire the chaos.
We bring on the madness.
The lads who have signed will have been told tales and shown footage of the build up to the games at the end of the season. Stories of flares and banners, and crowds greeting buses. Stories of songs and unbridled joy at this red machine stomping over everything in its path.
The really old guard like Gerrard (frightening as it is that he's not just the old guard but the really old guard) will tell stories about how Champions League nights will make the new boys (and the young boys) tremble in their boots.
And that is the point of this story.
It's up to us.
Let's start the season as we mean to go on. Let's drive Brendan's Tricky Reds to a demolition of Southampton. Let's show the new boys what Anfield is like when we all move as one unstoppable Red tide.
At 4-0 up after 20 minutes let's remind ourselves and our team that goal difference matters in 37 more games. Let's push for more. Let's remind last season's lads that finishing second wasn't the end, it was just the beginning, and let's show the new boys just what they've joined.
A team ready to dominate for years like its forefathers.
I have a dream: 40,000 people will sing after an hour on Sunday that we are going to win the league. And we will keep singing it all season until the self fulfilling prophecy does exactly what it was always meant to do.
They can be pragmatic, and they can have great squads, but they can't buy what we've got.
We are the chaos.
We are the madness.
And we are going to win the league.
[yop_poll id="1″]