WHAT an annoying buzz phrase it is. Having been a civil servant for a large part of my recent history, it has been haunting me, following me everywhere. Constantly being told what we are doing 'going forward'. In the last year or so, I have noticed it creeping into the football vernacular. It could well be my biggest criticism of Brendan Rodgers. My work life has contaminated my football life. Every time I hear the term uttered it sends a shiver down my spine, I die a little, as the song goes. It makes me cringe to the extent that my face begins to hurt.
So now, with less than two weeks left of the transfer window, it is with a bitter irony and self-loathing that I can't stop asking myself, what are Liverpool going to do this season going forward?
Sunday saw us rip open our first present expecting to see what we'd been asking for since May. It wasn't quite what we were after. Less shiny, less flashy, less exciting, but it was a present nonetheless and you have to be grateful for that. Some kids got nothing when they opened theirs.
As Rodgers alluded to in his post-match interview, the 2-1 win over Southampton was eerily similar to the 1-0 success over Stoke on the opening day of last season. A slow performance where we were troubled an awful lot more than we thought we'd be. Then a Daniel Sturridge winner and a potentially season-catapulting last minute save from Simon Mignolet occurred. If we continue along this parallel road, it'll mean single goal victories at Man City and Tottenham. I'd take that.
One thing that has been discussed endlessly since the final whistle blew at Anfield is the way Rodgers set his team up. The midfield did not work as it should have. Henderson was too wide to be as involved as he needed to be given the lack of legs in Gerrard and Lucas, Coutinho was marked out of the game, no doubt a tactic top of Ronald Koeman's 'to-do list' after he saw the little Brazilian consistently flummox the Dortmund defence the previous weekend, and Lucas, bless him, just cannot play in the same team as Gerrard anymore.
Questions about the midfield are though for a different article, because I am a man who likes it at the business end, so to speak.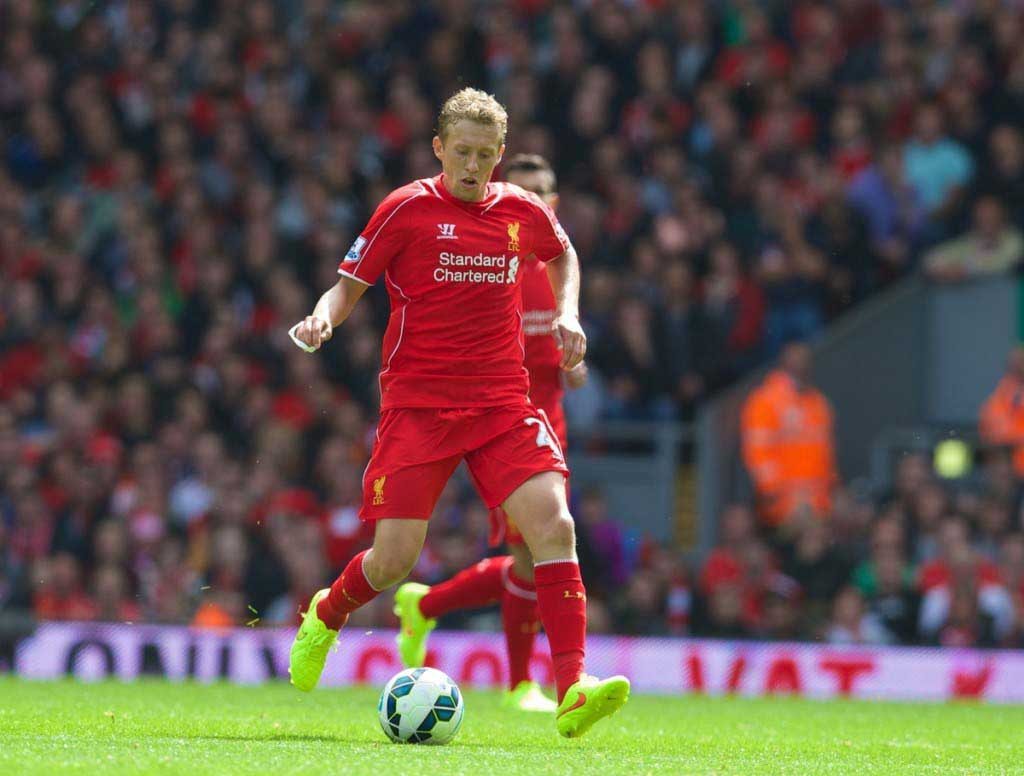 Away from the match, all of the talk has been about Liverpool's remaining business in the transfer market. The work done behind the scenes to bring eight players to the club already has been fantastic, but as Rodgers has confirmed, there are one or two things more to be done. The top of everyone's list seemingly, another striker.
While the personnel of Sunday's midfield could be questioned, we may have seen the formation that Rodgers ultimately favours. A midfield three, with two wider players either side of a lone striker. That changed later on after Rickie Lambert came on, and that gave Rodgers the chance to show off his alternative 'plan B'.
There is no denying that Rodgers loves his options, to keep people guessing, and that's a brilliant trait to have. However, it's a pain in the arse if you are trying to write an article predicting what kind of squad he is looking to put together.
As I said in my Premier League preview last week (shameless I know!) Daniel Sturridge is turning into a truly great player. His goalscoring record since coming to Anfield has been well documented. I recall many who were very unsure about bringing him in from Chelsea, I had my doubts about him as anything more than a decent alternative to Luis Suarez, but not only has he exceeded those expectations. He's obliterated them.
However, the Liverpool manager has made his intention clear to bring in a new striker to help him out. The great question is out there. What kind of new striker is Brendan Rodgers looking for?
You've seen all the names linked. From Wilfried Bony and Samuel Eto'o, to Edinson Cavani and Radamel Falcao. Rodgers has succeeded in keeping people guessing, because virtually every player linked is almost entirely different to the last.
If someone along the lines of Bony or Eto'o comes in, then you would expect that this would mean Rodgers is dedicated to one up top, with the options to go with two when needed. However, should someone of Cavani or Falcao's ilk make their way to Zaf Iqbal's physio table of destiny, as with Suarez before, Rodgers would have two strikers in his squad too good to leave out, so would surely have to lead with a front two once again in most games. Of course with the higher number of games Liverpool will be faced with this season, it would also give him the option of resting one or covering injuries by playing one as a lone striker, but this would still be a secondary tactic. Ultimately, it'll be a front two when fit.
So this is where the question becomes clear. Stay true to your favoured tactics, or put your trust once more into an insanely talented front two? Practically everyone I have asked has said the same thing. "Buy a superstar striker and worry about where to put them later. We need to replace Suarez's goals."
Brendan Rodgers didn't play with two strikers until he stumbled across Sturridge's brilliance. That's not to say that he 'put up with' the SAS. It could well be that the great adaptor has done so again. He's found a system that was very successful for him and perhaps he thinks blitzing the opposition with attacking brilliance is the way to go.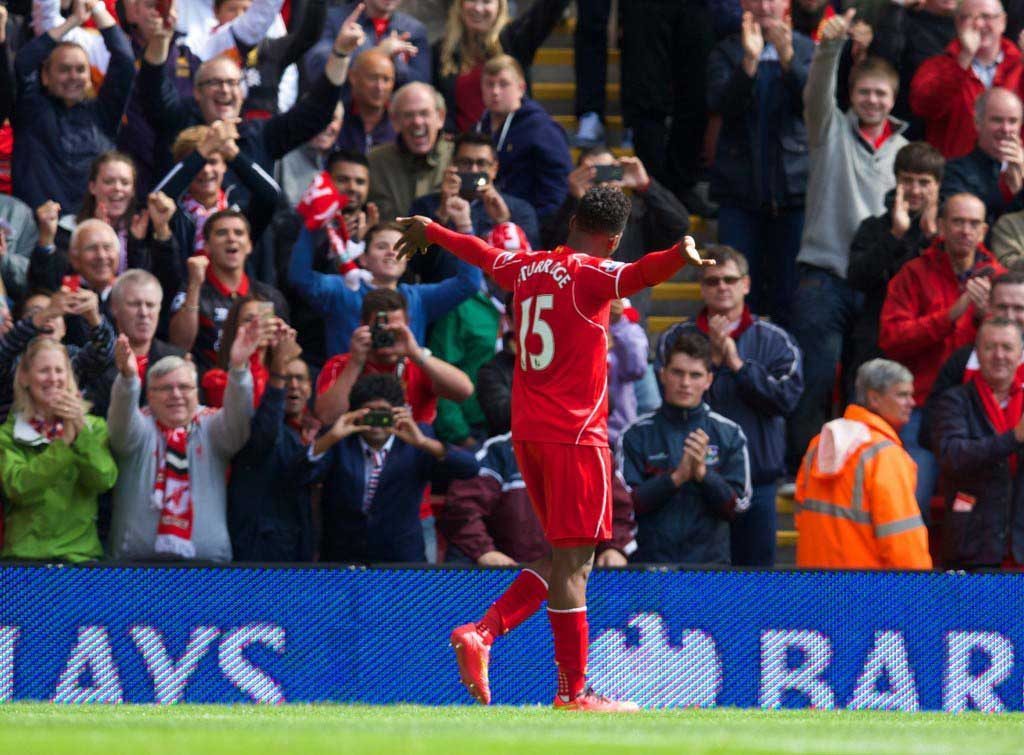 On the other hand, Rodgers has just spent £45m on attacking midfielders, an area we were already fairly well stocked in. That could suggest that he is trying to get back to his 4-3-3 or 4-2-3-1 preferences pre-Sturridge.
There are so many permutations to consider. Buy someone like Eto'o? What if Sturridge gets injured for a long period? Can Eto'o be trusted to lead the line with Lambert deputising for 10-15 games? Buy someone like Falcao and rotate your attacking midfielders to keep everyone happy? Or buy Marlon Harewood to play the ultimate mind game?* (Like the guy who cuts himself before a fight just to intimidate his opponent)
There is of course also the argument that this is Sturridge's time. He deserves to be Liverpool's number one striker, and buying another top name who needs to play every week will simply be a kick in the face for him. There again, did playing alongside a world class talent like Suarez raise Sturridge's game? Did we see the best of him last season because he had a tremendously talented strike partner to work with? Does his fitness record make it too much of a risk not to buy another top level option?
These are the questions that Rodgers must answer between now and September 1st. The kid in me wants a big name. I want to unwrap the present and see the most expensive and flashy toy on the market. That'll show all those other kids.
However, remember that sometimes you don't get the dream present. That gift-wrapped Stretch Armstrong, that Tracy Island and that PlayStation 4 seem great in your head. That Portuguese kid down the street has the best stuff, but sometimes getting what you always wanted doesn't ultimately make you as happy as you thought it would.
Lazar Markovic, Adam Lallana and Rickie Lambert all offer something different and something useful. Will a backup striker to round things off give the club enough to challenge for the Premier League and Champions League? Or will Rodgers make the rest of Europe stand up and take notice with that marquee signing many have been baying for since Suarez's move to Barcelona was confirmed?
Whatever Rodgers decides, his work this summer to date has already given him a plethora of options… going forward. Who's next?
*The Anfield Wrap and David Segar in no way condone or promote the idea of signing of Marlon Harewood and would like to apologise for any emotional trauma caused.
[rpfc_recent_posts_from_category category="1″ meta="true"]
[yop_poll id="5″]