AFTER a few late nights spent staring at my TV and tablet screens as Liverpool do their best to entertain the American masses, a few things have stood out in my mind. I thought I'd share some of my own pre-season thoughts with you:
Seb Coates may deserve a stay of execution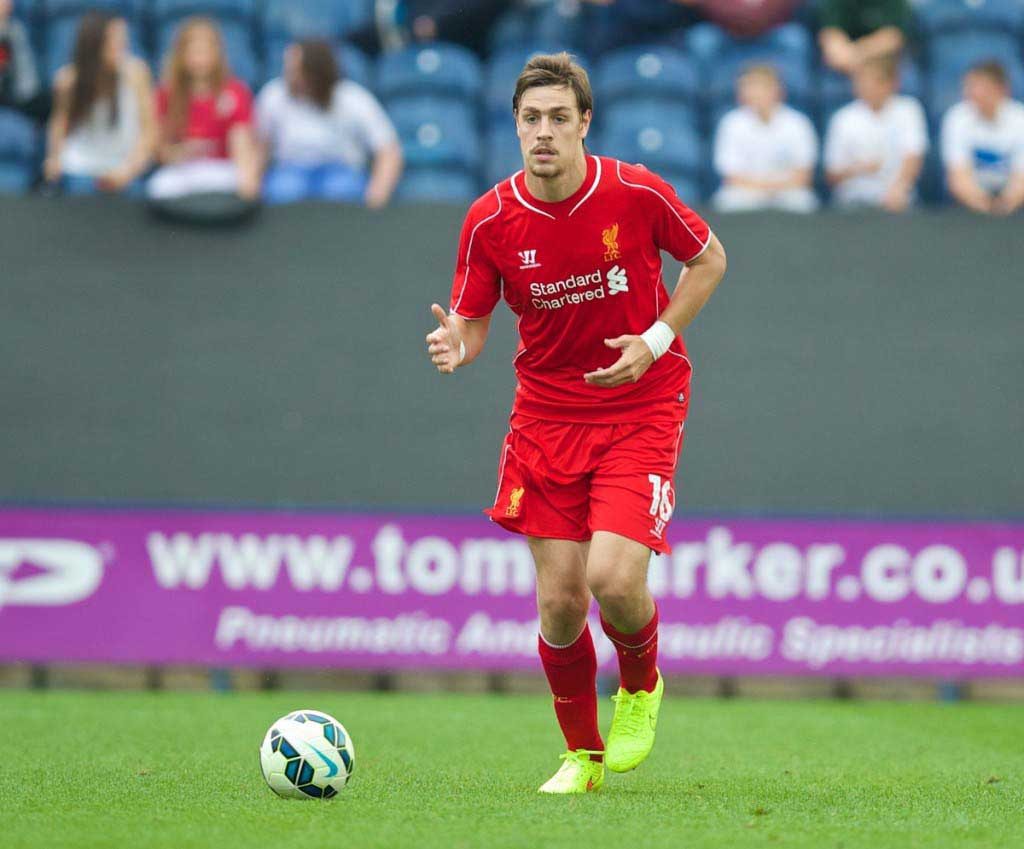 His 6ft 5in frame gives him an ungainly look. Lacina Traore(!) once gave him the run around. He turns as slowly as long life milk. He's barely played football for the Reds in two years now and currently finds himself fifth (at best) in our centre back pecking order. Call me crazy, but despite all of that, Seb Coates still looks like a potentially decent player to me. His distribution is impressive, he's obviously a hell of a physical presence and, while mistakes still exist within his game, he's generally very dependable one against one and positionally excellent.
Coates performed well in the friendly game against City early on Thursday morning, but he's also done it in the competitive environment of the Premier League against the same opponents in Brendan Rodgers' first ever home league game at Anfield. It may have been a long time ago now, but we've seen that he has quality in the past. It's for that reason that I'm intrigued to see how he will progress this season following his long-term knee injury.
Let's be clear, we all know that any progression he does or doesn't make over the next year or so is unlikely to occur at Anfield. Mamadou Sakho, Dejan Lovren, Martin Skrtel, Kolo Toure and even Daniel Agger and Tiago Ilori (should they also remain at the club beyond August) are all currently blocking his route to gaining the much needed experience he must acquire in order to further his career.
Injuries and a few dodgy performances under Rodgers have see Coates cast into a footballing limbo where opportunities are few and far between and any mistake he makes – should he actually get a game – see him castigated and dropped. Such is the life of young centre halves who move to big clubs that demand immediate success.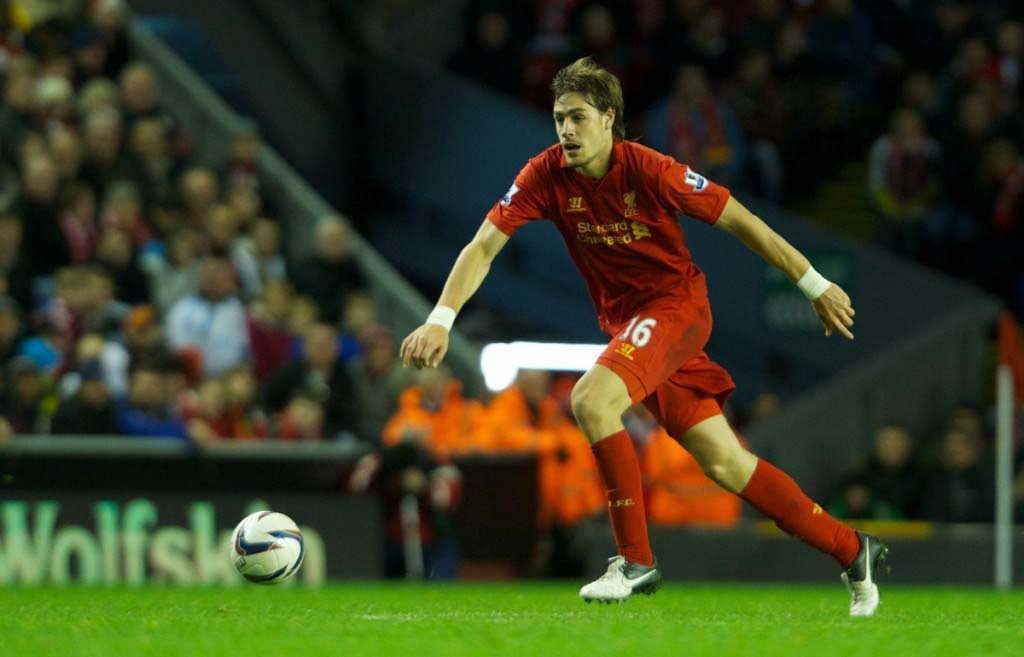 Errors from defenders are obviously more costly than those made by forward players and young centre backs, in particular, tend to make quite a few howlers. As a result, the amount of trust a manager has to place in a burgeoning centre half like Coates has to be significant. If it is not, as appears to be the case here, then opportunities become limited for players like the Uruguayan and it is very easy for their careers to stagnate due to a lack of minutes on the pitch.
We've seen this before at Anfield with Gabriel Paletta, who looked hopeless when he joined Liverpool as a teenager but subsequently went on to flourish in Serie A and became a regular for Italy during this summer's World Cup.
Maybe Coates will never fulfil the potential he displayed when he was voted Copa America's Young Player of the Tournament in 2011. Maybe he simply won't be suited to the Premier League's pacey style, but if Liverpool are to release him this summer as we all expect then I hope it's a loan  rather than a permanent deal. After spending £7m to acquire the highly-rated defender what would the club have to lose at this point by allowing him a year to go and put some much needed miles on his clock elsewhere before reassessing his future again in 12 months' time?
Full back areas require immediate attention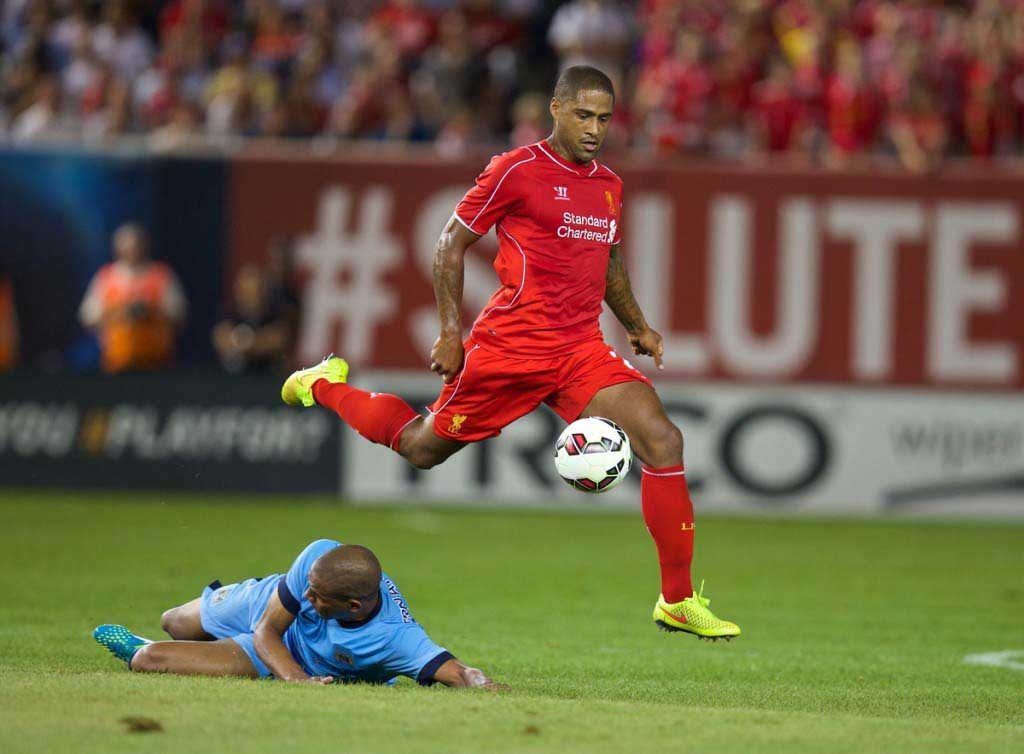 Manchester City's second choice right back this season is going to be Bacary Sagna. Their reserve left back will be either Gael Clichy or Aleksandar Kolarov. If any position on the field demonstrates a yawning gap in quality between the champions and last season's runners up then it is full back.
We're now just over two weeks away from the start of the domestic season and Liverpool are yet to sign any of the numerous left backs that we have pursued all summer long, while it seems like the club are fairly uninterested in the prospect of upgrading on Glen Johnson.
To me, that is staggering. Johnson's form has been so wretched for so long now that he only needs to step on the field in a pre-season game to make Twitter explode with anger. They may only have been two friendly games, but against both City and Olympiacos Johnson was not impressive. The ball was getting caught under his feet, he left the his flank wide open several times, his passing was careless and his threat going forward was minimal.
In other words, pre-season or not, those games demonstrated an extension of the malaise that seeped into his game before the midway point of the last campaign.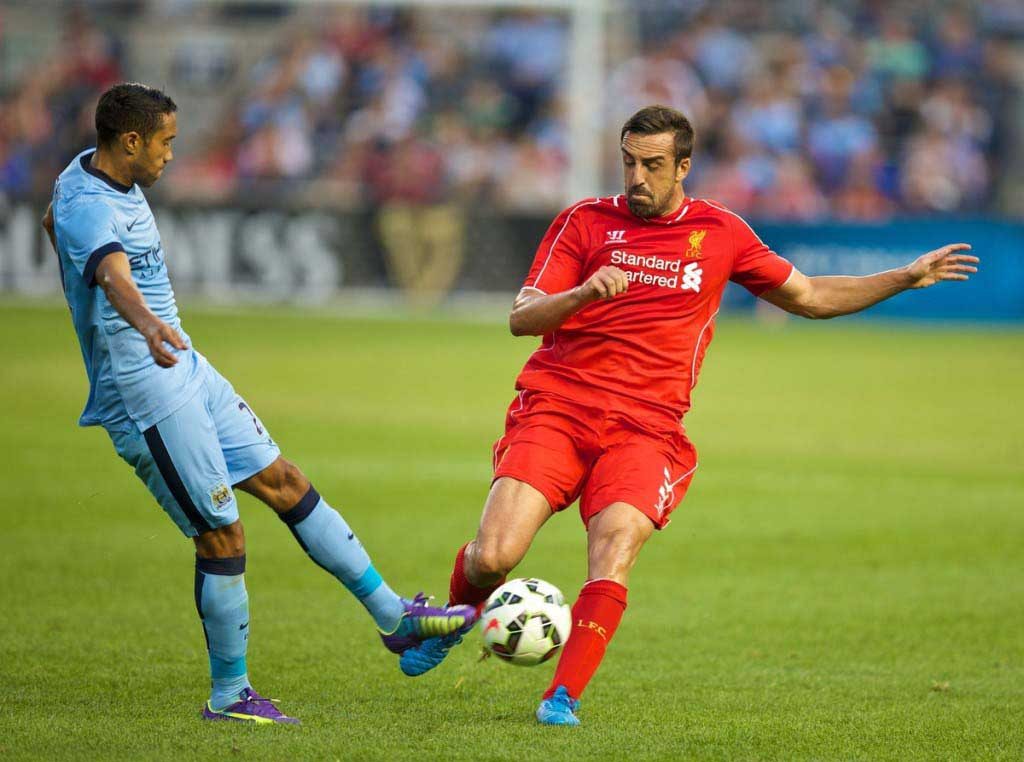 On the other side of the pitch, Jose Enrique is back doing his best bull in a China shop routine and, while he offers the physical capabilities to match any other modern full back, his questionable concentration is always a potential Achilles heel for opponents to exploit.
Jon Flanagan might have been largely impressive last term but is he really ready to step up and play week in week out as a primary selection right now? To me he seems more like the perfect back up player to either full back slot rather than the man who should be tasked with being our first choice on either side at this stage of his development.
Hopefully a deal for at least one top quality full back is concluded before we kick off against Southampton because at this moment in time the wide areas in defence are clearly where we need to strengthen most.
Sterling can strike it lucky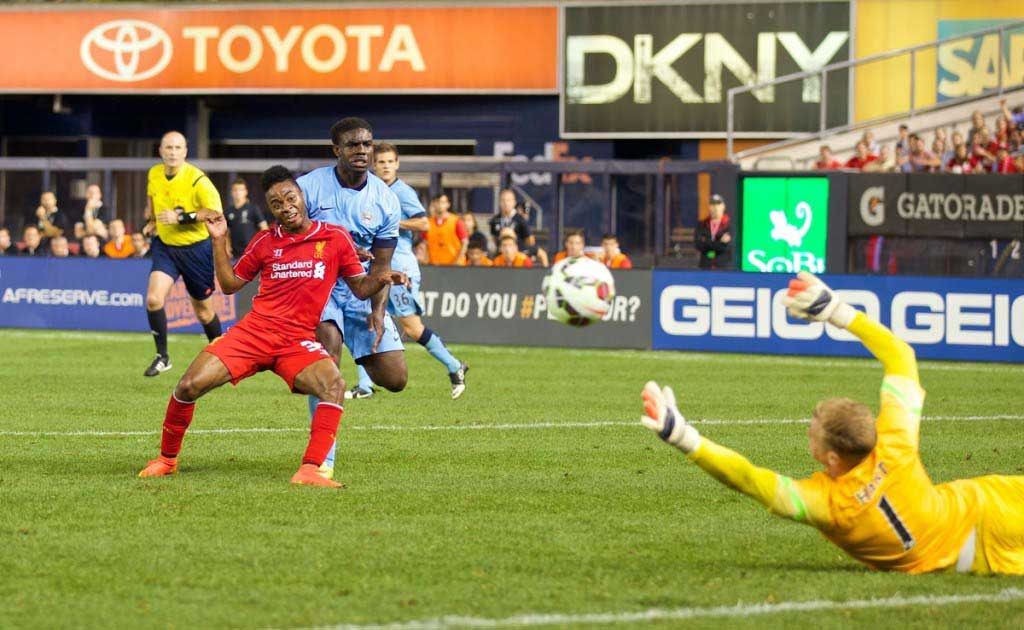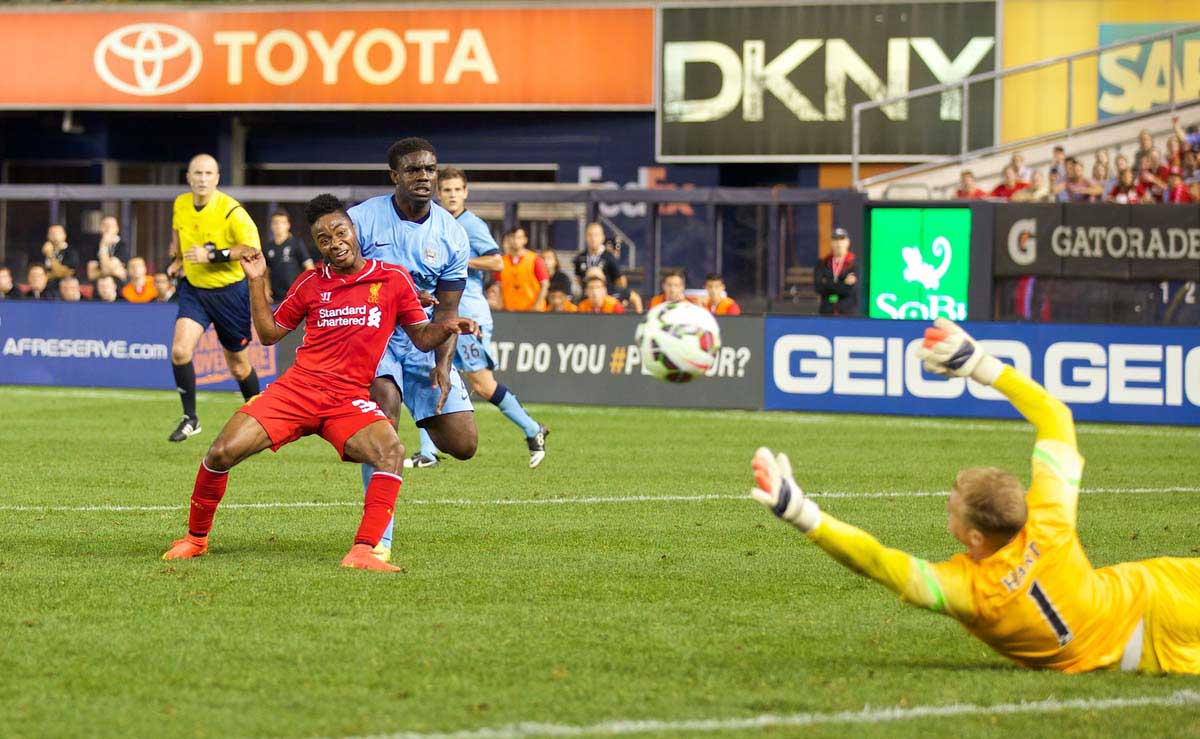 He may have only got into the first team as a regular back in December, and he's still only 19 years old but right now Raheem Sterling is clearly Liverpool's brightest attacking spark.
He's found the net against both Roma and City already on the American tour and, despite it only being July, he looks as sharp and fit as he ever has, much to his credit.
At one point against City he gave Gael Clichy – who is no slouch – a five-yard head start over a 10-yard dash and still got to the ball first with time to spare. If any Liverpool player looks ready for the big kick off at the moment then it is Sterling.
Perhaps the most exciting thing about our latest teenage prodigy is that he looks like he can play to a great standard in a variety of positions. We've seen him star on both flanks and even as a number ten numerous times, but I'm eager to see him get a shot up front at some point.
His coolness in front of goal is incredible for one so young and his pace speaks for itself. When he curled home a wrongly disallowed goal against City in New York after racing on to a through ball it immediately brought back memories of Michael Owen in his pomp. The fact that Sterling looks adept enough to flourish up front this early on in his career allied with his obvious proficiency out wide or in a deeper role gives Brendan Rodgers plenty of options to ponder and gives us supporters a lot to look forward to.
New season, same Coutinho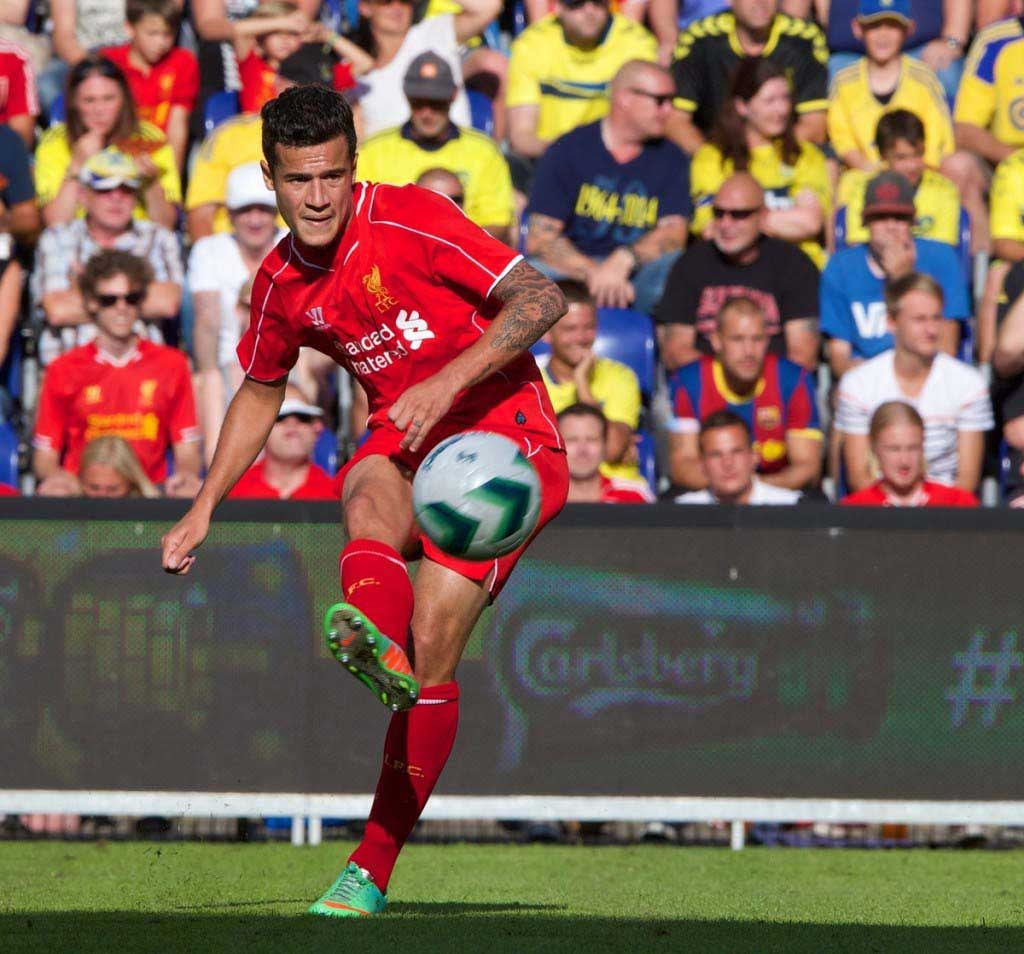 Robbie Fowler may now be an official club ambassador but I sincerely hope he turns up at Melwood with his boots before the season gets going. Brendan Rodgers needs God to give a few lessons to our talented Brazilian midfielder ASAP.
After nearly two years at the club, and plenty of deserved adulation and praise, it is finally time to acknowledge and criticise a major flaw in little Phil's game: His shooting is dreadful.
It has been from the moment he arrived on Merseyside and it hasn't improved. Yes, he scored a few big goals last season, but with the increased competition in midfield and the wide attacking positions, Coutinho needs to start hitting the net more regularly if he is to remain an automatic selection. I've lost count, even over the course of just a hand full of friendly matches, of how many times he has dragged shots wide from the edge of the box or hit the keeper when he's been in an inviting position to score. Frankly, it's getting a little bit silly even if it is the only real frustration one can point to when assessing his performances.
Like Sterling, Coutinho looks like he's never been away from football and has settled straight back into his groove after inexplicably missing out on the Brazil World Cup squad. His eye for a pass and dribbling skills have been a highlight of pre season so far and he's often looked technically a cut above everyone else on the pitch, not that that is anything new. His performances have been universally impressive until he sees the whites of the goalposts.
The annoying thing here is that if Coutinho could somehow develop half of the composure that Raheem Sterling shows in front of goal then we would probably have one of the best all-round attacking midfielders in Europe on our books. Nearly every other aspect of his game is bang on the money.
His poise, his vision, those quick feet and even his much improved strength are all wonderful attributes that are sadly undermined time and again by his finishing. He scored just five league goals last season and regardless of how brilliant the rest of his game undoubtedly is, Liverpool will need that tally to be improved this time around.
Someone get Robbie on the phone. Quick.
Pics: David Rawcliffe-Propaganda-Photo.com