LIVERPOOL manager Bob Paisley paid a British record £440,000 to bring Kenny Dalglish south from Celtic. As a player at Anfield, Kenny won six league titles, two FA Cups, four League Cups, three European Cups and one Super Cup. It's widely recognised as the best money Liverpool ever spent.
Kenneth Mathieson Dalglish
Birthdate: 4 March 1951
Birthplace: Glasgow, Scotland
Other clubs: Player: Celtic (1967-77), Cumbernauld United (loan 1967-68).
Manager: Blackburn Rovers (1991-95), Newcastle United (1997-98), Celtic (2000)
Bought from: Celtic
Signed for LFC: £440,000, 10.08.1977
International debut: 10.11.1971 vs. Belgium
International caps: 102/30 (55/14 at LFC) – 12.11.1986
Liverpool debut: 13.08.1977
Last appearance: 01.05.1990
Debut goal: 20.08.1977
Last goal: 18.04.1987
Stats courtesy of LFCHistory.net
___________________________________
IT'S all about context.
The summer of 1977 was one for basking in glory. In the 1970s, Liverpool were usually League Champions. We were used to that, but this time, for the first time, we were also Champions of Europe. Of course, everyone knows this and over time that success has merely become a line on the club's CV. But, back then, it was a feeling more than a statement – a euphoric sensation of walking around as Kings of Europe.
We'd ascended from one realm to another. We've lived it again, notably in 2005 when it seemed just as unlikely, but that time, the first time – well, that was special. The undisputed Champions of Europe. Liverpool Football Club.

Celtic had already won it as had United back in '68 but now we'd done it too. Liverpool were finally ushered to the top table but the feeling was that this wasn't just a one off. We knew we could get better. That summer spoke of dynasty. The league had become routine and a second FA Cup was still in the memory but now we wanted more.
A couple of UEFA cups served as an apprentice and then came Rome. The next step was European dominance. We were moving up the ladder by degrees. We may not have been the first British/English club to win it but we wanted to be the first to retain it. That would elevate us further.

As great as that summer was we started the next campaign on the back foot. The Roman team was already breaking up. There were rumours that Tommy Smith, who had already discussed his retirement, might stay but Cally, the mainstay since Shankly's Second Division days, was now 35 years old and would soon be off.
However, it was the departure of Kevin Keegan that hurt – and worried us – the most. Keegan was the extra percent that pulled us from being a great side to a glorious one. It was his torture of Bertie Vogts in Rome that made the game and trophy ours but he too was off.  How do you solve a problem like Kevin? How do you replace a man like that?
My first knowledge of Kenny Dalglish was through glimpses of Scottish Cup finals and Scotland games. It was hard not to like him. I loved that Celtic kit – it had a number on the shorts – but more importantly he looked great. A sprite around the box, a sweaty forehead, rouged cheeks, sweaty hair and a look of intense joy on his face.
He was Celtic's Kevin Keegan so why couldn't he be ours? He had the skill, the squat but slight frame and THAT smile. Liverpool was joy! Everything about LFC was fucking brilliant. Liverpool was all about passion and euphoria and Kenny Dalglish looked like he already knew what that was like before he even made the journey from Glasgow. He was a hit before he played.
Nowadays you tend to worry about players settling in or becoming expensive flops but Kenny was ready the day he walked through the door. There may have been mumbling in the press about filling Kevin's boots but I, at the grand age of eight, was never in doubt.
There was never any honeymoon period. He didn't take time to settle in. He attacked Liverpool. I'm not sure if it was ever his ambition to play for us or any European champions but he played as though Celtic was merely the undercard of his career. He threw himself at his new fans and our arms were open.
Kenny was canny too. Straight away he respectfully distanced himself from the notion of being a direct replacement for Keegan. The number seven shirt was just another number. There was Kevin Keegan's Liverpool career and there was his. It wasn't meant to be a continuation. They were different players with different strengths. He took the pressure off himself and, aided by his manager, just went along with his business. No fuss, no nonsense and no agenda other than playing well as part of a unit and always – always – doing it with joy. 

On the field Kenny was a mass of contradictions. He played with an elegant grace. The shimmy of the hips, the movement and the innate ability to find a run that no-one had seen. At other times he could dig in and get his shirt dirty – doing the nasty stuff. No one could hold the ball up better. At five foot eight you'd think he could be knocked about but having an arse the size of a shopping trolley meant that when he shielded the ball it stayed shielded. Put him on the edge of an area with his back to goal and the only way you'd get the ball off him was to wait for him to lay it off. That low centre of gravity earned us more possession in the final third than Keegan could ever provide. Liverpool's football was possession football.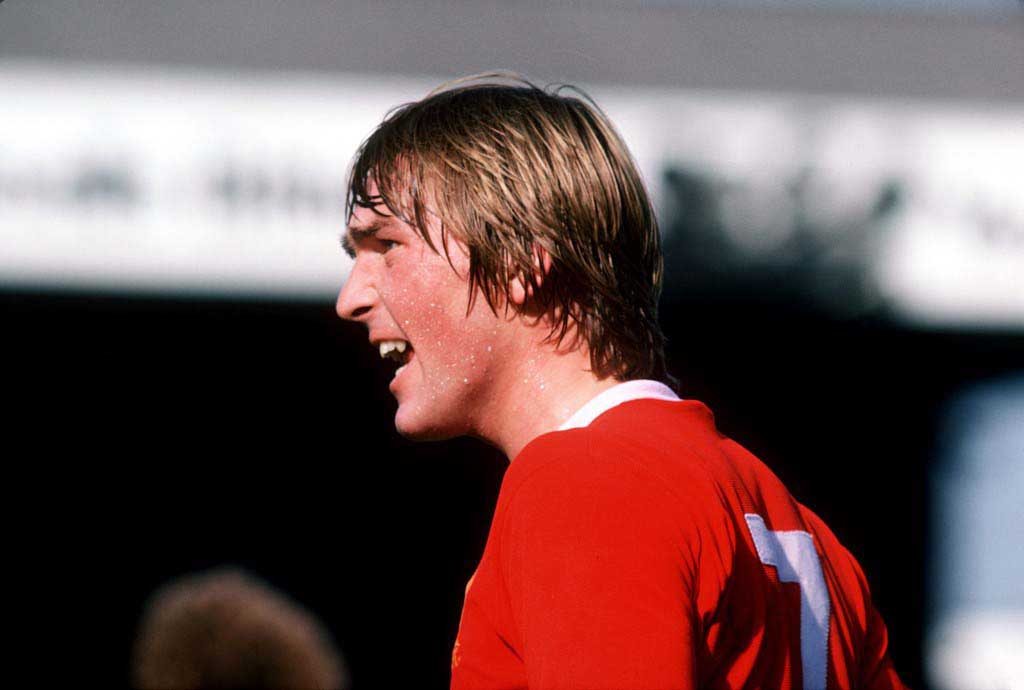 He wasn't always smiling though. Refs must have hated him. The propensity for players to referee the referee isn't a modern concept. Kenny would be in the official's ear from the first whistle. His acerbity didn't just come into play when he became a manager, he was always like that.
Yes, there was the smiles and laughs with his team mates but his will to win was always the driving force and if nagging the referee gained an advantage he'd gladly do it. Nothing too draconian though. It was more moaning than snideness and if an hour's worth of haranguing meant one more free kick for Liverpool it would be worth it.

Then there's the goals. 31 in his first season, the last of which being the most important of his career. He relied on creating space for others by shaping his body early. Look at that Bruges goal. He steps up with the defence as they try to close the ball down but he's already preparing himself to turn. He knows where the ball will go before Souness does. It's more than just showing for the ball – it's telling his man where to put him in. That readiness immediately places the centre backs at a disadvantage and that second means the world. He was exceptional at that. For a player who lacked pace he knew exactly when to roll a shoulder and give himself an opportunity. That's more than an innate skill. That's a genius at work. That's why he was more of a continental-style player than a traditional British striker.
Add to that quickness of thought the sheer audacity of his shooting. How many times would he try a chip across the keeper from near the corner flag? A shifting of the feet to give himself an extra yard when most players would shoot early. The risk of losing the ball was always one worth taking. He was never a player for hard long-range shots. If he could put it in a place beyond the reach of the keeper that was enough. Look at his firs- minute Goodison goal in '85. It's not necessarily a finger burner. He just knows that it's good enough to go in. 

And then there's the skill. His goal for Scotland v Belgium. Look it up if you haven't seen it. The chip at the Clock End at Highbury and the dig out v Ipswich had the keepers beaten the second he touched the ball. The close control is incredible. There was so many magnificent goals like that but one in particular stands out. You're probably ahead of me here.

Chelsea 1986. The final game of the season. Everyone knows the goal and what he does with the ball before the strike but again the context is all. Kenny played fewer games that season having handed the number seven shirt to Paul Walsh but due to his injury the manager stepped in. Not a bad replacement.
As that season panned out Ian Rush was more of a likely hero as he was scoring from all over the place but sometimes the game can be romantic and this club in particular is no stranger to that. The first player manager to win the double in his first managerial season, as a mere bit part player, scores the goal of the season to win the League. Even Roy Race couldn't top that.

For me he's our greatest player. Ray Kennedy will always be my hero but Kenny was the man every kid wanted to be. Everyone wanted Puma Dalglish boots with the silver flash. A few of my mates even had the Scotland kit back in 1982 when you could buy it in a presentation box from Jack Sharps.
Kenny was the embodiment of everything that Liverpool represented and he still is. There's talk of Gerrard taking the greatest player title as he can/could do everything that Kenny could but that's a generational argument. After all, there are some people who would have Billy Liddell in the top three as we're lucky enough to have had players who eclipsed each other as the years roll on thanks to a continuity of success.
I accept Steven as a candidate, how could you not, but he never gave me that feeling when he walked on to the pitch. Maybe young lads in 2004-2009 shared the adoration I had back in the late 70s but I'm going to be loyal to my past. 

Kenny's the greatest and he always will be.