AND SO Steven Gerrard has announced his retirement from international football 14 years after making his debut v Ukraine in 2000. 
Although many Liverpool fans will be thankful if it means squeezing a few more years out of his legs to play for the Reds, I think the captain's retirement will be a big loss for the national team, where he is still probably England's best midfielder.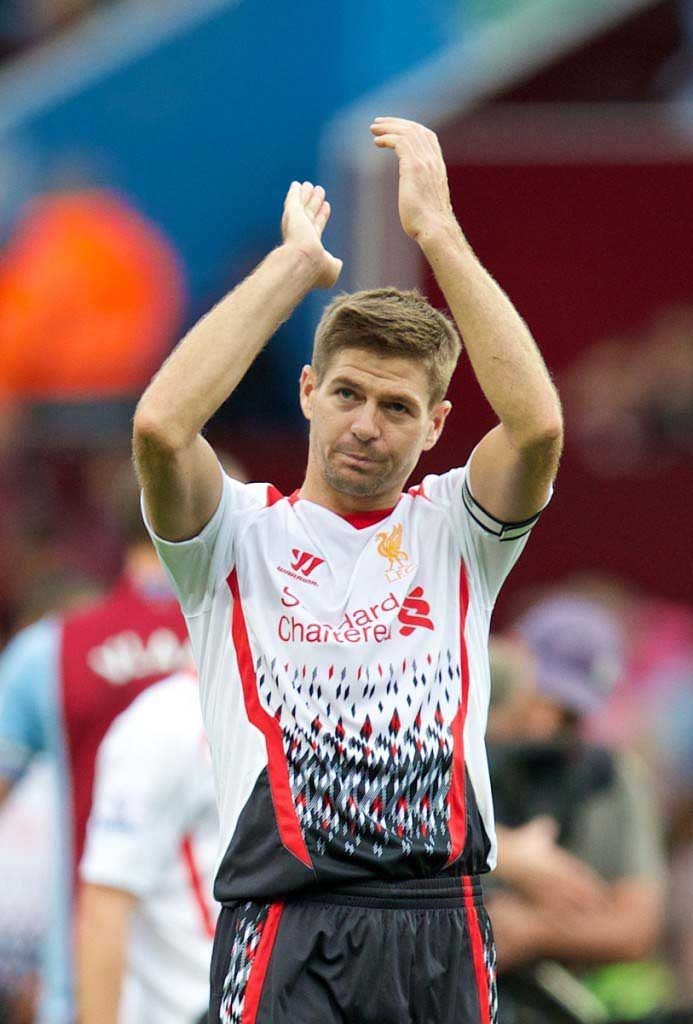 Reflecting on his career with the Three Lions, it is tempting to go along with the media narrative that he never performed for his country the way he did for Liverpool. From my vantage point at Anfield I've heard all manner of ingrates telling him how he 'let his country down' post the World Cup in South Africa and the last Euros.
Give me strength, he was probably the only player England had that played well in South Africa and the Euros. It's a lot easier for the knuckle draggers to chant "ROONEY" though, despite poor showings in both campaigns, which must explain why he and no other player has seemed to carry the burden of rubbish English campaigns the way Gerrard has.
For my money, Gerrard deserves all the accolades he will get as he retires from the national scene. This was a player who never fussed despite being played out of position and taken for granted for almost all his England career by a cavalcade of substandard managers.
We've endured him being played on the left, the eye-wateringly dull soap opera of the Lampard/Gerrard midfield axis. You know the one, they couldn't play together – as if their unique properties when combined resulted in some kind of midfield anti-matter that no manager could fathom a way out of.
When he was the finest box-to-box midfielder in Europe he was shackled as a deep-lying centre mid or a wide player. We had the appalling Stuart Pearce giving Scott Parker the captain's armband in a hugely public snub and, again, Gerrard said nothing and got on with the job.
That was after the time he was captain, but he was third in line to the throne as England had three captains with the likeable John Terry and Rio Ferdinand in front of him.
I will remember Gerrard as the player who was at the heart of all England's best moments in an era when they were generally second best (and that's being kind).
The stunning 5-1 victory over Germany, when he scored with the trademark strike from the edge of the box, the performances in Portugal in 04 when that England team, probably the best of his era, went out on penalties in the quarter finals.
The opening goal in South Africa in 2010, the three unbelievable crosses for three headed goals in Euro 12 when he was comfortably England's stand out player and to his final goal for England which sealed qualification to the ill-fated Hodgson World Cup of 2014.
So, chapeau Steven, chapeau.  After 114 caps and 21 goals, It's probably only now that England will realise how lucky they've been to have had you at their disposal for the last 14 years. There will no doubt be a sense of regret that you were messed around by lesser men at the peak of your footballing prowess in your mid to late 20s when England should have built a team around you as any other nation would have.
Bizarrely, It feels like they've been trying to get you out of the team for as long as you've been in it but the numbers don't lie. In a truly blessed career you've been England's and Liverpool's best midfielder and everyone must respect your decision to concentrate on club football for the playing time you have left.
Personally, I think you could continue to play for England – I look around and ask who in central midfield is better? But… the national team's loss will be Liverpool's gain as long as it means a few more years of you stepping out at Anfield in the red shirt.