SOON the World Cup will be over and the start of the season is still over a month away. So how are we supposed to get our fix of sport in the mean time? Well for those of us based in Liverpool, Lancashire Cricket Club come down the East Lancs to play in Aigburth for a County Championship from Sunday.
You could walk to Liverpool Cricket Club from where I grew up, so I've always tried to get down to watch them, over the years seeing some of the best players of all time, Akram, Flintoff, Muralitharan, all for cheaper than a ticket to Tranmere Rovers. As a kid I used to chase my favourite players off the field for an autograph. Now I just relax in the sun with a beer.
One of Lancashire's current best players is Ashwell Prince. Ashwell was the first black player to captain South Africa, and played in 66 test matches for his country, scoring 3665 runs. He retires at the end of this season, although he remains in decent nick, making 257 not out against Northamptonshire last month. He also just so happens to be a massive Liverpool fan. So, happy for any excuse to chat footy and watch some cricket, I went over to Manchester to meet him.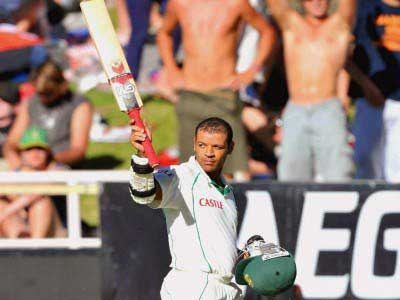 The Anfield Wrap: Going back firstly to when you were growing up, do you remember what first got you into sports?
Ashwell Prince: I feel fortunate really, because I didn't grow up in a very privileged area, but what we did have in front of our house was a big park, so everyone who lived in the crescent would gather in the park and play mostly football and cricket depending on the season, and tennis as well in the streets. Sport in the community was always massive, especially football and cricket, and that's how I got into it.
TAW: So where you any good at football?
AP: I'd like to think I was reasonable! I played representative football for all the junior age groups as a youngster. Unfortunately Port Elizabeth where I grew up didn't have a professional team, so you never know, I might have gone down that route had there been an opportunity.  But I always loved my football growing up.
TAW: What football teams did people tend to support where you grew up?
AP: You'll find most of the big English clubs are well supported. The Premier League is massive in South Africa, so Liverpool, Manchester United, Everton, Arsenal and Tottenham Hotspur were all well supported, and you'll see a few more Chelsea shirts now since Mr Abramovich took over!
TAW: So why did you pick Liverpool?
AP: I just loved red as a kid! I remember one afternoon gathering in the park and the FA Cup final was on and it was Liverpool vs Everton, red vs blue. So I was always going to pick red, and it has been Liverpool ever since. But we would only get bits of matches in the 80s. Apart from the FA Cup final you wouldn't get regular fixtures, but now it's better to watch on the TV in South Africa than it is here. On Saturday you get the early kick off, then a choice of four games at 3 o'clock, then the late kick off, so I get frustrated when I am in England that I can't watch as much!
TAW: But you do get to go more, of course, and I noticed on your Twitter that you managed to get to a few games last season, which must be a nice perk of living in the area.
AP: Yeah it is. I remember first signing for Lancashire as an overseas player and there were a few other choices but being up here closer to Liverpool and being able to get over every other game was definitely a factor! But last year was an unbelievable season really, because I went at the start of the season, or the end of the last cricket season, against Southampton and we lost 1-0 and weren't particularly good on the day. So coming back for the start of this cricket season and seeing the difference in players like Sterling. Brendan Rodgers has to get great accolades for he's done with those players, people like Henderson who it didn't look like would stay 18 months ago, the way he has turned them around. In sport, I've played at a reasonable high level, and when you are asked what you want out of a manager it's to get the most out of the players he has, and he's certainly done that hasn't he. So I was still disappointed as a Liverpool fan that we couldn't go all the way, but hat's off because we would have all taken fourth place at the start.
TAW: So Liverpool would get a good crowd if they ever got over to South Africa?
AP: Yeah they were supposed to come to Cape Town during last season's pre-season but it got called off last minute. I have no doubt in my mind it would have been a sell out, especially if it was a game against another Premier League club. Liverpool vs Manchester United would sell out three times over.
TAW: So this is your last season here playing cricket. Because you are close to retirement, is it a time you start to look back on your career and reflect on what you have achieved or are you still too focussed on what you would like to do this season?
AP: As a player I am still trying to win. I have always been about the team, whichever team I have played for, whether it is South Africa or one of the teams I played for back home, or Lancashire. I have never been someone to play the game thinking about myself, I have always sacrificed myself for the team if it was called upon. Team first and try and win every competition you play. Being a Liverpool fan, that's just how it is!
TAW: So on the 13th July Lancashire come to Liverpool to play a four day game. Do you guys like to come and play at the smaller grounds?
AP: Well I enjoy going to play there, because I've had a few tons at Liverpool, I've got a good record there! No, but it's a nice ground for me because I've got two young boys and what I like about going to play at Liverpool is that when I'm batting in the middle I can look out and see my boys playing around in the nets and enjoying themselves. When you are at Old Trafford there is no place for them to play, they are sat in the stands or in one of these suites upstairs, and sometimes its shame. For me a cricket ground needs a bit of grass on the side where kids can play, most South African grounds are like that and that is how we grew up, playing on the side, and in between innings getting on the pitch and having a knock about. So I enjoy that part of the Liverpool ground.
TAW: I really enjoy going out to have a look at the pitch during breaks, and things like getting close to a spinner who isn't playing bowling at someone with a baseball glove and realising how fast even they are.
AP: Yeah I remember doing those types of things going to watch my team Eastern Province back in the day. Having a knock about in the interval and then watching the players warming up and trying to imitate them. It's a great opportunity to for kids learning cricket to get so close. I don't think my kids know how lucky they are being so close to cricketers all the time, as a youngster I would have loved it.
Lancashire play top of the table Nottinghamshire in a four day game at Liverpool Cricket Club starting Sunday 13th July. Tickets are £15 for adults, £12 concessions and only £5 for under 16s.
You can follow Ashwell on Twitter @ashyp_5