JESUS, it's actually happening isn't it? I mean like, today, happening. Now, immediately, within hours. And the mania has crept in.
No, hold on, back a bit. Full disclosure is needed. Years back, when the kids were a younger, a lot younger, so young that the eldest still pretended that he was interested in football and the youngest hadn't yet made the wrong choice between my Reds and my wife's blues; I did the flag thing. I bought the plastic flags for the car. Front AND back. And we had them displayed for the duration of the tournament, which I'm guessing would have been 2006 but wouldn't swear to it as I've tried to wipe the fact from my memory. It wasn't for me, it was for the kids, it was a proper 'dad' thing to do.
Genuinely. Me? Not concerned about England, not interested. Terrible football team. Always have been, always will be. Doesn't matter who is playing, doesn't matter who is managing (I'll get back to that) the magic formula that combines the two always seems to add up to infinitely less than the sum of its parts. I'm old enough to have vague memories of the Mexico 70 tournament but they involve the 'Bobby Moore Bogota bracelet' accusation/possible fit up rather than the 'Gordon Banks food poisoning leading to quarter final loss' exit. My memories of 1974 are clearer and consist of Clough on TV talking about a 'Polish Clown' and the fact that I was old enough to appreciate a World Cup now and we weren't going. It didn't matter, I didn't miss us, we had the beauty of Holland 74 to give comfort – Cruyff, Neeskens, Rep, football in its purest, most beautiful form.
We weren't there in 78 either. 82 we qualified, I was approaching 19 and still hadn't seen an England team perform in a major tournament. I'm 50, I still haven't seen England perform in a major tournament. 86? Rubbish until Wilkins threw the ball at the ref to get himself a gloriously stupid red card and Robson injured his shoulder yet again to ensure that Bobby Robson and Don Howe – a man dull enough to make the Hodge seem positively electrifying – started fielding the players that the country had demanded that they field in the first place and let the team progress as far as a moment of Maradona genius (I'm not arsed about the handball, the second stands alone for me) would allow.
Italia 90? Glorious tournament, the start of the modern era of football. England? Garbage. On our way out at the group stage at the hands of our usual dull football. Cue penalty shoot outs, cue Gazza's tears, cue a last eight finish and cue the nation forgetting that we were awful.
Since then? Failure after under-performance after disappointment. I watched the Euro 96 penalty shoot out on some bloke's small portable telly in the top balcony of The Empire while Bob Dylan played Rainy Day Women #12 and 35 'cause when it comes to a choice between Dylan and England, Dylan will win every time.
Because I'm not bothered about England. England are the team supported by football fans who don't have real teams to watch, who don't have the chance of glory themselves so have to latch on to the national team. We don't need it, we do glory ourselves. Club or Country? I don't understand the question. England mean nothing to me.
Except.
Except.
The mania has taken hold. I know, oh God I know, that we can't do it. I know that we're not good enough on a global scale, I know that there's every chance that we won't manage to crawl out of the group stages, I know it's going to be Brazil or Argentina or if (and it's a big 'if') a European team can win the World Cup on Brazilian soil then it's going to be Spain. Or Germany. Not us. Never us. Because we're not good enough.
But the mania's taken hold and I'm looking at an England squad that nobody expects to be good enough because 'The Golden Generation' has gone, aged, left, fallen by the wayside, a victim of over expectation and all we have is players who may be a little too old and players who are a little too young and inexperienced and I'm looking at this squad and I'm seeing something and I'm looking and God help me I'm thinking…..'why not?'.
I'm thinking 'why shouldn't we?' and 'all we need is a moment of genius from a Sturridge or a Sterling or a Gerrard or a Barkley or a completely unexpected source and all we need is for it to happen once a game for eight games and why shouldn't Jordan Henderson score the goal that wins the World Cup'. Or Rickie Lambert. You want stories, you want fairy stories, you want legends? Rickie Lambert.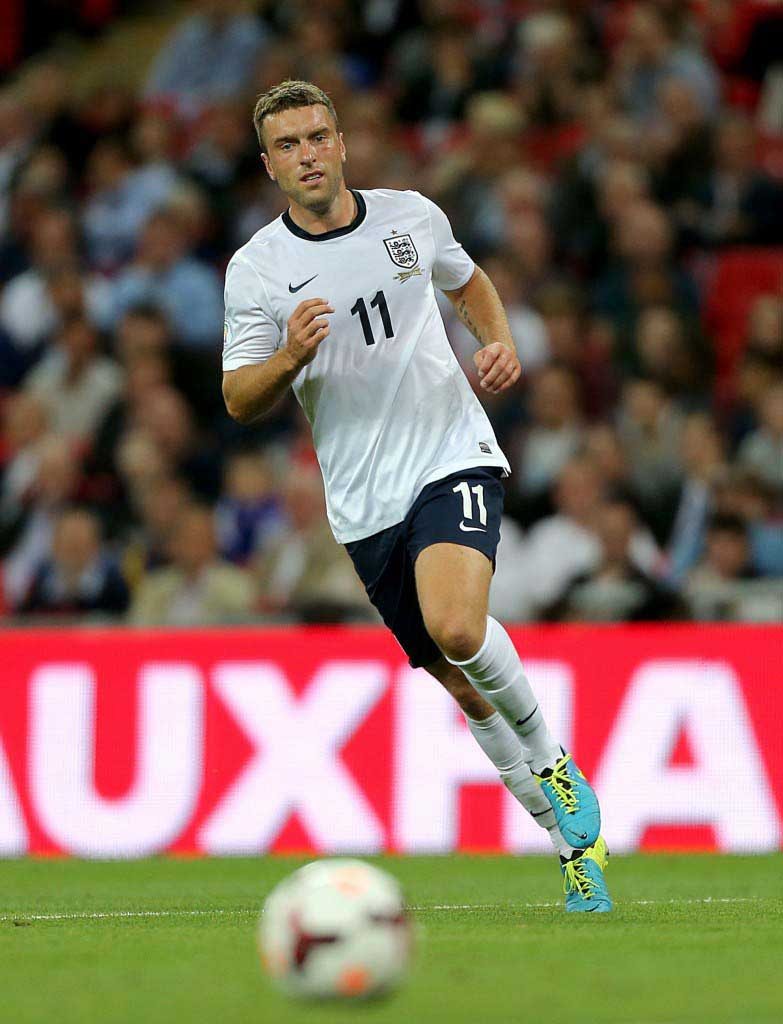 It's the mania. I know it's the mania. I know that we're held back by Hodge and I know that he's picked the right squad and I'll admit he's made some brave choices in that squad but I can't believe that he'll make the right choices when it comes to the sharp end. I can't believe that he'll turn to Gaz Nev and say 'this two holding midfielders thing? Sod it. Gaz, crack out the diamond lad, we're doing a Brendan on Brazil' but I'd love it if he did.
So I pray, I pray that Roy will realise that this is it. This. Is. It. This is his one chance, his legacy, his glory. It's not coming round again. I pray that he knows this. I pray that he wants, more than anything in his life, to show EVERY SINGLE ONE OF US that we were wrong about him. I pray that he has enough hate for our hatred of him to use our own players as a national side based weapon against our loathing.
And I pray that fate forces his hand. That injuries occur. That Welbeck isn't ready (we all know Welbeck isn't ready). That Jones and Smalling wander off into the rainforest and reinforcements are needed. That he has the sense, bravery and sheer chutzpah (whatever that means) to drop Wayne bloody Rooney based on the fact that he has yet to turn up for England when it matters and turn to a gifted 19 year old and say 'Raheem, just go out and play, lad'.
God help me, I know it's the mania but I can't help thinking 'why shouldn't we win the World Cup?'
The phoney war's over lads, the footy's back. And I have a horrible feeling I'm about to buy a flag.
Pics: Press Association